Xencelabs Pen Tablet Medium Bundle Review
Published Aug 1, 2023
In the ever-evolving world of graphic tablets, Xencelabs is a relatively new player that has emerged, steadily making its mark as a strong contender in this fiercely competitive market.
Their lineup includes products such as the Xencelabs Pen Tablet Medium, a high-quality drawing tablet that can rival similar products from well-known brands such as Wacom.
This medium size tablet boasts remarkable features and can also be purchased as part of a bundle that comes packed with a range of accessories. In this review, I will explore how the Xencelabs Pen Tablet Medium holds its ground against industry giants and why it's becoming a popular choice among digital artists.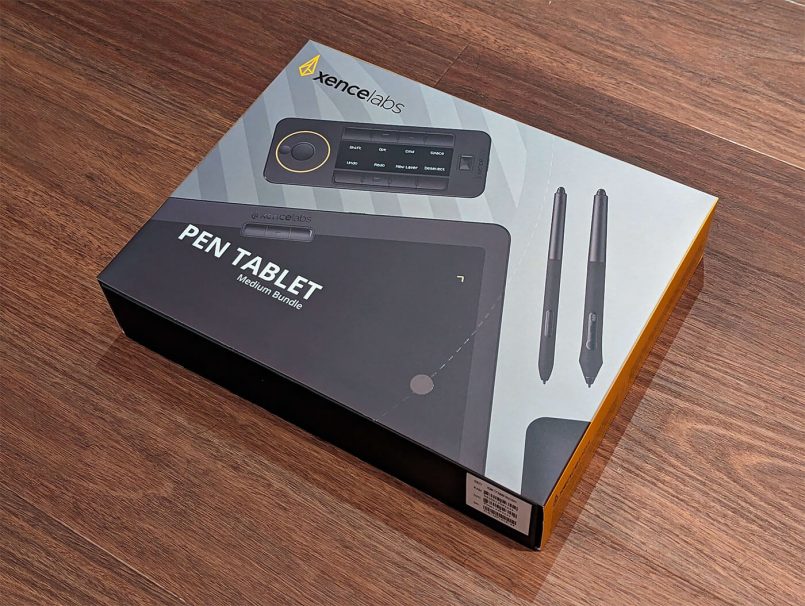 What's in the Box?
For $359.99 / £329.99, the Xencelabs Pen Tablet Medium Bundle comes packed with a variety of useful accessories, including the tablet itself, a Quick Keys shortcut panel, two battery-free pens, a pen case with 10 replacement nibs, a drawing glove, a wireless dongle and a protective sleeve for the tablet. As you can tell, we're off to a good start as there's quite a bit included in the package and the value for money is clear right from the unboxing.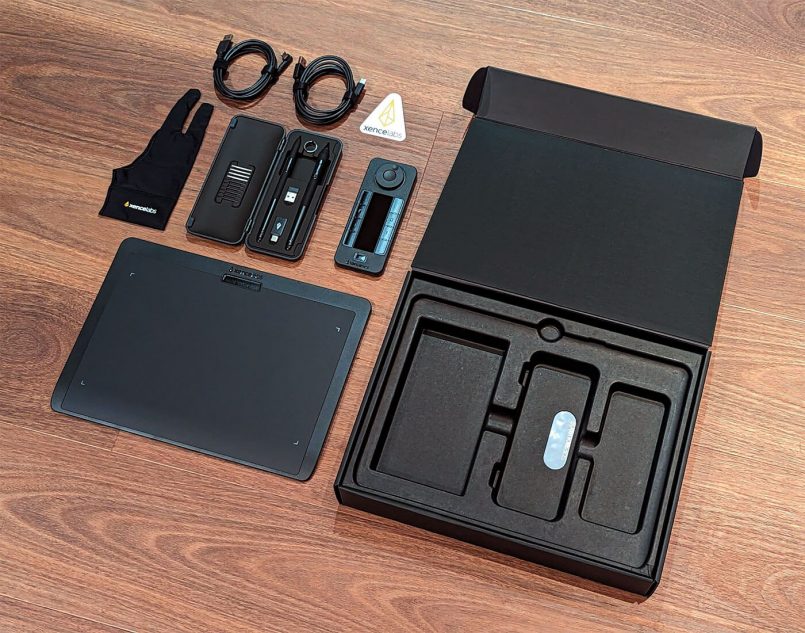 The packaging itself is well thought out and all the accessories are packed really neatly in the box, each with their own individual compartment.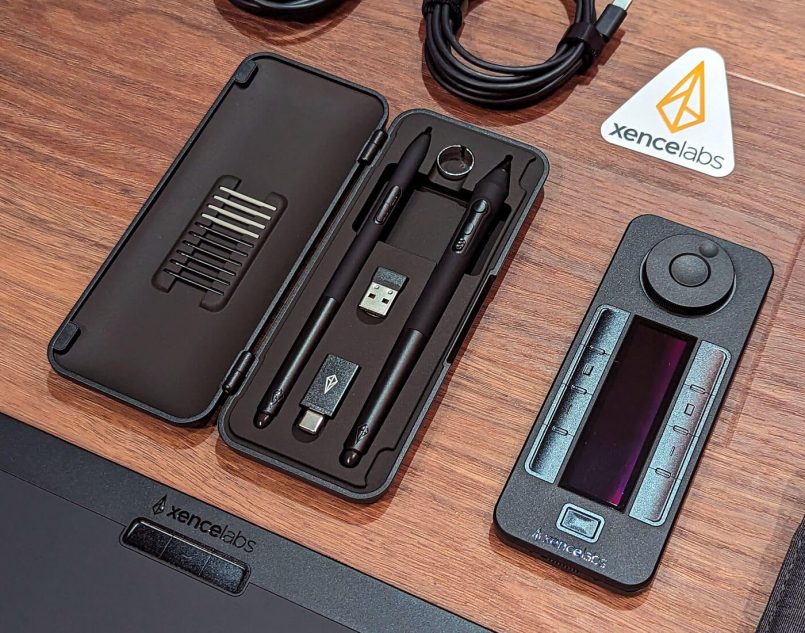 Underneath all the other add-ons, you will find a protective case that comes with convenient pockets for storing not only the tablet, but also the Quick Keys, pen case, and even charging cables. It feels high quality and seems quite durable, and its interior is lined with a velvety material that protects the tablet from scratches.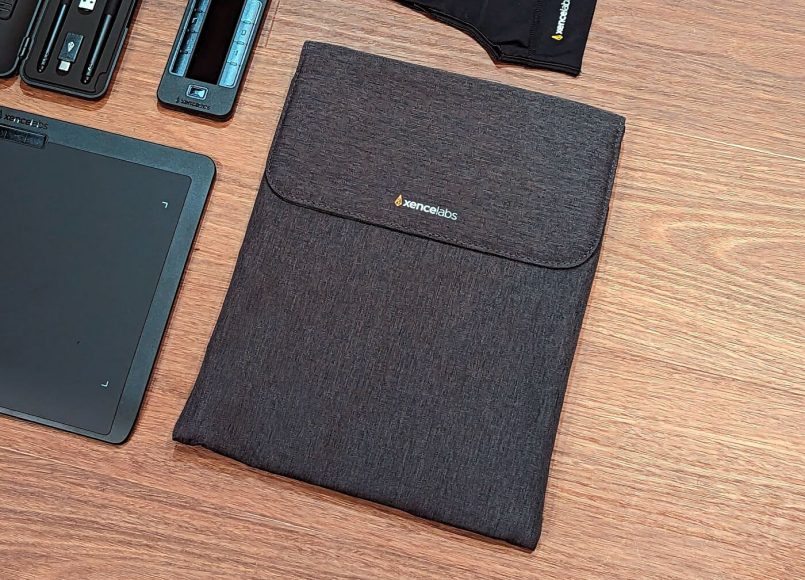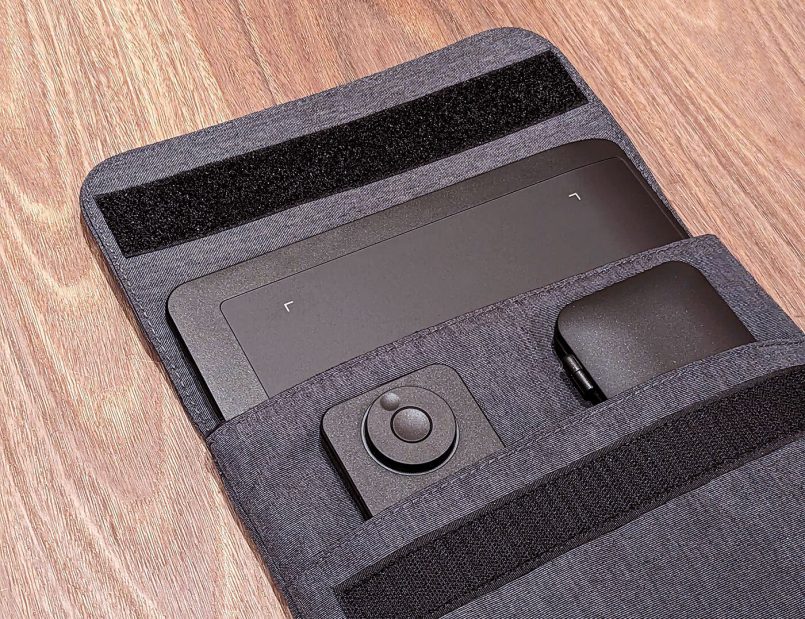 Design and Build Quality
The Xencelabs Tablet features a sleek design and much higher build quality than other graphic tablets we've used in the past. The unit itself is built extremely well, with a nice fit and finish, and features considered design elements such as a comfortable curved palm rest that helps reduce fatigue while drawing and sculpted sides that allow to pick up the tablet quite easily.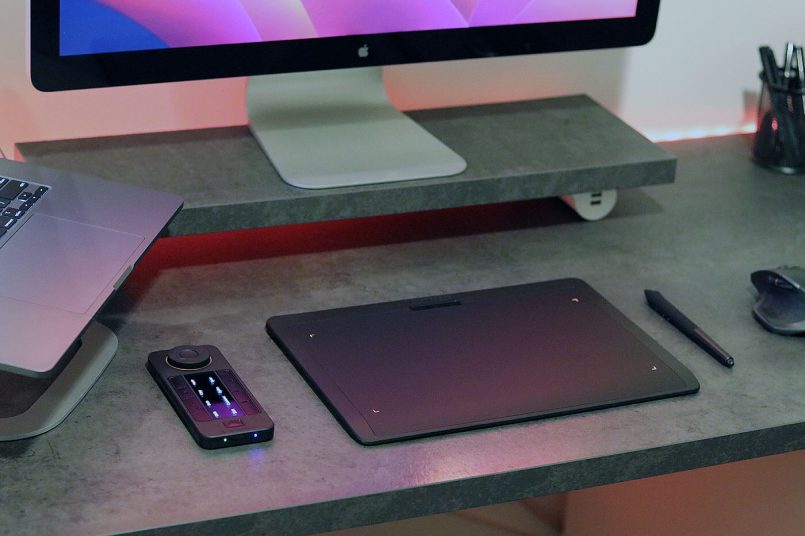 The drawing surface has a 16:9 aspect ratio, which matches the majority of displays in the market. Its generous working area is outlined by four LED markers, which can be customized in eight different colors. The Xencelabs software even allows you to associate these colors with different applications such as Photoshop or Illustrator, so you know what set of custom presets is currently active at a glance.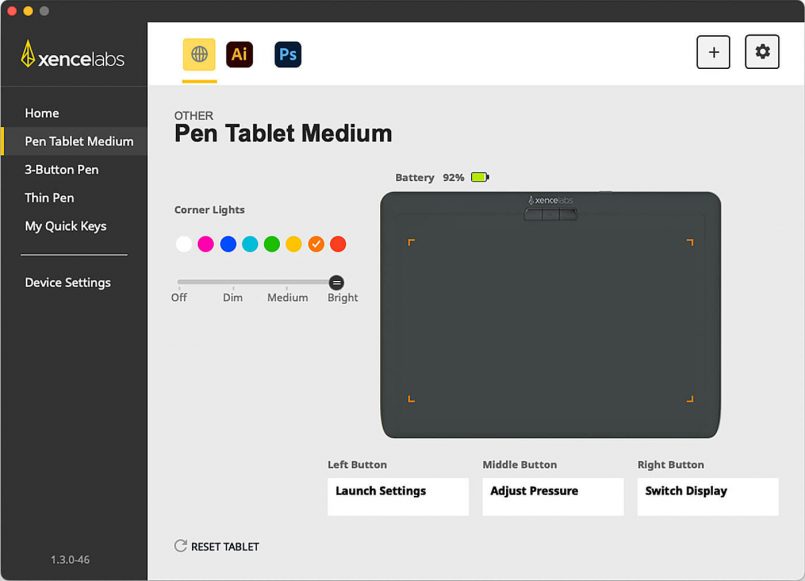 In terms of shortcuts, Xencelabs opted for simplicity by incorporating only three customizable buttons at the top of the tablet. All other shortcut buttons were relocated to the Quick Keys controller, providing easy access and even more flexibility when it comes to customization. This intelligent approach prioritizes a clutter-free drawing surface while giving the tablet a sleek and polished look.
Xencelabs attributes the successful design of their Pen Tablet to a close partnership with industry-leading artists, who played a pivotal role in shaping the final product through their valuable insights and recommendations.
Tablet specs:
Dimensions: 12.6 x 9.16 x 0.3 in / 320.5 x 232.5 x 8 mm
Active drawing area: 10.33 x 5.8 in / 262.4 x 147.4 mm
Weight: 710.5 g / 1.57 lbs
Battery life: 16 hours (2.5 hours charging time)
Connectivity: Wireless or USB
Security: Kensington Nano Security Slot™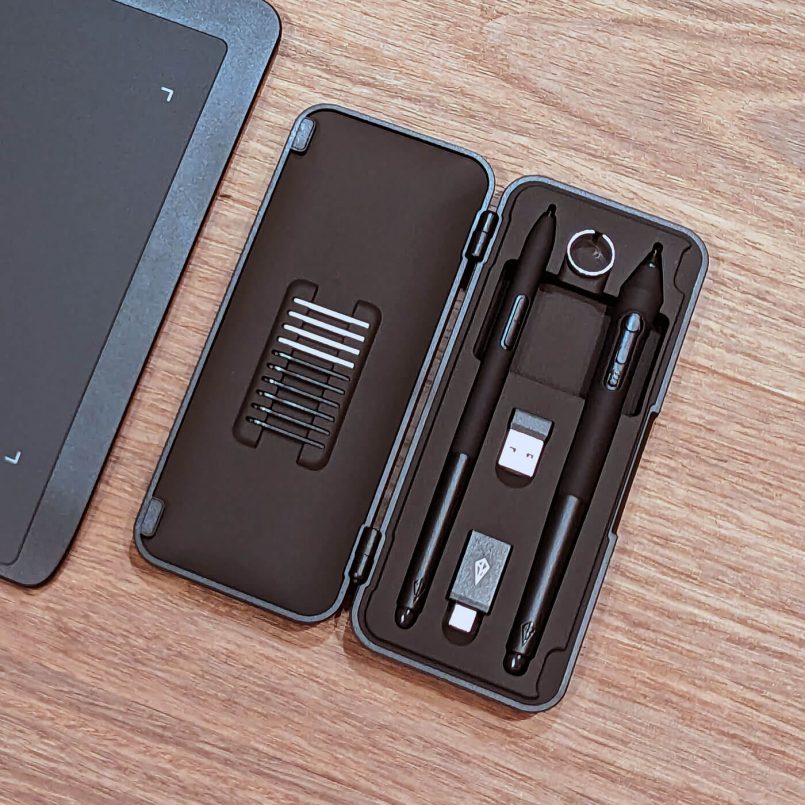 Pens
The pens are equally well-crafted and built, and if you have previously used a Wacom Intuos Pro pen, you will be right at home with the familiar shape of the larger 3-button pen.
Pen specs:
Pressure levels: 8192 levels (both pens)
Pen tilt range: 60 degree (both pens)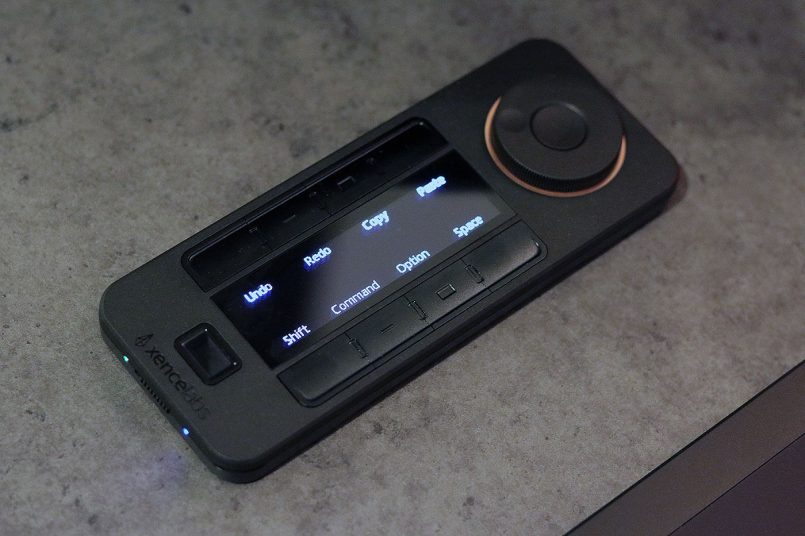 Quick Keys
The Quick Keys controller is a fantastic companion, with clicky buttons, a versatile dial that can be used for different purposes and an OLED screen which displays the shortcuts assigned to each button.
Shortcut controller specs:
Dimensions: 6.2 x 2.46 x 0.47 in / 157.6 x 62.5 x 12 mm
Display: 3.12-inch OLED display
Battery life: 25-53 hours (1.5 hours charging time)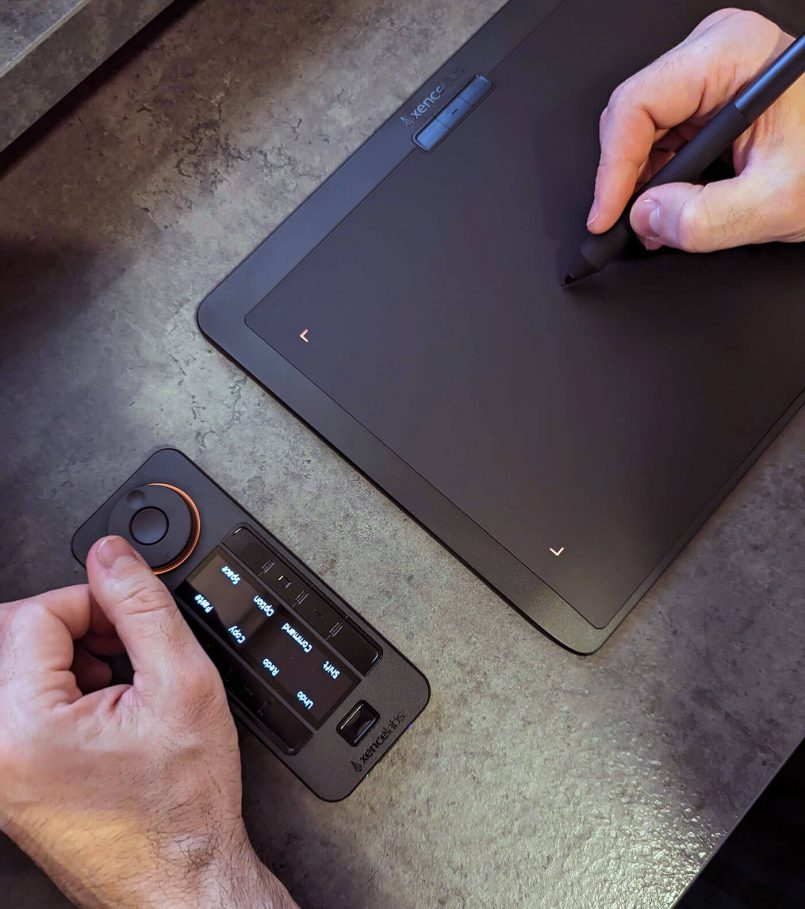 Performance and User Experience
The initial setup involves plugging in both the tablet and shortcut panel to a computer using the cables provided in the package, and installing some drivers. These drivers are not 100% required but are certainly recommended to make sure everything works as it should. It took me about 5 minutes to go through this process, and once that was done, I was able to remove the USB cables and simply use the included Bluetooth dongle to connect the tablet and Quick Keys panel to my laptop. The fact that these devices can be used wirelessly is fantastic, as it eliminates the need for messy cables and allows me to have a clutter-free workspace, which I really appreciate.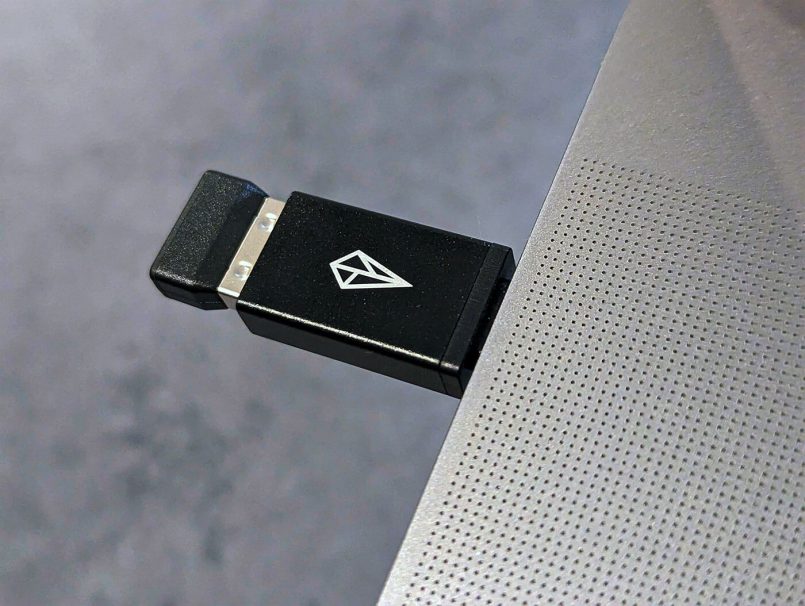 Once I got everything going, the Xencelabs Pen Tablet felt very comfortable and easy to use, with a nicely textured surface. The included battery-free pens are well-balanced and responsive. I had no issues with lag at all and the lines produced by these pens are smooth and precise.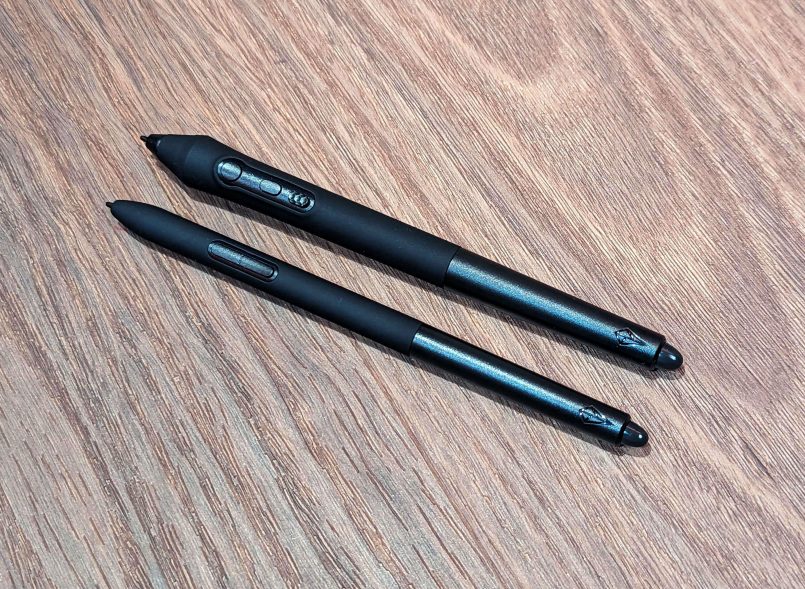 As mentioned earlier, the larger pen with 3 shortcut buttons feels quite similar to the Intuos Pro pen. Its familiar form factor and enjoyable performance made me gravitate towards it more often, although having the option of the thinner pen included in the bundle is definitely a nice bonus. You can customize the additional pen to a different purpose from your primary one and quickly switch between the two as needed. Both pens are also equipped with an eraser at the back, making the drawing experience even more intuitive.
The standalone Quick Keys controller that comes with the bundle is another great addition that enhances the user experience. It allows for easy access to shortcuts, making the creative process smoother and more efficient.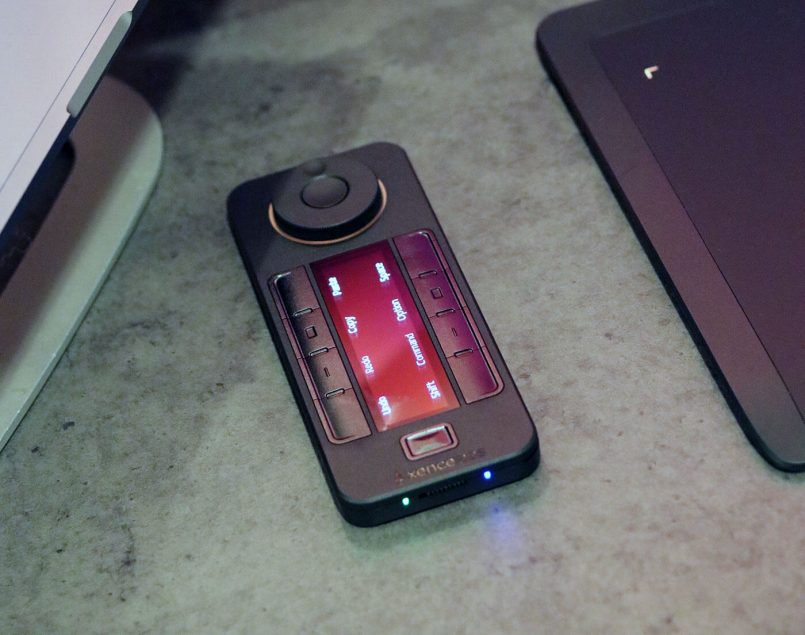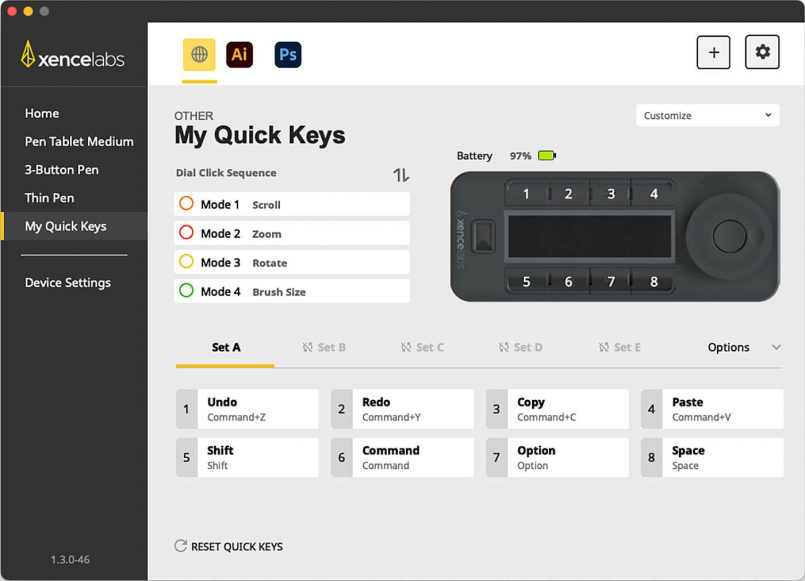 Everything is adjustable through the Xencelabs desktop app, from the dial to the 8 shortcut buttons on the unit, and there are 5 customizable groups for those buttons, giving you a total of 40 shortcuts available. This will allow you to group different shortcuts for specific applications, or for different types of activities, and you can quickly switch between them using the button located next to the shortcut keys. An OLED display on the controller allows you to easily view which shortcuts are assigned to each one of the buttons.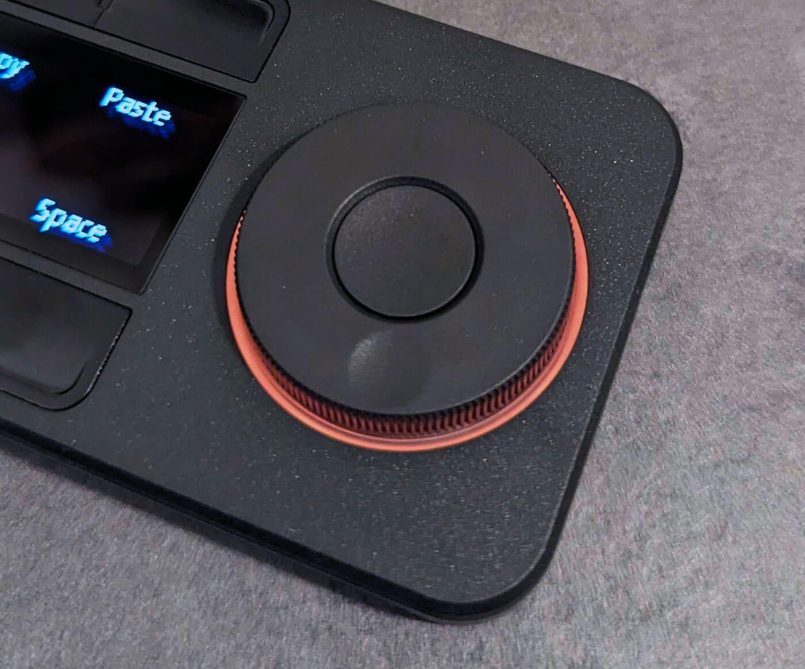 The physical dial is also quite versatile and you can use it in different modes, such as scrolling, rotating, zooming or changing brush sizes on your favorite applications. The only minor complaint I have is that the dial on the Quick Keys controller feels a bit light, with little resistance. I would've preferred a tighter, less "slippery" wheel on the device. You can certainly customize its sensitivity through the desktop app, but that won't change the tactile feel.
Overall, I'm really happy with the Quick Keys unit. If you've never used a shortcut panel like this one, it will certainly take some time to get used to, but once you get the hang of it, you'll absolutely love the convenience it provides.
Pros & Cons
Now, it's time to take a look the positives and negatives of both the graphic tablet and the accessories included in this Xencelabs bundle.
Pros
Excellent design and build quality
Easy to setup
Great value for money with several accessories included
The drawing experience is comfortable and responsive
The Quick Keys shortcut panel is a versatile and highly customizable tool
Two different pens offer more choices for your particular preferences
The high-quality sleeve included in the bundle provides protection when traveling and allows you to store the tablet and accessories when not in use
Cons
The tablet could be a bit lighter given its compact size
The number of accessories and customization options available is great for seasoned pros, but could be a bit overwhelming for beginners
The dial on the Quick Keys doesn't offer a lot of resistance and might feel too light for some users
The Verdict
I can confidently say that the Xencelabs Pen Tablet is a solid choice which is just as good, if not better than similar tablets I've tried in the past. The reasonable price tag on this bundle configuration which includes a range of accessories and the particularly handy Quick Keys controller makes it a great value for any digital artists and designers looking to level up their workflow. If you're looking for a reliable, high-performing tablet with a lot of added value, this could be the one for you.
---
This post contains affiliate links to partner brands. We earn a small commission if you click the link and make a purchase. There is no extra cost to you, so it's just a nice way to help support the site. The product featured in this article was provided by the manufacturer for review purposes, however, the opinions expressed are entirely our own.
Inspiration
in your inbox
Amazing art & design, never any spam.
We care about protecting your data. Please refer to our Privacy Policy for more.
© 2023 Inspiration Grid, all rights reserved. Some of our posts may contain affiliate links to partner brands. We earn a small commission if you click the link and make a purchase. There is no extra cost to you, so it's just a nice way to help support the site. All images, videos, and other content posted on the site is attributed to their creators and original sources. If you see something wrong here or you would like to have it removed, please contact us.