The Best Creative Assets for your St. Patrick's Day Designs
Published Mar 8, 2023
Includes affiliate content
If you're looking to create the perfect Saint Patrick's Day design, you're in luck! We have gathered some of the best design assets to help bring your ideas to life.
From poster and flyer templates, to handy mockups and seamless patterns, there are plenty of options available to help you create beautiful St. Paddy's Day designs.
In this roundup we'll share some cool resources that will provide you with everything you need to get your creative juices flowing for your next green-themed project.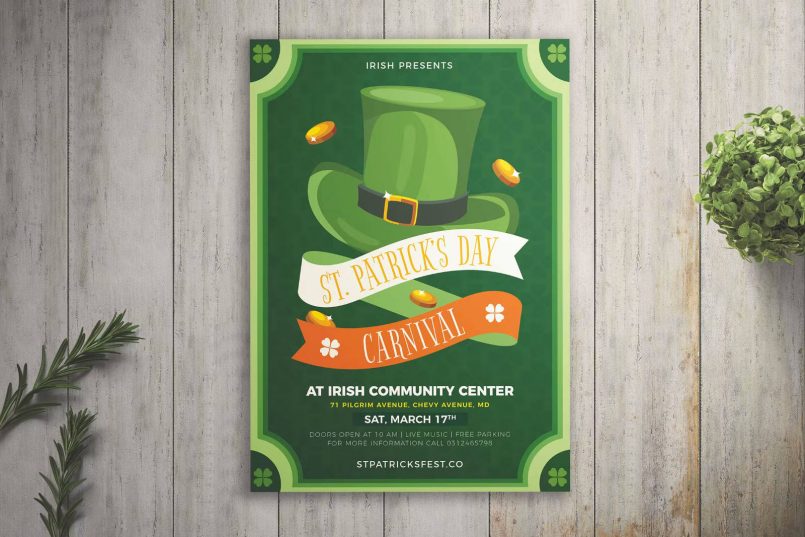 St Patrick's Day Carnival Flyer
This St Patrick's Day flyer template is the perfect promotional tool for any event. This set contains layered Adobe Illustrator and Photoshop files so you can easily customize and edit it to fit your specific needs. The flyer comes with ready-to-use artwork, making it incredibly easy to use. All of the text, shapes and elements are fully customizable, allowing you to quickly create a unique design that's sure to draw attention.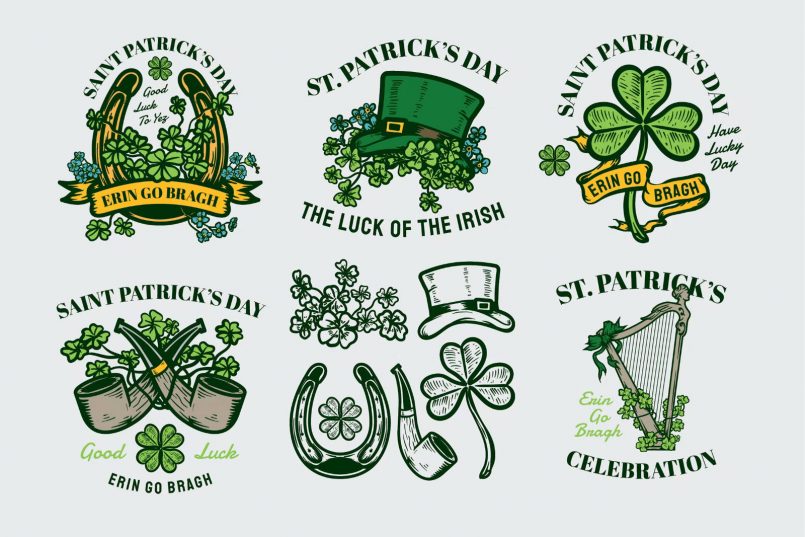 Saint Patrick's Day Badges
These fun green and gold badges come in vector format (AI and EPS), making them fully editable and resizeable. So you can easily tweak the designs to suit your own needs. The badges have a classic vintage feel with shamrocks, Celtic knots, crests and other traditional Irish symbols. They are perfect for logos, greeting cards, invitations or any other projects that might need an eye-catching design element. Plus they're sure to add some luck 'o the Irish to whatever they adorn.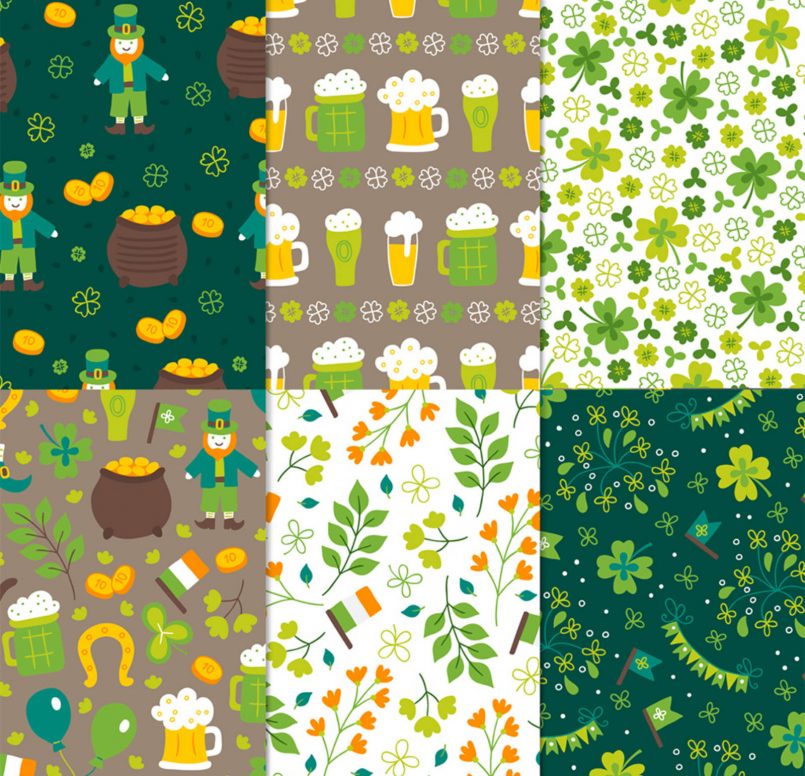 St. Patrick's Day Seamless Patterns
This set of hand drawn seamless patterns in green and gold includes 12 files that can be used to create beautiful greeting cards, gift wrapping papers, wallpapers, pattern fills, web page backgrounds, surface textures and more. The patterns come in both JPG and EPS vector format so you can easily resize them for any project. Each pattern has its own unique design, making it easy to choose one that best suits your needs.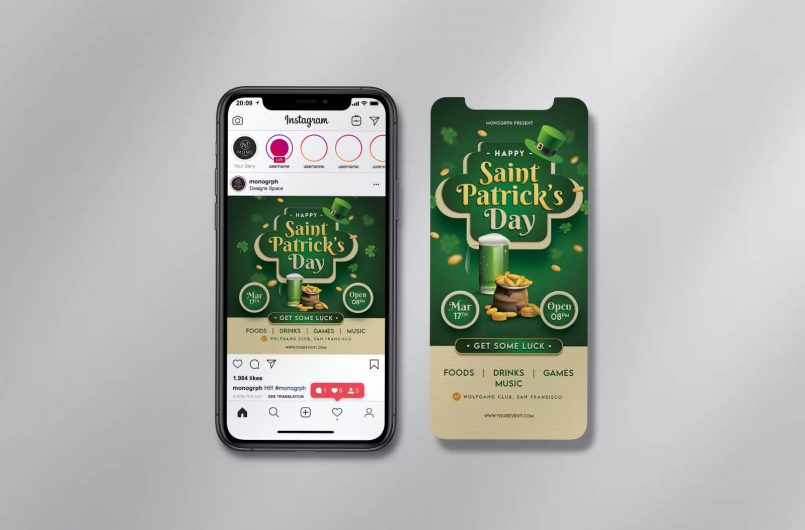 Saint Patrick's Day Instagram Set
This Instagram set includes two PSD files for both story and post formats, giving you the flexibility to customize your message in whatever way works best for you. Each design has been crafted with precision for high-quality color output, so your clients will be able to see the rich details in each feature of the banner, perfect for those who want to make sure their brand stands out this St. Paddy's day.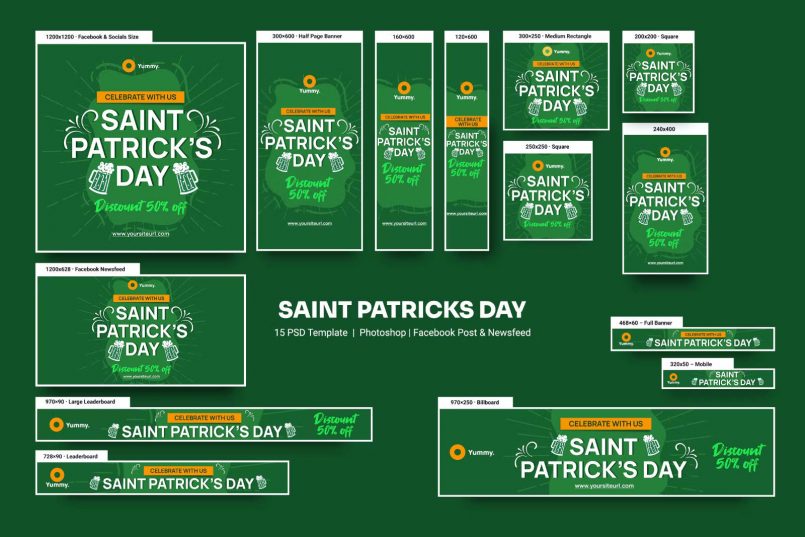 Saint Patricks Day Banner Ads
Promote your products and services online with this great looking banner set that includes 15 PSD template files. The template set has a clean layout design, making it easy to craft your message so that it stands out on any page. With the right message and visuals, you'll be able to drive more attention and engagement to your website or social media platforms.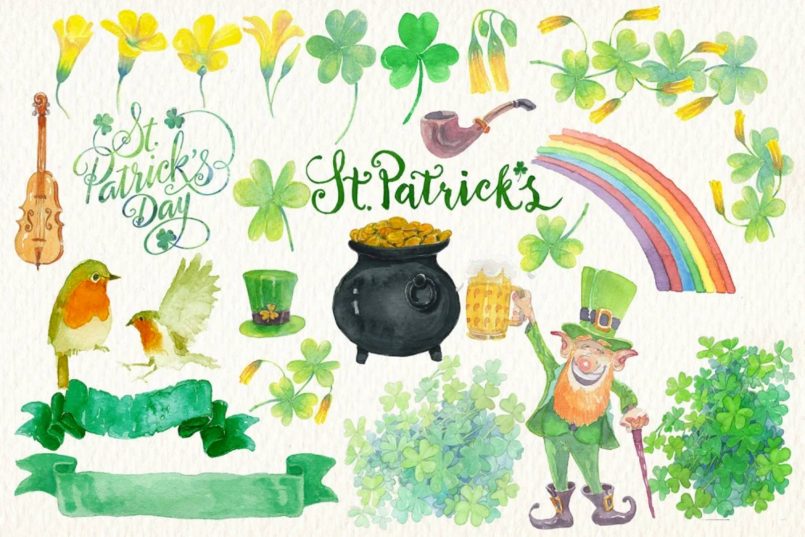 St Patrick's Day Watercolor Illustrations
This watercolor set has 24 high quality PNG files and 18 PNG arrangements, ideal for invitations, gift cards, posters, albums, stickers, greeting cards, t-shirts, scrapbooking and much more. All of the elements in this set have been hand painted, scanned and converted into digital files for an authentic look.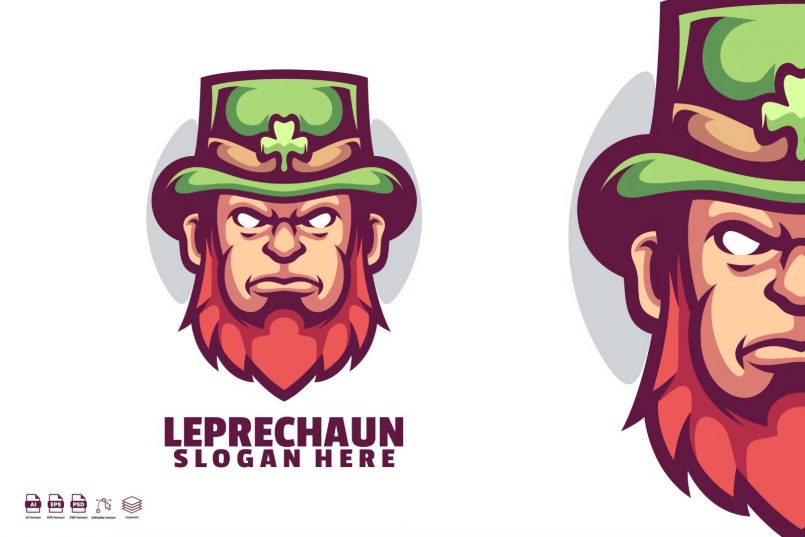 Leprechaun Mascot Logo Design
The Leprechaun mascot logo is a high quality hand drawn vector design. This impactful and unique symbol can be customized to fit your needs with adjustable colors and text, and the set comes with various file formats including AI, EPS, PSD, JPG, PDF and PNG. The vector graphics are extremely versatile; you can resize them without fear of quality loss or pixelation.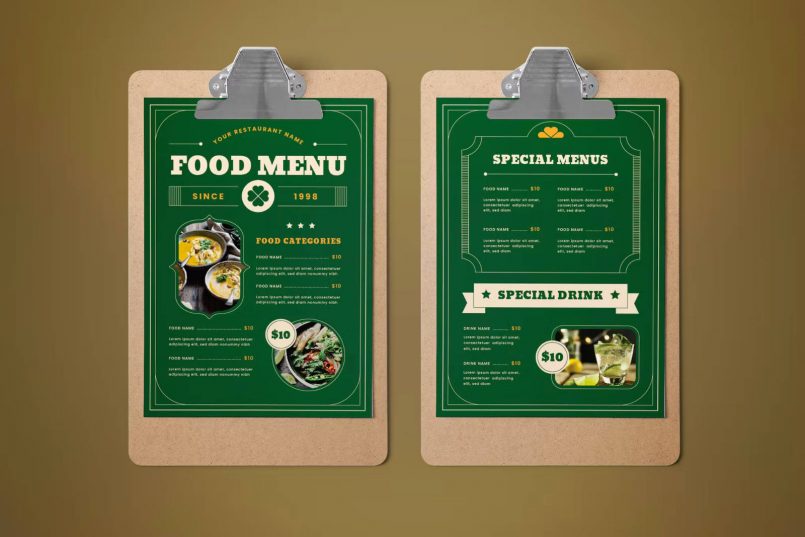 St Patrick Food Menu
With this customizable set of Illustrator and Photoshop files, you can craft the perfect menu for a restaurant or cafe in no time at all. The high-quality templates are editable and print ready with separate layers for texts, images, and graphics. Only free fonts are used so you won't have to worry about any additional costs or licensing issues.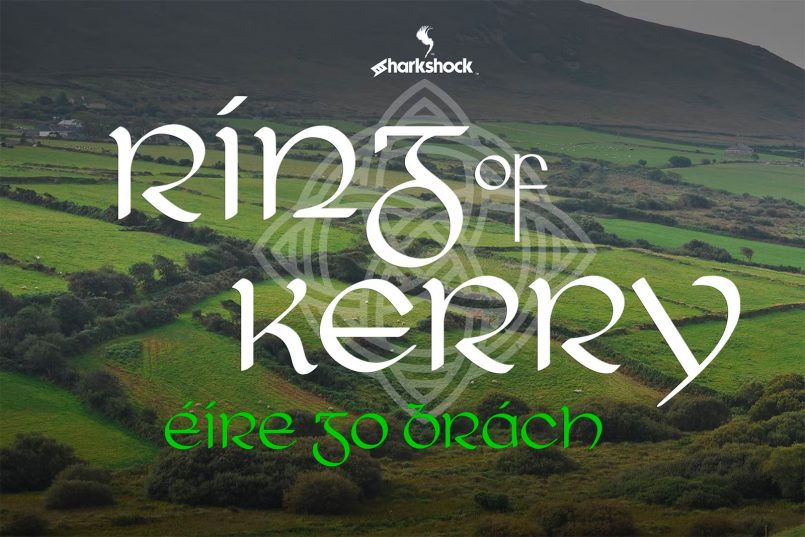 Ring of Kerry Irish Font
The distinctive style of the Ring of Kerry typeface will add a Gaelic touch to your designs. This decorative display font can fill your needs for beautifully crafted Irish style lettering. Basic Latin, punctuation, European accents, kerning, and a few Celtic knots are available for added versatility.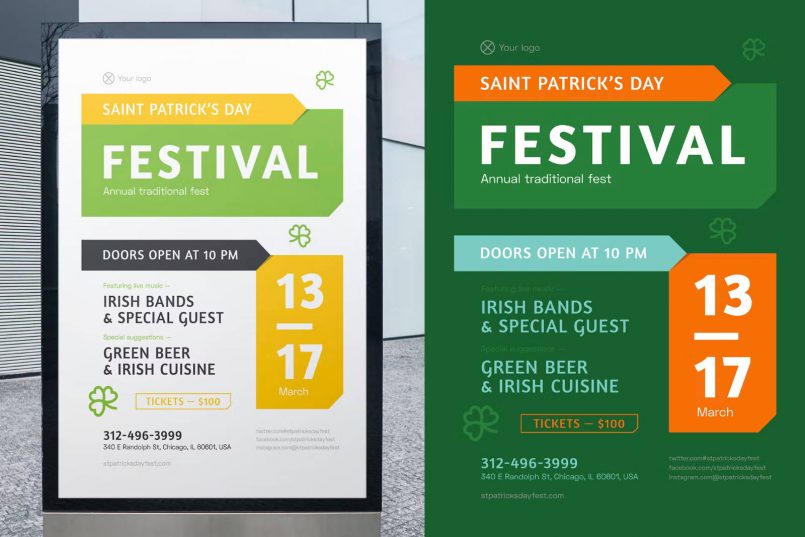 St. Patrick's Poster Template
This sleek poster template is the perfect solution for getting the word out about your St Paddy's event. The A2 size poster comes in 5 different sets of colors, and each version is ready-to-print. The modern design is easy and simple to customize with EPS and AI files included, so you can make it your own quickly and easily. Plus, all of the fonts used are free.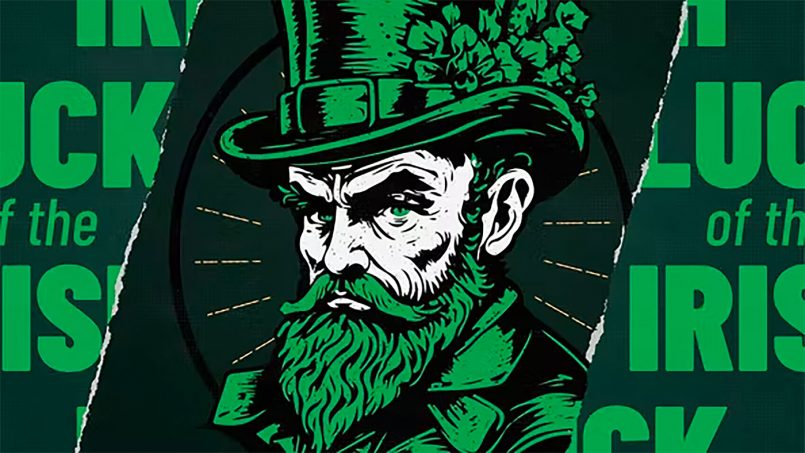 St Patrick's Day Celebration – Fast Intro Video Template
Featuring bold, green typography and playful design elements, this video template is the perfect way to grab your audience's attention for any event, social media promotion or marketing campaign.
With a 4k resolution, you can be sure of a crisp and clear image that will look great on all types of devices. And with fully customizable text, you can add in your own messaging to help promote anything you want.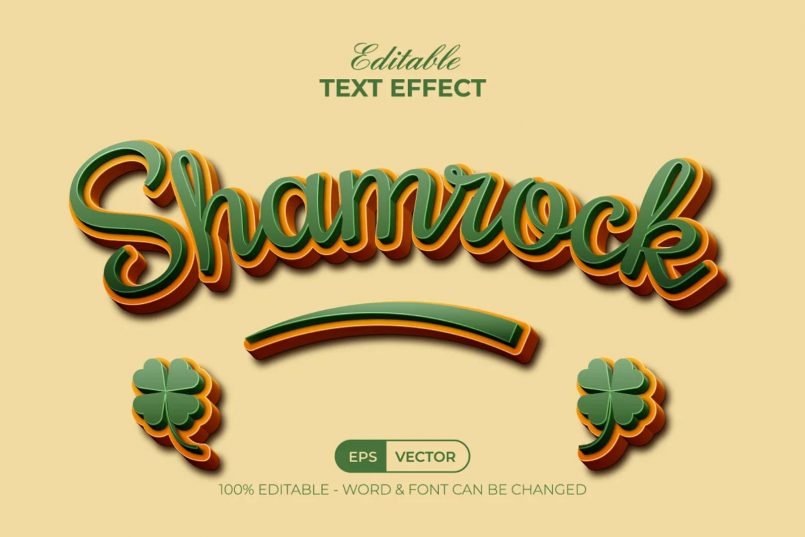 Shamrock 3D Text Effect Green & Orange Style
The Shamrock 3D Text Effect comes with Illustrator files that are easy to edit. All you need to do is replace the existing text or shape with your own using the graphic styles menu, adjust the colors and you're good to go. It's also an excellent way to make headlines stand out or simply draw attention to any message you want viewers to notice. With just a few clicks, you can create good-looking 3D visuals that will captivate audiences.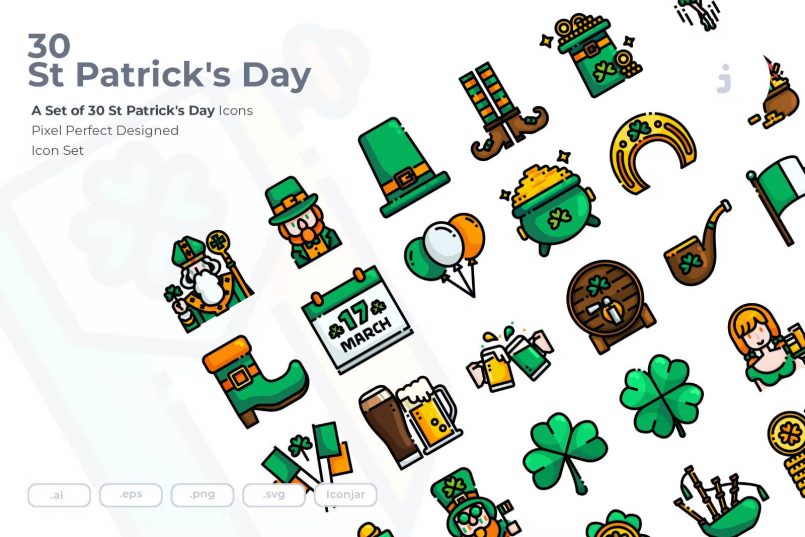 30 St. Patrick's Day Icons
This selection of cute icons comes in 2 different styles – colorline and outline. Both feature a pixel perfect 64px grid for consistency, maximum detail and clarity. Plus, you have the option of downloading the vector icons as Iconjar, AI, EPS, SVG or PNG files for use across multiple platforms. Whether it's for web design or graphic design projects, these icons provide a creative touch to your visuals that can help you make an impact on your audience.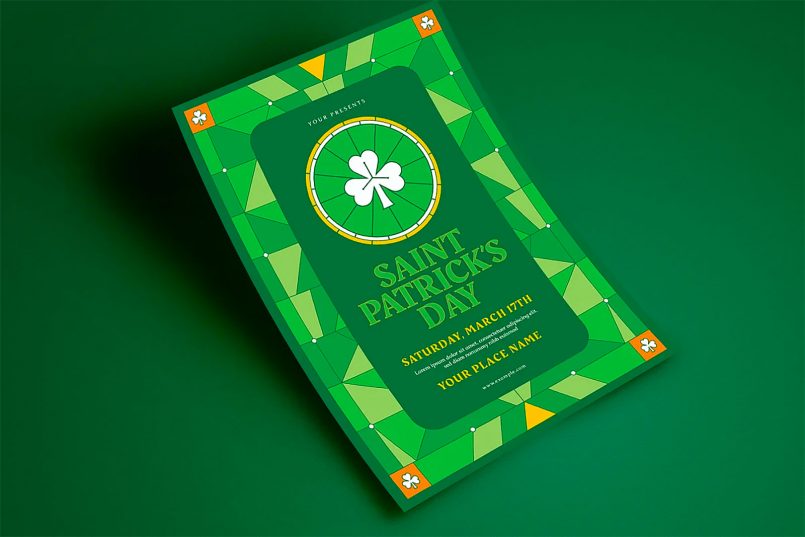 Saint Patrick's Day Event Flyer
This minimalist flyer template is a great choice to promote any upcoming St Patrick's Day events. Featuring a bright green background with a beautifully crafted geometric pattern, it will draw attention to your message and make sure that everyone knows about your celebration of Irish culture. Plus, the Illustrator and Photoshop files included in the set offer plenty of customization with easy to change colors and editable text so that you can personalize it further according to your own needs.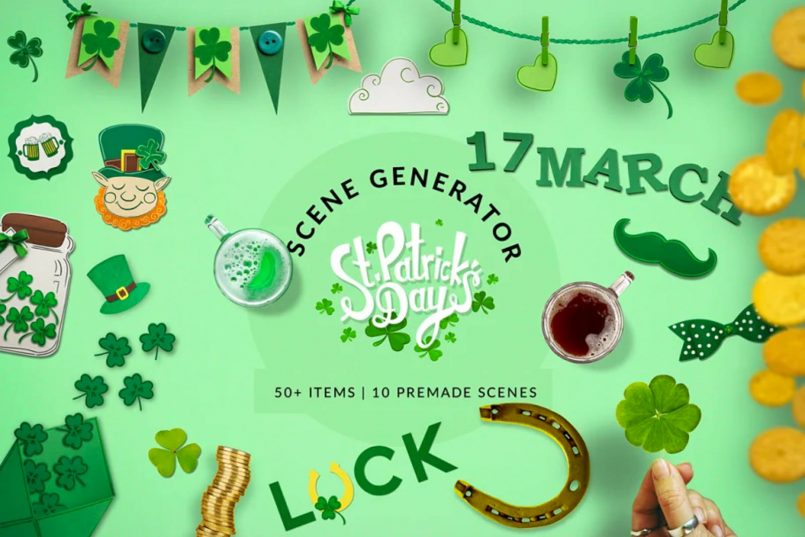 St. Patrick's Day Scene Generator
This scene generator allows you to create a unique story with ease. Featuring 50 high resolution objects, it also provides the opportunity to change the background of your scene. As an added bonus, you also have the option of using one of the 10 pre-made banners that come with the generator. The Photoshop files have the convenience of having objects and shadows separated from each other so you can easily move them around and make changes as needed.
That's it! We hope you found something useful in this roundup. Now go ahead and use these assets to start designing your own Irish-inspired St. Paddy's creations.
---
This post contains affiliate links to partner brands. We earn a small commission if you click the link and make a purchase. There is no extra cost to you, so it's just a nice way to help support the site.
Inspiration
in your inbox
Amazing art & design, never any spam.
We care about protecting your data. Please refer to our Privacy Policy for more.
© 2023 Inspiration Grid, all rights reserved. Some of our posts may contain affiliate links to partner brands. We earn a small commission if you click the link and make a purchase. There is no extra cost to you, so it's just a nice way to help support the site. All images, videos, and other content posted on the site is attributed to their creators and original sources. If you see something wrong here or you would like to have it removed, please contact us.