MonsterONE vs. Envato Elements vs. Creative Market Subscription Services Compared
Published Apr 7, 2023
Includes affiliate content
The days when web designers and developers spent countless hours browsing through numerous marketplaces and paying a hefty sum to acquire the perfect graphics, templates, and stock photos for their projects are gone.
Thanks to the subscription model, several platforms now provide unlimited access to millions of design assets and resources for a single, affordable fee.
We have chosen the three most popular creative subscription services for this article –  MonsterONE, Creative Market, and Envato Elements. Let's compare these leading services so that you can choose the one that matches your needs and goals the most!
Pricing
MonsterONE offers various pricing options for their ONE Membership license, ranging from $89 to $198 annually. They also let you create a free account for unlimited downloads of free digital items.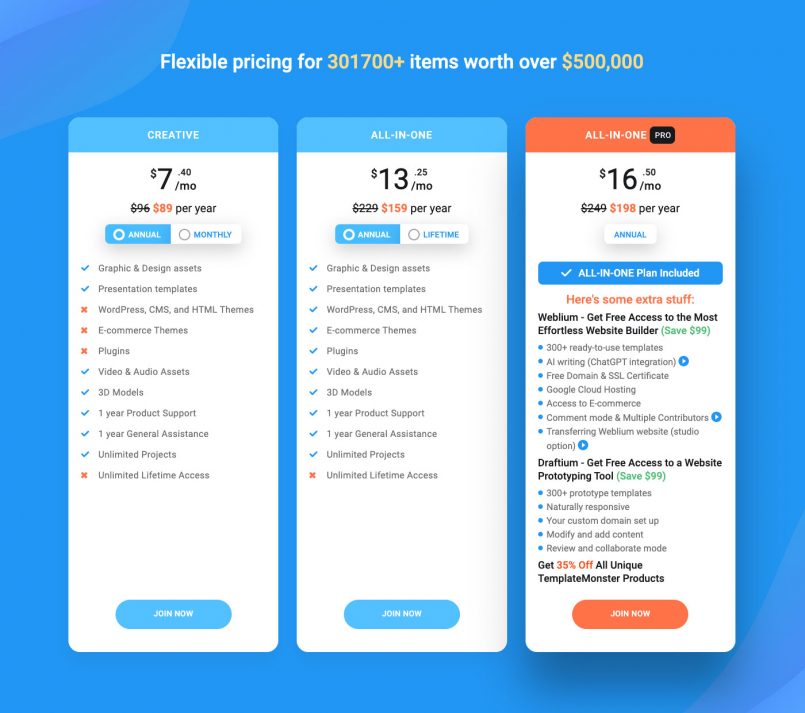 MonsterONE offers straightforward and transparent plans with no hidden fees or surprises. You get unlimited downloads of graphic and design assets and ready-to-go premium website templates. You have the option to choose between monthly and lifetime plans. The latter option gives unlimited access to all TemplateMonster digital marketplace products featured in the MonsterONE subscription service.
This subscription provides access to all templates, graphics, video assets, and plugins for unlimited projects. With the annual license, you can use the subscription's contents to create products for yourself and your customers. In other words, you can install any product on unlimited domains as many times as you like.
You must note that you can only utilize all purchased goods with an active membership. This means that once your membership ends, you can no longer access the goods.
Projects created with the MonsterONE products will continue functioning properly even if your membership expires.
Creative Market offers three subscription plans, ranging from $19.95/mo to $49.95/mo. As you can see in the image below, each subscription plan provides a limit of monthly downloads. Members also get exclusive access to a monthly drop of trending design goods sourced from the marketplace.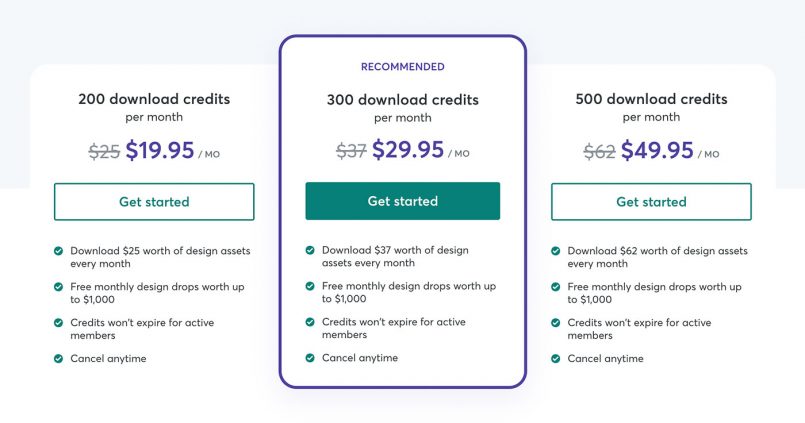 Envato Elements offers a paid subscription service that gives creators access to over 2,000,000 digital assets that can be downloaded and used in their projects. The membership fee is only $16.50 per month (14.50€ per month in Europe) if you pay annually. However, if you choose to pay monthly, the cost is $33 per month (29€).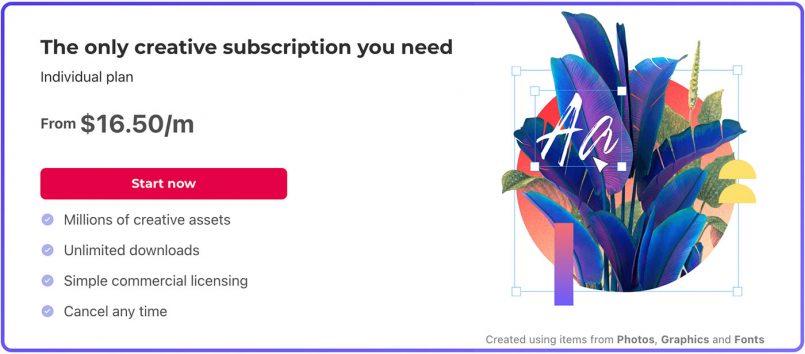 With Envato Elements, you can find everything from website templates and WordPress themes to stock photos and graphics, all in one place. This makes it incredibly convenient for creators to find the necessary assets without searching through multiple websites or marketplaces.
As mentioned previously, the subscription can be billed monthly or annually, depending on your chosen option. The annual subscription offers a significant discount compared to the monthly one, making it an attractive option for those planning to use Envato Elements regularly.
Content Selection
The MonsterONE subscription provides access to a wide range of pre-designed web design products, including WordPress themes and HTML templates, that enable users to start building a website easily. The subscription offers ready-to-use solutions for popular platforms like WordPress, Magento, Shopify, Elementor Page Builder, and more. There are 301,500+ premium digital products to choose from.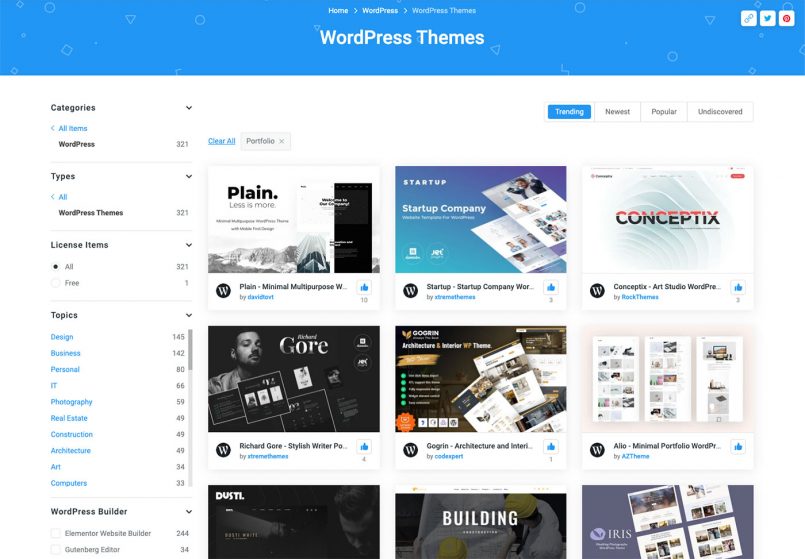 The vast library includes WordPress and WooCommerce themes, Elementor templates and plugins, HTML website templates, Shopify and Magento themes, OpenCart, Joomla, and VirtueMart templates, PrestaShop themes, and graphical products. As a WordPress user, this service is particularly appealing because it offers many WordPress themes, WooCommerce themes, Elementor templates, and WordPress plugins.
Users can use any template or plugin on unlimited websites, with complete control over the themes used and no hidden or unexpected costs. You will also be able to access a fantastic collection of hundreds of professional site designs with MonsterONE.
Creative Market is a digital design content platform featuring products made by independent creatives worldwide. The platform offers various digital design goods for purchase, including stock photos, graphics, icons, templates, website themes, fonts, UI kits, Photoshop and Procreate brushes, 3D models, and more.
All products in the marketplace are unique designs created and sold by independent creatives. The platform provides visibility and a space for these artists to showcase and sell their work to customers. If you need any type of digital design asset, Creative Market is a great place to explore.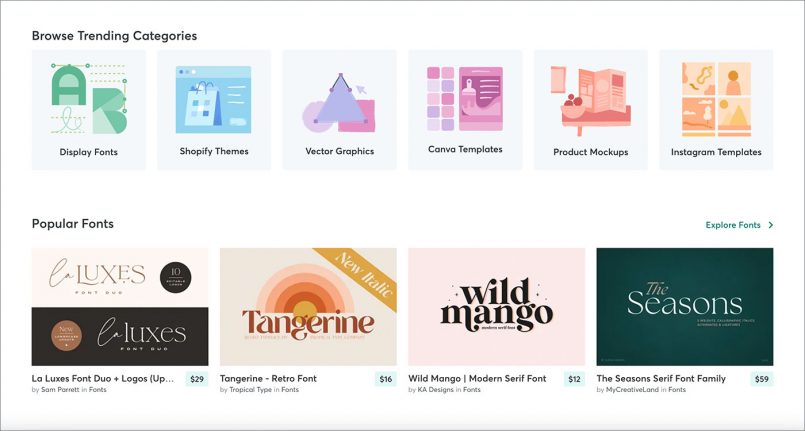 Envato Elements is a top choice for creatives, offering access to over 6 million stock photos, templates, professional Photoshop actions, and other add-ons. Their library features popular WordPress themes, plugins, and template kits, with over 1,600 themes, 760 plugins, and 2,500 template kits available. Additionally, users can choose from 20,000 fonts and a huge range of icons for app development.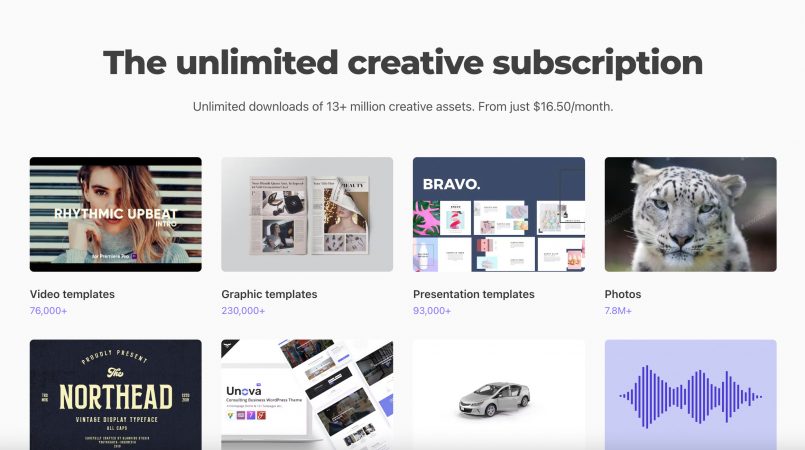 Videographers will also appreciate the unlimited downloads for After Effects templates, sound effects, Premiere Pro templates, and stock footage.
Envato Elements is not just for designers and developers – it's also great for freelancers, individuals, and entrepreneurs looking for an affordable and high-quality source of creative assets. The platform offers great tools for creating logos, social media posts, promo videos, and product packaging.
Customer Support
MonsterONE offers 24/7 support to its users. If you encounter any issues or have any questions, you can get general assistance via chat anytime. Chat support is available to help with simple technical issues, such as providing information on item updates, answering questions about features, and providing specific details about an item.
You can submit a ticket through their ticketing system if you have more complex questions or issues. Technical support through the ticketing system is available from Monday to Friday. However, it's important to note that MonsterONE doesn't offer support for customization, installation, or requests related to modifying items, such as server settings, third-party software, or hosting.
If you need assistance from Creative Market, you can contact their Support Team by sending them a detailed description of your issue. In case of a purchase-related inquiry, including the Order number from your email receipt is recommended.
For technical questions about a product, you'll have to contact the seller directly, as they support their own products. Creative Market does not offer phone support or live chat support. They prioritize providing fast and high-quality responses by email, ensuring customers receive human assistance firsthand. To contact the Support Team, you can submit a ticket through their website, and they will respond as soon as possible.
The Envato Elements Help Team offers customer service via email and strives to respond to all inquiries within 24 hours.
The Help Team is available to assist with various matters, including using the site, account-related queries, subscription-related questions or requests, payment-related questions, copyright procedures, policies, and piracy, general Envato Elements license questions (although they cannot offer advice on individual use cases), information about their affiliate program, and Envato Elements terms and conditions.
Similarly to Creative Market, whenever you have a question about the products you bought in the marketplace, it's recommended to contact the product authors directly.
User Experience
MonsterONE is easy to use and navigate, even for those new to the service. Besides the clean and clear main categories menu, you can use the advanced search at the top of the page to quickly find the items you need. If you want to check out the top-rated products from each category available through the subscription service, MonsterONE features convenient sections with highlighted items.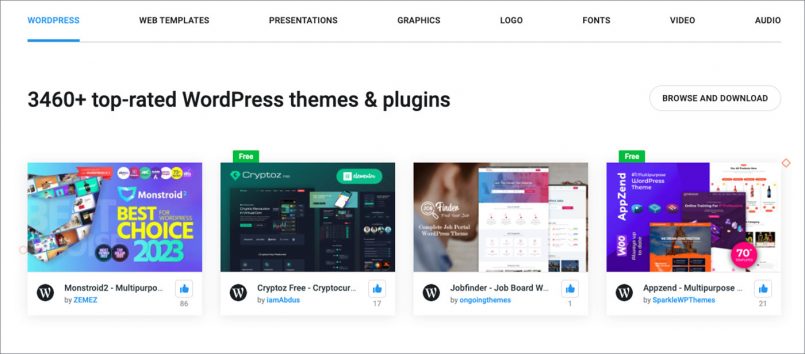 Similar to MonsterONE, Creative Market provides simple and intuitive navigation patterns. The service lets you browse categories of items via the main menu, search, and highlighted collections of the top-trending and new items in different categories.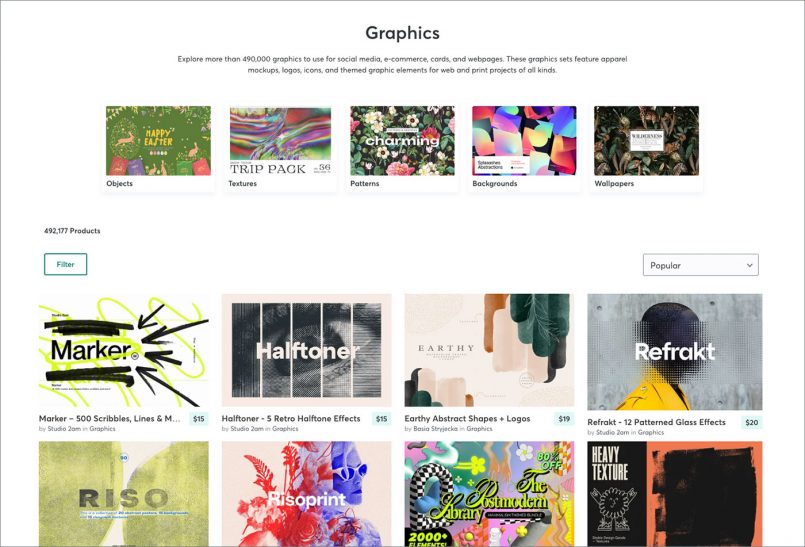 Envato Elements lets you browse categories of products using the main menu and built-in search, which are also highly usable and intuitive.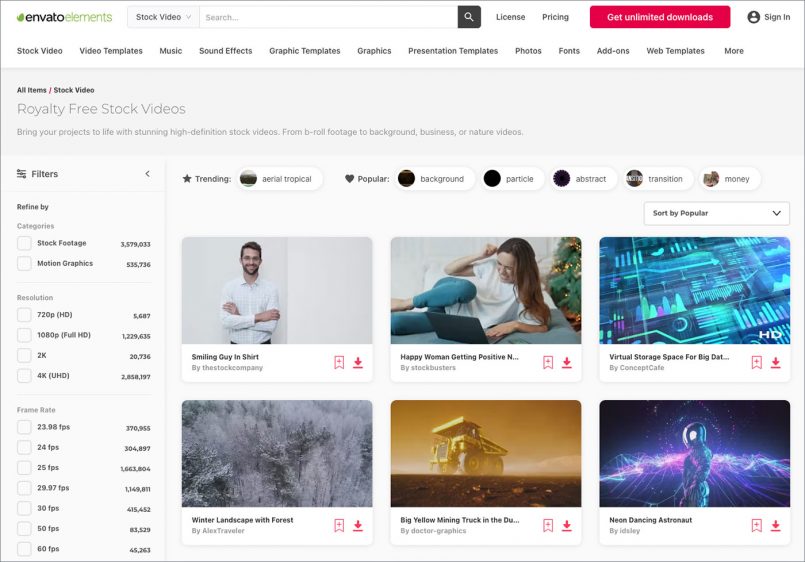 Once you're browsing a specific category, both MonsterONE and Envato Elements include a sidebar with a range of contextual filters that are directly available to help users narrow down their selection and find exactly what they need. Creative Market has similar filters, but the options are tucked away under a "Filter" button and not readily available.
Bottom Line
Wrapping it up, it's worth mentioning that each of the three subscription services mentioned above should be useful for different types of creative projects, and personal and business needs. Each of them is unique and worth trying out.
In case you think the MonsterONE subscription service might be your preferred option, you should be pleased to learn that the TemplateMonster digital marketplace lets you save 10% on any MonsterONE subscription plan with the "inspiration" promo code.
---
This post contains affiliate links to partner brands. We earn a small commission if you click the link and make a purchase. There is no extra cost to you, so it's just a nice way to help support the site.
Inspiration
in your inbox
Amazing art & design, never any spam.
We care about protecting your data. Please refer to our Privacy Policy for more.
© 2023 Inspiration Grid, all rights reserved. Some of our posts may contain affiliate links to partner brands. We earn a small commission if you click the link and make a purchase. There is no extra cost to you, so it's just a nice way to help support the site. All images, videos, and other content posted on the site is attributed to their creators and original sources. If you see something wrong here or you would like to have it removed, please contact us.