Interview: Behind the acidic creations of Mike Hughes
Published May 29, 2020
Scottish illustrator and designer Mike Hughes combines the shapes and colors found in vintage Asian animations with elements from American comics to create artworks that ooze with a unique style. We had a great chat with him to discuss process, creativity and pop culture….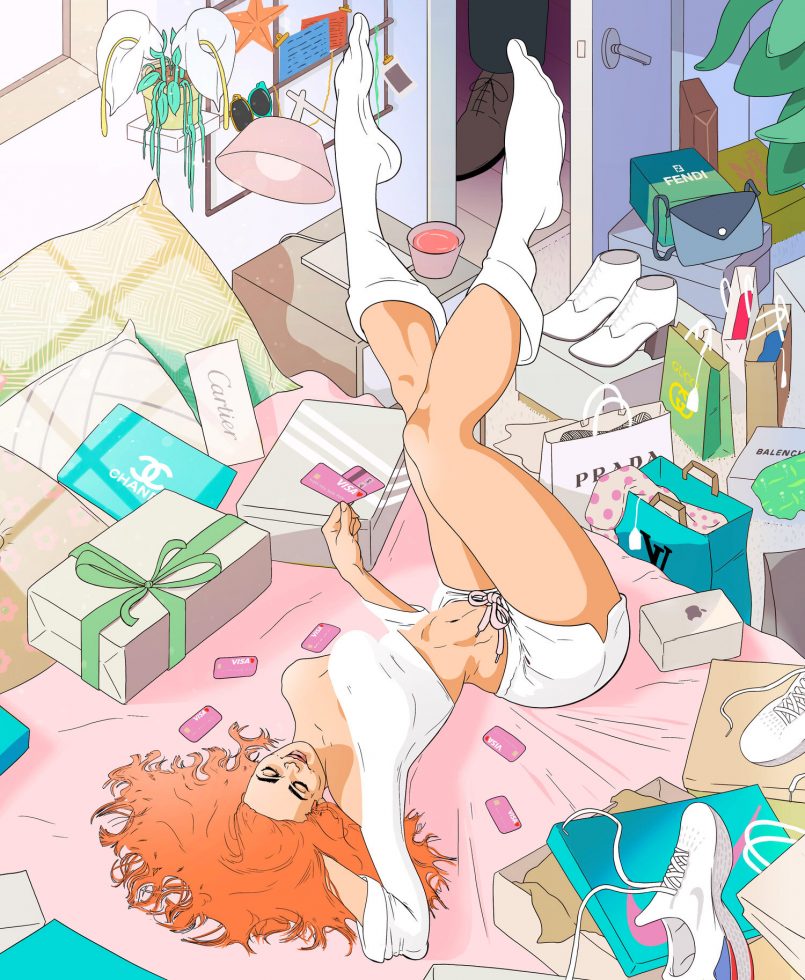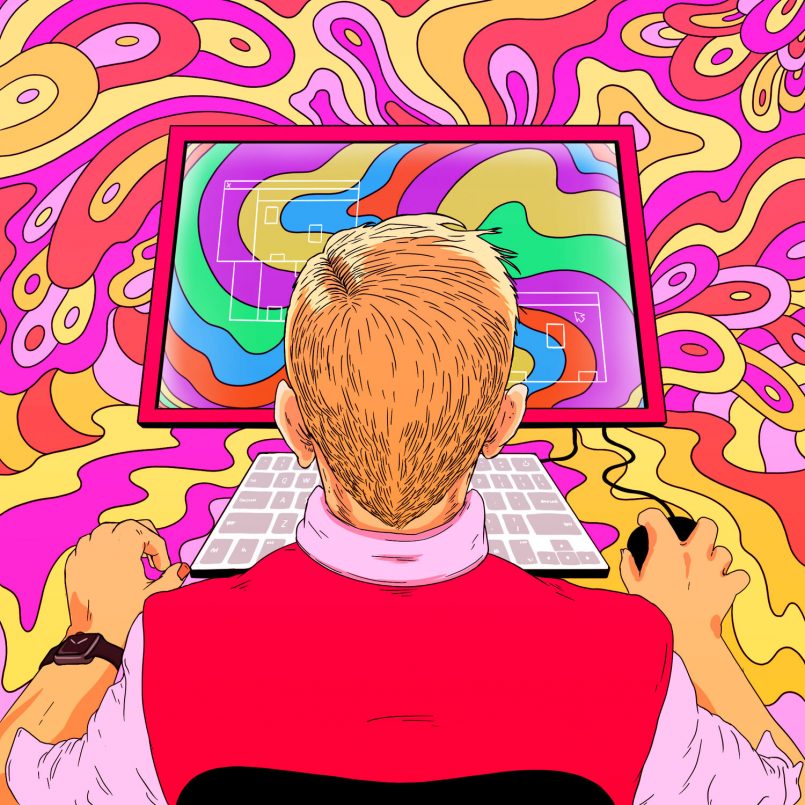 How did you begin your journey as an artist / illustrator?
I had fairly shaky beginnings to be honest. I was always drawing fairly obsessively but actively didn't pursue a career through it. I'd been through the education system which pointed me towards art and I simply didn't believe it was a real possibility at the time.
You have to understand that this was early '00s in the north of Scotland with the early internet. No Instagram, no Twitter, no Youtube. All the best contemporary artists / illustrators were found in books / magazines and if you were lucky they had pretty terrible websites. To me the gap between where I was to being good enough to get published seemed implausibly large, not to mention most of my heroes were from the other side of the globe.
It wasn't until I was doing a snowboard season a few years later that I ended up living with an actual professional artist with a great style. I couldn't believe he lived that life and it turned out we had a lot in common. Once he saw my sketchbook he gave me the encouragement and solid advice I really needed to pursue that career. Once home I applied to art school and began the long road to where I am now. Seeing someone with a similar background do great things made it all seem possible.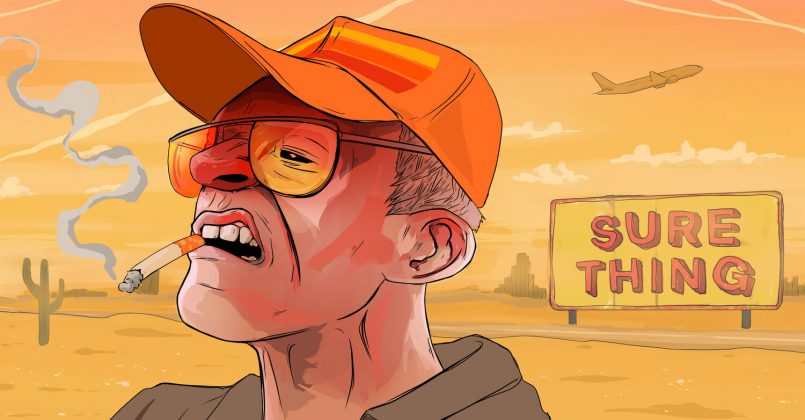 How would you describe your style?
My analysis would be an American / Asian hybrid. I take the shapes and abstraction of characters as well as the incredible colour use that asian animation perfected in the '80s / '90s. I mix that with American comic stylistic cues and thematic drivers.
It's not something I planned specifically in advance, it really feels like I'm digging for fossils and I'm slowly unearthing this look. I would love to make work with painterly backgrounds and will explore that in the future.
What / who are your biggest influences?
A few years ago I realised that most of my favourite artists were heavily influenced by Akira and therefore Otomo. It's hard to put into context what a cultural effect that incredible project had on people like myself by extension. Looking back to the source of inspiration can give a better understanding of why these things affect you – why they are important.
How did you develop your love for illustration?
As a child of the '90s taken by all things American – skateboarding, comics, cartoons, computer games. I really didn't have much of a chance, the world was awash with incredible illustration, animation and graphic design everywhere I looked. It took me a few years to realise it but the foundation was there from the beginning. The more I look back, the more I feel inspired to make new work.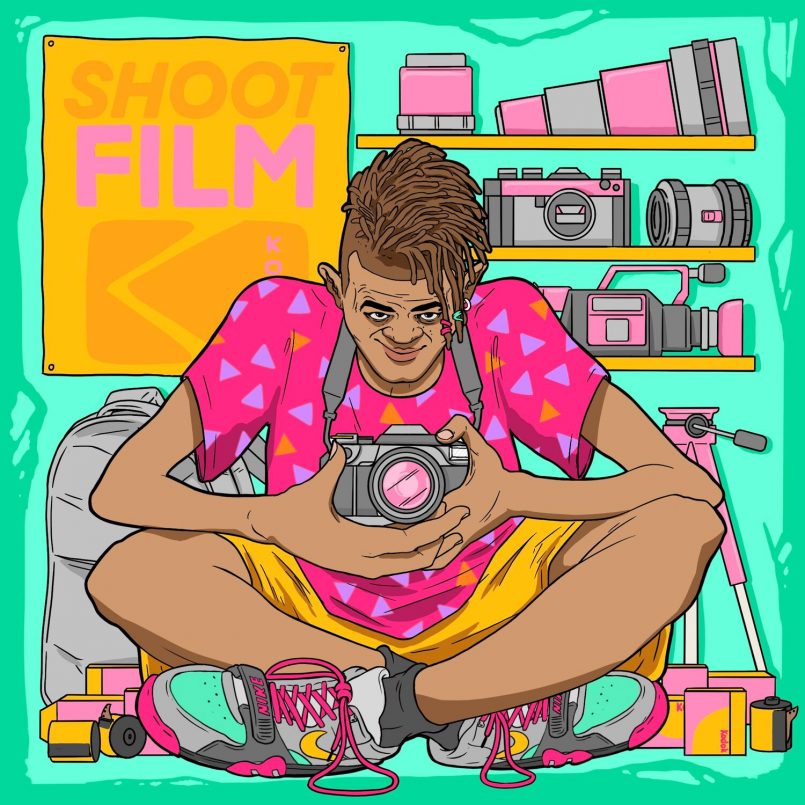 What role has education had in your art?
It's a tricky question. My art school education's relevance is debatable. I chose to study painting as at the time I believed the technical skills would be the most difficult to attain and the other stuff I could learn later. I was half right, however the philosophy side of making fine art really slowed down my commercial development. I often wonder if I had more of a design / illustration focus early on my communication may have been improved. It's hard to say but I have ended up here now so I can't complain too much.
Do you have tips for aspiring illustrators and artists?
I could speak for hours on the subject but I'll try and condense a couple of key ideas here. What I'm saying here really only applies to people who want to follow a similar path to myself. There are many ways to do it but these principles work for me.
For the artist looking to work with their dream clients this is probably the best piece of advice I have been given. Put yourself in the position of the person that could hire you. They have a team of people relying on their decision to commission you for this big job. They need to be sure they are not making a mistake. In order for them to do this, you must demonstrate in your portfolio consistent work that looks exactly like what they need. Construct your output around this basic principle and if the work is good enough when you send it to these companies you will get hired..
There are many artists out there that have truly mind blowing and beautiful work but it just isn't widely commissionable. That's not to say your portfolio needs to look like a shopping list of companies you would like to work for. Make work that is suggestive and thoughtful. Why would someone need it, what problem are you solving?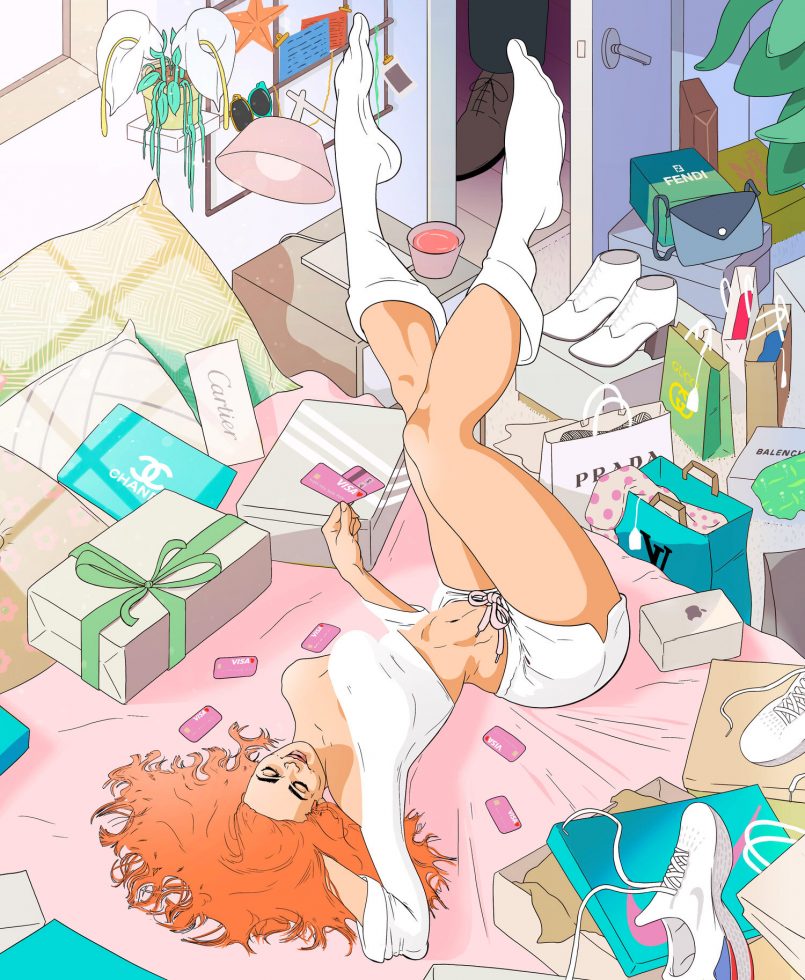 The next thing to think about is style. Don't shy away from making work that you have always wanted to make. It's very tempting to jump on trends to chase jobs, however in the long run you'll just end up lost. Really think about what got you into Illustration in the first place. Instagram is great but buy art books from your favourite artists if they have them, research what they were into.
Chances are they've abandoned some great stuff and you could pick up from where they left off. Your style will naturally evolve and change but staying true to the spirit of the works that really inspired you when you started out will keep you on the right path.
How do you deal with creative block?
Focussing on doing something on a down day to move yourself just a little bit further forward. It doesn't have to be huge. Maybe send an e-mail or do some research. So long as you do something you won't lose all your momentum. There are some artists out there that once they stop find it really hard to get going again. The longer they leave it the less they feel like they can start again which I understand.
When you feel good make as much work as you can and when you don't just take your foot off the gas a little bit. Also exercising, eating and sleeping well are so important to keep from hitting those slumps.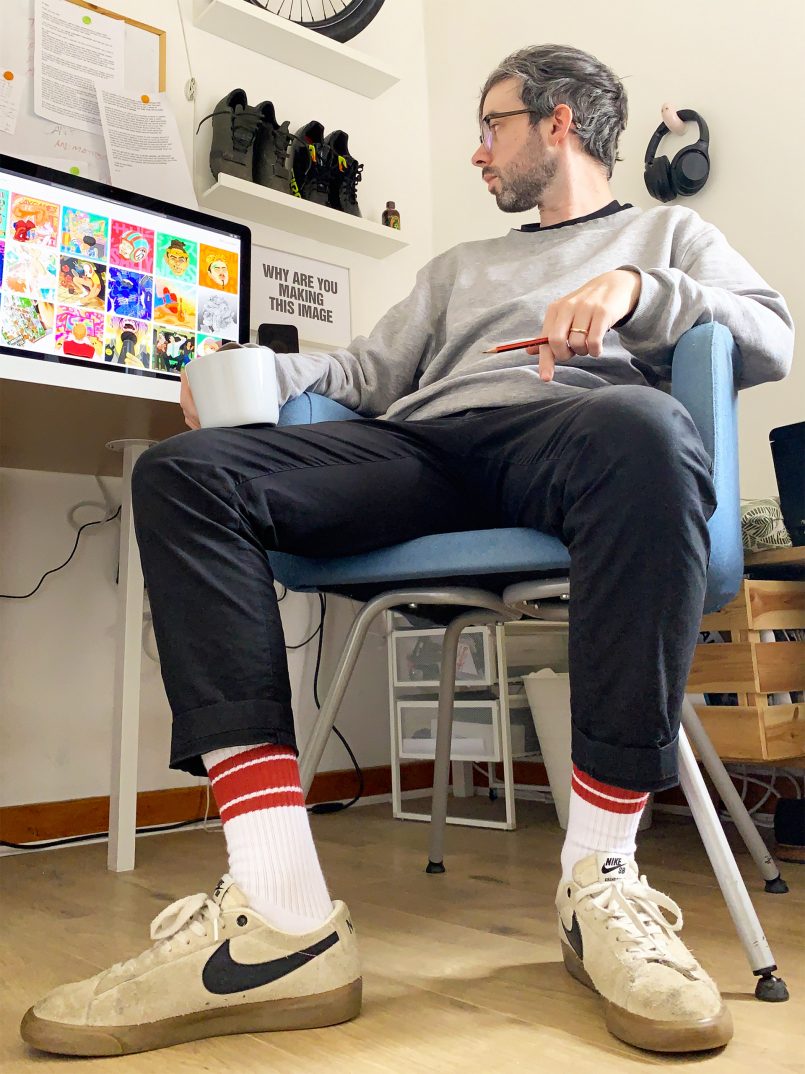 How has COVID-19 isolation impacted your ability to create?
Only in the sense that the gig economy has become less predictable. Initially I found it difficult to make work while having so many tenders up in the air. It can be hard to make personal work when you might have a 2 month project about to land. Now that I have a sense of how things are going I'm back in a good rhythm and just concentrating on making the most of the extra time.
Are there any other artistic mediums you have aspirations of venturing out to?
Animation is a big interest for me. I've worked on a few killer projects which have been great experiences which I really enjoyed. My dilemma is that I am predominantly a static image based artist and in an animated situation I take the role of art director / key artist / character designer etc.
In order to steer the work in the direction I would like, there would be a considerable time investment to make a proper showreel and adjust my portfolio. This coupled with the potential I'm still exploring in more traditional Illustrated outputs makes it something that won't happen overnight. However I can't deny that some of the best projects I've seen in recent years have come out of boutique animation houses. Time will tell.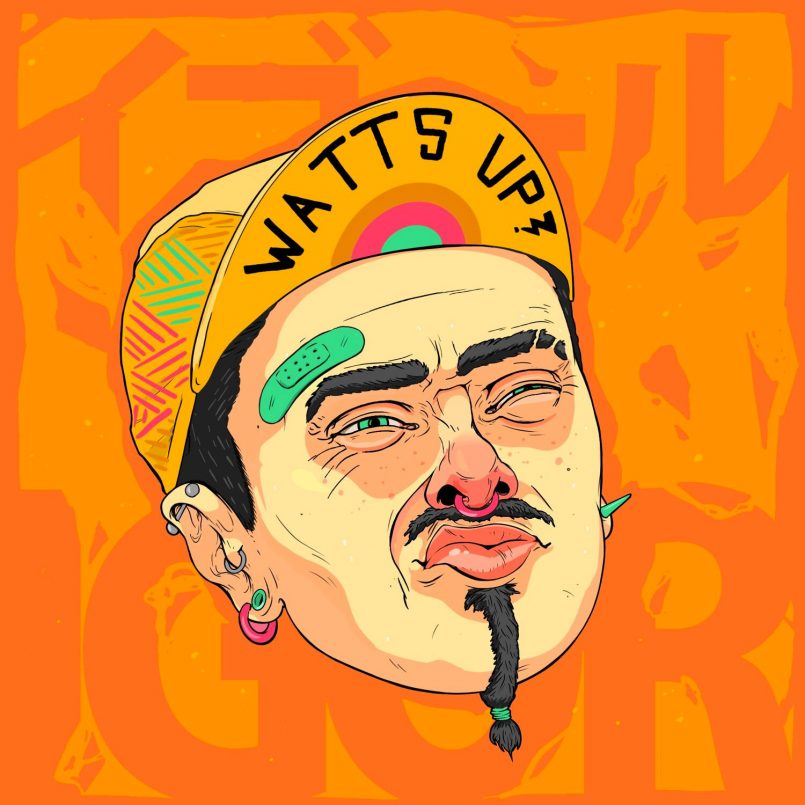 Do you find there are creative differences between doing commercial work versus self-initiated personal projects?
Very different, I would say commercial work is far easier to get to the solution. Briefs are usually quite tight as the client has a very specific reason for hiring you. The main challenge is making sure the work retains identity. If there are too many voices in the room this can become difficult.
Good art directors will recognise this but every now and again a job might get steered a little off the path. That's fine and if the client is happy and the project looks great you still did your job. It just might not necessarily make it into your portfolio.
On the other hand personal projects are challenging in that there are unlimited variables. I have quite specific objectives for my personal work and even then it can still be difficult to narrow it down. A good tip is to write briefs for yourself, not only is it good practice but it will stop images getting a bit lost. Communication is key.
What kinds of things do you do to create an environment / mood to help get your creative juices flowing?
Tidy up, get rid of any distractions. Set some time periods for the day and some specific goals. Looking through some good art books never fails to fire me up to make new work. More than anything it's being excited about you're working on. I usually plan out in advance a few images to work on so If one isn't getting me excited I'll move on to the next. Working a few images up at once can be a great practice as they inform each other as they develop.
How has your creative process changed throughout your career?
Pretty much everything is all digital now which I honestly prefer. People might love the romance of unpredictable inky marks and textures but really it helps me focus on the why and not so much the how of the image construction. One thing I do which will never become digital is note making. I have stacks of paper with endless lists and notes about work. I find writing a good way to get to the heart of an idea.
I have also probably become less cynical as an artist too. In the past lots of what I was doing had a less than optimistic feel to it. Now I'm a little more focussed on being playful. Life's too short to be that critical.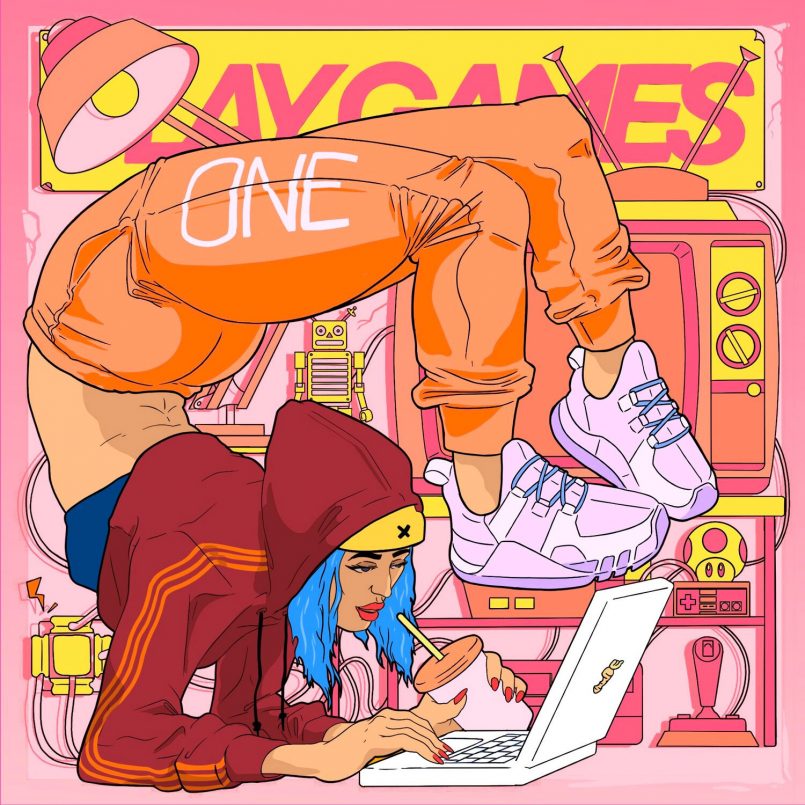 How do you know when a piece or project is complete?
My brain starts to calm down. If I can look at the piece without anxiety it's probably just about there. That or the deadline.
Your art often makes reference to certain social / political / pop culture themes, do you think it's important for art to send some kind of message to its viewers?
No, not exactly. I only think art needs to be conscious that it's in a relationship with a viewer if that makes sense? I do find some work that is almost entirely self indulgent on the artists side a little disappointing. This is mostly on the fine art side of the spectrum.
With regards to my own views in personal work, I like presenting topics with enough ambiguity to help the viewer develop their own thoughts on the subject. That's not to say there isn't an opinion in there, I just prefer conversation rather than proclaiming to have any answers.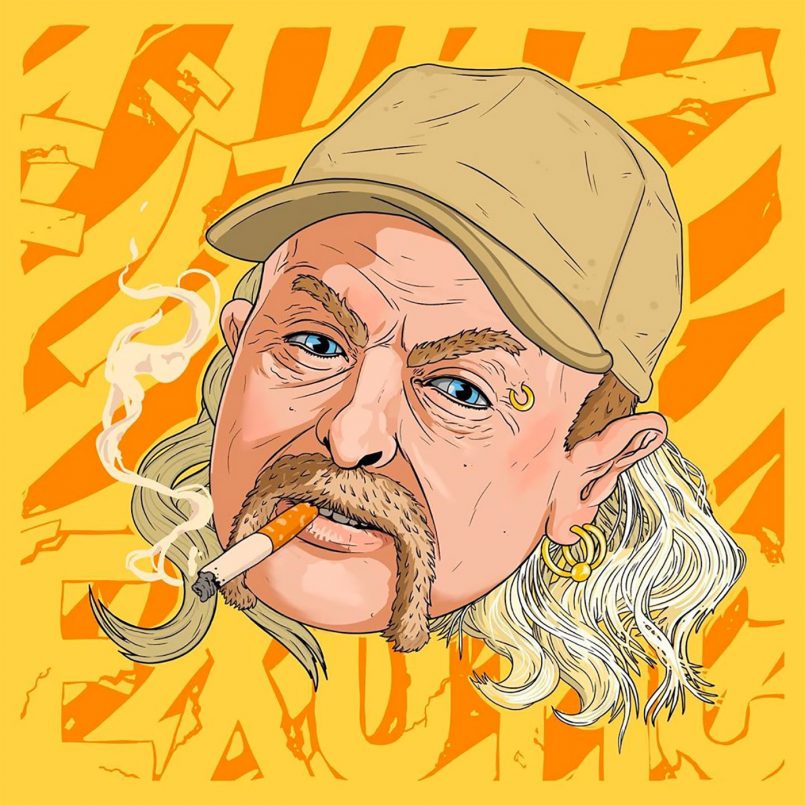 We saw this on your Instagram and had to ask… What are your thoughts on Tiger King?
He's clearly an intelligent man who built multiple communities around him out of nothing. I'd say unfortunately the limited resources he had available (meth and tigers) ultimately led him into a bit of a tight spot but I highly doubt we've heard the last from him. Carole Baskin definitely killed her husband.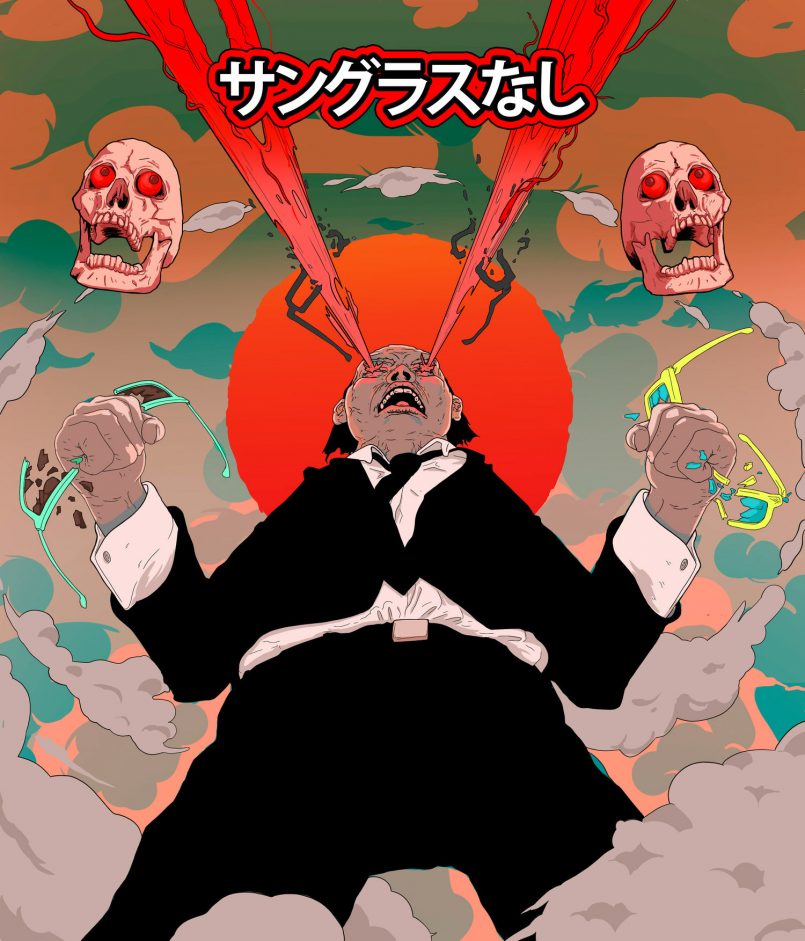 This is one of our favorite pieces. Can you tell us the story behind it?
Glad you like that one! At the beginning of 2019 I was on a trip and one of the stops for a few weeks was Japan. It's a bit cliche but it really is one of the most incredible places I've ever visited. The little things really stuck with me so much. The music in the markets, the packaging, how incredibly clean the streets were.
One thing that really jumped out at me, nobody wore sunglasses, and it was really sunny! I had forgotten mine and this prompted more investigation. It seemed to be a bit down to sunglasses being associated with the Yakuza and it also being seen as a sign of weakness. Either way my weak western eyes had a hard time. I decided to make that piece as a tribute from some sketches I made on the plane. The abstract flying skulls and laser beams added to the drama of such a minor observation which seemed to work. Can't wait to go back, with sunglasses.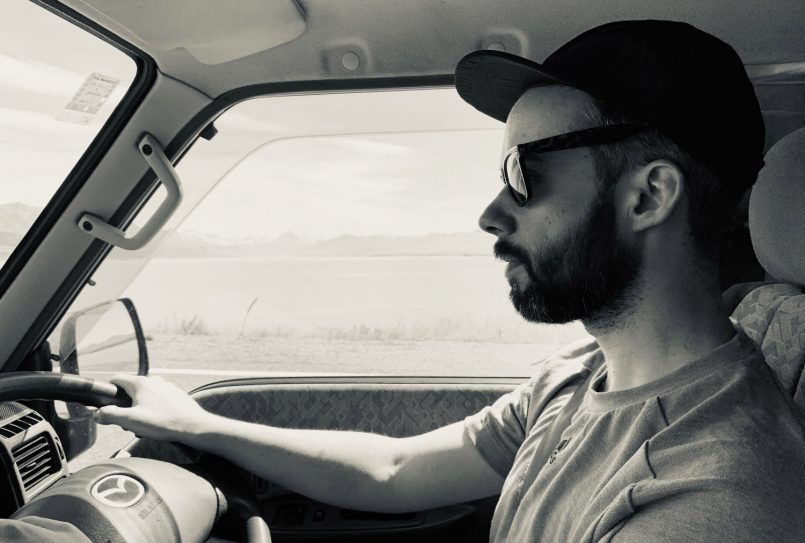 Quick fire questions
Favorite color: YES
Favorite film: Anything Alex Garland is involved with
Favorite Snack: Pizza
Favorite band / musician / album to listen to while creating: Run the Jewels
Favorite artist: Otomo
Describe your work in one word: Acidic
---
You can visit Mike's website or follow him on Instagram to check out more of his work and get in touch.
Inspiration
in your inbox
Amazing art & design, never any spam.
We care about protecting your data. Please refer to our Privacy Policy for more.
© 2023 Inspiration Grid, all rights reserved. Some of our posts may contain affiliate links to partner brands. We earn a small commission if you click the link and make a purchase. There is no extra cost to you, so it's just a nice way to help support the site. All images, videos, and other content posted on the site is attributed to their creators and original sources. If you see something wrong here or you would like to have it removed, please contact us.