Grow Your Instagram Account & Boost Engagement With These Cool Templates
Published Mar 28, 2023
Includes affiliate content
Do you want to take your Instagram account to the next level?
Are you looking for new, creative ways to build a stronger presence on the platform? With the right tools and resources, you can create visuals that will engage your audience and help promote your brand on one of the most popular social media platforms.
In this article, we'll show you how to improve your Instagram account with a selection of great templates for stories and posts. From typographic designs to edgy animated templates, we've got everything you need to create fresh visuals that will grab your followers' attention.
Why should you use Instagram templates?
Some of the most successful Instagram accounts have one thing in common: consistency. Creating a beautiful brand aesthetic alone is not enough, you have to be consistent in your presentation so your followers can build a sense of familiarity with the brand.
A carefully selected set of templates can help you deliver a cohesive visual language and also save you a lot of time in the process.
A selection of great templates to help you get started
Now that you know why you should be using Instagram templates to build your social presence, check out our selection of recommended assets below to help you get the ball rolling.
If you can't find what you're looking for in this roundup, you might want to try browsing the countless options available on creative marketplaces such as Design Cuts, Envato Elements, Creative Market, Template Monster and Pixel Surplus. With so many options out there, you'll be sure to find a template that perfectly suits your needs.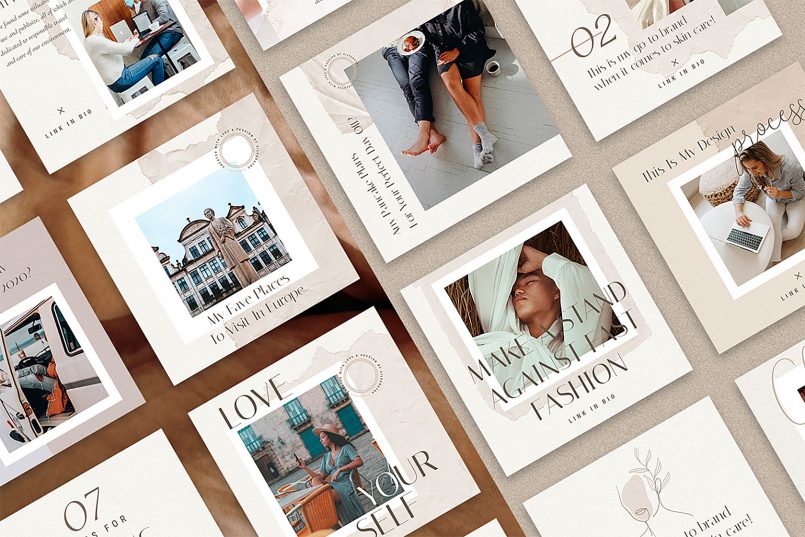 Elodie – Instagram Post Templates
Elodie is a set of 30 Instagram post templates full of details and unique elements. These designs would suit a travel influencer or brand really well, but the aesthetics are also perfect to promote health and skincare products.
All the fonts, colors, text and images can be easily changed, and the fonts used in the pack are free for both personal and commercial use.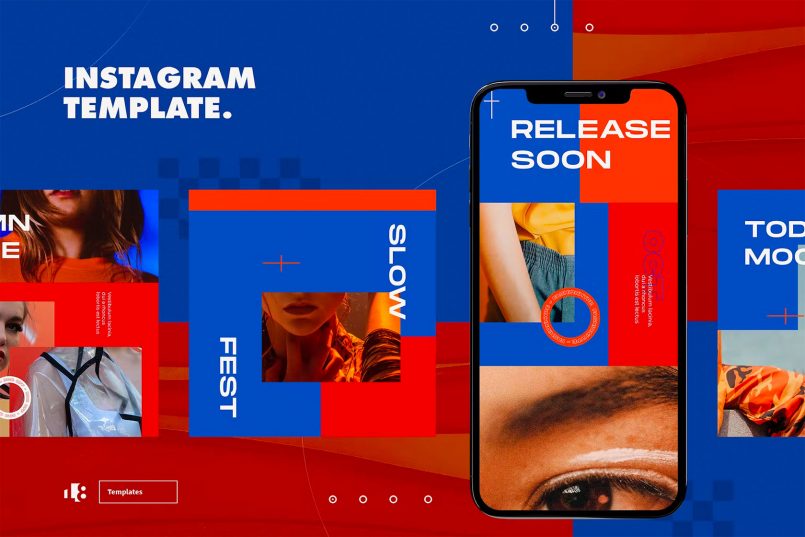 Bold Instagram Templates
This striking set of Instagram templates uses bright colors, bold typography and interesting compositions for maximum visual impact. The package includes Photoshop templates for both stories and posts with customizable text and images.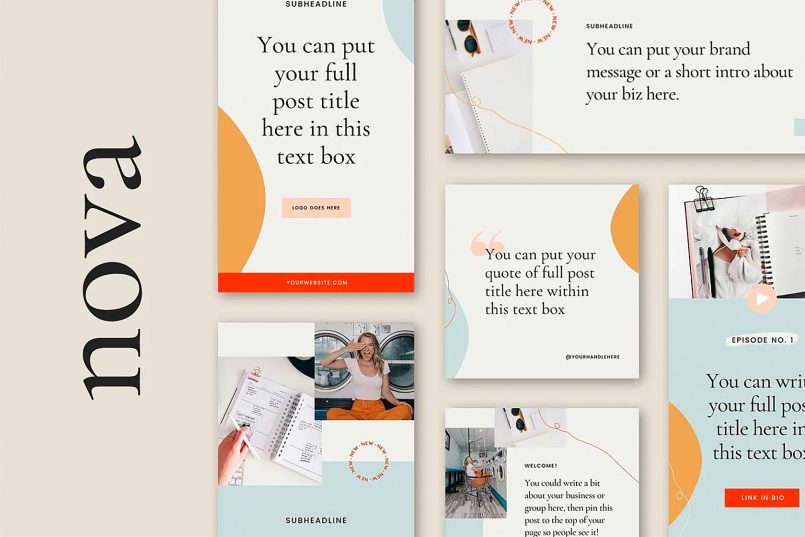 Nova Social Media Templates
This comprehensive set of social media templates includes designs for not only Instagram, but also Pinterest and Facebook.
The templates in this collection were designed in Canva, a free, popular and easy to use online design tool. A basic Canva tutorial is included, so you can easily learn how to edit your templates.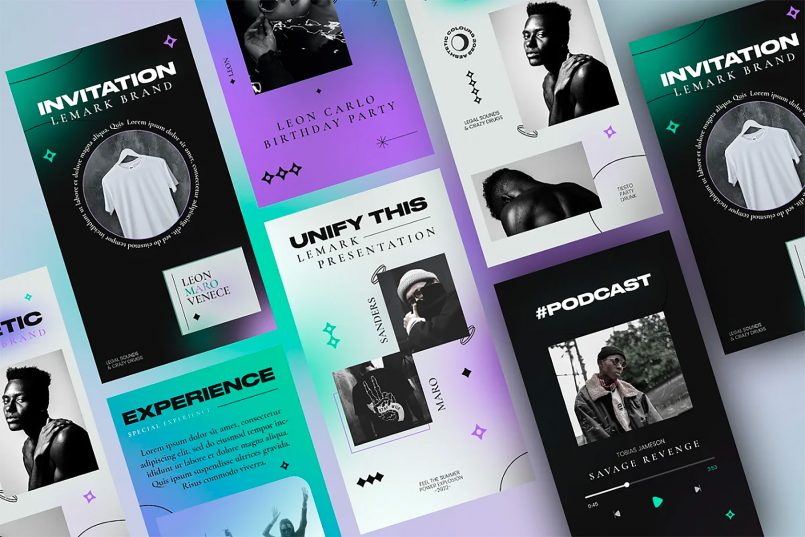 Aesthetic Instagram Templates
This sleek and contemporary pack of editable Photoshop templates for Instagram features 12 different layout designs (6 regular square posts and 6 designs for stories). The help file also includes a link to download the fonts used.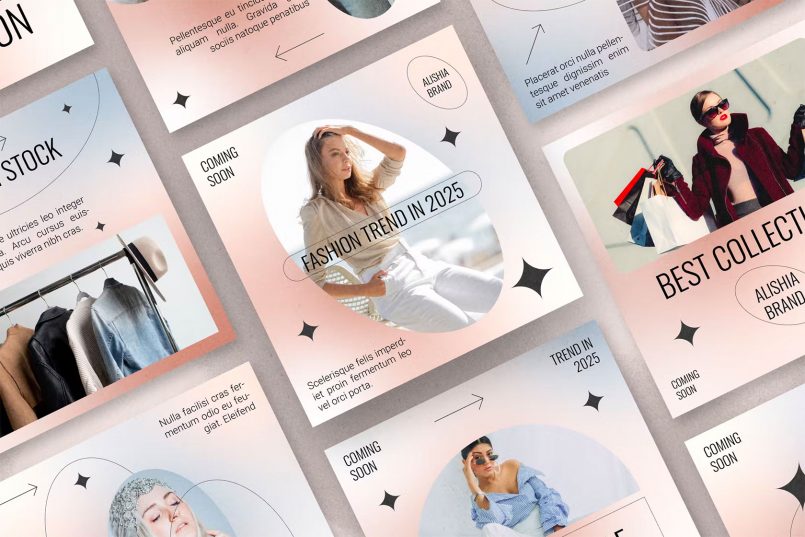 Fashion Instagram Templates
This sparkly set of 18 unique Instagram designs for Photoshop and Illustrator is great for fashion bloggers, creative businesses and lifestyle influencers. All files are well organized and fully customizable.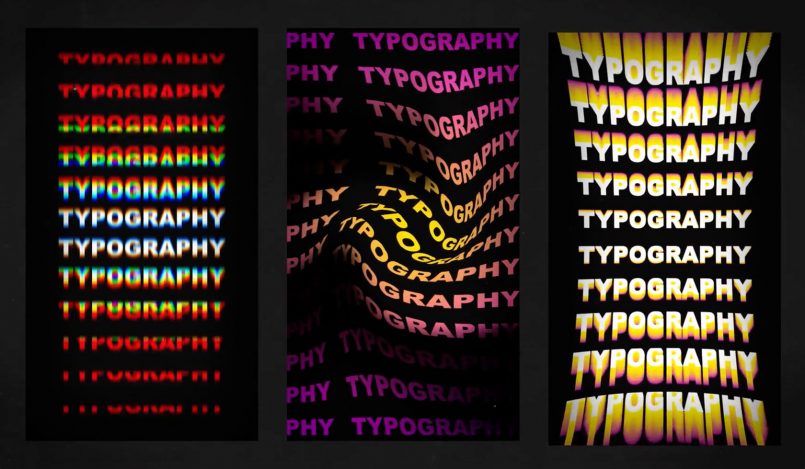 Instagram Typographic Video Templates
This dazzling kinetic pack of After Effects templates includes a selection of typographic animations you can use to create Instagram stories that are sure to grab anyone's attention.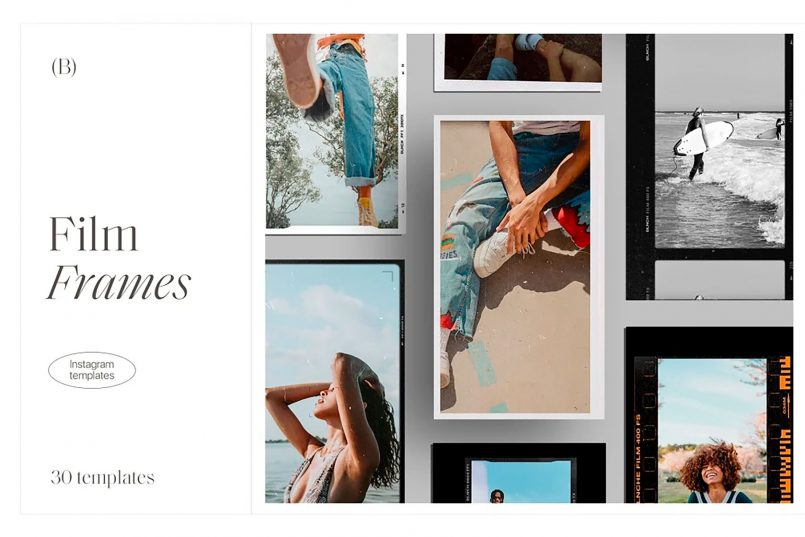 Film Frames for Instagram
This cool set of frames for Instagram stories and posts will add a stylish film texture with a vintage appeal to your images. Perfect for all kinds of lifestyle blogs (travel, food, beauty, fashion) as well as a range of business use cases.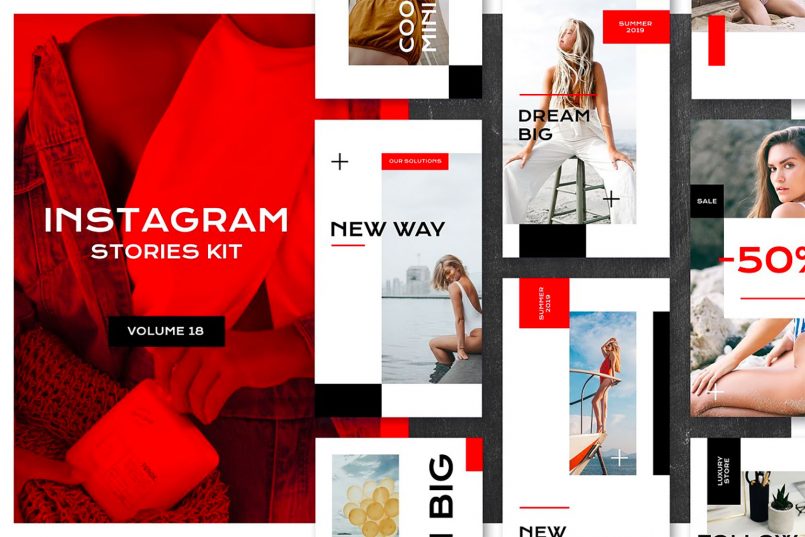 Instagram Stories Kit vol.18
This set of sleek Instagram story templates includes 10 different designs that will give you a lot of flexibility to promote your brand.
The minimalist look is perfect for travel, fashion or lifestyle brands. The templates are easy to customise and allow you to change the colors, text, images and more.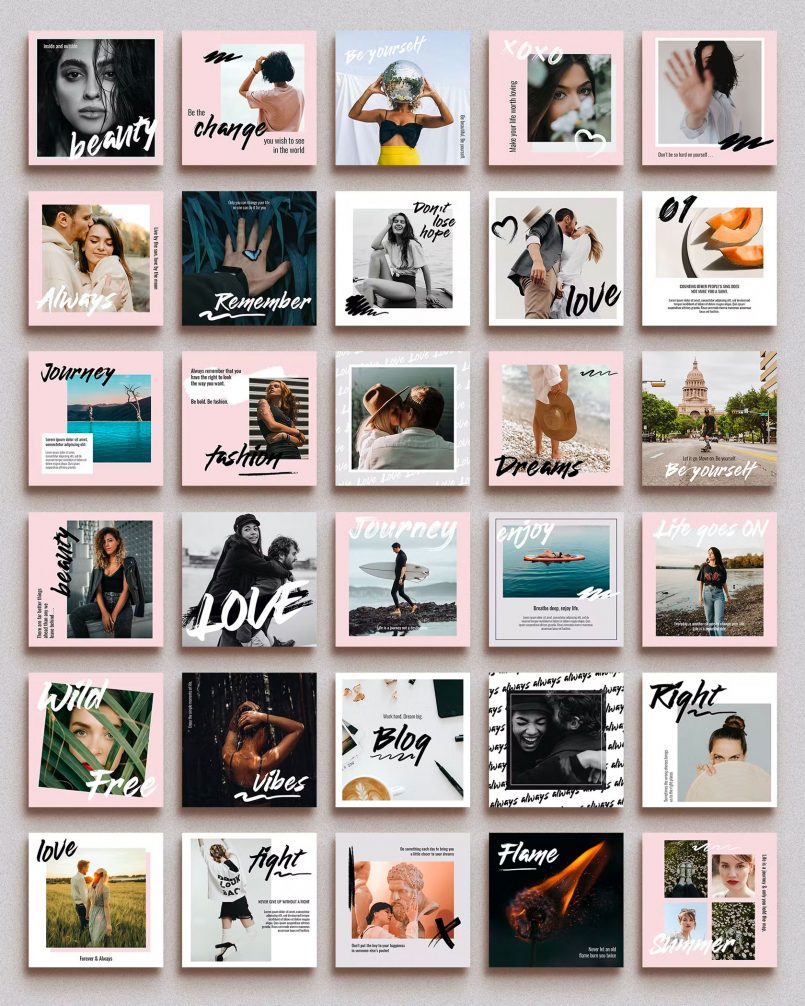 Lifestyle Instagram Social Media Pack
This collection includes 30 Photoshop templates with a unique and edgy style that can be used for Instagram or Facebook posts.
The fully editable high resolution PSD files are clearly layered and organized.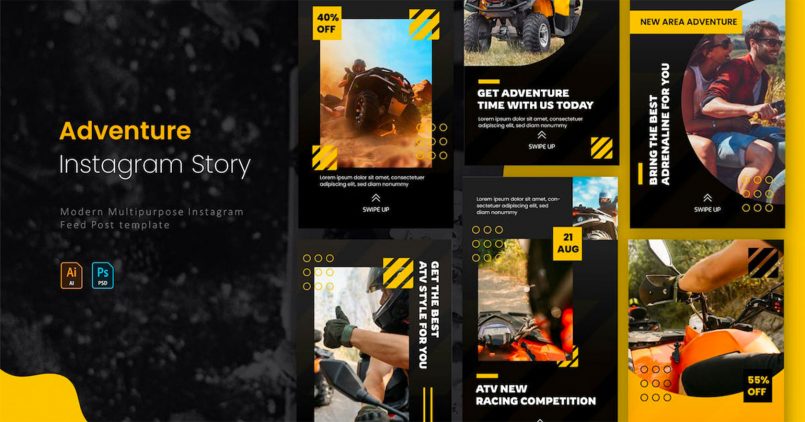 Adventure Instagram Story Template
This collection of modern high contrast social media templates was designed to suit adventure, racing and off-road brands.
All elements are fully editable and customizable, including the colors, text and images and the set includes Photoshop and Illustrator files with neatly organized layers.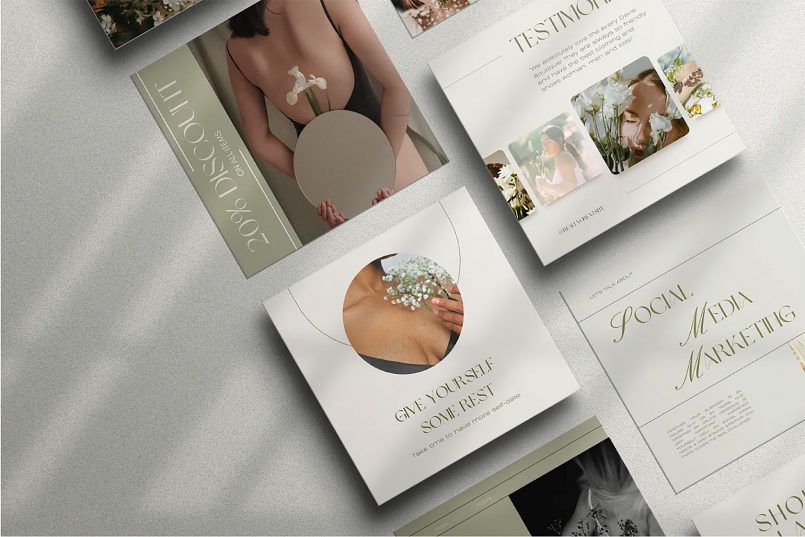 Fiore Instagram Templates for Canva
The Fiore template pack for Instagram is comprised of a whopping 200 modern templates.
The templates were created in Canva, so you'll be able to customize anything to fit your aesthetic preferences and needs. Both Instagram post and story templates are included, but you can also resize them to fit other social media platforms with Canva Pro.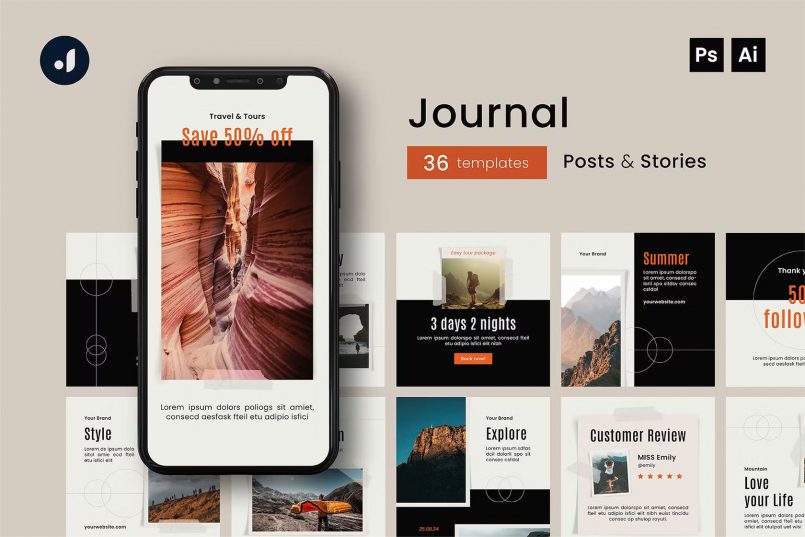 Journal Instagram Templates
The Journal set is a stylish selection including 36 Instagram templates (18 post templates and 18 story templates). The designs are ideal for lifestyle bloggers, fashion brands and travel magazines.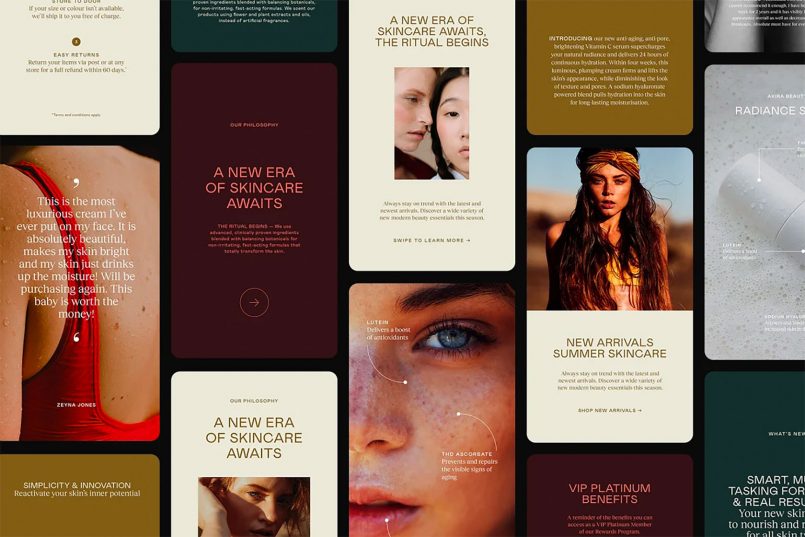 Akira Instagram Stories Kit
Akira is a series of clean and sophisticated Instagram story templates featuring elegant typesetting paired with a modern and warm colour palette.
The set includes Photoshop and InDesign files with 30 different artboards that can be used to create cover slides, testimonials, features & benefits lists and promotion/sale designs.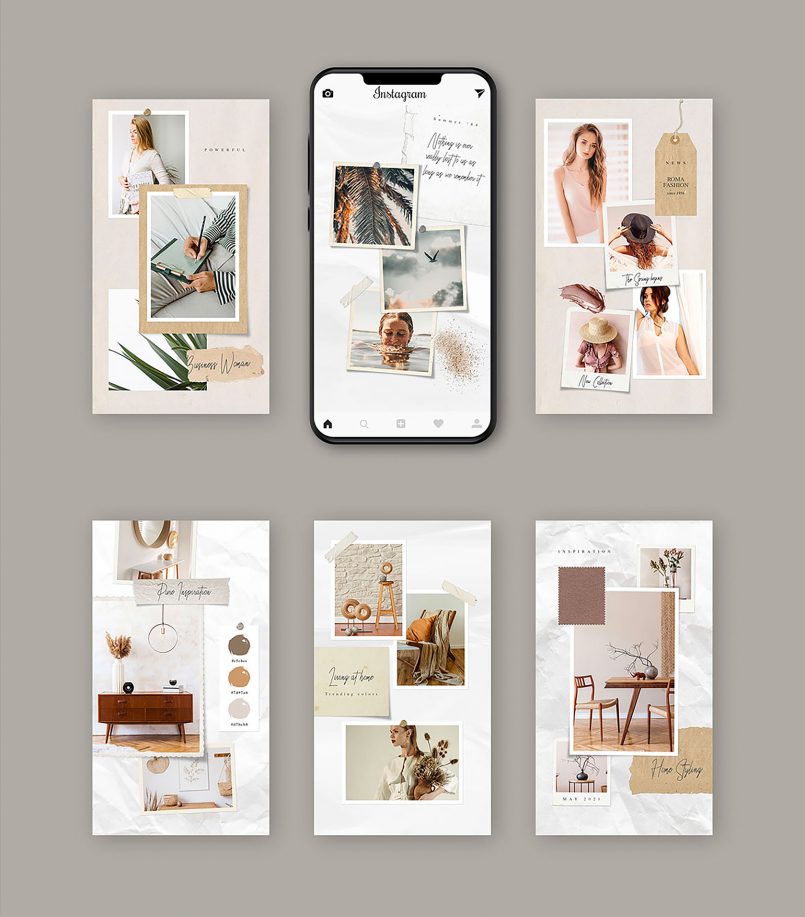 Moodboards for Instagram
This ingenious multipurpose Instagram set was carefully handcrafted to help you promote products, showcase your photos or share important announcements in style.
The moodboard style is perfect for outfit recommendations, color palettes, interior design, graphic design or any other collection of images.
20 design variations are included and the templates are 100% editable.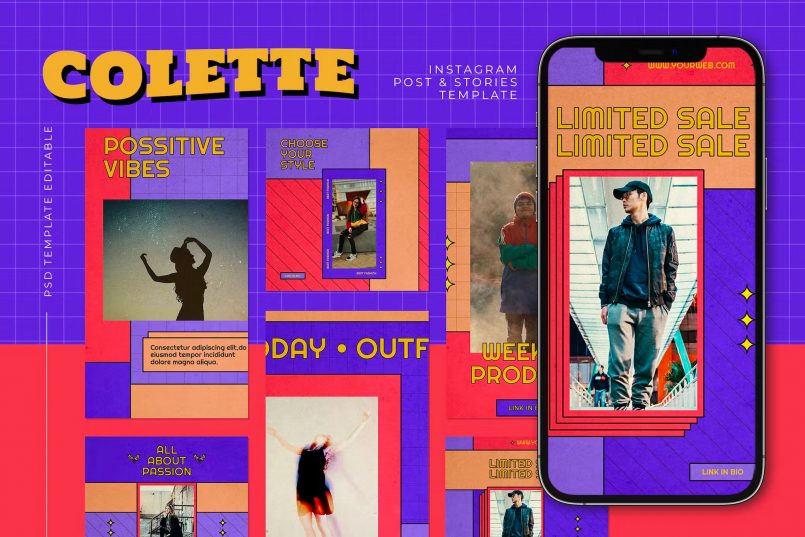 Colette Vintage Y2K Instagram Templates
Collete is a selection of vibrant and eye-catching templates for Instagram posts and stories. The Photoshop pack includes 18 premade scenes that are fully editable, and the Google font used in the designs is free for personal and commercial use.
We hope you found some useful Instagram templates in this article. If you're still searching for the right one, you can explore a huge selection of templates on these creative marketplaces:
---
This post contains affiliate links to partner brands. We earn a small commission if you click the link and make a purchase. There is no extra cost to you, so it's just a nice way to help support the site.
Inspiration
in your inbox
Amazing art & design, never any spam.
We care about protecting your data. Please refer to our Privacy Policy for more.
© 2023 Inspiration Grid, all rights reserved. Some of our posts may contain affiliate links to partner brands. We earn a small commission if you click the link and make a purchase. There is no extra cost to you, so it's just a nice way to help support the site. All images, videos, and other content posted on the site is attributed to their creators and original sources. If you see something wrong here or you would like to have it removed, please contact us.