50 Excellent Procreate Brushes for Digital Artists
Published Oct 24, 2022
Includes affiliate content
Since the introduction of the Apple Pencil almost 7 years ago, the iPad has firmly cemented itself as a fantastic tool for digital creators.
Among the many drawing apps available on iPadOS, Procreate is by far the most popular, and with good reason. The app is constantly evolving and improving in direct response to feedback from the creative community.
Following the recent announcement of a 'hover' feature on the new iPad Pro, Procreate will soon allow users to adjust brush sizes on the fly, use new opacity gestures, color drop, and many other context-aware interactions.
To help you make the most of the new features, we've rounded up more than 50 brushes and add-ons that will improve your workflow and give you lots of versatility to create your masterpieces.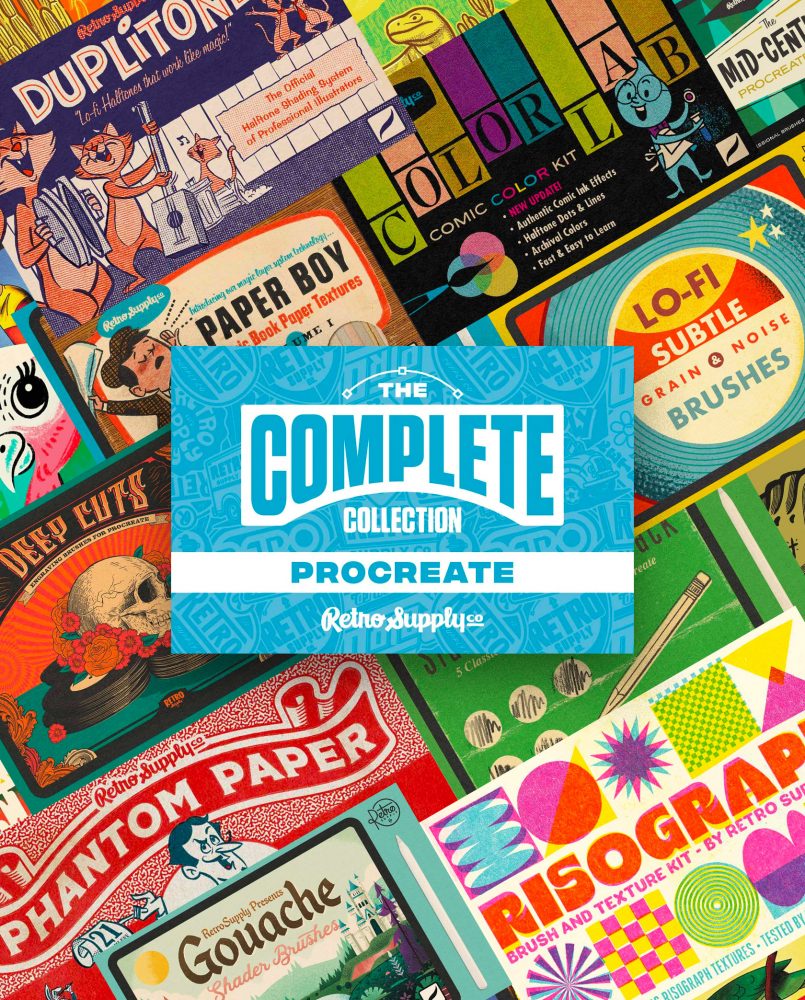 This complete collection from RetroSupply Co. is a treasure trove with every digital tool they've crafted for Procreate, and with this bundle, you get 70% off the individual product's retail price.
You can view all the products you'll get here. The full list of custom-made retro brushes includes:
Inking brushes
Comic book brushes
Halftone brushes
Texture brushes
Gouache paint brushes
Hundreds more professional-grade brushes
Each brush kit has been optimized for iPad Pro and takes advantage of Apple Pencil's pressure sensitivity.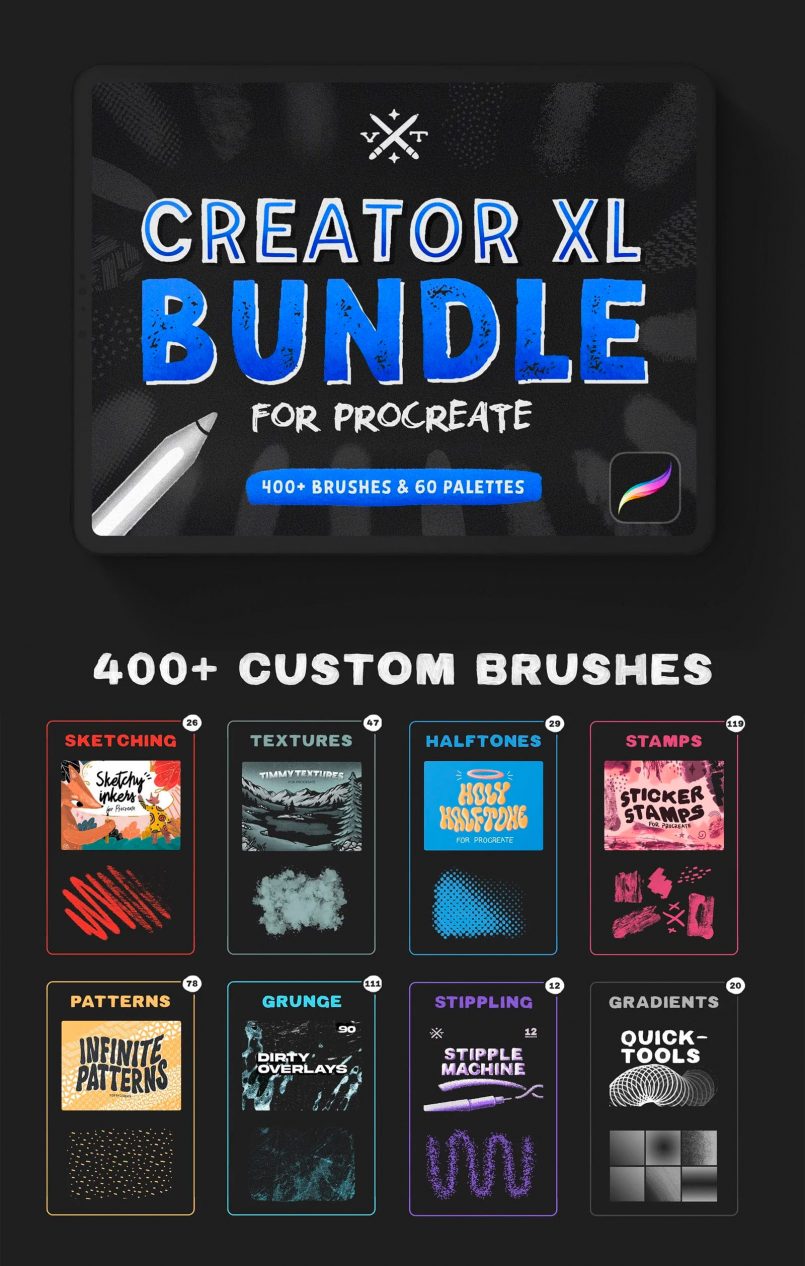 This incredible bundle from VisualTimmy gives you 400+ premium Procreate brushes, 60 curated color palettes, 70% off the individual product's price, plus a custom handwritten font and Procreate 101 video lessons as a bonus.
Priced at $75, the bundle comes with free lifetime updates, so overall we think it's a really good deal. To get even more value out of it, you can use the code INSPIRATION to get 15% off.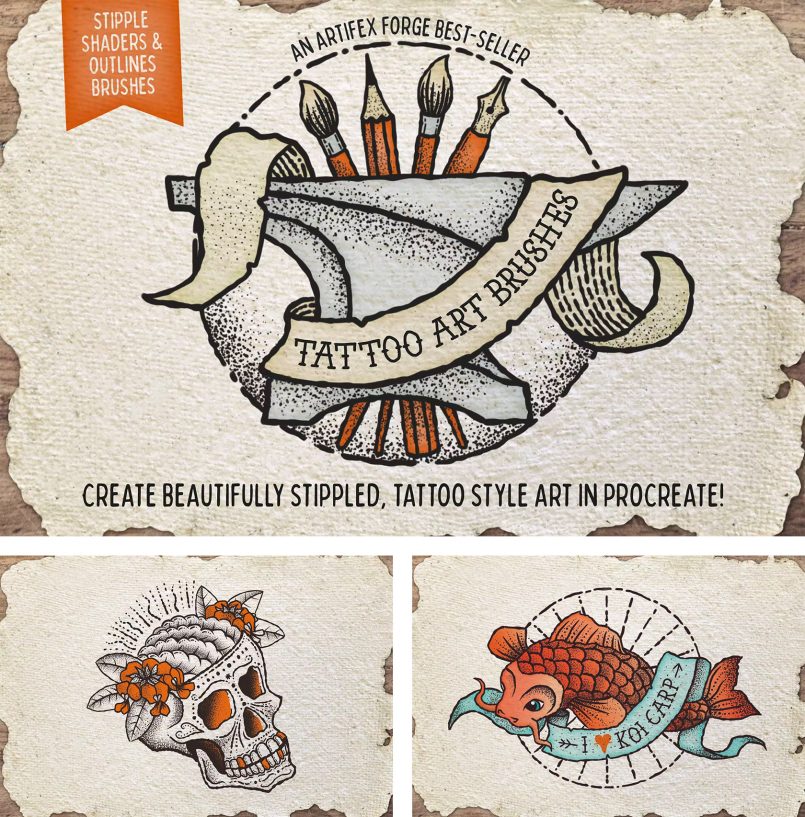 Create authentic stippled texture and real ink outlines in Procreate with this best-selling tattoo style brush set.
The pack features a variety of stipple brushes, purpose built, time-saving, gradient shaders, plus ink outline brushes. These were sourced from real hand-drawn material and created by an experienced professional illustrator.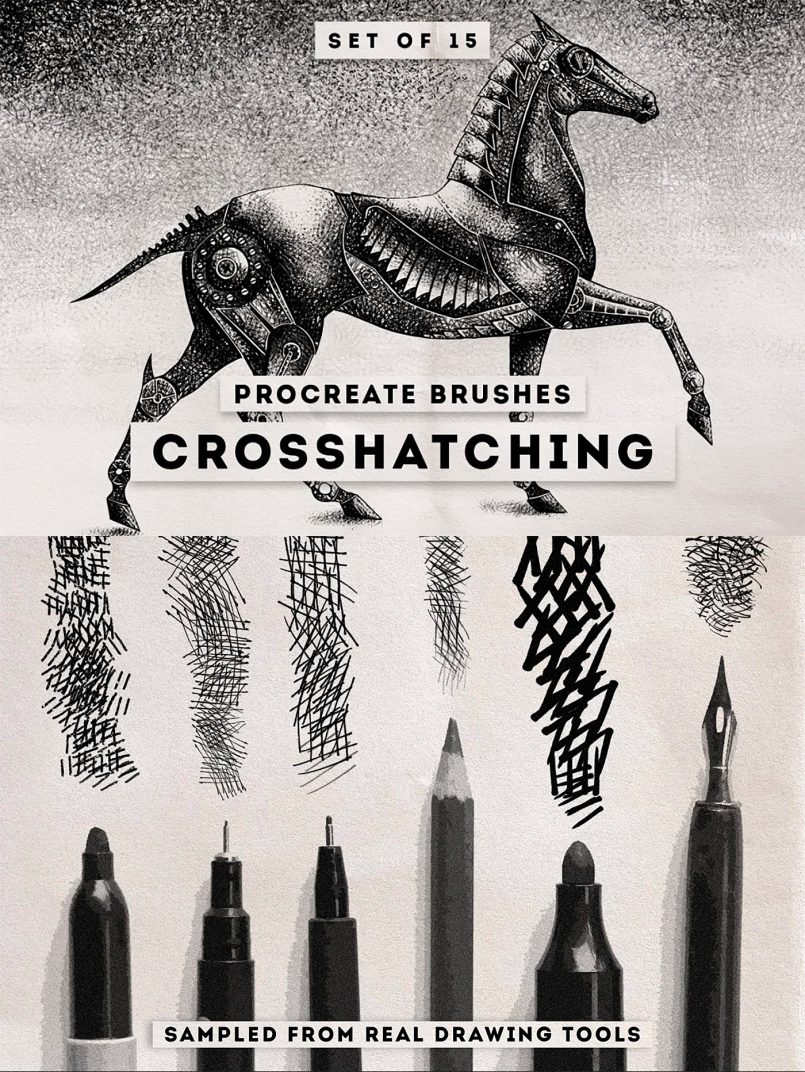 The Crosshatching set includes 15 handmade brushes for Procreate, and you also get the Photoshop version as a bonus.
Crosshatching is a drawing method that consists of tracing intersecting strokes to create structure, shadows and gradients. The assets included in this set were created from real drawing tools samples, that have been carefully scanned and transformed into brushes.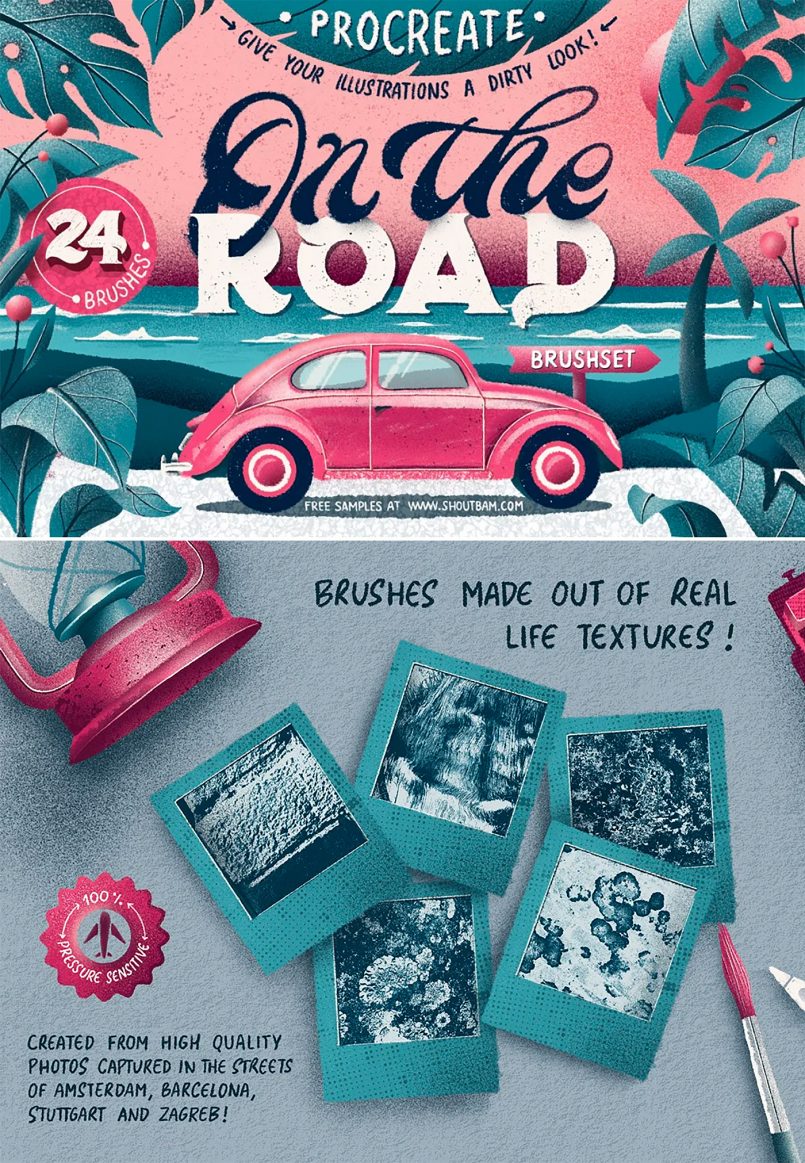 This unique Procreate brush set captures real-life textures from all around Europe.
Created by Croatian studio Bam, these Brushes are a result of thousands of pictures captured during their travels. They were made to provide "a realistic bumpy touch to your illustrations and lettering artworks."
The pack is super versatile and it's divided into 3 parts. You'll be able to go from sketch to final art with ease.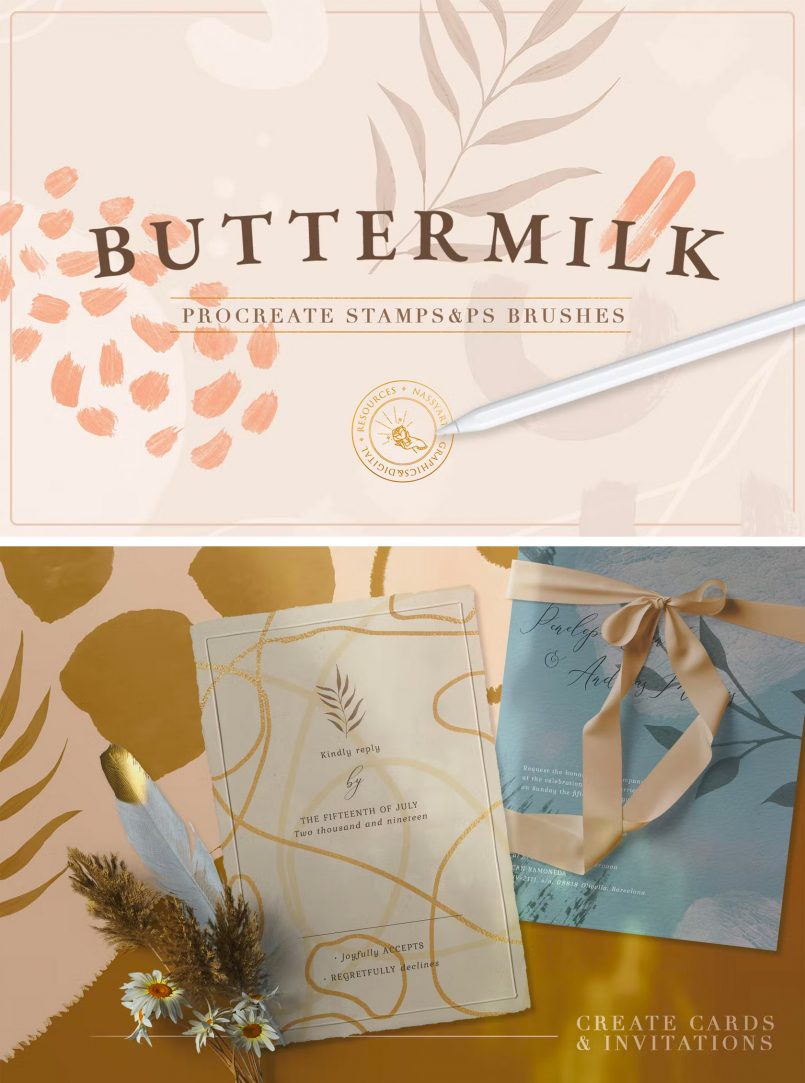 This collection includes 90 modern and abstract brushstrokes and stamps.
These high-resolution brushes are perfect for creating posters, pattern design, greetings cards, business cards, invitations, social media designs and more.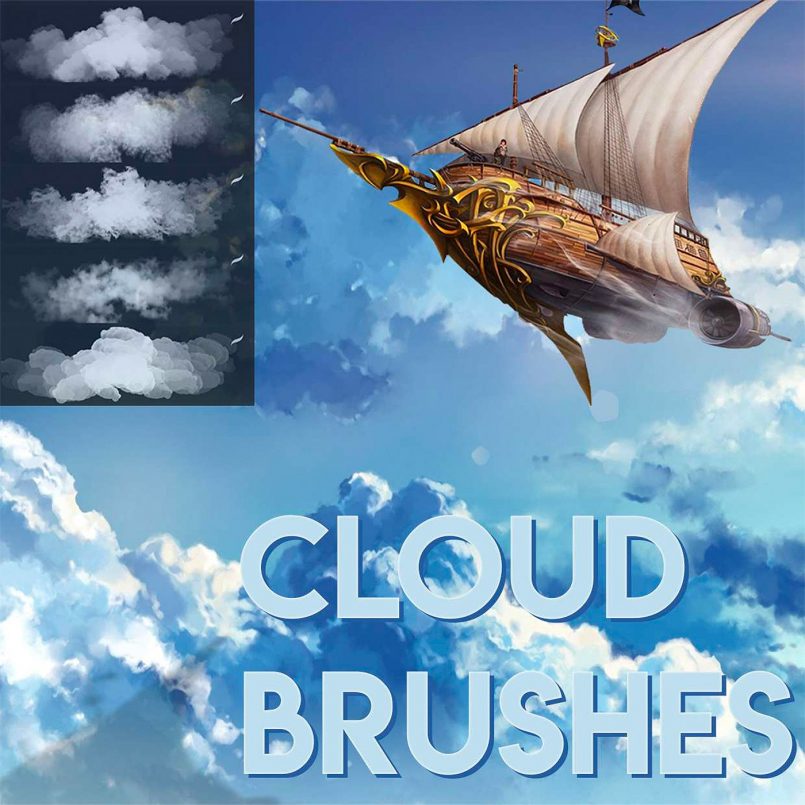 Created by Yangway, this free set contains 5 brushes to help you easily improve sky creations in your digital paintings.
Featuring 22 brushes for Procreate drawing. Draw realistic watercolor lines, drops and splatters, and use ready-made watercolor stamps to save time. The set includes:
5 painting brushes
4 splatter brushes
12 watercolor stamps (including a special blending brush)
Great pen pressure response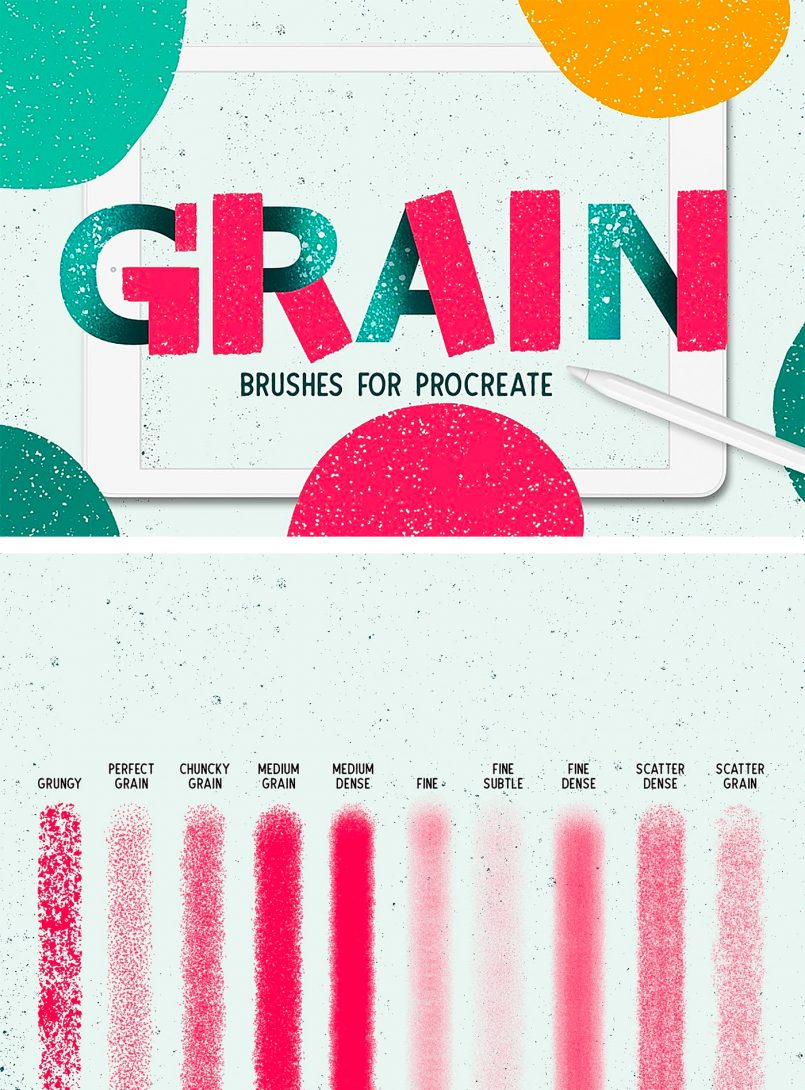 This is a selection of 22 grainy brushes that are great for drawing and adding textures to digital paintings and lettering creations.
Mix and match these versatile brushes for unlimited combinations.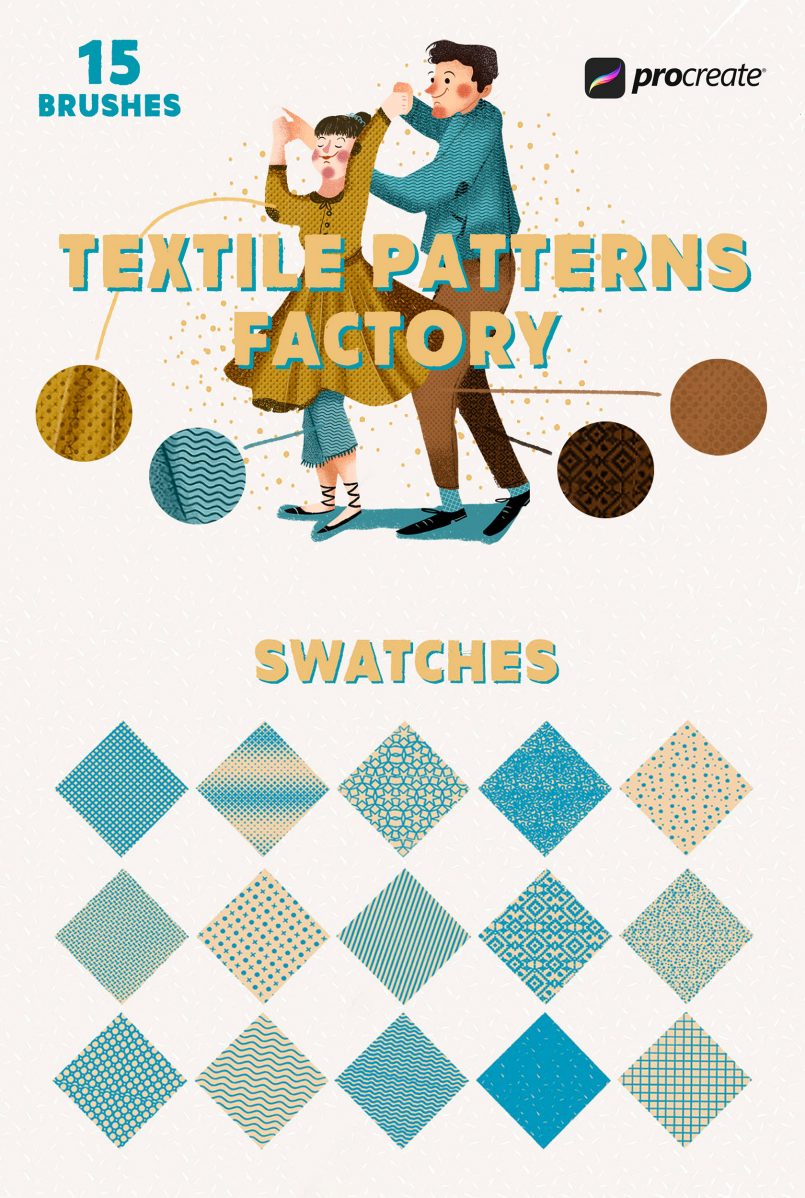 Eliza Moreno created this free collection of rich textile patterns and textures for Procreate. The set contains 15 brushes that will help add an extra layer to your artworks with interesting fabric patterns.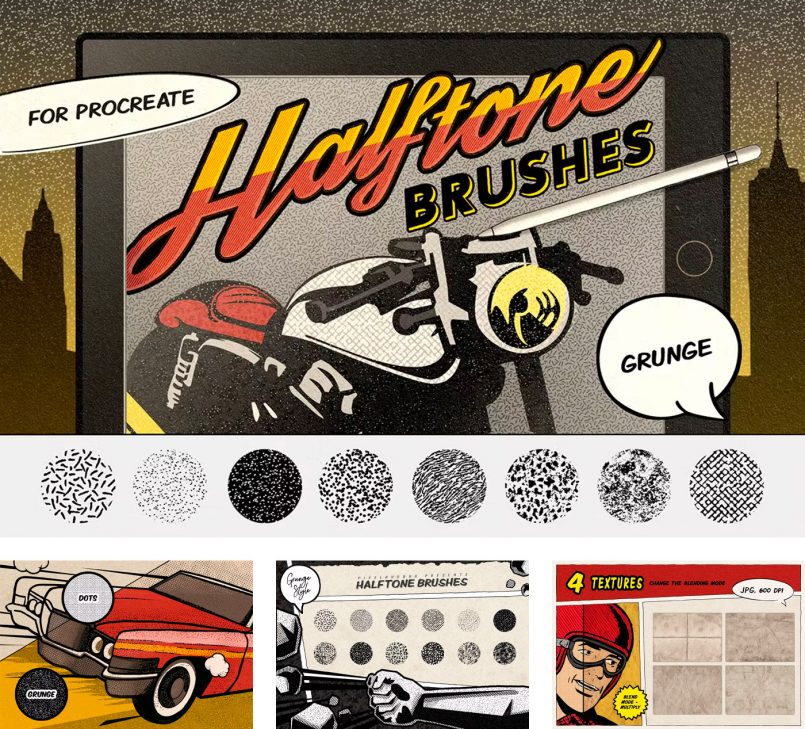 Bring your Procreate drawing skills to a new level with this set of 12 halftone digital brushes.
The pack also includes 4 worn paper sheets with grunge textures to further enhance the vintage comic book style in your creations.
12 grunge Procreate brushes (.brushset format)
4 paper textures (JPG)
PDF installation guide
PDF cheat sheets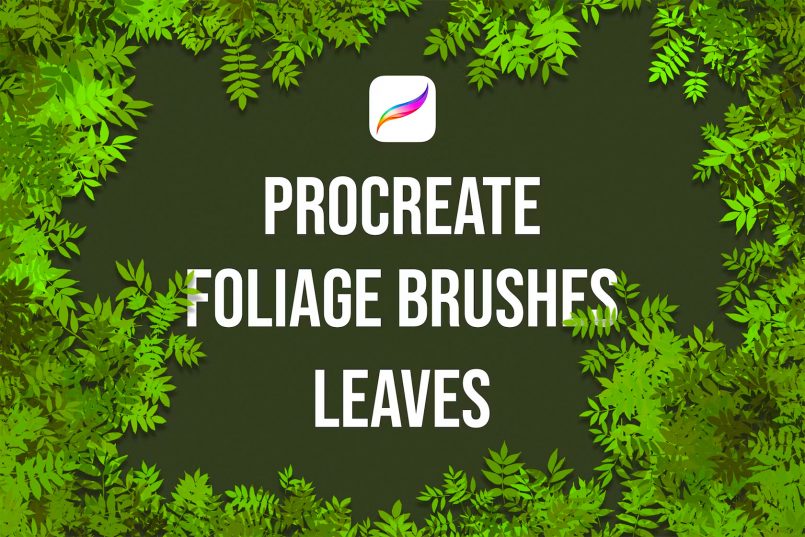 These handy high quality leaf brushes have pressure-sensitive opacity: the lighter you press means more transparent the leaves. This allows you to stack the color with stronger pressure.
The brushes also have dual color function, so you can choose two different shades or entirely different colors to give your foliage depth and detail. Leaf brushes included in this set:
Spruce
Willow
Oak
Tiny Pointy
Maple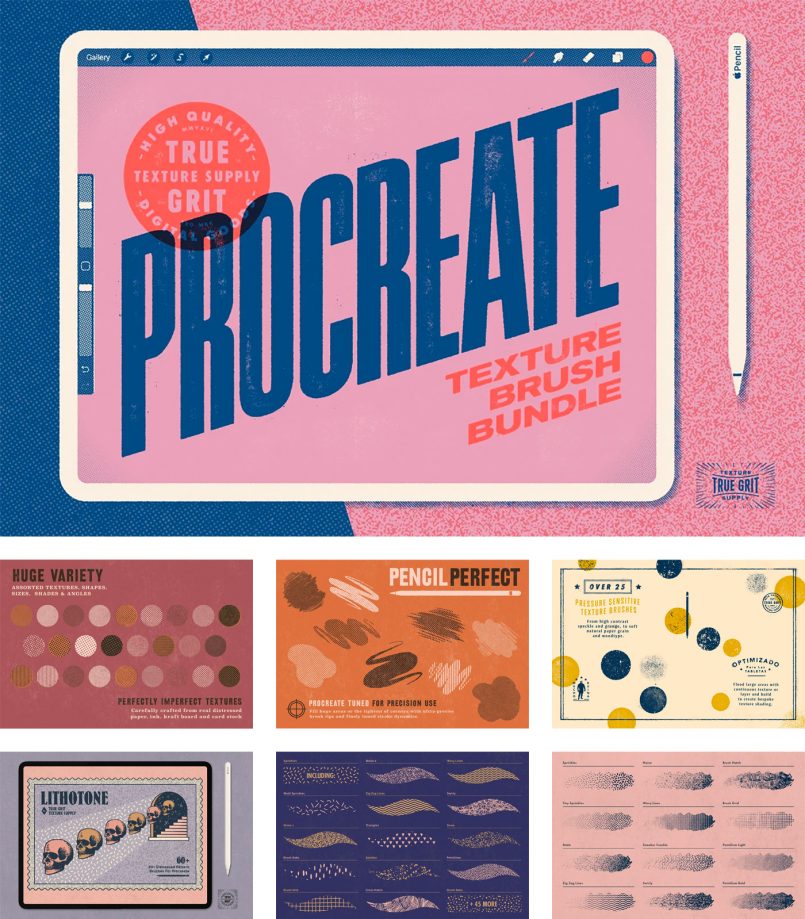 Featuring 5 of True Grit Supply's most popular texture brush packs, the Procreate Texture Brush bundle includes over 220 handcrafted, pro-quality brushes, all finely tuned to take advantage of Procreate 5's powerful brush engine.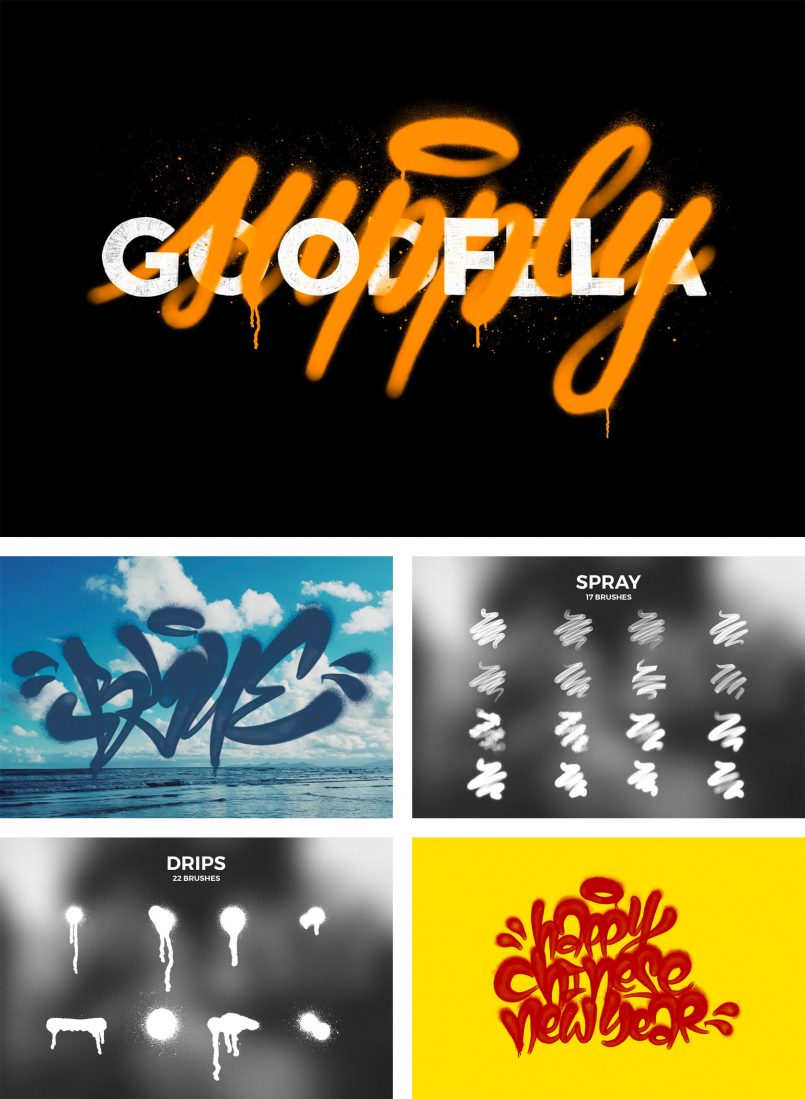 The Goodfela Supply Graffiti Kit features drips, splashes and textures, for your street art-inspired designs. The kit includes:
17 spray brushes
22 drip brushes
5 splash brushes
Bonus: 9 Montana color swatches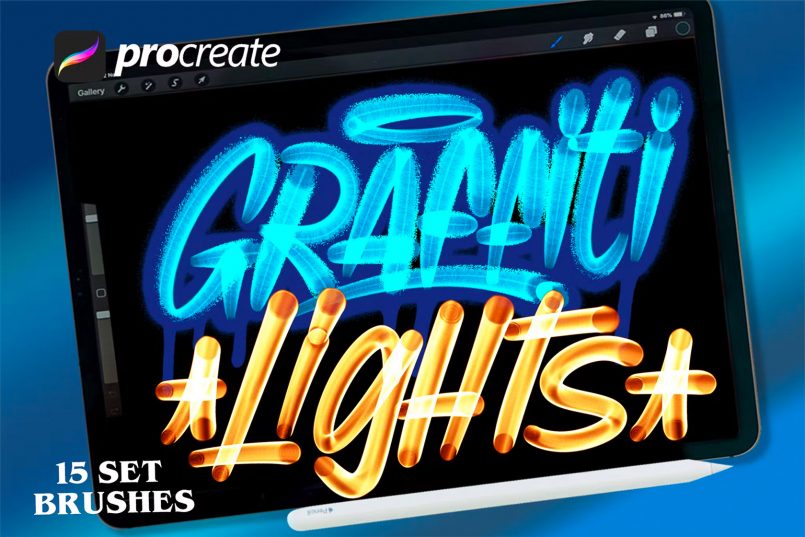 Dansdesign is an analog graffiti artist who used his real life experience to craft this set of brushes for Procreate, making it easier for other artists to create digital pieces that look like real graffiti.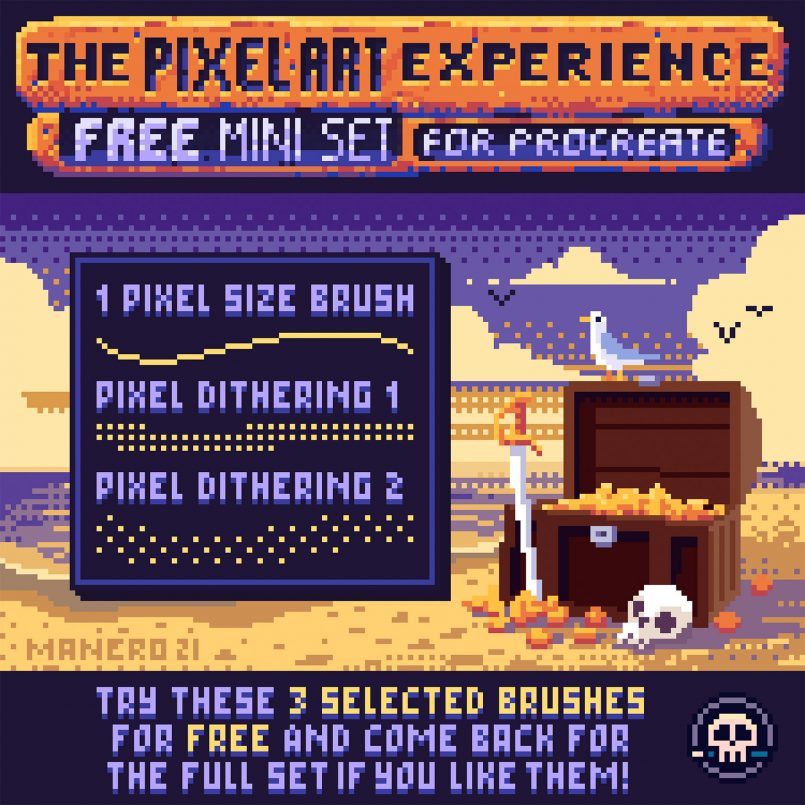 Get that retro 8-bit look with this free package that includes:
1 pixel size pixel brush
2 pixel dithering brushes
The set created by Ittai Manero also contains a 14-page quick guide PDF with everything you need to know about how to use the brushes, including some pixel art tips and tricks.
The 20 pencil brushes in this extensive set have been finely crafted and road tested by real professionals.
The set includes not only Procreate brushes, but you will also be getting brushes for every industry-standard app including Photoshop, Illustrator, Affinity Photo and Affinity Designer. It's an incredible deal.
20 real media brushes for 5 different apps, making it a total of 100 brushes included in this pack.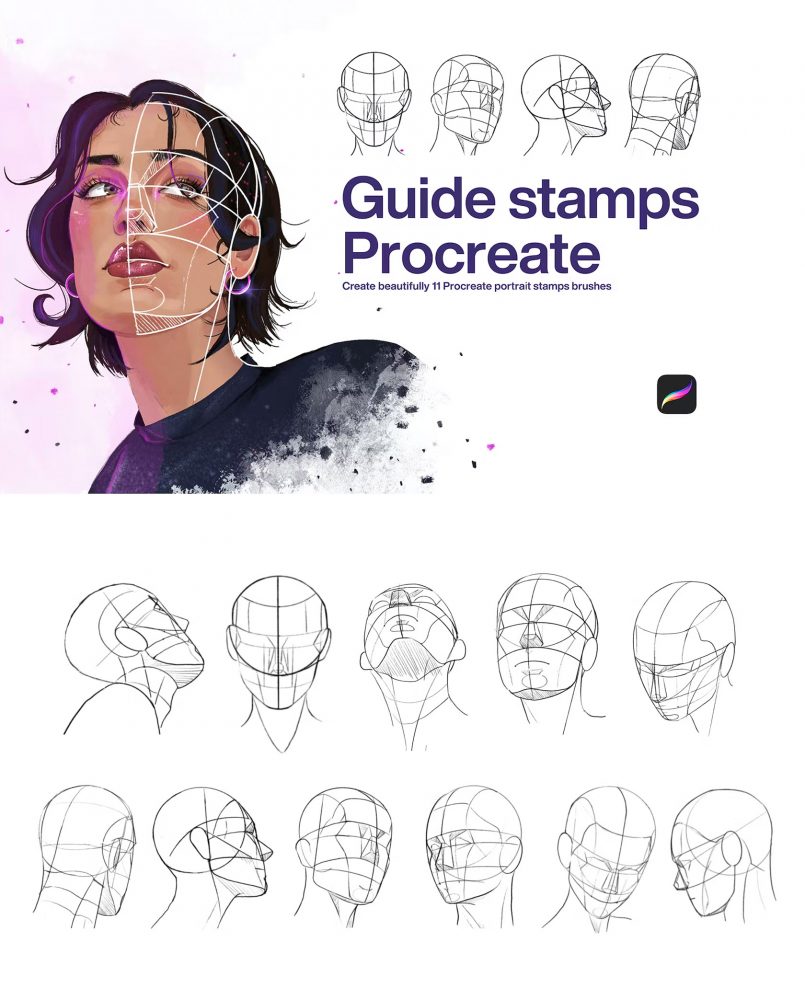 This set is a handy tool for portrait drawings, including 10 guide stamps to help you find the right perspective and create more convincing characters.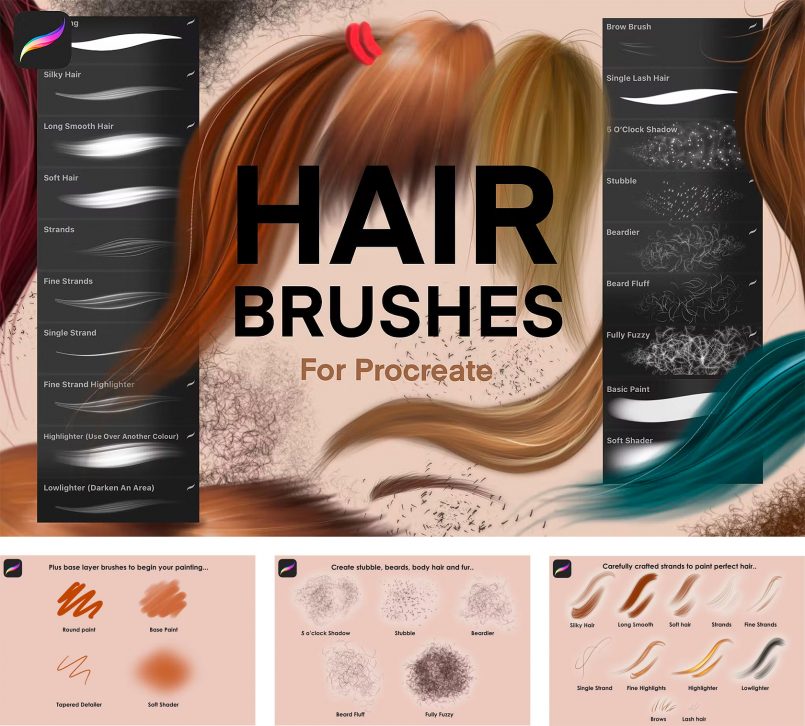 This set makes is easy to create stunning realistic hair, complete with highlights and low-lights. There's an eyebrow brush (brush it on and build up the brow volume), a single lash brush, and brushes for creating beards and body hair.
Great for animal portraits too. Included as a bonus are the essential base brushes, so you don't have to keep switching brush sets when you're beginning your painting.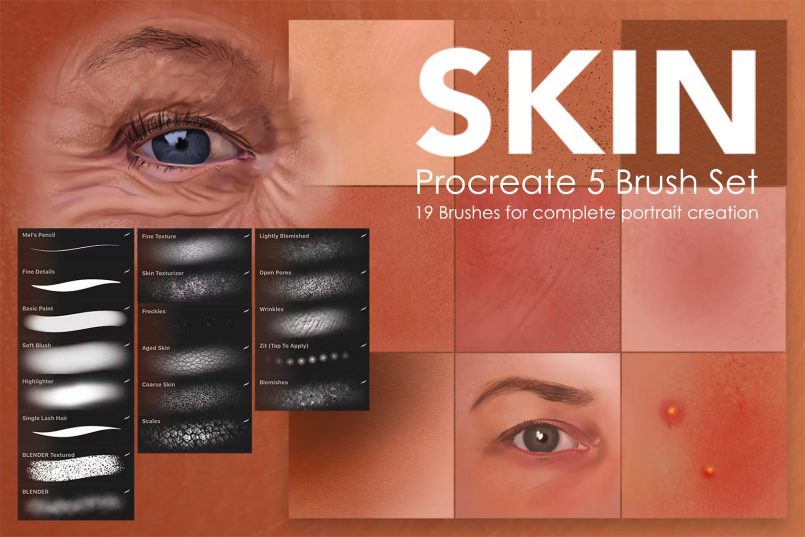 The Skin Studio set contains 19 realistic textured skin brushes for Procreate, giving you some incredible tools to start creating realistic digital portraits.
As well as an amazing range of skin textures, freckles, blemishes, wrinkles, eyelash (and even a juicy zit), it also has a sketch pencil, a perfect base layer brush, and a blush and highlighter brush. There are also a couple of textured bonus blenders to avoid that 'too smooth' blend you get with other blending brushes.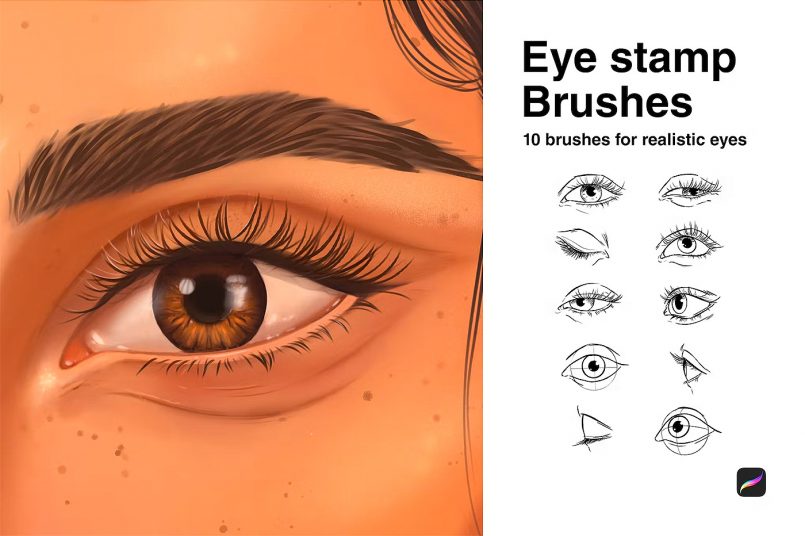 This useful guide set includes 10 models of eye stamps to help add more expression to your portrait artworks.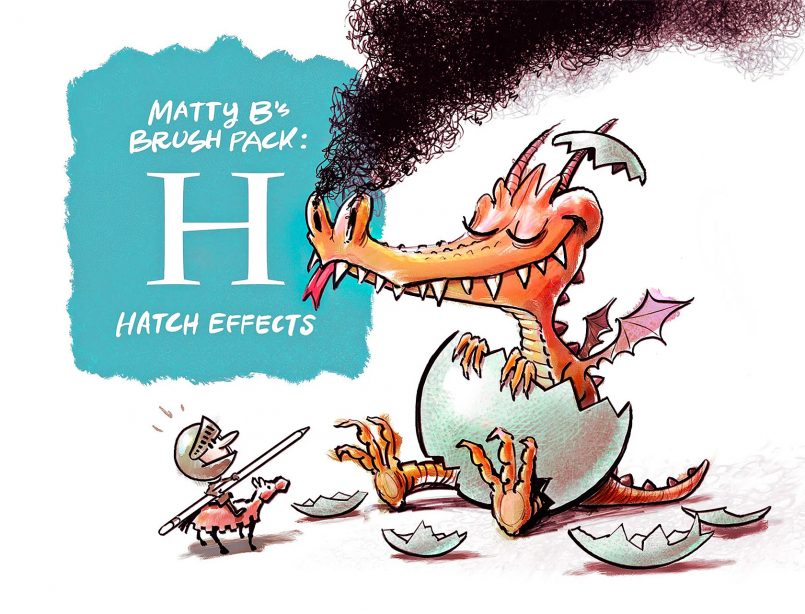 Fine-tuned for use with styluses, this set of 35 hatch effects created by Matthew Baldwin includes enough lines, dots, scribbles and marks to liven up any drawing.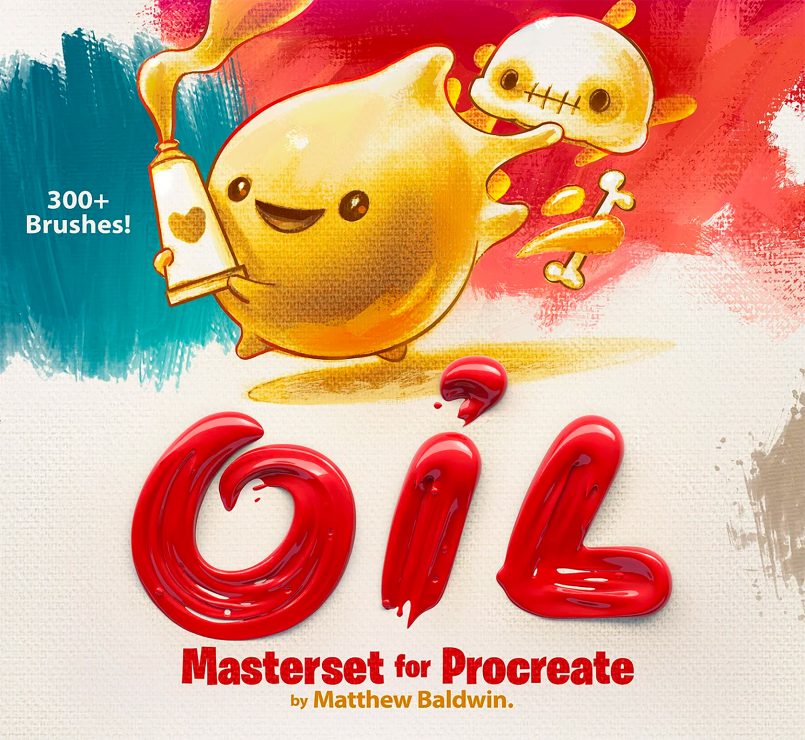 'OIL' is another amazing bundle by Matthew Baldwin, including 300 oil media brushes. The full set includes:
5 oil brush sets with a total of 300 brushes, plus bonuses:
20 seamless, tile-able background textures
24 rake nibs
63 additional poster paint brushes
18-page illustrated manual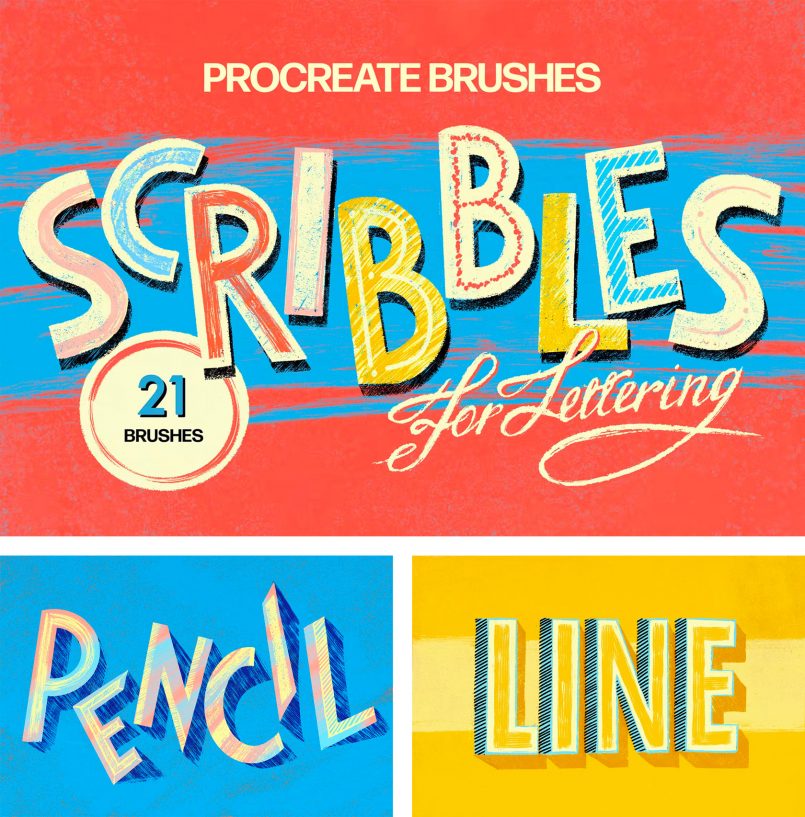 This awesome set of scribbles is fantastic for hand-lettering creations. The collection includes 21 high quality comics-inspired crayon strokes, pencil scratches and chalky textures.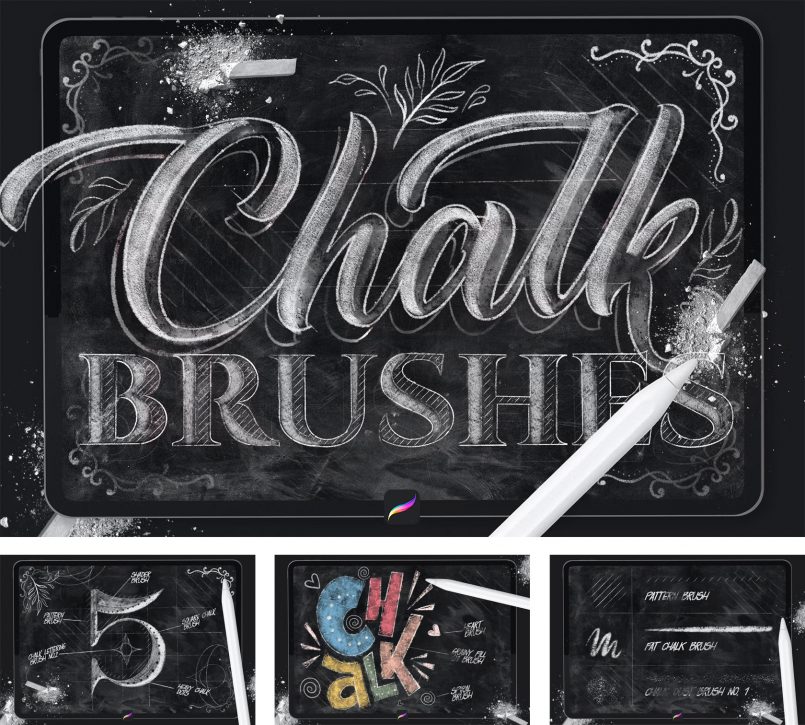 This chalk texture brush set for Procreate features 25 authentic chalk-inspired brushes and a chalkboard background for your creations. These brushes are also pressure-sensitive, making them perfect for hand-lettering.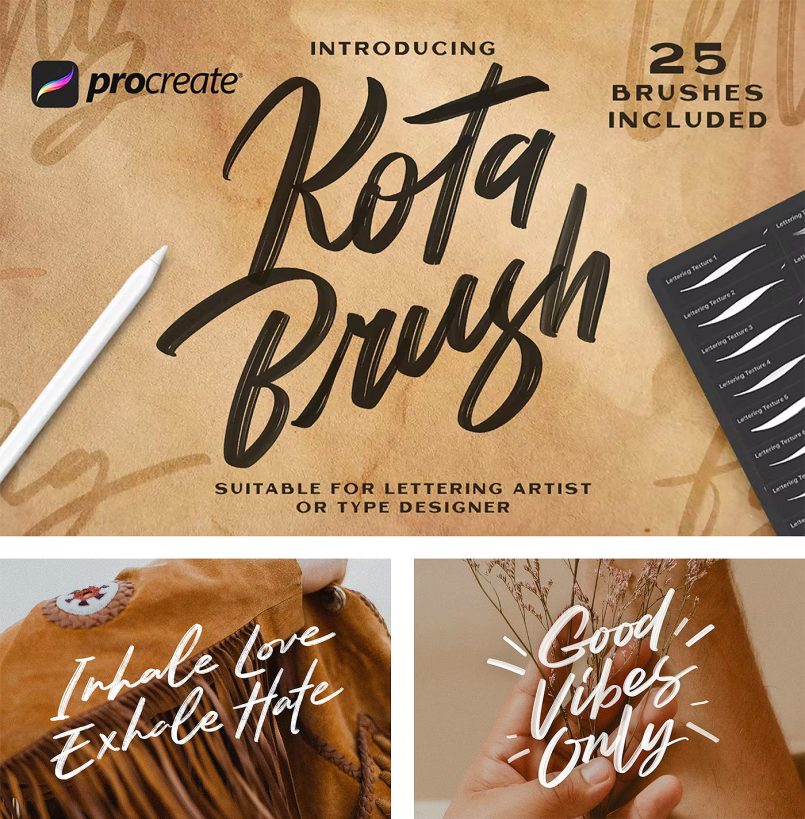 In this package you will find 25 great Procreate brushes that can be used for creating visual quotes, handcrafted logos and lettering illustrations.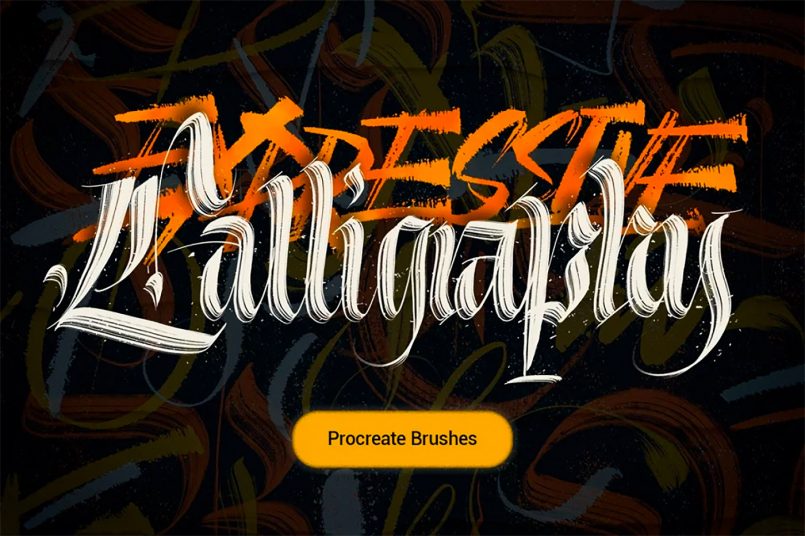 This pack includes 14 brushes designed for expressive calligraphy:
4 Flat Brushes with dirty canvas texture
4 Flat brushes with splashes
6 Brushes with Ruling pen imitation
With these brushes you will be able to create digital calligraphy that looks as close as possible to the real thing.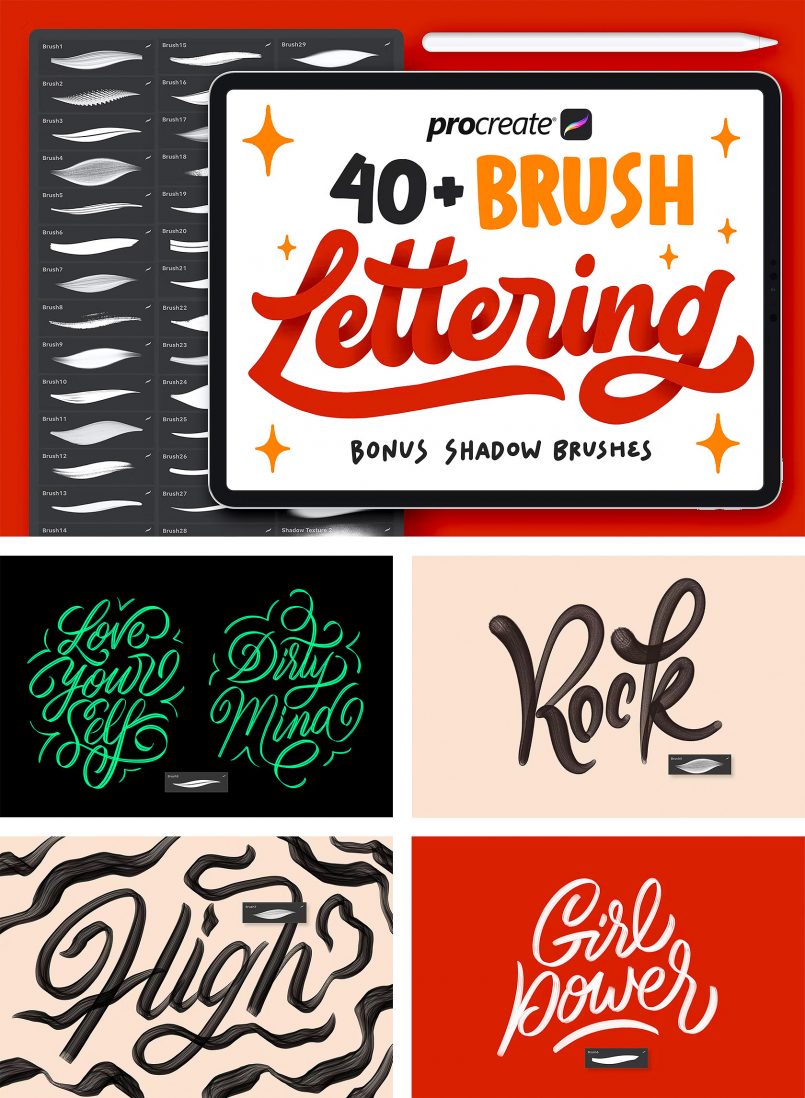 A comprehensive set for hand-lettering artists including:
Lettering brush
Calligraphy brush
Brush texture
Ribbon brush
Shawl brush
Japanese brush texture
Modern brush
Monoline brush
Signature brush
Spray brush
Fire brush
Shadow brush
and many more.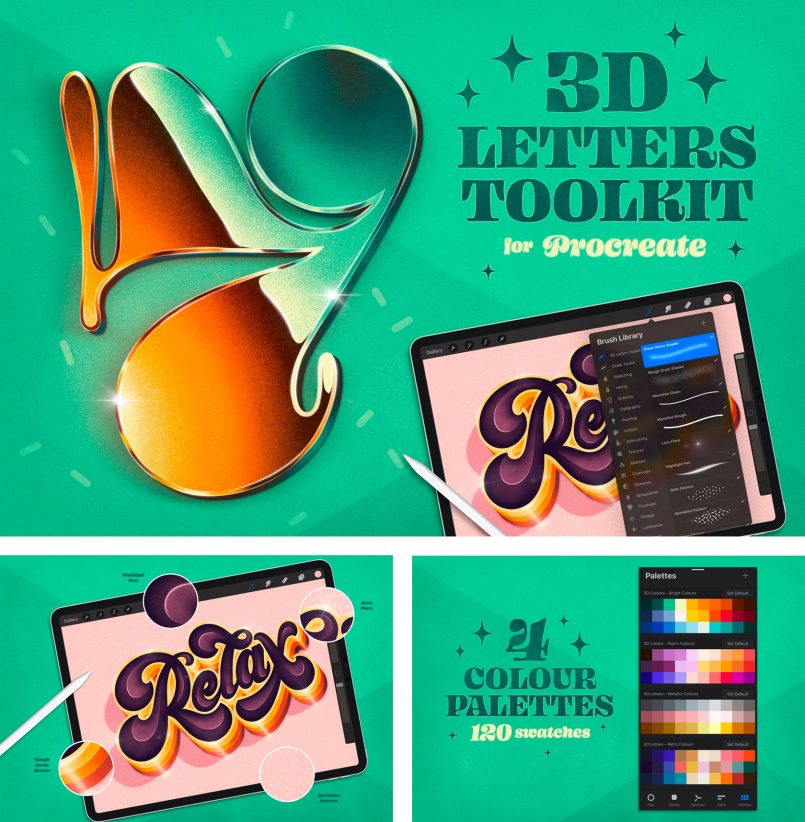 The 3D Letters Toolkit for Procreate features all you need to create realistic 3D lettering. The brush set includes 10 brushes: 2 monoline brushes, 2 shading brushes, 2 highlight brushes, 2 pattern brushes, and 2 texture brushes.
In addition to those brushes, you'll find ready-to-use backgrounds, alphabets for reference, and creative colour palettes to use in your designs.
1 Brush set (one .brushset file for the set containing 10 brushes)
6 Textures (one .procreate and .jpg file for each texture)
4 Colour palettes (one .procreate file for each colour palette)
3 Alphabets for reference (one .procreate and .jpg file for each alphabet)
1 .pdf with all the instructions to install the brushes on your iPad.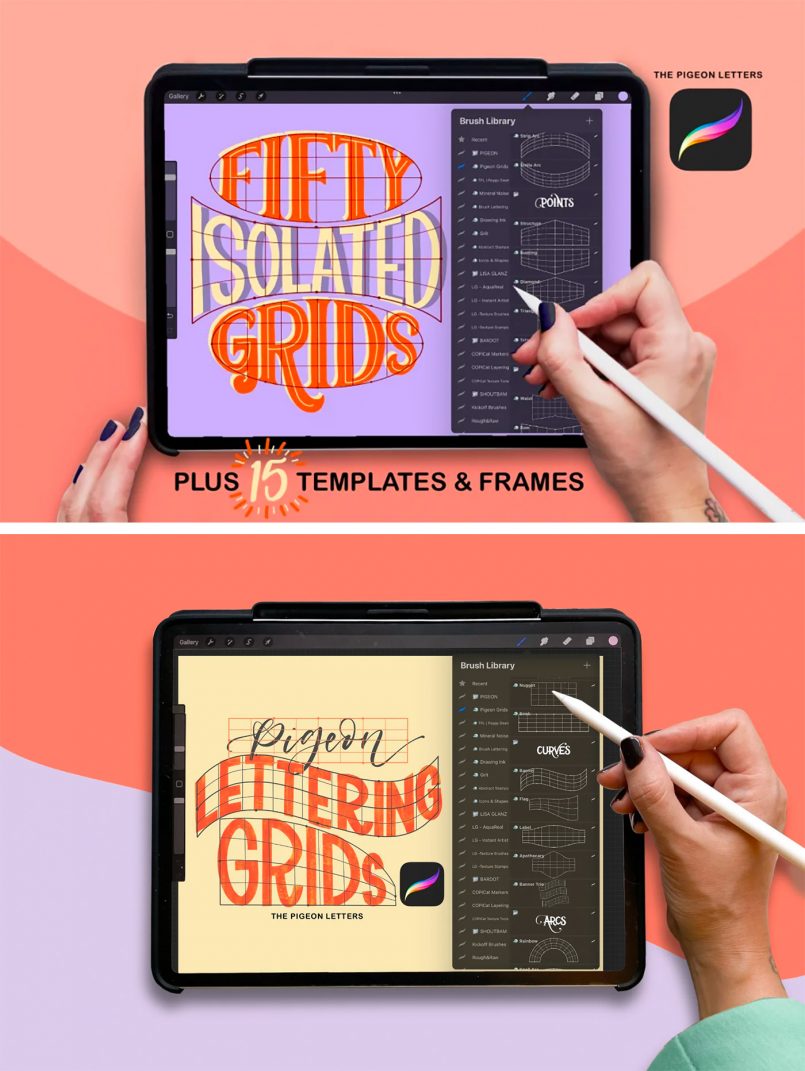 This set is a superb tool to enhance your hand-lettering compositions. Save time and add precision to your calligraphy creations with this extensive pack of grid templates, including:
50 isolated grids for lettering composition
Bonus 10 done-for-you templates
Bonus 5 frame guides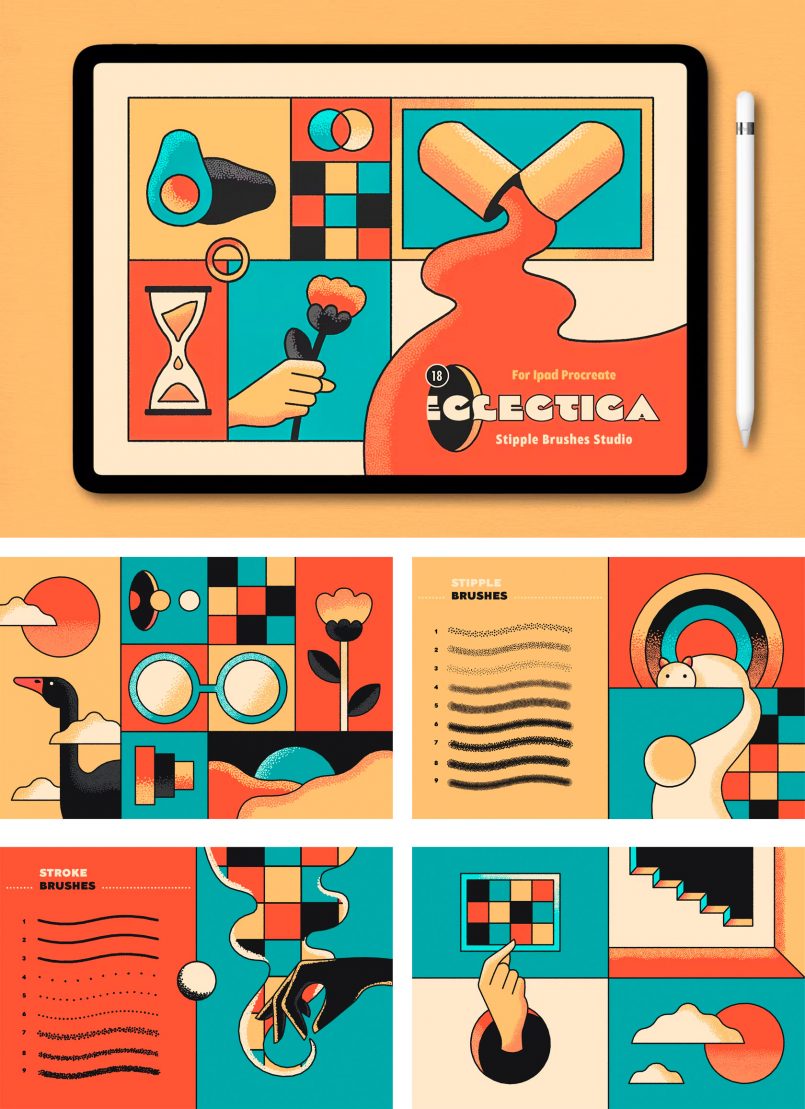 This versatile brush set combines the roaring pop art movement and Yves Saint-Laurent's style of the mid-'70s to introduce an awesome collection of stipple Procreate brushes.
These brushes allow you to easily add texture and volume to the objects and experiment with light and shadow. What you'll find in this bundle:
18 Procreate brushes
9 stroke brushes
9 stipple brushes
Help files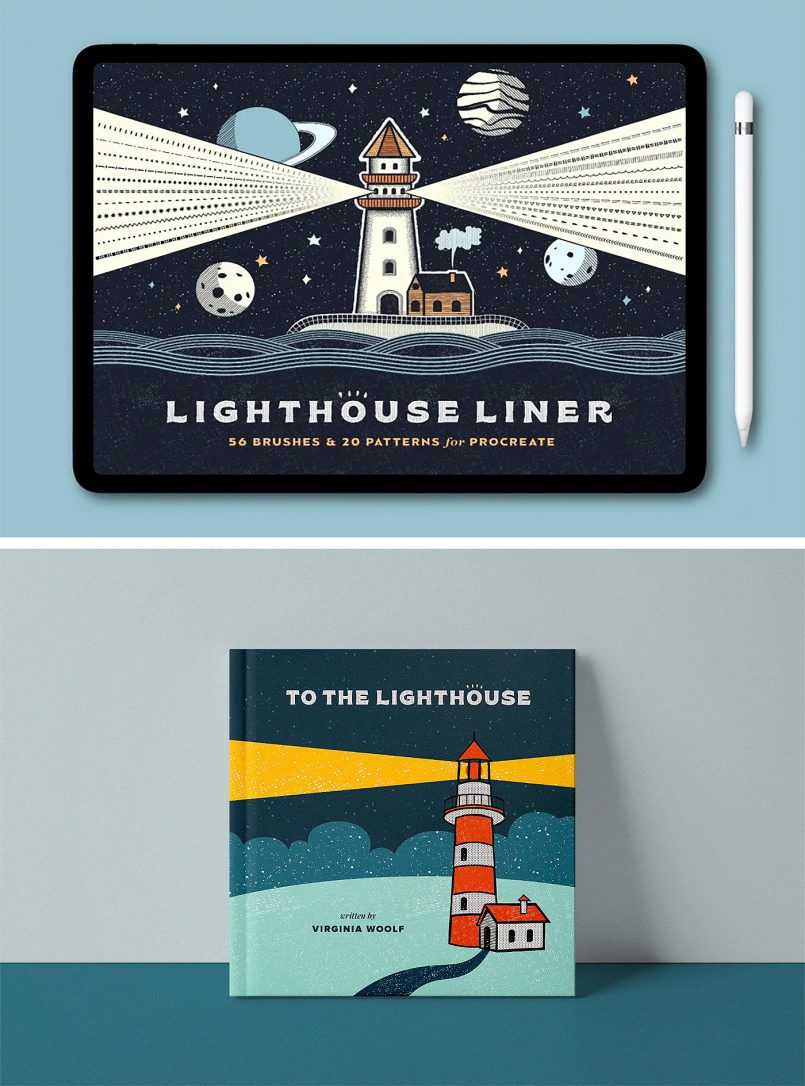 Draw sharp lines with 10 ink brushes, discover the ingenious 16 dot brushes with their hatches, sprinkles and squares, then work on a proper texture by picking the suitable tool from 30 pat brushes.
This set comprises the essential brushes for any illustration, including:
56 Procreate brushes (10 ink, 30 pat and 16 dot brushes)
20 patterns (coming as pattern brushes)
Help file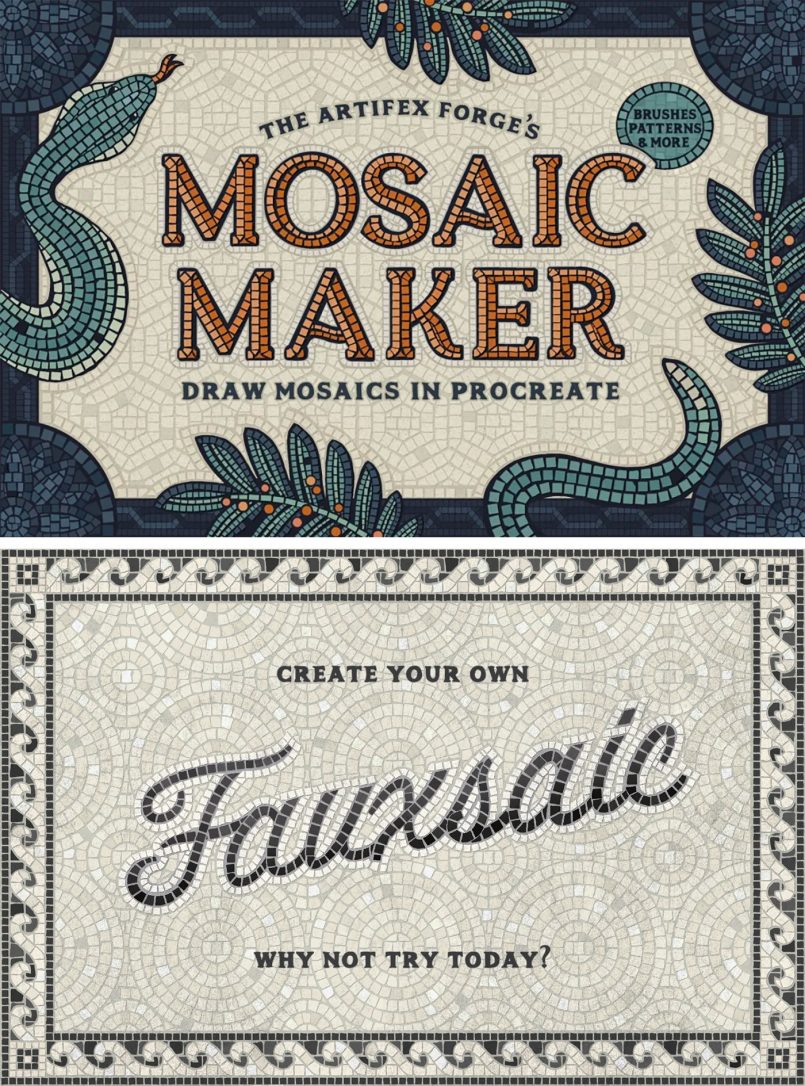 With this fantastic set by The Artifex Forge you can create authentic-looking mosaic designs, illustrations and fauxsaics in Procreate.
"In this pack I've captured the irregular, chipped edges of the original Roman source material (c. 4th century AD) allowing you to create stunning designs and illustrations with a sense of antiquity."

— The Artifex Forge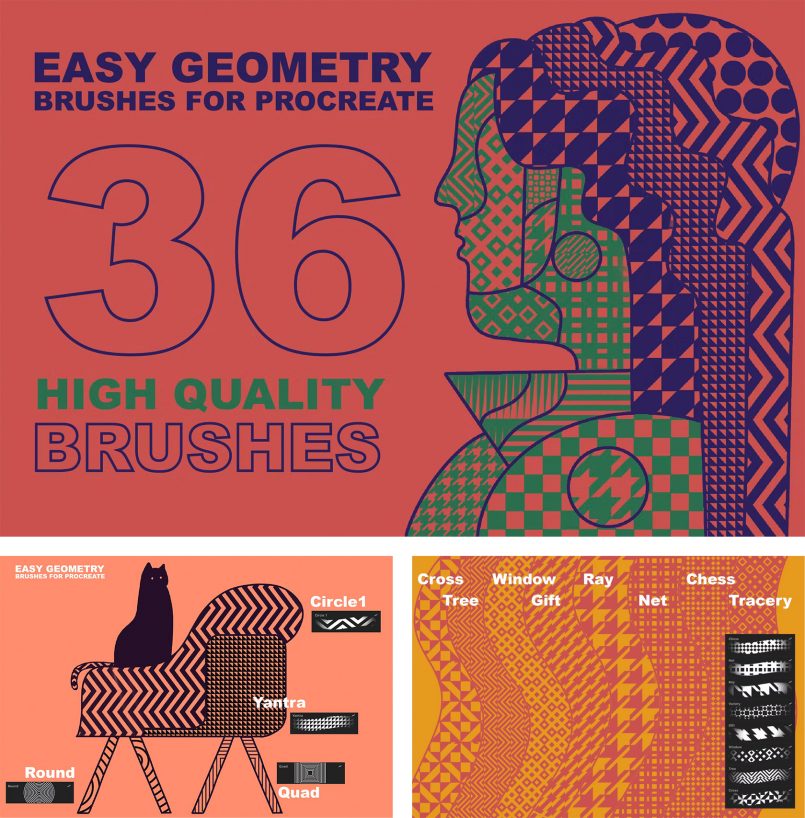 Add a contemporary twist to your digital creations with this broad set of geometric brushes.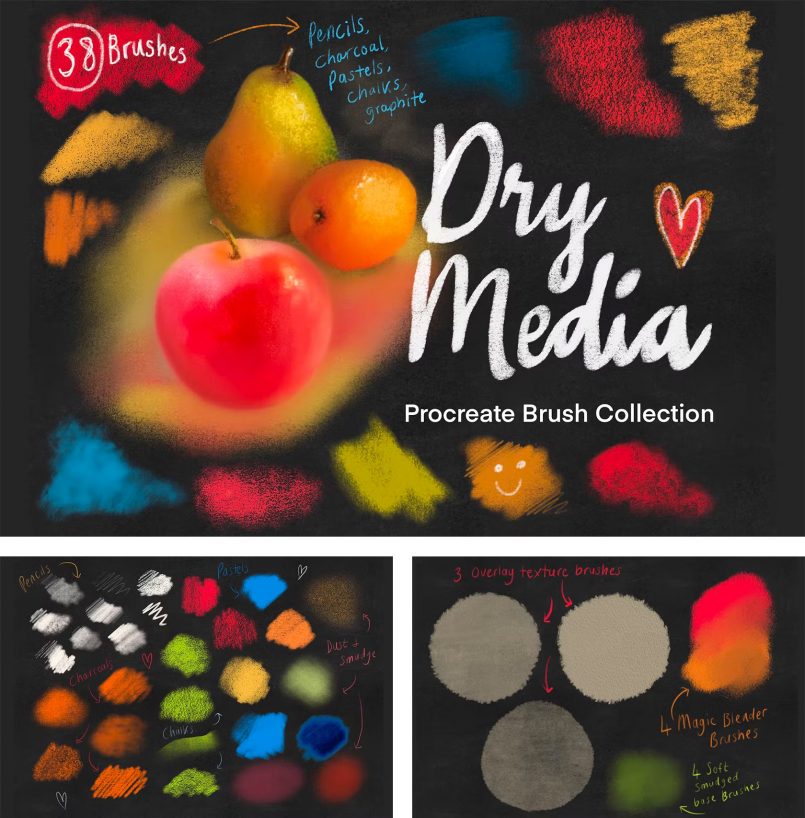 This professional-level set of 38 highly realistic dry media brushes for Procreate contains a selection of pencils, charcoal, chalks, conte, pastels, smudgers, dusters, base textures and special blenders.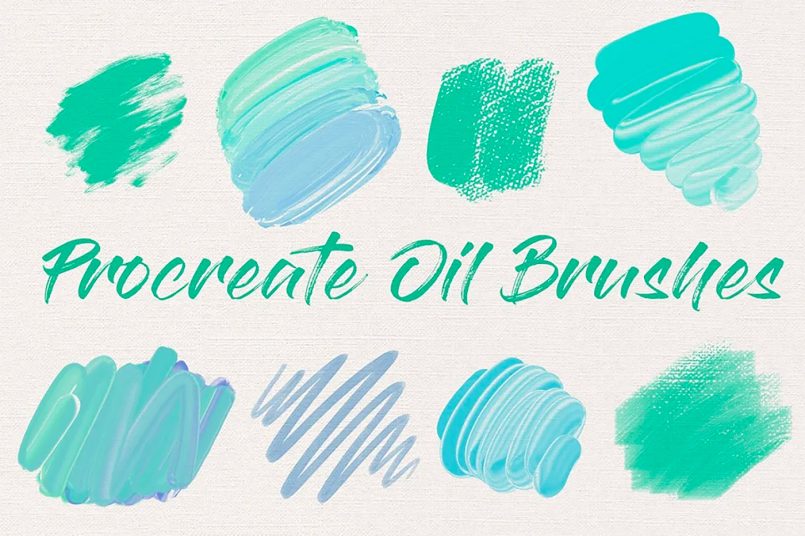 Create oil on canvas masterpieces with this extensive set of custom brushes and canvas textures for Procreate, including:
16 oil paint brushes
2 smudge brushes
17 canvas background textures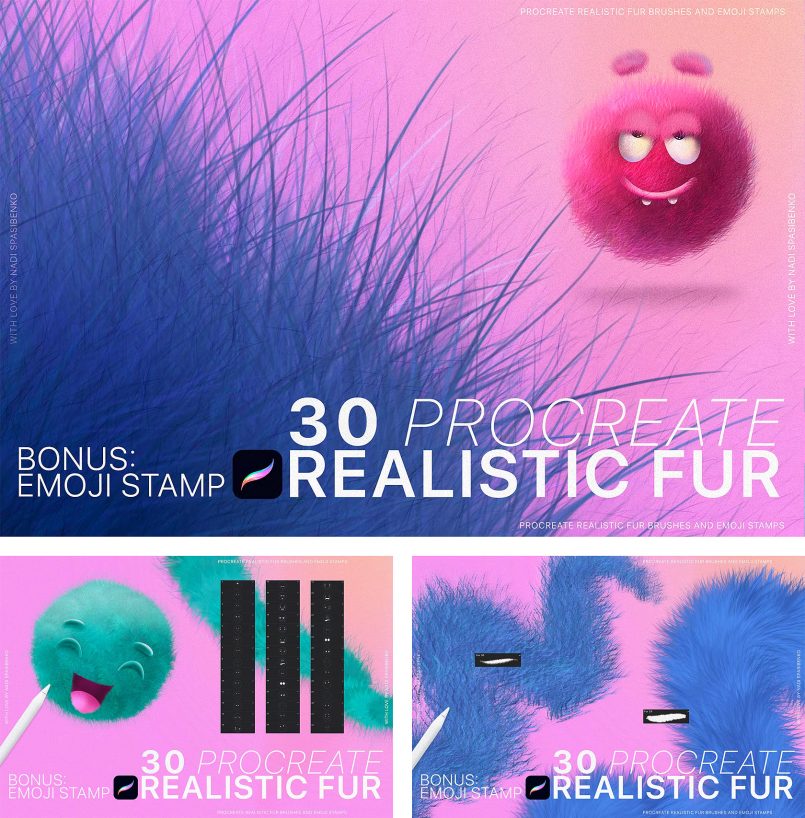 Have fun drawing cute creatures and realistic animals with this set of incredibly fluffy Procreate brushes. The pack includes:
30 fur brushes of different types (long and short hair)
32 emoji stamps
PDF guide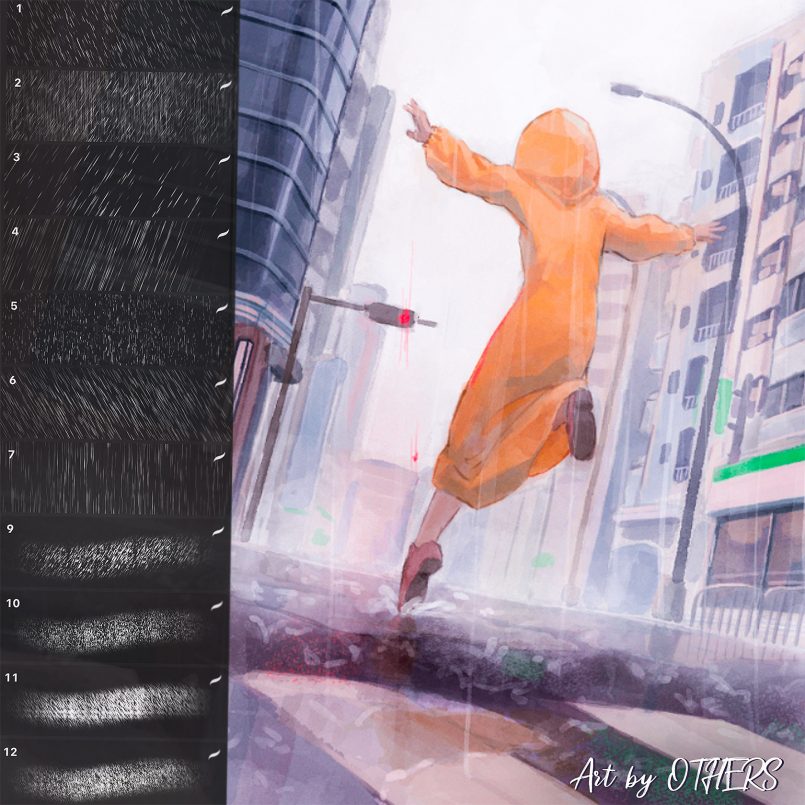 Add rain effects to your digital drawings with this free set by Stas, including 25 brushes in a range of different styles.
These high-resolution brushes can be used as textures, photo overlays, decorative elements, visual effects, and more. Compatible with Procreate and Photoshop.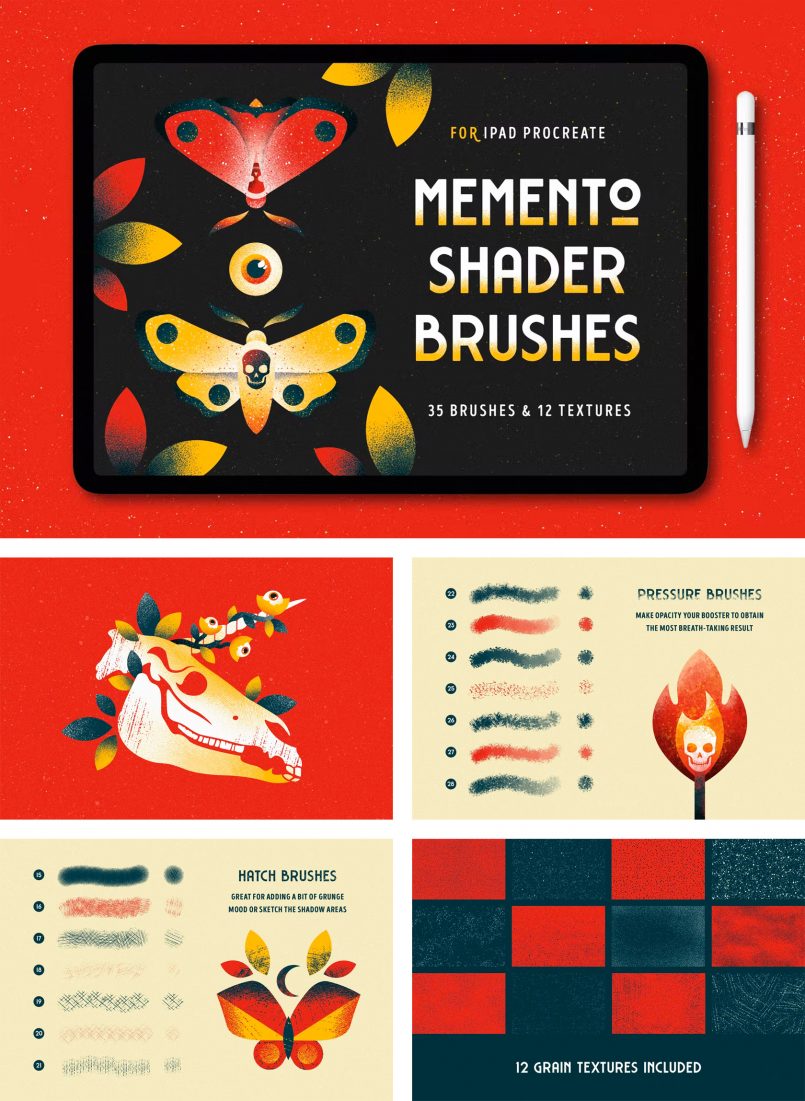 This well-known set of 35 brushes and 12 textures has been converted to Procreate format to allow you to produce eye-catching illustrations for posters, flyers, commercials, branding projects, and stationery without any restraints.
The set includes:
7 scatter brushes
7 noise brushes
7 hatch brushes
7 pressure brushes
7 shadow brushes
12 textures
Help file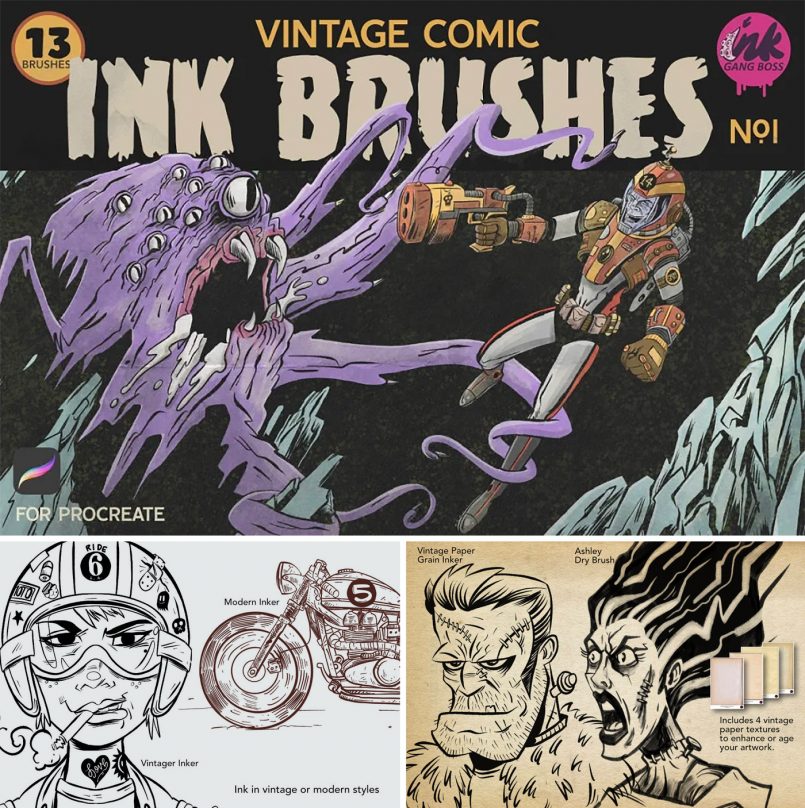 Add an authentic, comic-book style to your work with this cool Procreate inking kit.
These brushes deliver a subtle textured line that imitates the ink-bleed on old newsprint comic books. They are perfect for adding natural touches and a more traditional feel to your linework.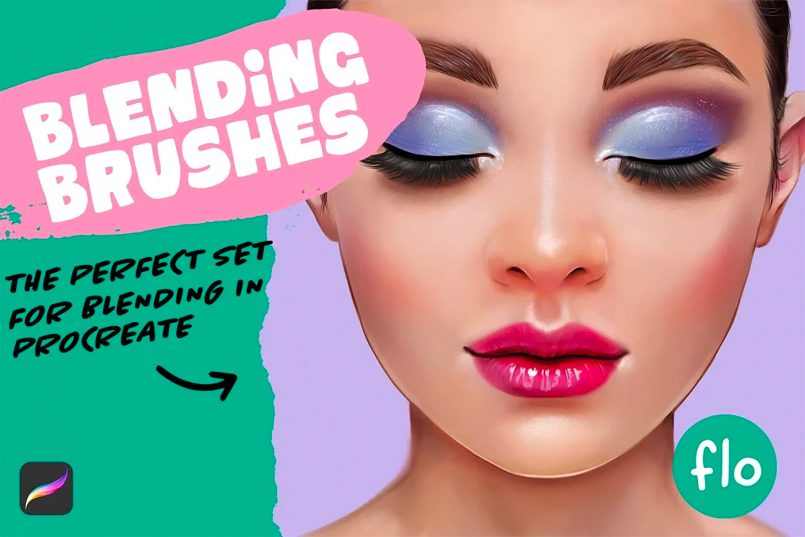 Create smoothly blended surfaces with various textures using this great Procreate brush set.
You can use these brushes to create both soft looking blended areas and surfaces with various textures. To use these blender brushes, select the smudge tool in Procreate. These 9 blending brushes are great for any type of painting, from portrait painting to still life.
Standard Blender
Soft Blender
Soft Blender II
Ragged Blender
Smeary Blender
Spackled Blender
Smokey Blender
Grainy Blender
Blotchy Blender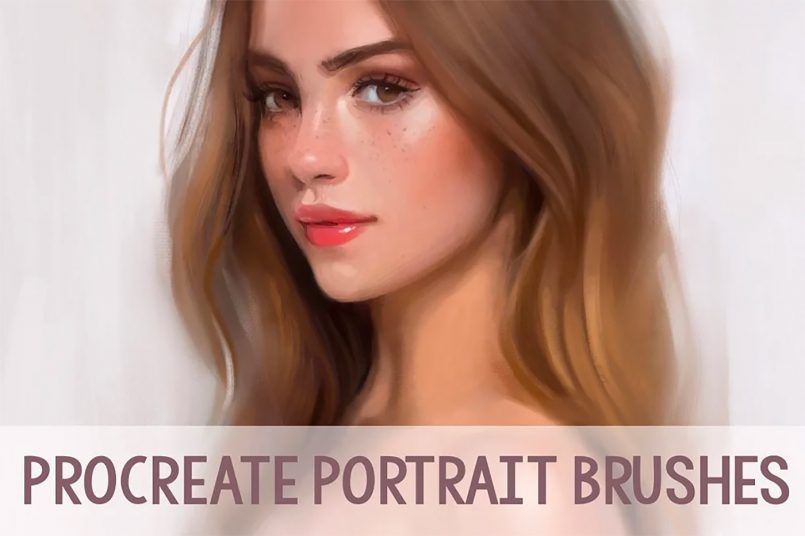 Add freckles, hair, skin texture, eye lashes to your portraits with this useful set including 20 portrait brushes for Procreate.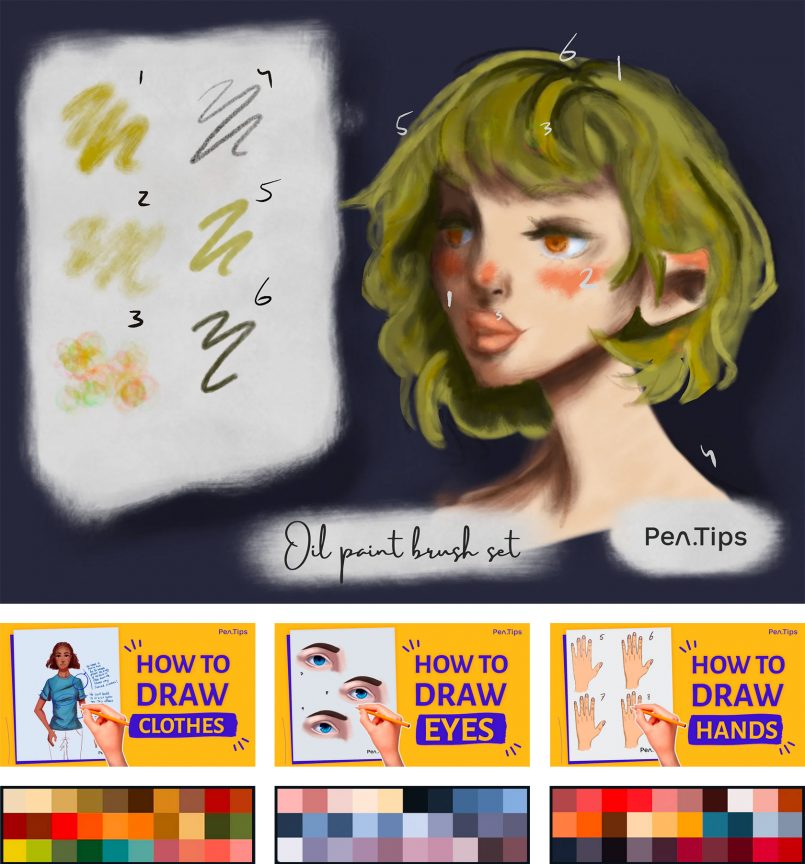 PenTips, a company specializing in accessories for the Apple Pencil and iPad, offers free Procreate brushes, tutorials and color palettes to boost your creativity.
They regularly add new downloads to that page, so be sure to bookmark it.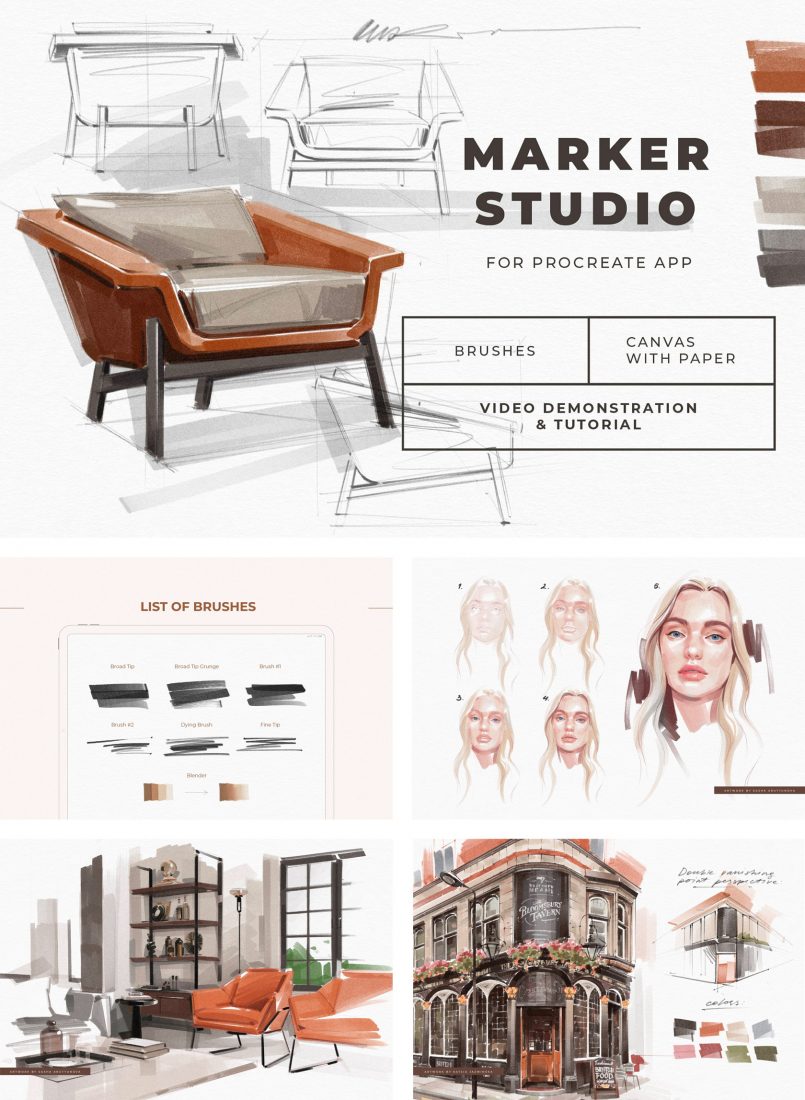 This kit created by Katsia Jazwinska includes copic markers, touch markers, and many other alcohol-based markers, specifically designed for high accuracy in Procreate.
You don't need to customize anything, everything is already done. Just open the canvas file in your Procreate app and start painting. The set includes:
7 brushes
1 layered A4 canvas
PDF file with instructions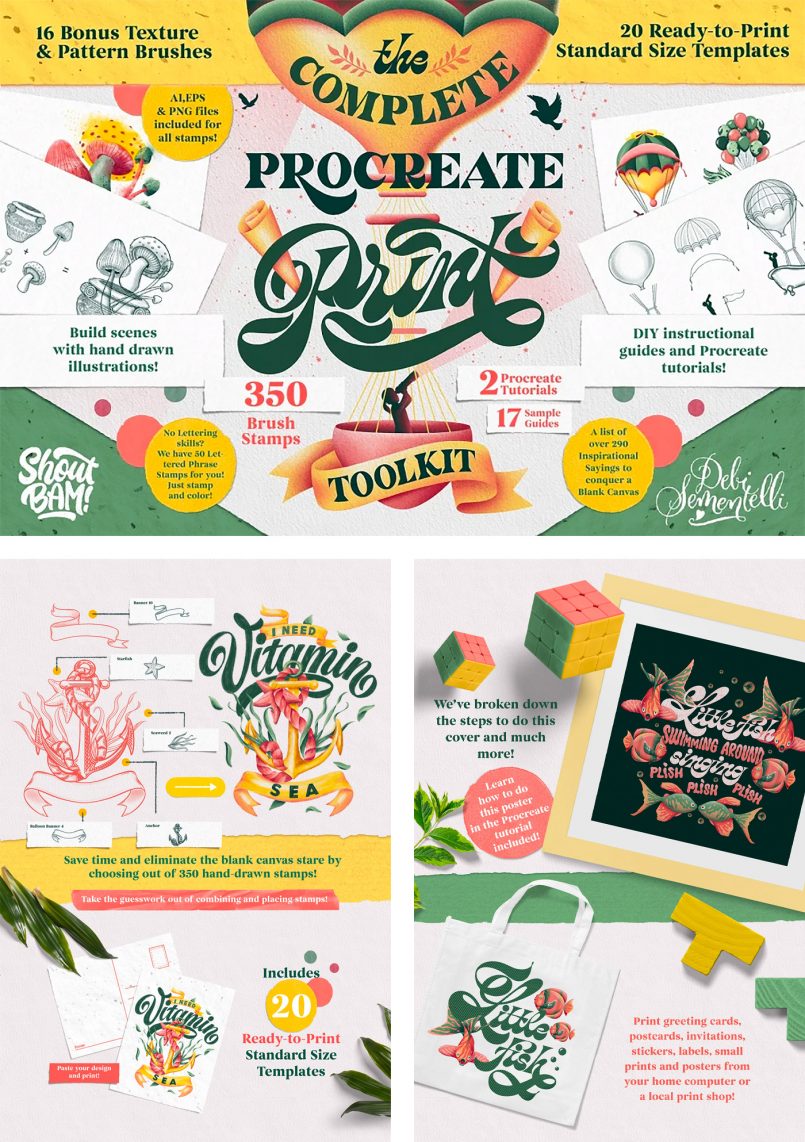 This comprehensive toolkit can be a real time saver, with tons of brushes, stamps, sample guides and tutorials included to help you quickly produce print-ready artworks and products.
Besides Procreate, the files contained in this set are also compatible with Illustrator and Photoshop, which is a nice bonus.
File Types Included: AI, Brushset, EPS, PDF, PNG, Procreate, Swatches.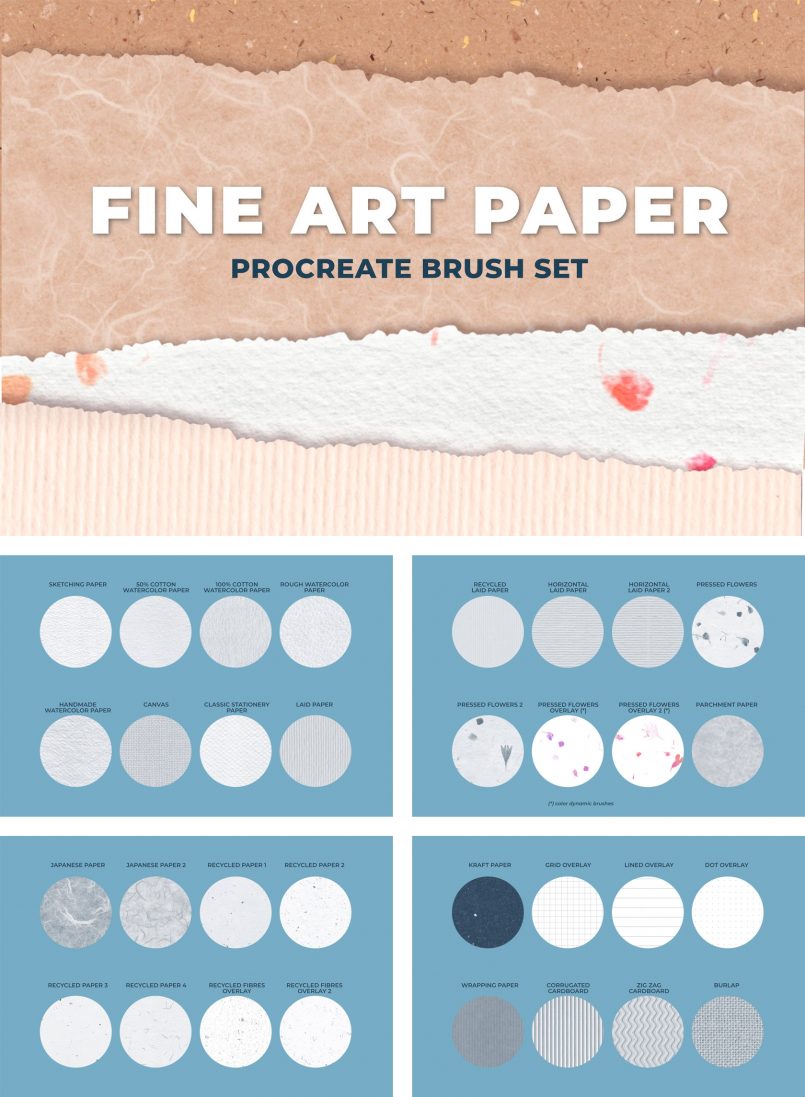 The Fine Art Paper collection of Procreate brushes was designed to give your artwork the look and feel of real paper. The kit creator selected and scanned 32 different types of beautiful papers and turned each one of them into a unique Procreate brush.
Each brush will create a high-resolution seamless texture that you can use to fill large canvases.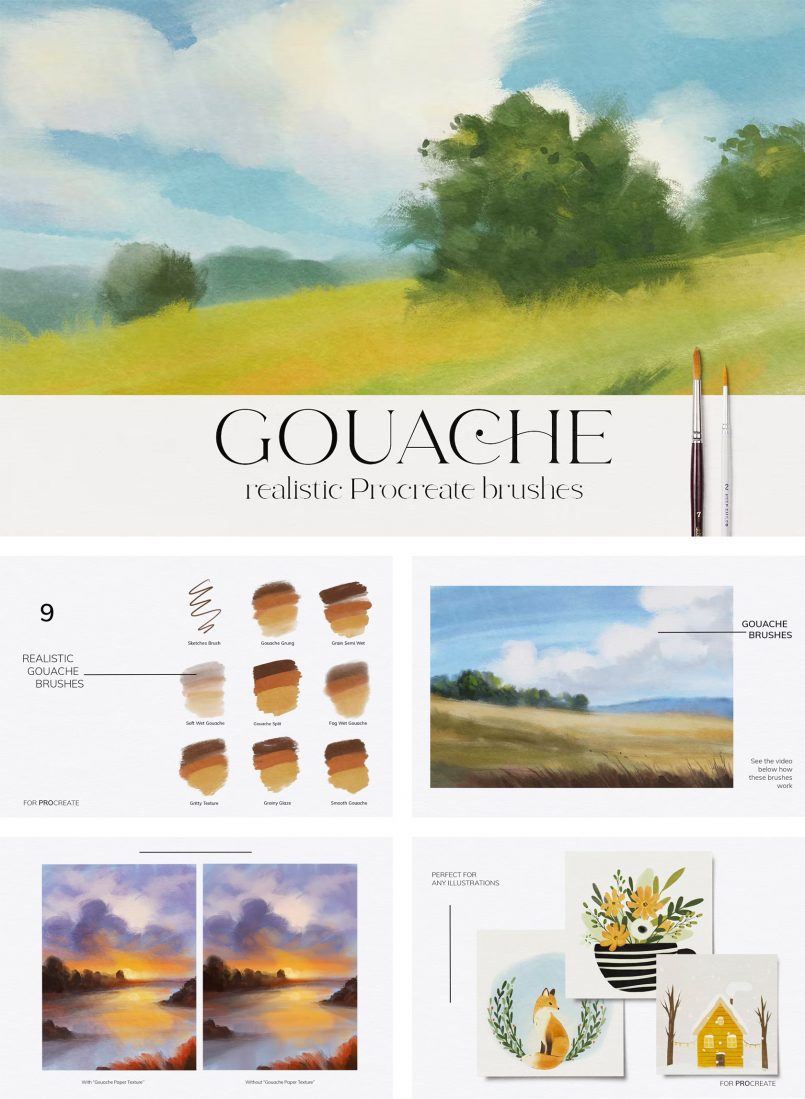 This set including 9 realistic high-res Procreate brushes was created from natural gouache strokes and textures to make the brushes as similar as possible to the real material.
The brushes have a grain texture and perfectly imitate traditional painting. For an even better effect, the set includes a group of layers with a paper texture effect – it will make your illustrations even more realistic.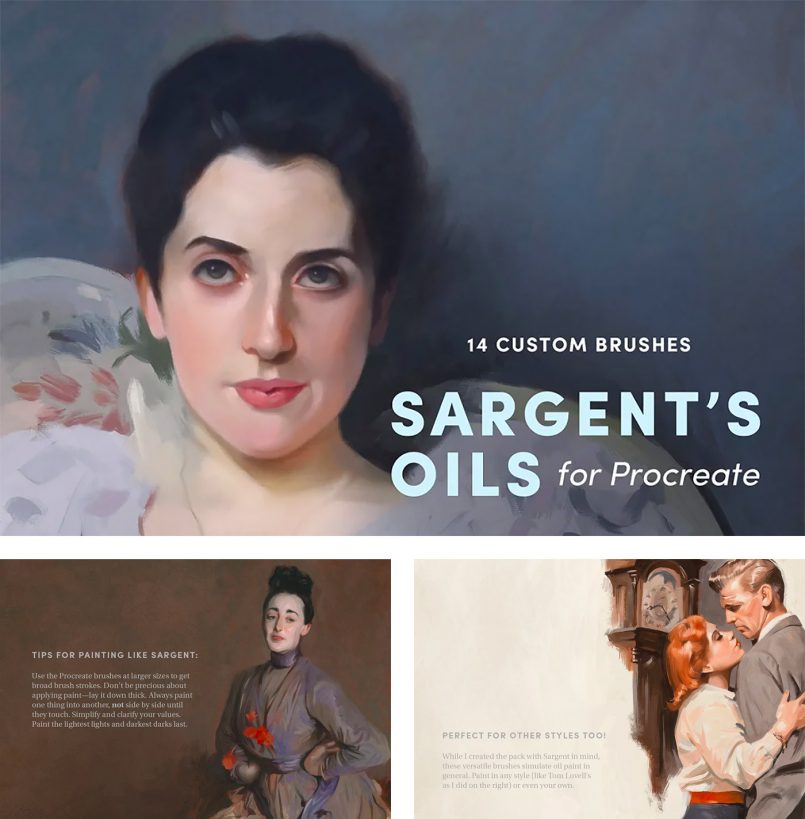 Sadie Lew is an artist that creates handcrafted brushes for Procreate to help you achieve the look of the masters.
The Sargent's Oils pack features 14 custom brushes with realistic brush shapes that emulate real oils and a seamless fabric canvas texture.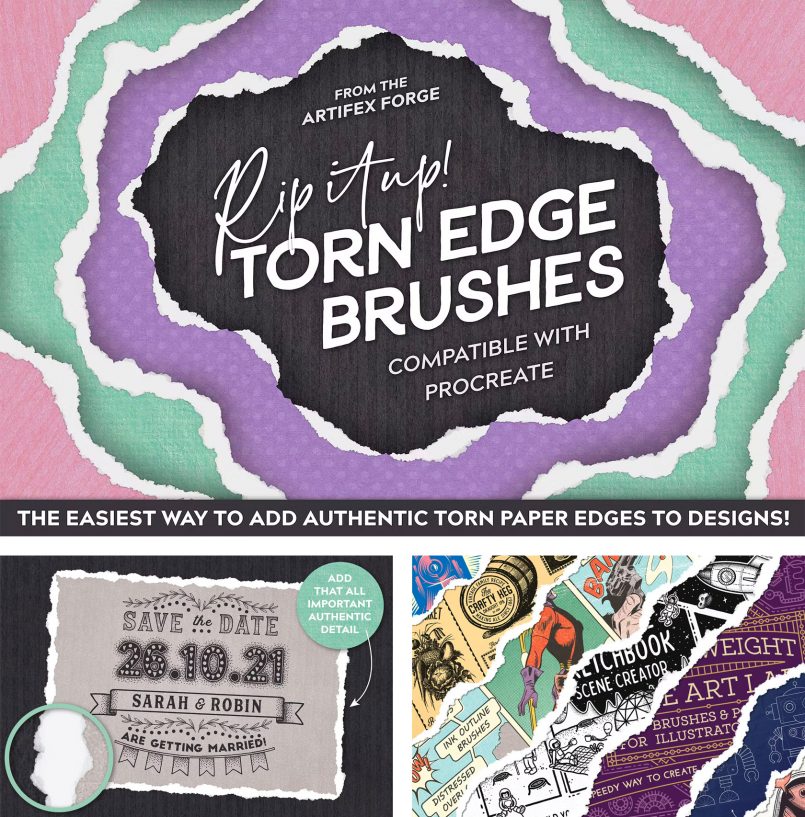 'Rip it up!' is an interesting set of Procreate brushes that allows anyone to add authentic torn paper edges to their creations.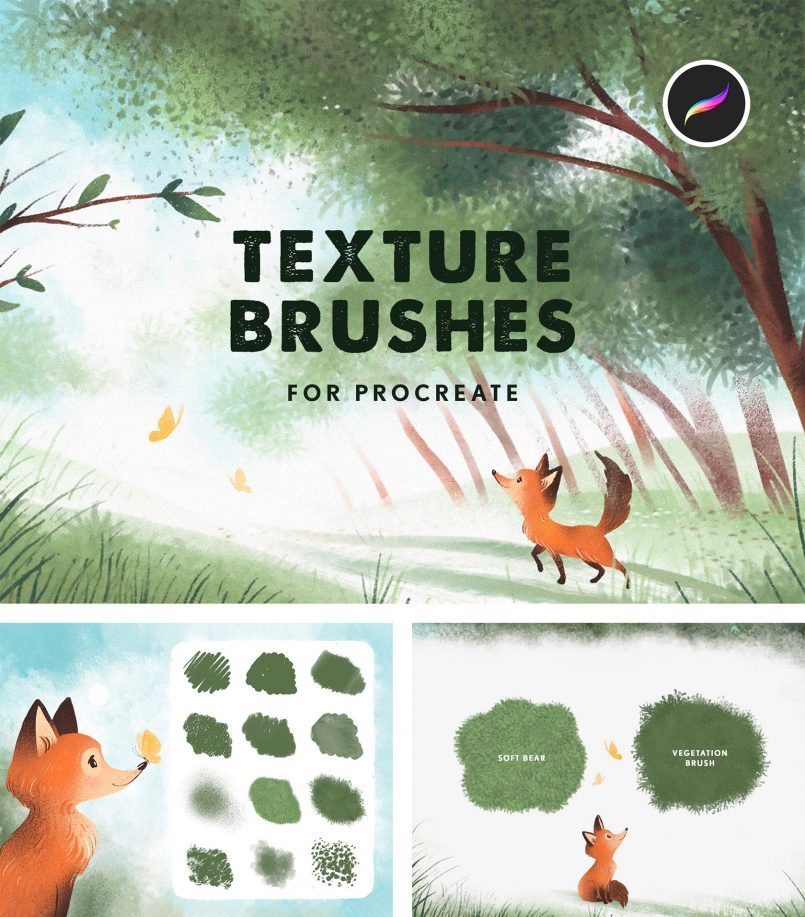 This free set features 12 helpful bruhses including watercolor, pencil, sandpaper and spray noise effects.
Use these brushes to produce children's book illustrations, character designs, captivating landscapes, and more.
---
This post contains affiliate links to partner brands. We earn a small commission if you click the link and make a purchase. There is no extra cost to you, so it's just a nice way to help support the site.
Inspiration
in your inbox
Amazing art & design, never any spam.
We care about protecting your data. Please refer to our Privacy Policy for more.
© 2023 Inspiration Grid, all rights reserved. Some of our posts may contain affiliate links to partner brands. We earn a small commission if you click the link and make a purchase. There is no extra cost to you, so it's just a nice way to help support the site. All images, videos, and other content posted on the site is attributed to their creators and original sources. If you see something wrong here or you would like to have it removed, please contact us.