Portable Productivity: Mobile Pixels Duex Plus Laptop Monitor Review
Published May 9, 2023
Includes affiliate content
Using a multiple monitor setup is one of the best ways to improve efficiency. Having two or more screens available allows me to easily move between tasks without having to switch windows or tabs, and I can also keep multiple applications open at once. When I'm away from my main working desk, however, it can be hard to replicate that setup. That's why I was curious when I heard about the Mobile Pixels Duex Plus.
The Duex Plus is a plug-and-play portable monitor that is designed to be attached to laptop screens measuring between 13 to 14 inches, but can also be used with larger laptops. It features a 13.3″ Full HD IPS display with a matte surface, 60Hz refresh rate and 1920×1080 resolution (16:9 aspect ratio). This handy monitor is compatible with both Windows and Mac operating systems, and you can even use it with the Nintendo Switch.
I have spent some time with the Duex Plus to see how well it performs, and in this article I'll share my experiences with the device so you can find out if this is the right portable monitor solution for you.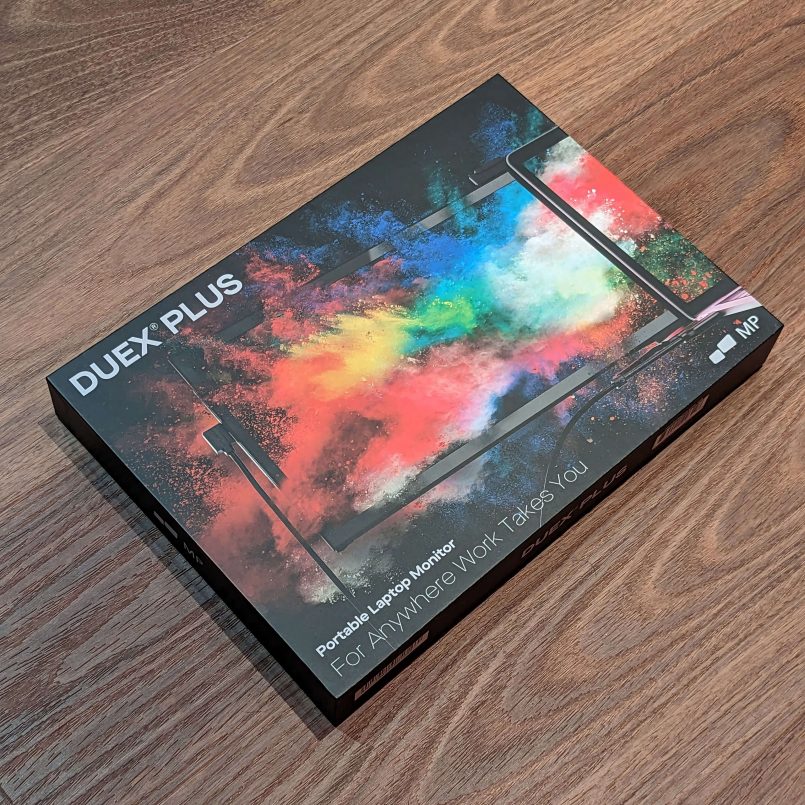 Initial Impressions & Build Quality
The retail package has bold graphics on the front and a matte finish which looks quite nice, giving the initial impression that this is a premium product. In the box you'll find the monitor itself, a data cable, instructions manual, the magnets that are used to attach the Duex Plus to your device, as well as additional stickers that allow you to move the mounting magnets to a different device (or in case you need to reposition the screen).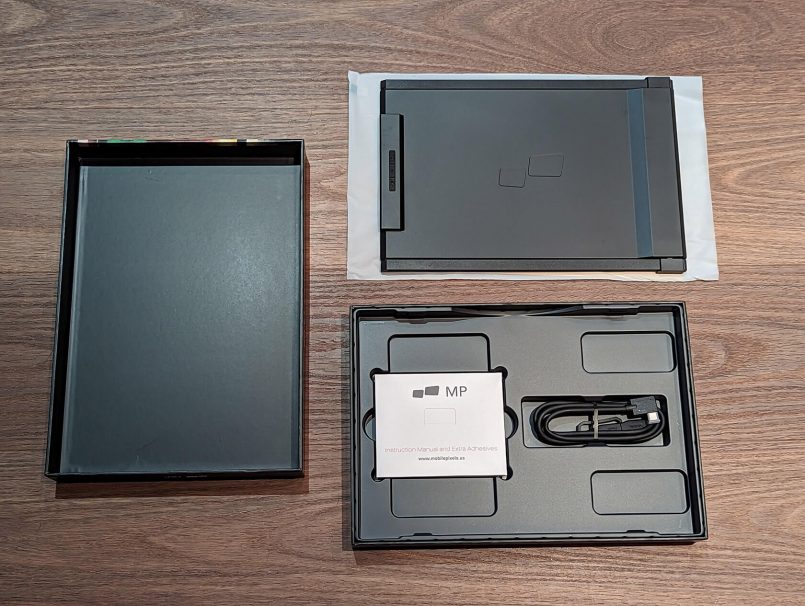 The sliding screen is encased in a plastic shell and the mount that is used to attach the device to the laptop panel is made out of aluminum. This design choice is great for portability, helping keep the weight down, but the plastic outer shell doesn't give the device a premium look and feel.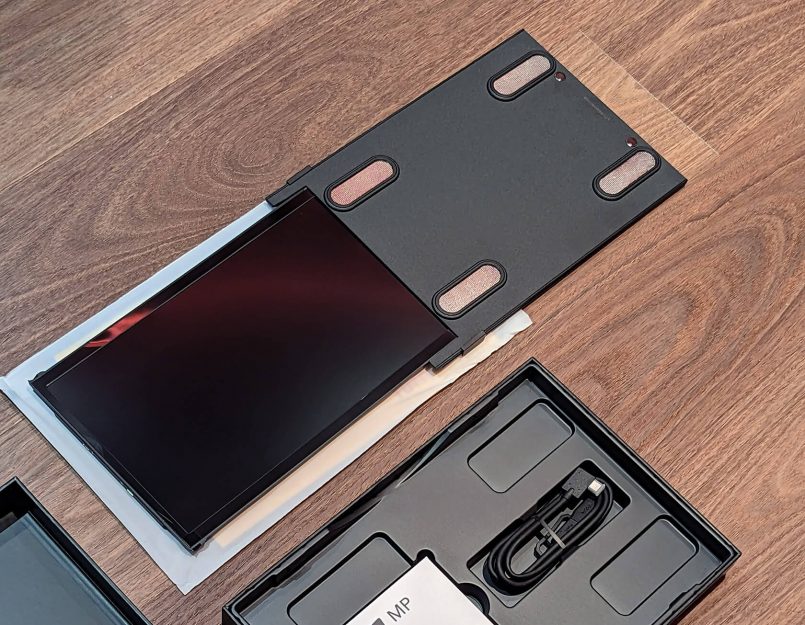 The sliding mechanism is not super smooth, but it works exactly as advertised. The monitor automatically turns on when sliding out and off when you slide it back in, so there's no physical power button on the unit. You can, however, adjust a number of display settings via a set of buttons on the back.
Installation
Installing the Mobile Pixels Duex Plus portable monitor is a simple and straightforward process. The monitor comes with an attachment guide template that helps you position the adhesive magnets correctly on the back of your laptop.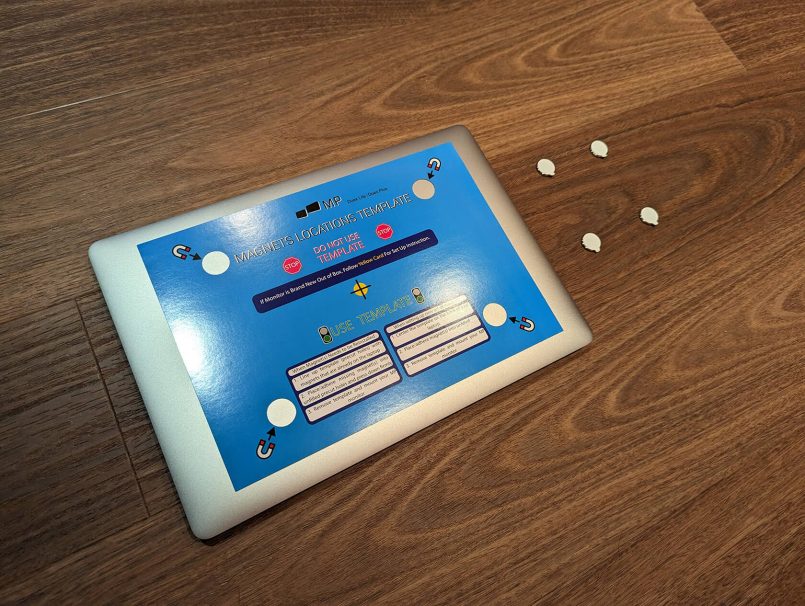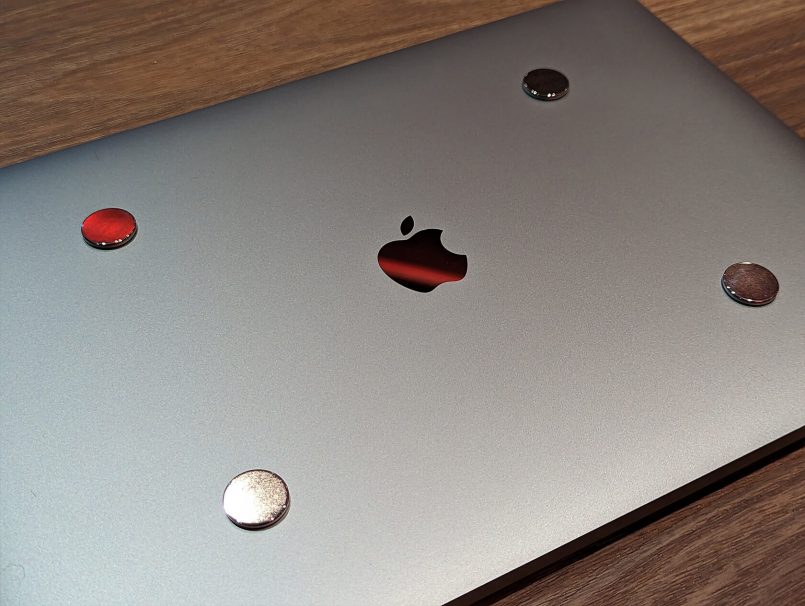 Once the magnets are all set, you can attach the Duex Plus to your device and adjust its horizontal placement.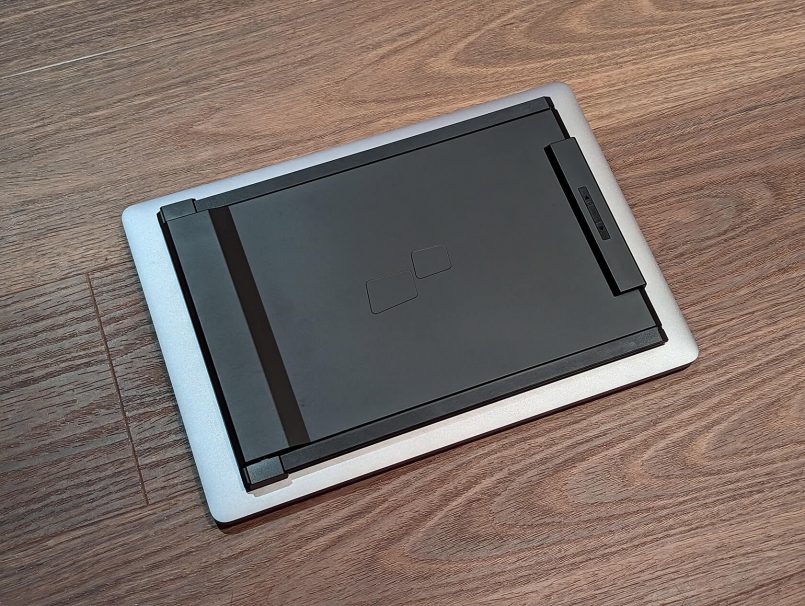 If you're attaching it to a larger device, you will need to position the Duex Plus off-centre and closer to one of the edges, to ensure the monitor can fully slide out without being blocked by your laptop screen.
Once attached, all you need to do is plug the Duex Plus into one of the USB-C ports of your computer and it's good to go – it's that easy! If you are using a regular USB port, however, you will need to download some drivers in order to get the monitor working properly.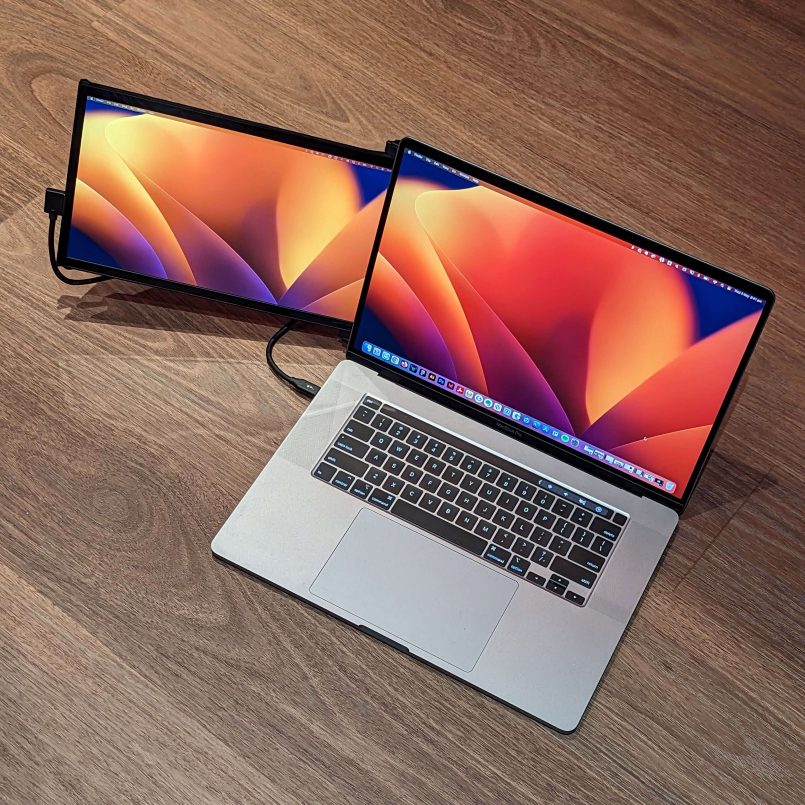 One thing worth pointing out is that both the magnets and stickers are quite strong, which is a great thing when it comes to keeping the Duex Plus firmly in place, but if you're planning to move the monitor from one laptop to another you will want to think about getting some extra magnets.
The stickers that are used to attach the magnets to your laptop can be a bit hard to remove, and you will have to be careful not to scratch the surface of your device. The manufacturer recommends using a thin piece of plastic (e.g., credit card) to wedge between the magnet and laptop lid to help dislodge the adhesive. Once you have detached the magnet, the adhesive residue does come off quite easily with the help of a clean cloth and cleaning alcohol.
Ultimately I would recommend choosing your primary laptop to use with this additional monitor and sticking with it, but if you're set on having the ability to attach it to multiple laptops, you can get some extra magnets, as mentioned above. Bear in mind that you can also use the Duex Plus freely as a standalone screen with the optional Origami Kickstand, which should give you a lot more flexibility if you're using multiple devices.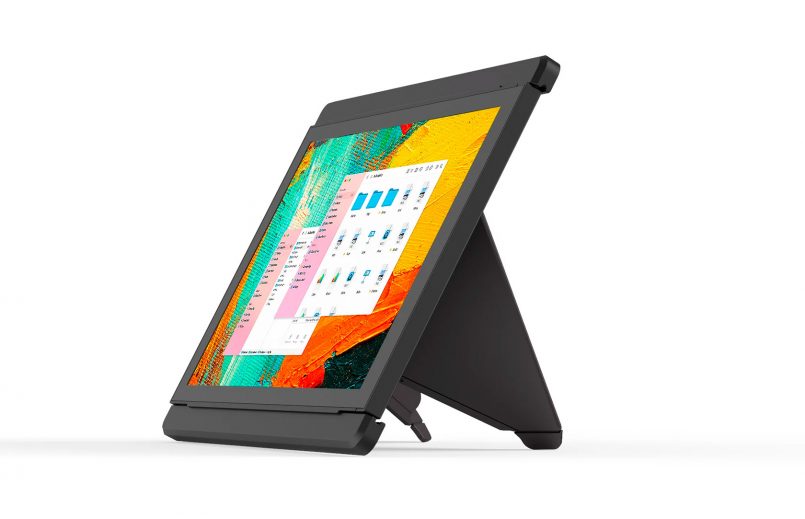 Versatile & User-Friendly
One of the most impressive aspects of the Duex Plus is its versatility. It can be connected to laptops, gaming consoles, and even smartphones. Once you've attached it to your laptop, the monitor is really easy to use – simply slide it out, and it's ready to go. It also includes an auto-rotation feature which allows you to quickly switch between a left or right side setup.
I have put the Duex Plus through the test with a range of devices, including a MacBook Pro, the ASUS ROG Zephyrus G15 gaming laptop and the Nintendo Switch. Here's my experience with the portable monitor:
Everyday Use
I connected the Duex Plus to my MacBook Pro and was immediately impressed with how easy it was to set up. It's really just a matter of plugging it in, sliding it out, and everything just works, no quirks, no glitches.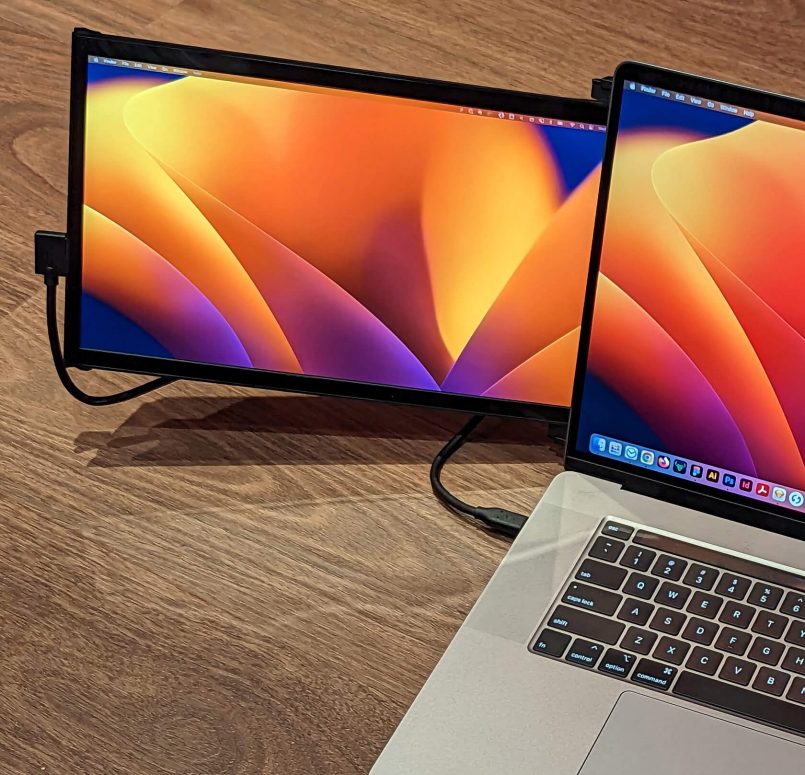 You may find you'll need to make some adjustments to the screen settings so you can set it to your preferences before you start. Out of the box, it won't look super bright but you can adjust a number of aspects such as contrast, saturation, color temperature and brightness. There's even an "eye-care mode" available to help reduce the amount of blue light emitted by the display.
For my daily use, I was only planning to use the DUEX Plus in a supporting role, such as checking emails and browsing the web. However, after seeing the display firsthand, I decided to do more with it.
In my testing I also ended up using it to perform tasks such as resizing and adjusting images in Photoshop, while using Figma (the primary tool in my workflow) on a larger 27″ screen. In this particular triple monitor scenario, the MacBook Pro display was the one being used for the more 'mundane' tasks.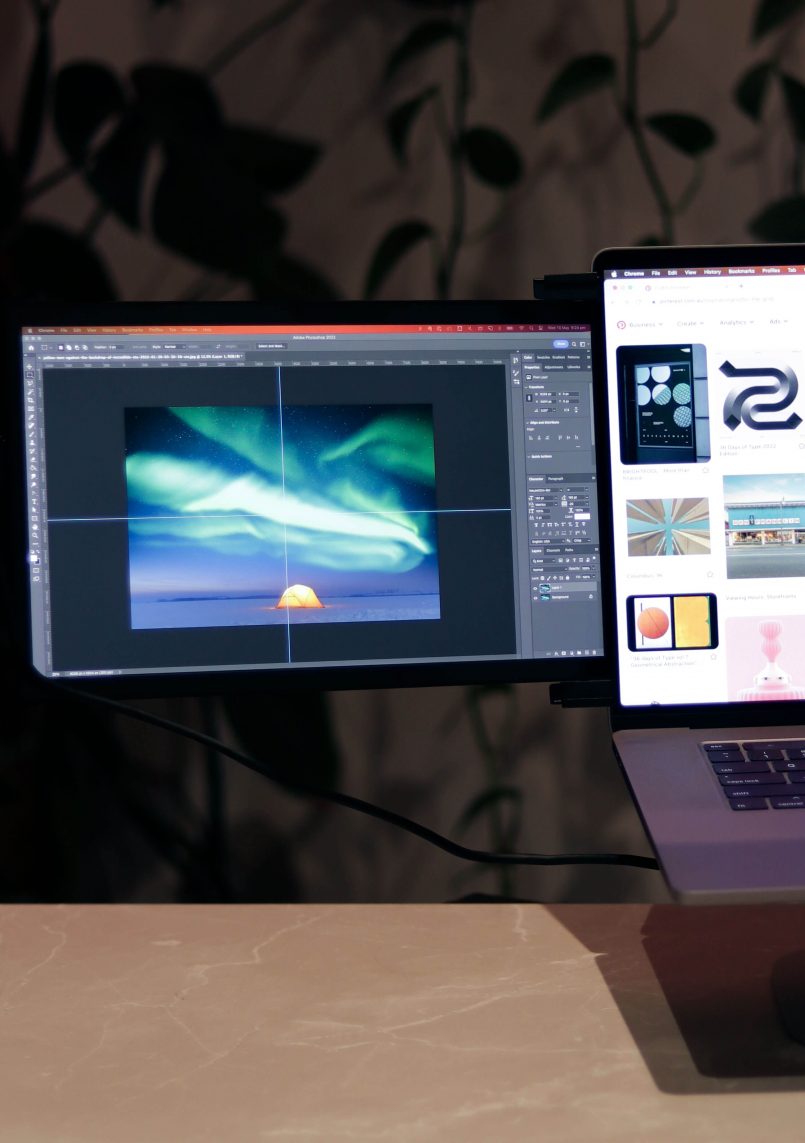 Presentation & Portrait Modes
A really neat aspect of this monitor is that you can flip it completely on the back of your laptop to easily share your screen with others sitting across from you in a meeting.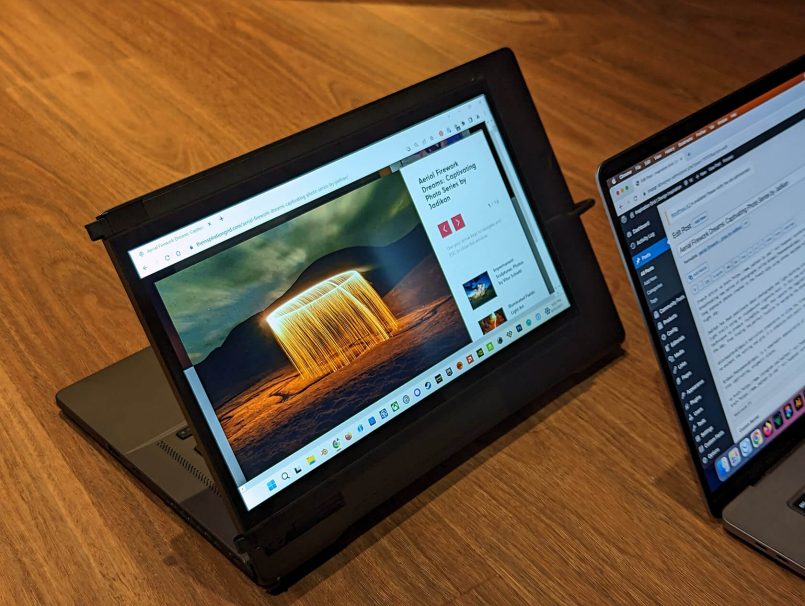 The monitor can also be used in portrait mode, which is especially useful when viewing vertical content, such as reading lengthy documents or analyzing complex spreadsheets.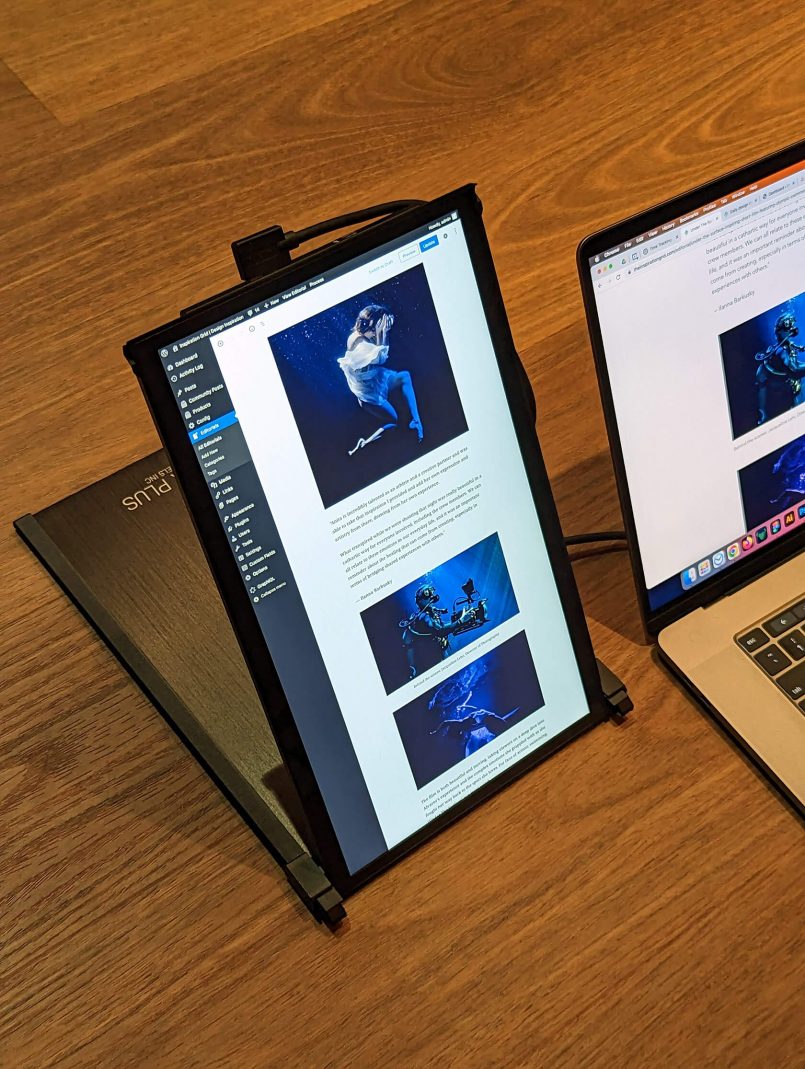 Enhanced productivity & portability
Through my testing, the Duex Plus significantly improved my workflow whether used as a second or third monitor. Its seamless experience allowed me to multitask efficiently and complete even more tasks quickly.
While on the go, the monitor's size and portability makes it effortless to carry around. That means you don't have to lose your multi-screen setup when you're away from your desk, making it a useful tool for external client meetings, and a fantastic work travel companion.
When paired with my MacBook Pro and a 27″ display, the Duex Plus performed quite well on a range of everyday tasks. However, while it may be suitable for some light photo editing, there are better options to consider if your workflow relies heavily on color accuracy and precision.
Gaming with the Duex Plus
I also tested the Duex Plus with an ASUS ROG Zephyrus G15 gaming laptop, and even though this monitor wasn't particularly designed for gaming, I was pleasantly surprised with how it performed. Keep in mind that the display is limited to 60Hz, which should be more than enough for most people, but if you're a hardcore 120fps gamer however, you would only want to use this for work.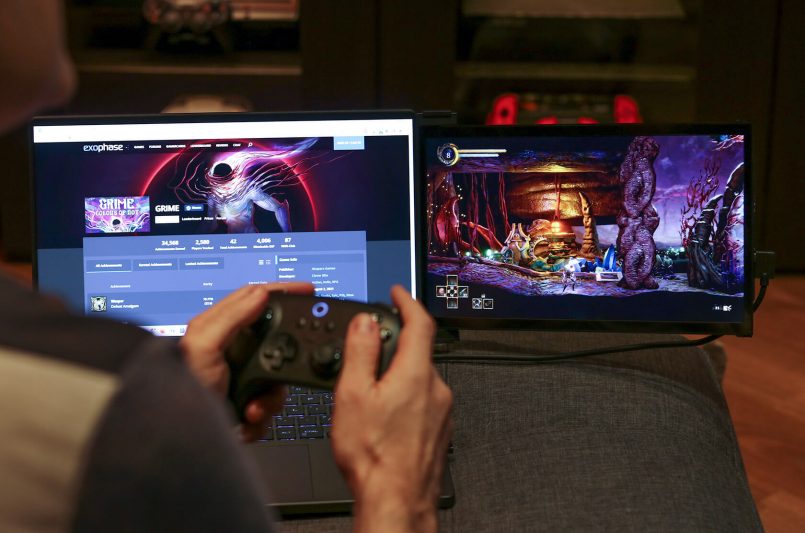 Despite the refresh rate limitation, Duex Plus delivers vivid and detailed graphics, making for an enjoyable portable gaming experience.
Having a second screen to browse the internet while playing games can also be quite useful whenever you get stuck and need some extra help. For the completionists out there, the handy additional screen allows you to look at guides for the most elusive collectibles, without ever having to leave the game.
A Great Portable Screen for the Nintendo Switch
Lastly, I connected the Duex Plus with my Nintendo Switch and was thrilled at how it transformed the gaming experience. The ability to keep using this portable monitor on my downtime is a great bonus, allowing me to get more out of the device.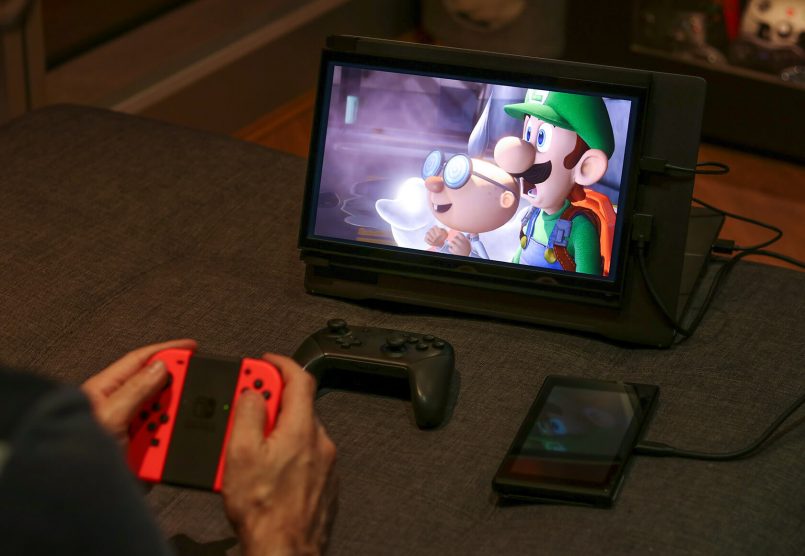 The Switch's 6.2-inch screen (7-inch if you're using the OLED version) is capped at 720p, and the Duex Plus gives you 1080p gaming with sharp and vibrant colors on the go. It's perfect if you want to play Mario Kart with friends while traveling, or whenever you're away from the Switch's dock and your TV.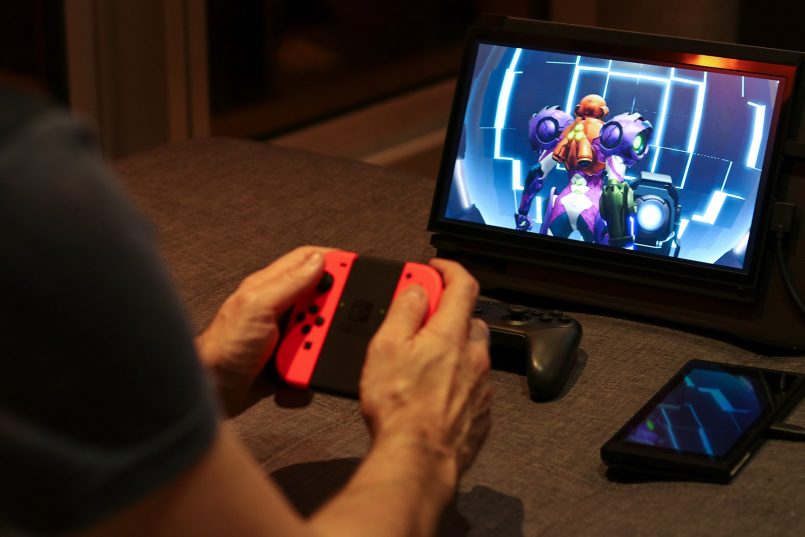 Pros & Cons
Overall, the Duex Plus is an impressive portable monitor with a unique sliding mechanism. Its versatility, user-friendliness and portability make it a great choice for anyone who needs a mobile display.
Its $399.99 price tag however, may be a deterrent for some, but you can always keep an eye out for a sale (currently 35% off on their website – $259.99, as of writing this article).
The Duex Plus works quite well with screens larger than 14 inches, but if you have a bigger laptop you might also want to consider the Duex Max for your setup.
Pros
Effortless plug-and-play installation
Two USB-C ports (no need for an HDMI cable)
Lightweight & slim
Multi-device compatibility
Multiple display modes
Auto-rotation capability
Cons
Sliding mechanism is not the smoothest
Build quality could be improved in some areas
Limited color gamut
Asking price is high
---
Verdict
In conclusion, the Mobile Pixels Duex Plus Portable Laptop Monitor is a great investment for anyone who needs a portable display that delivers quality graphics and provides an enhanced workflow experience. While its unique design may not be suitable for everyone, it's definitely an excellent choice for those looking to improve their productivity on the go. I highly recommend giving this one a try.
---
This product was provided by its manufacturer for review purposes, but the opinions are all our own. This post contains affiliate links to partner brands. We earn a small commission if you click the link and make a purchase. There is no extra cost to you, so it's just a nice way to help support the site.
Inspiration
in your inbox
Amazing art & design, never any spam.
We care about protecting your data. Please refer to our Privacy Policy for more.
© 2023 Inspiration Grid, all rights reserved. Some of our posts may contain affiliate links to partner brands. We earn a small commission if you click the link and make a purchase. There is no extra cost to you, so it's just a nice way to help support the site. All images, videos, and other content posted on the site is attributed to their creators and original sources. If you see something wrong here or you would like to have it removed, please contact us.