Kick off the New Year with 23 fresh fonts for your design projects
Published Jan 19, 2023
Includes affiliate content
It's a new year and with it comes the opportunity to try something fresh and exciting!
Here are 23 custom fonts that will take your designs to the next level. From playful scripts to vintage serifs, you'll be sure to find the ideal typeface for your next design masterpiece.
Brosqua is a new font that's perfect for making an impact on your next design project. It's a simple, minimalist geometric display typeface with two weights and two styles, so you can find the look you're after easily. Whether you're creating graphics for print or web, Brosqua is sure to turn heads.
This clean, modern font has been designed to bring out the best in your work. With its ligatures, alternative glyphs and old style figures, it offers plenty of flair without compromising on style or readability.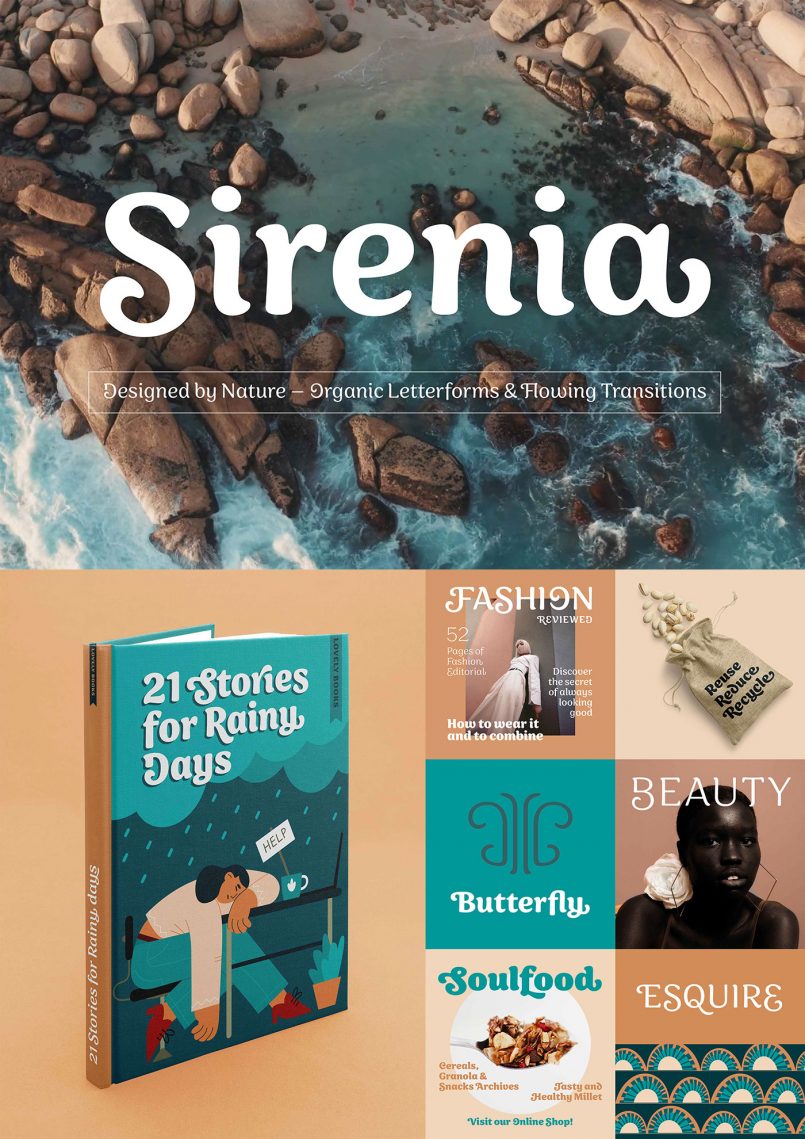 Designed by Felix Braden, Sirenia is a typeface with an organic, friendly feel. Its rounded corners and flowing transitions give it a vintage yet modern look. Perfect for any design project, this decorative font will be sure to add a bit of joyous flair to your work.
Sirenia's eye-catching style makes it ideal for use in logos, titles and headings. Whether you're designing for print or web use, this beautiful typeface will bring character and personality to your work.
Sirenia is available for Adobe Creative Cloud users at no extra cost, and you can also purchase a license through MyFonts.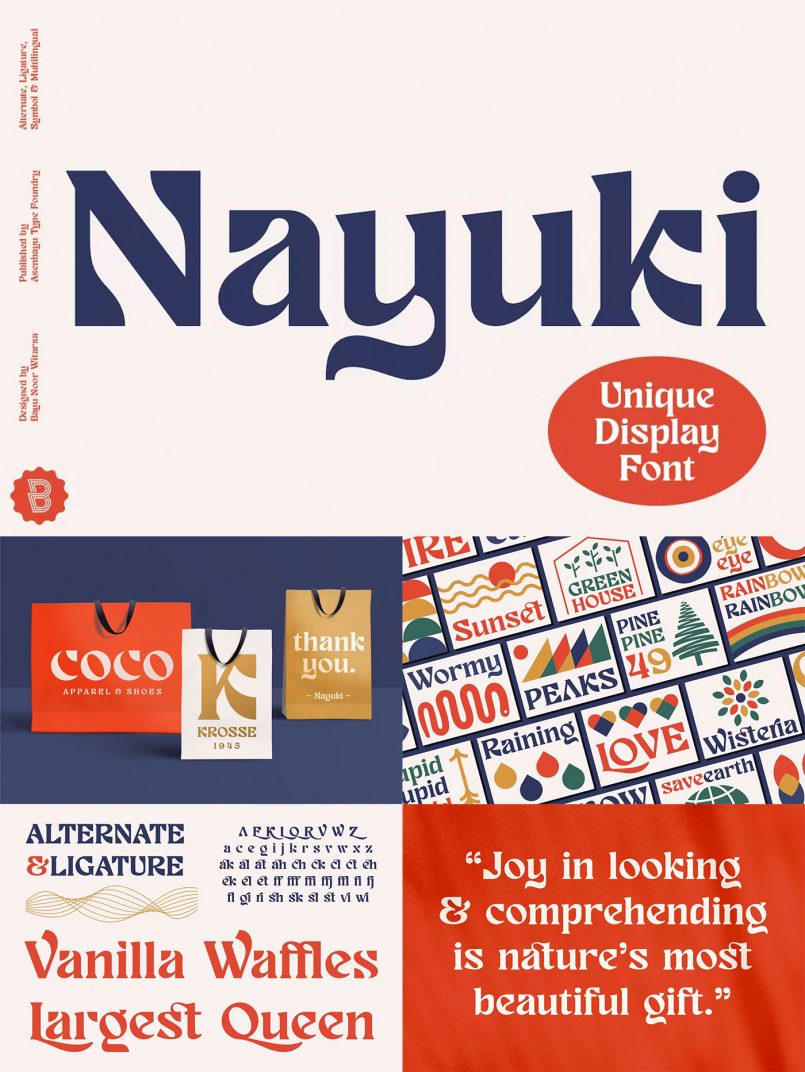 Nayuki is a unique new typeface with bold, curved glyphs and a strong geometric outline. Each character has been carefully crafted to reflect the balance between modernity and classicism.
This charming font offers versatility in terms of design options without compromising legibility or readability. Nayuki also includes alternative styles and ligature features, as well as multilingual support.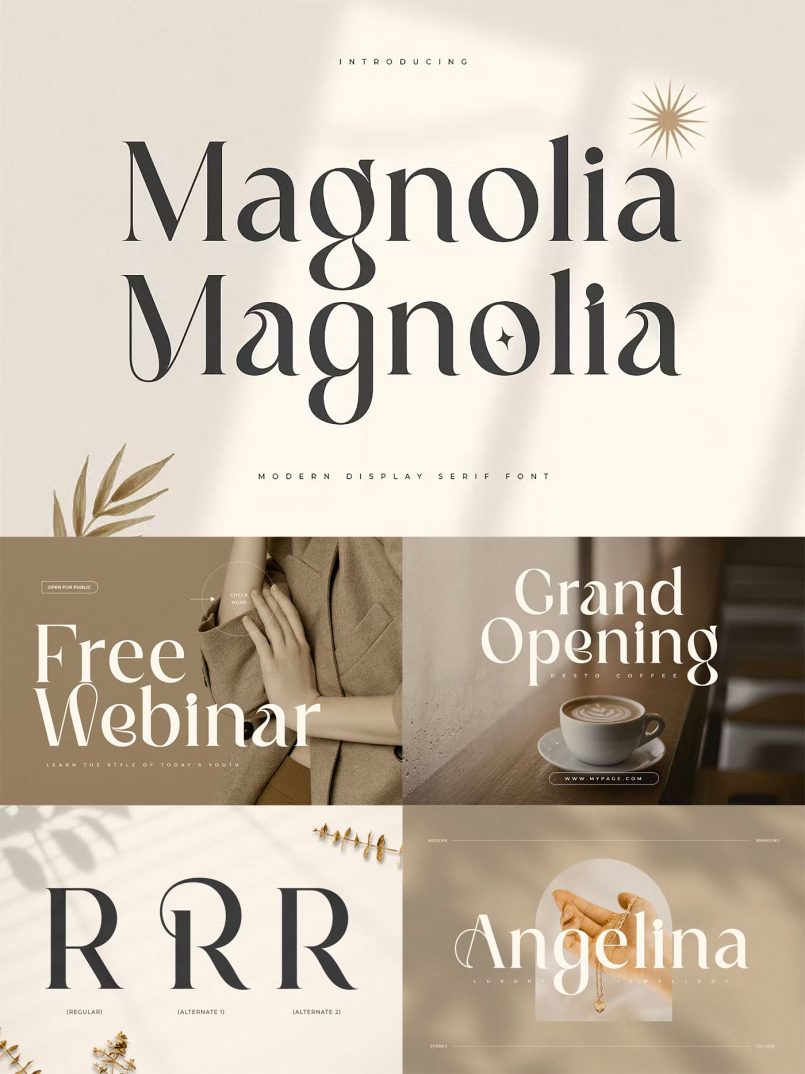 Magnolia is a modern display serif font with a distinctive style and elegant shapes. This font offers a classy look that will enhance any logo or brand identity. It's perfect for giving your work that extra special touch of sophistication.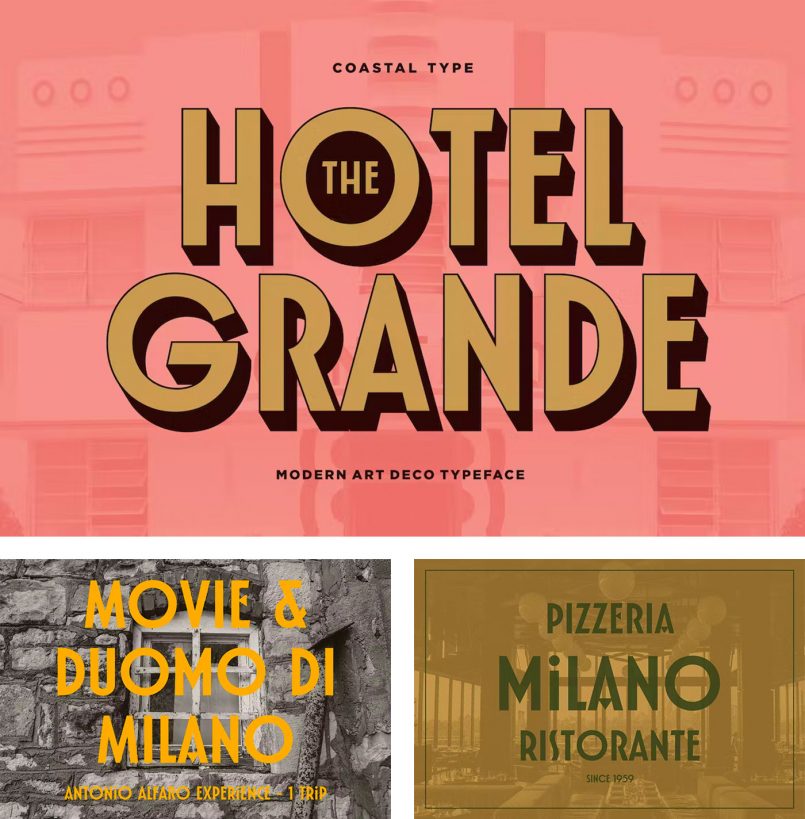 Hotel Grande is a font inspired by the Art Deco movement and vintage Italian signs. Its classic letterforms are designed with clean strokes to bring forth a retro aesthetic that's pleasing to the eye.
This typeface embodies an old world charm combined with modern sensibilities, making it an ideal choice for both digital and print projects. The bold characters make sure you get noticed in any design, while its unique characteristics give off a sense of joy and nostalgia.
Seatlon is a sans serif display font full of character, with bold strokes and subtle rounded corners. It's perfect for adding a special touch to your website, logo or other creative project.
The typeface also includes stylistic ligatures and alternates that enable you to add even more flair and personality to your creations. Plus, Seatlon comes with multilingual support and looks great at any size, making it an extremely versatile choice.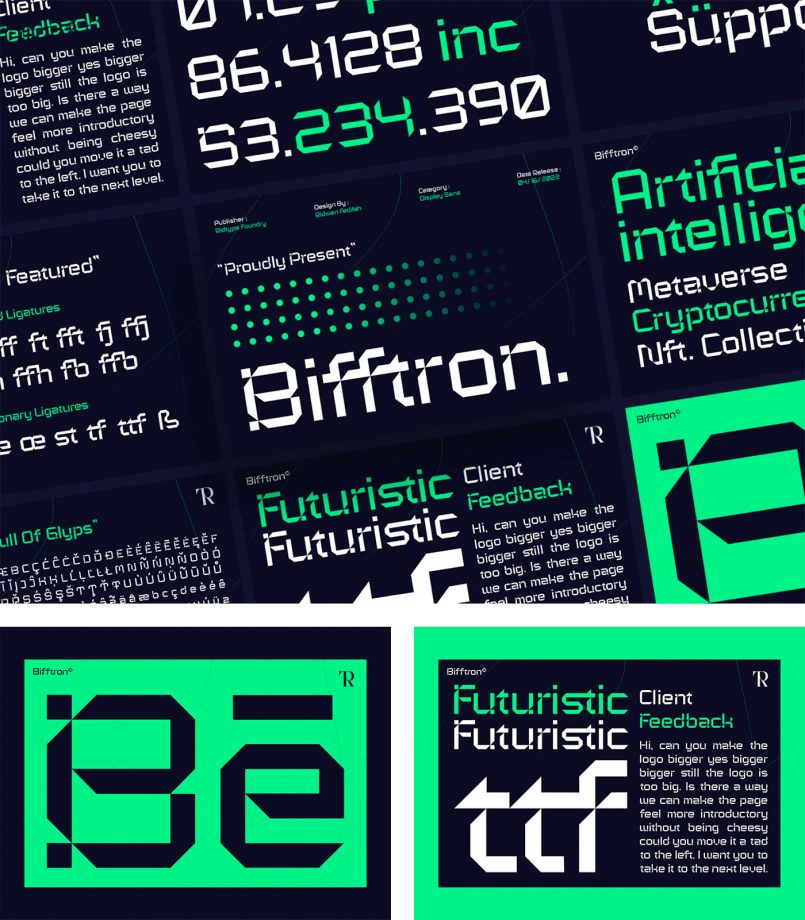 Bifftron is a modern and futuristic typeface with OpenType features such as ligatures and alternates. It's an edgy font with sharp angles and sleek lines that make it perfect for any project that needs to showcase an innovative feel.
Bifftron will add some extra energy into your designs, allowing you to stay ahead of trends with its cutting-edge style. It can be used in a wide range of projects including logos, websites, packaging designs, magazines layouts and much more.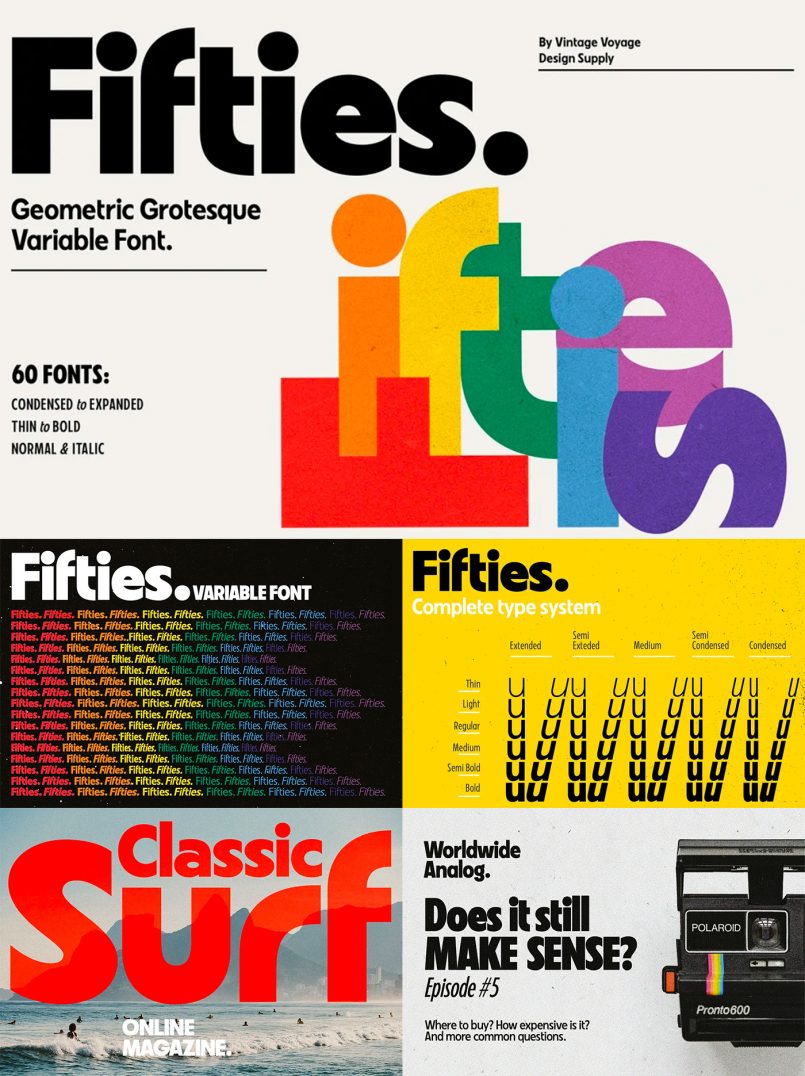 Fifties is a geometric grotesque variable font with 60 available styles. This modern typeface is perfect for web design, logos, and headlines. It features alternates and fraction figures that give you the freedom to create unique looks and applications.
Fifties is full of character and personality, allowing you to express yourself creatively in any project. Its bold shapes and supple lines make it perfect for eye-catching headlines that grab attention. Plus, its range of weights makes it a nice choice for a range of different applications.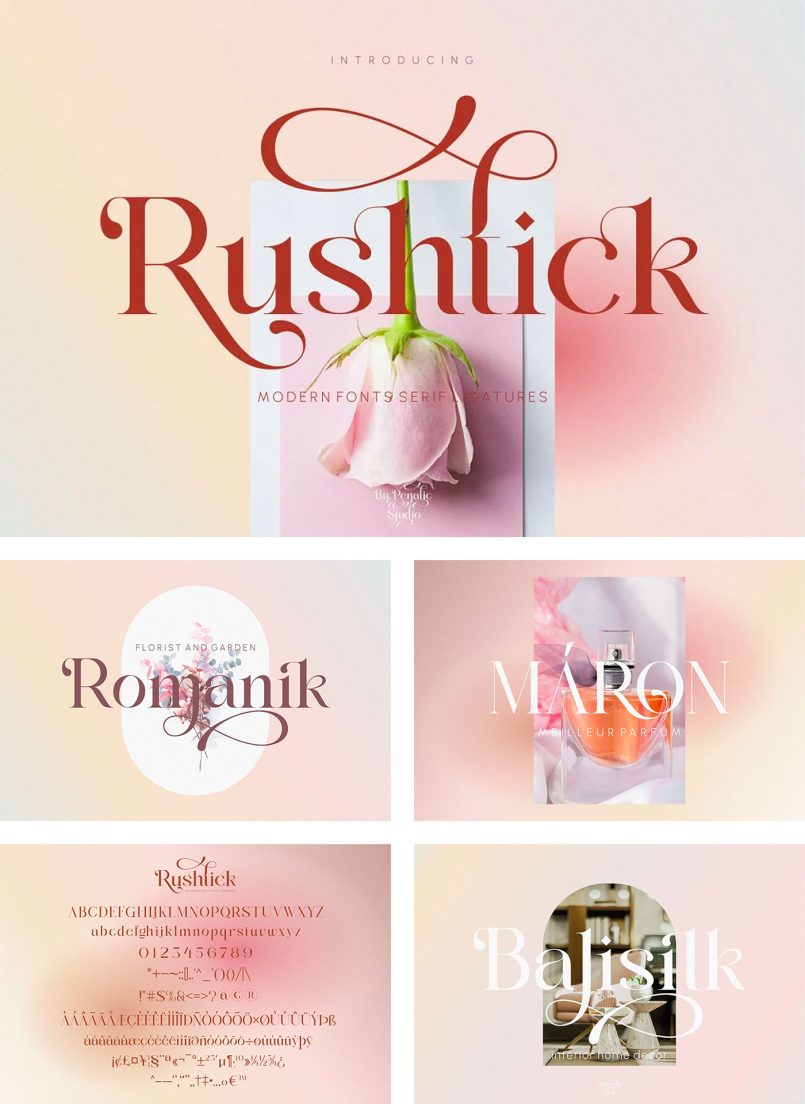 Rushtick is an elegant modern serif font that was designed to combine classic serif style with a modern flair. This typeface is perfect for creating wedding invitations, packaging designs, and any project needing a timeless yet dynamic look. Its ligatures and alternates help create unique typographic treatments of letter combinations, allowing for creative solutions to any design need.
The Rushtick font family includes both upper and lowercase characters as well as multilingual support so that you can use it in projects around the world.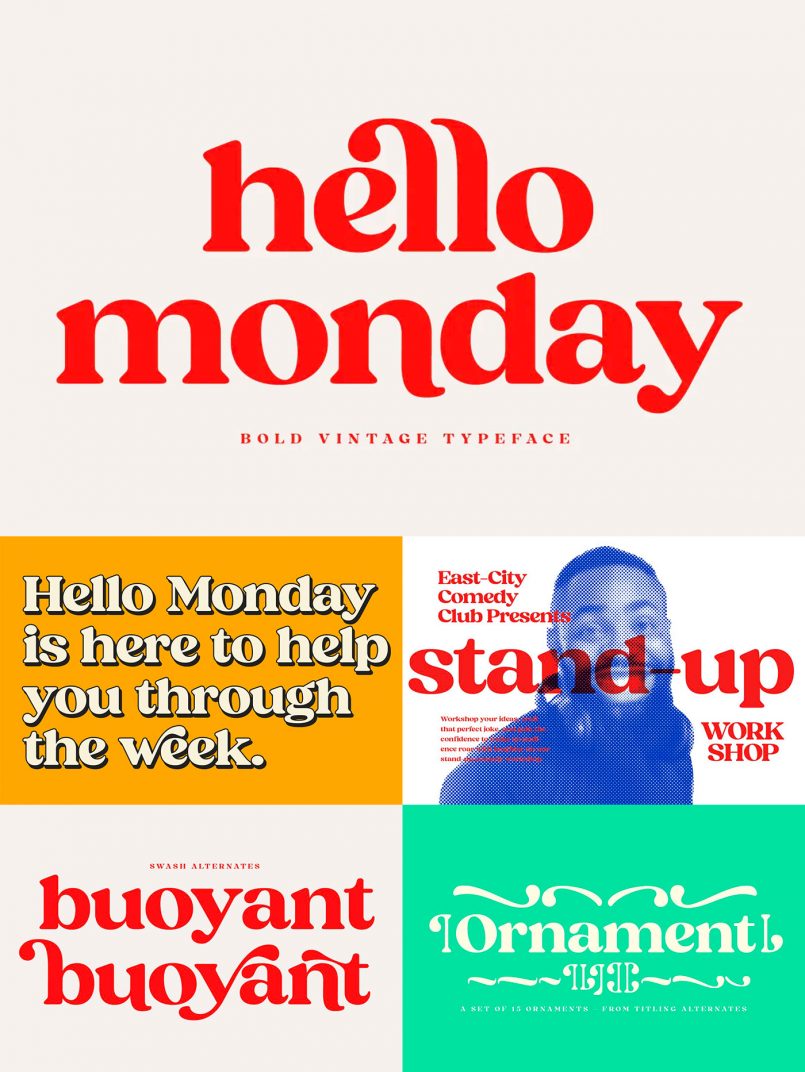 Hello Monday is the perfect font choice to add a unique, positive touch to any design. This bold, retro-inspired serif typeface will take your designs back in time with its friendly charm and a reminiscence of a warm nostalgic feeling.
The joyful design of Hello Monday is sure to put a smile on anyone's face! With its playful curves and distinctive characteristics, this typeface has all the elegance of classic fonts with a contemporary twist. Whether you're creating logos or posters, cards or website headers, Hello Monday will add that extra special something that will grab attention.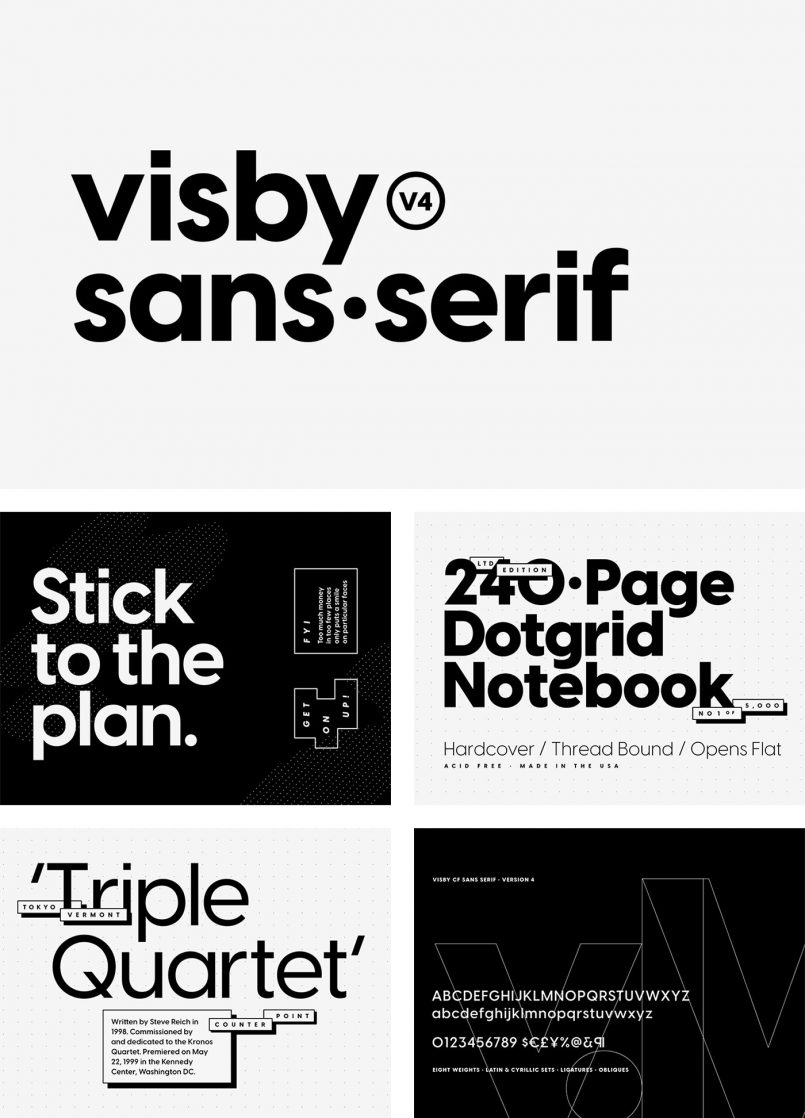 Visby is a geometric sans serif font family inspired by the stark beauty of the Arctic. Its precise sharp corners are in perfect harmony with subtle humanist influences, resulting in a modern typeface that's both inviting and sophisticated. With its striking yet friendly characteristics, Visby has something for everyone—whether you're looking to add warmth to your designs or inject them with a more structured look.
The font family is designed to be versatile enough for any project, from branding and logos through to web design and packaging. A variety of weights offer designers the opportunity for variation without compromising on consistency; all of which carry an unmistakable sense of character that sets it apart from other geometric fonts on the market. Visby blends functionality and style without sacrificing legibility, making it an ideal choice for demanding projects with big impact.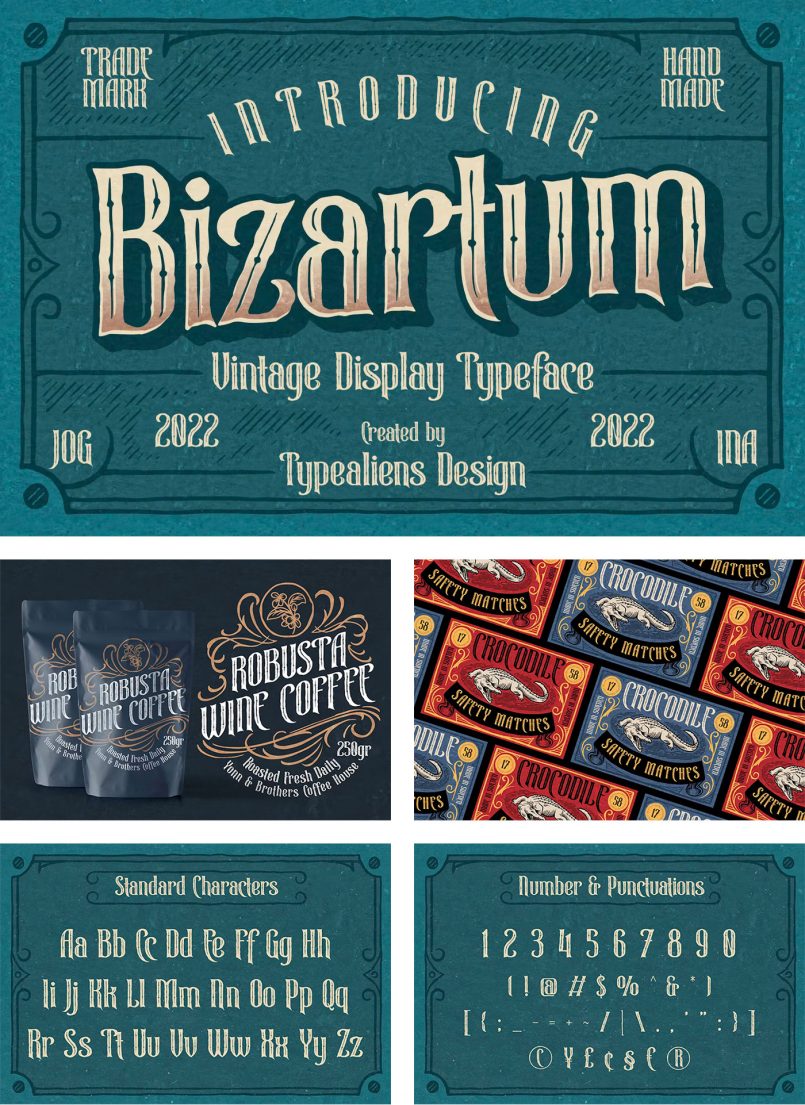 Bizartum is a vintage Victorian font that's perfect for branding and packaging design. It has a gritty, retro aesthetic that will catch your eye with its ornate details. Whether you're designing bottle labels or packaging for a premium set of playing cards, Bizartum is the perfect choice to give your products an old-timey feel.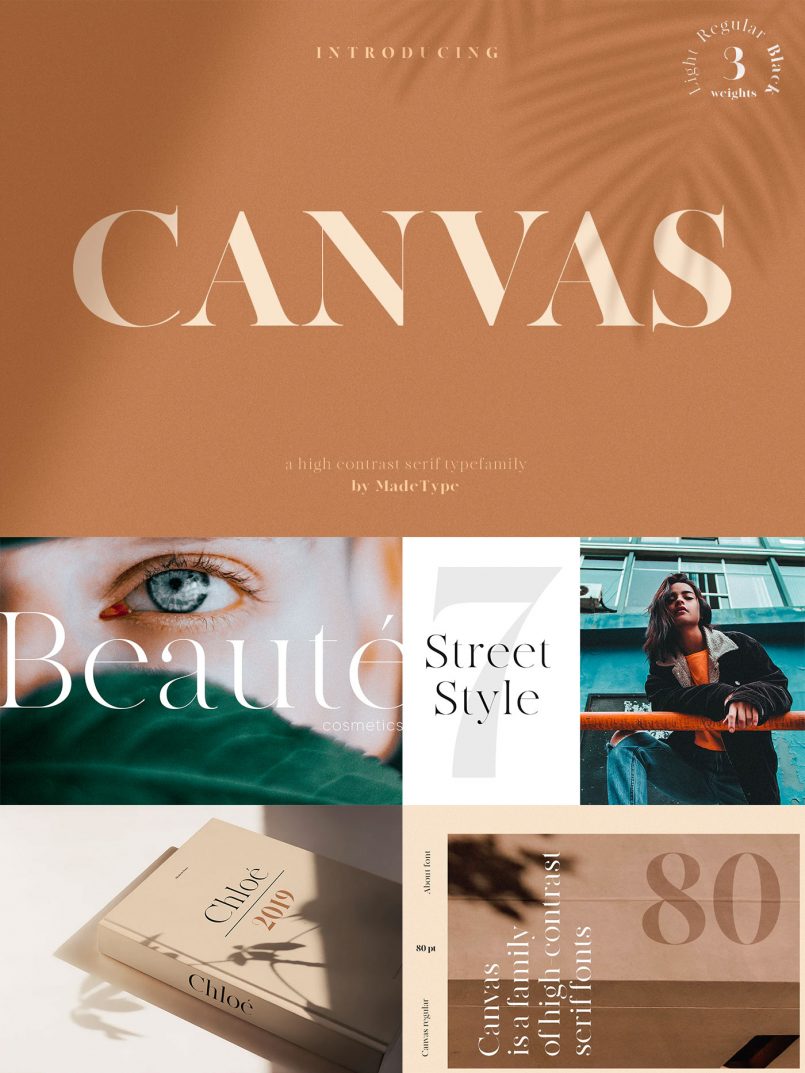 Made Canvas is a timeless and sophisticated typeface designed by MadeType. This family of high-contrast serif fonts is the perfect solution for designers who are looking to add some classic flair to their work. Canvas pays homage to the "Didoni" style of typefaces, but puts its own unique spin on it with very thin hairlines that give it an elegant look.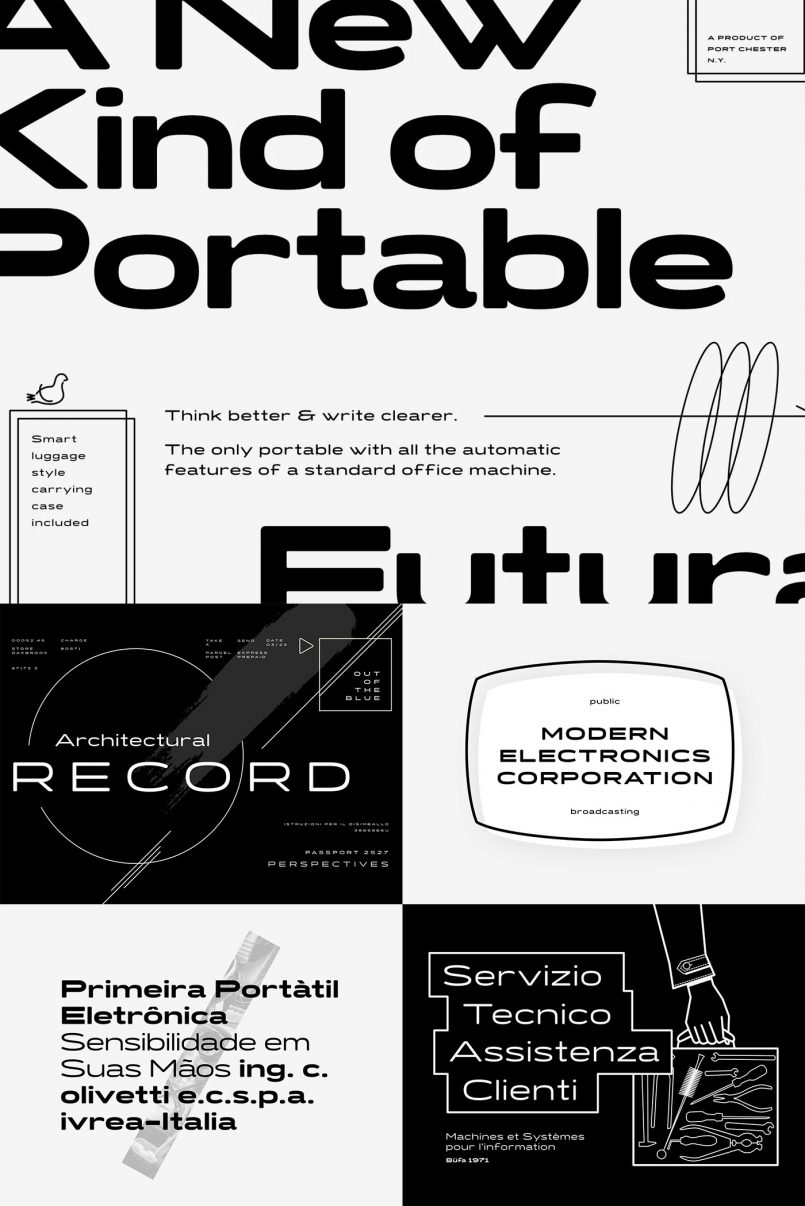 Turismo is a font that has been designed with the passion and creativity of mid-century motorsports, technology and business at its core. Every element of this typeface has been specifically crafted to create strong, elongated lines and wide letterforms that are able to stand out from the crowd.
With plenty of character and dynamism, Turismo CF can elevate any design project from average to extraordinary by adding a sleek, timeless atmosphere.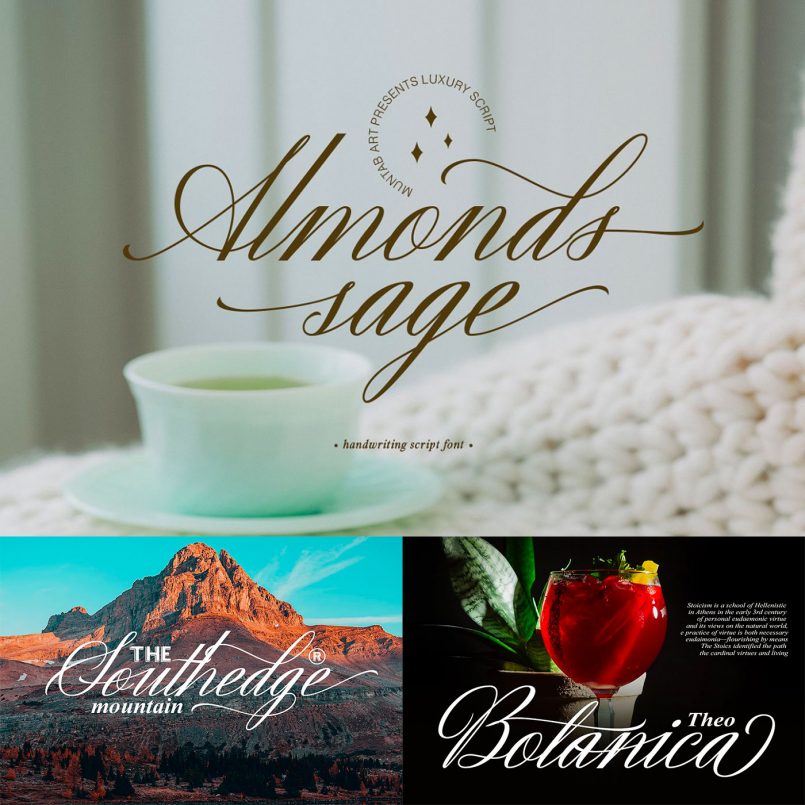 Almonds Sage is a handwriting script font that has a number of interesting characteristics, from delicate swirls to dynamic strokes. All its lowercase letters include ending swashes and alternates, making it perfect for anyone looking to add a bit of variety to their designs. This multilingual typeface will bring a sense of warmth to any design with its unique characters and curves.
The font is inspired by traditional calligraphy and features ligatures, allowing you to create words that are harmoniously joined together in each letterform—perfect for adding an extra special touch! Almonds Sage looks great when used in wedding invitations, branding materials and editorial pieces; anywhere you need a stylish yet friendly text style.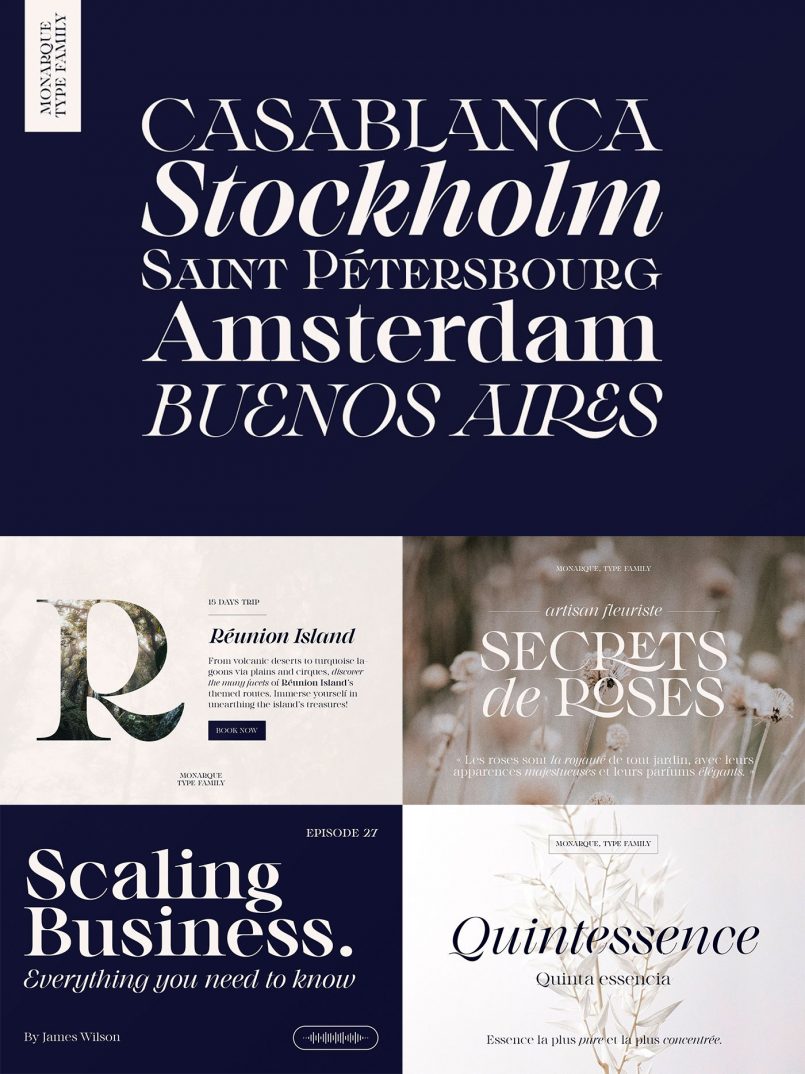 Monarque is an elegant typeface crafted with fine details, great for creating a dramatic look in your designs. With its large x-height and high stroke contrast, Monarque helps to distinguish text by providing both boldness and sophistication. Its rounded curves and long sharp serifs give it a graceful yet modern feel that delivers an instant boost of style.
Whether you're designing for personal or commercial use, Monarque's unique elegance is bound to make your work stand out.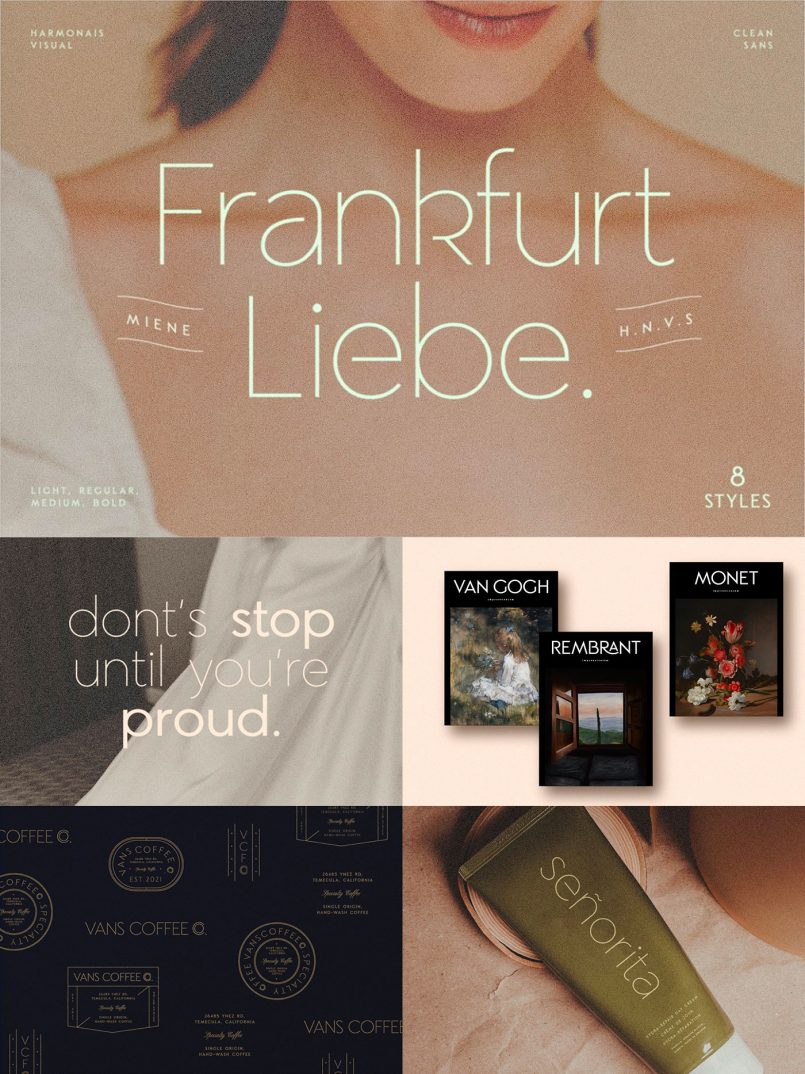 Frankfurt is a fun and contemporary sans serif font that is suitable for any design project. It offers great versatility, making it easy to create professional designs with a youthful feel.
The clean lines of Frankfurt give it a modern look while remaining upbeat and lighthearted. Designed for both digital and print applications, this font is sure to bring life to whatever project you're working on! With its vibrant personality, Frankfurt can be used in posters, websites, social media posts or business cards – the possibilities are endless!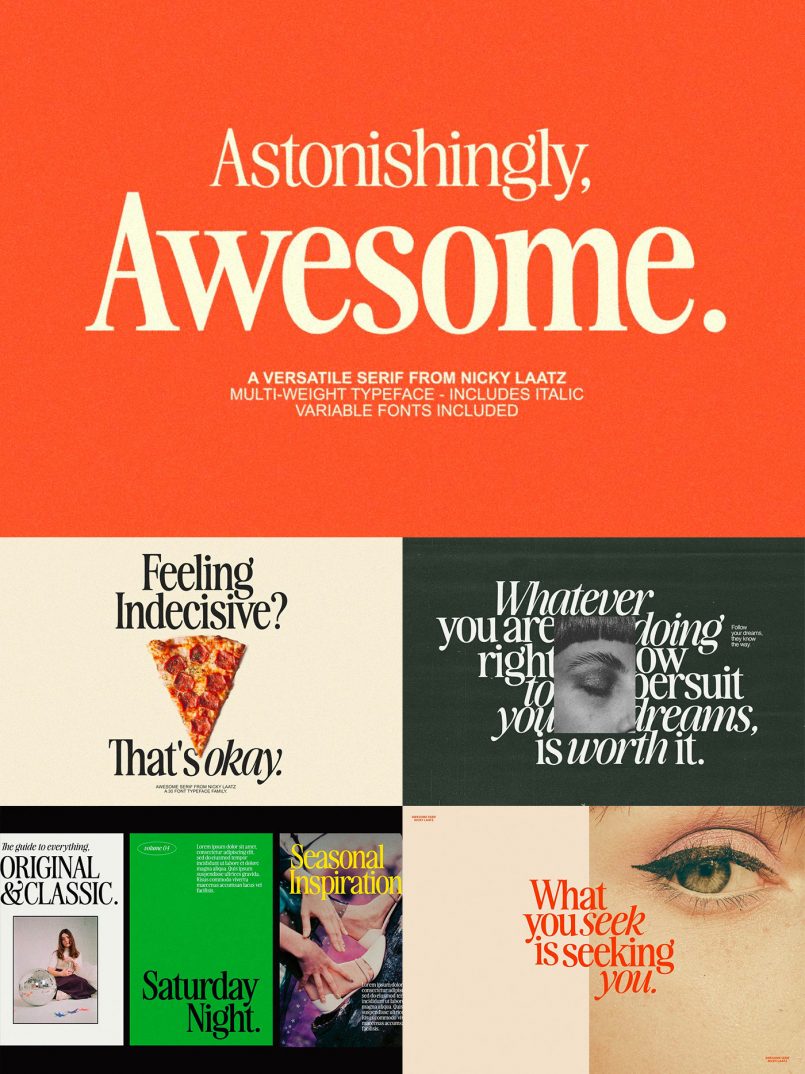 Welcome to the world of Awesome Serif, a fantastic multi-weight, multi-height type family that has stylish attributes with a retro edge. This font is the perfect choice if you're looking for something versatile and unique. With six variations, this serif is sure to add just the right touch of vintage charm to your design.
Whether you're creating logos or working on digital design projects, Awesome Serif will give your work an extra dimension of style and sophistication. It's a versatile font that works great in large scale projects such as posters and billboards but can also be used for something more intimate like greeting cards or invitations.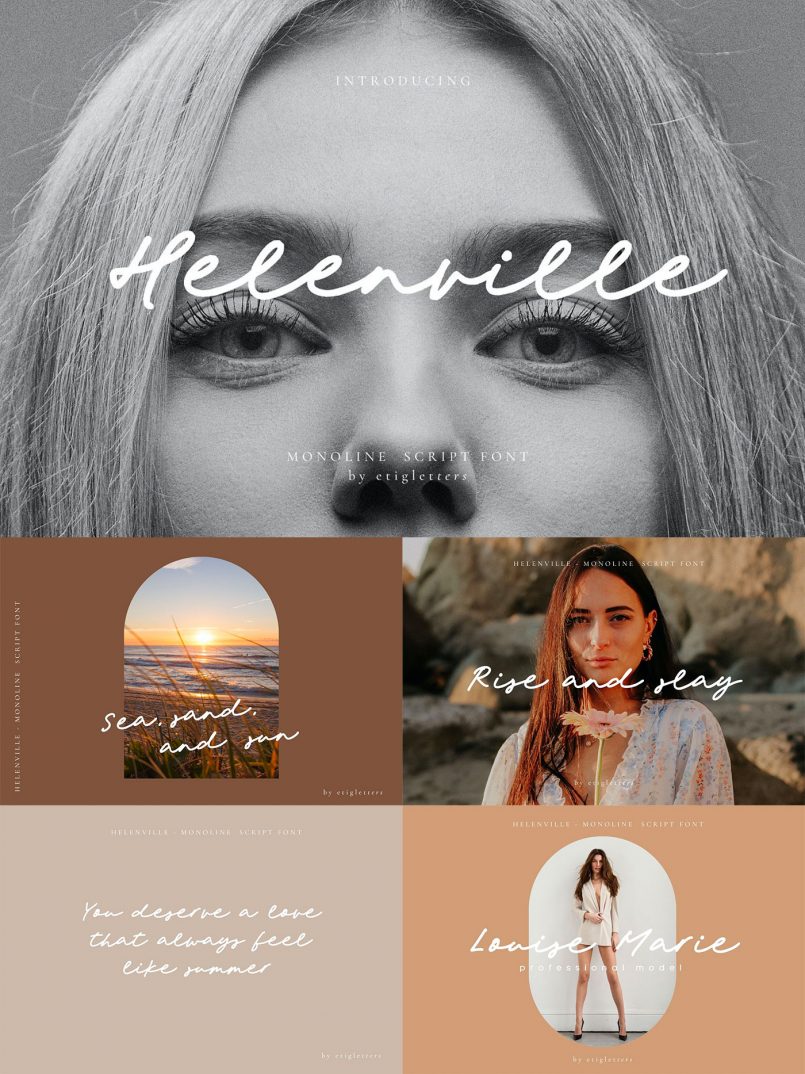 Helenville Monoline Script is a font that can bring a breath of fresh to any design project. Its playful, casual look makes it an approachable and friendly typeface. With its extraordinary charm, Helenville is sure to captivate anyone who lays eyes on your creations.
This typeface works well with both serif and sans serif fonts, making it incredibly adaptable for any design project you have in mind. Its graceful lines give off an air of familiarity that creates a sense of warmth and comfort. Use it and add some personality to your designs with ease!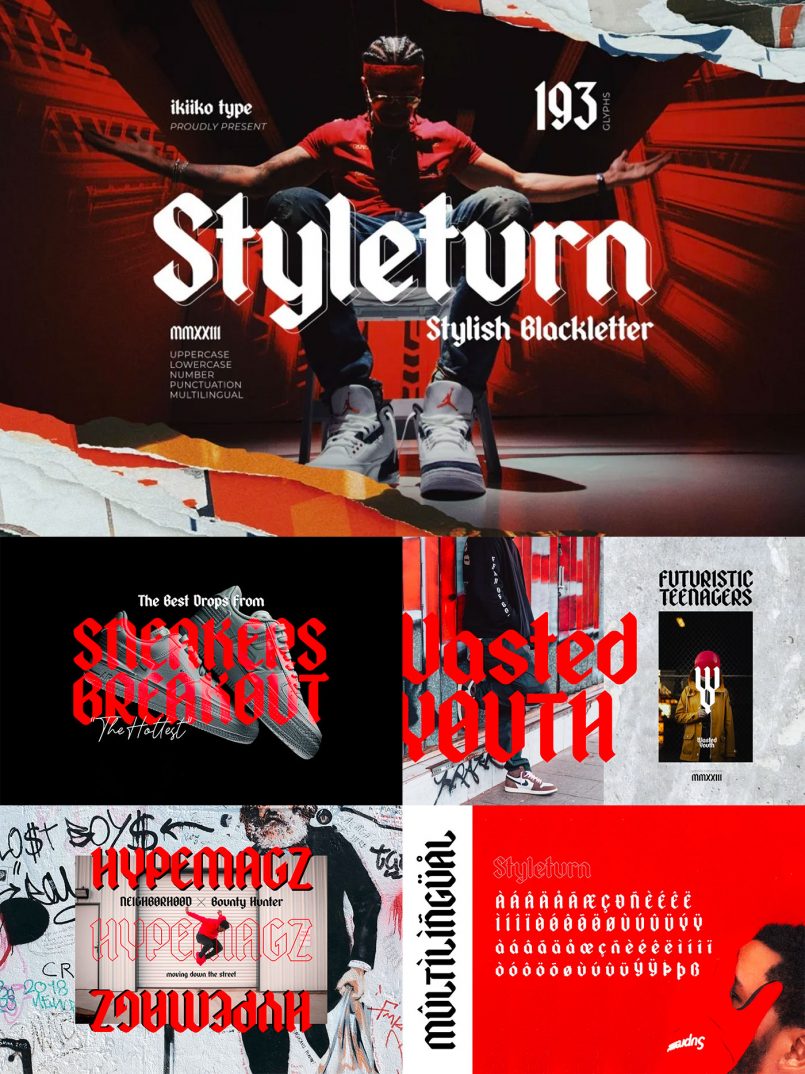 Styleturn is a beautifully crafted, bold and stylish blackletter font with modern sensibilities. Inspired by hip hop and urban culture, it was designed with youthful vibes in mind.
It's hard not to love the unique look that Styleturn provides; its distinctive curves and angled features add energy to your design, along with a contemporary feel. Whether you're using it for branding, posters, album covers or magazine layouts, this typeface will help you create something truly special.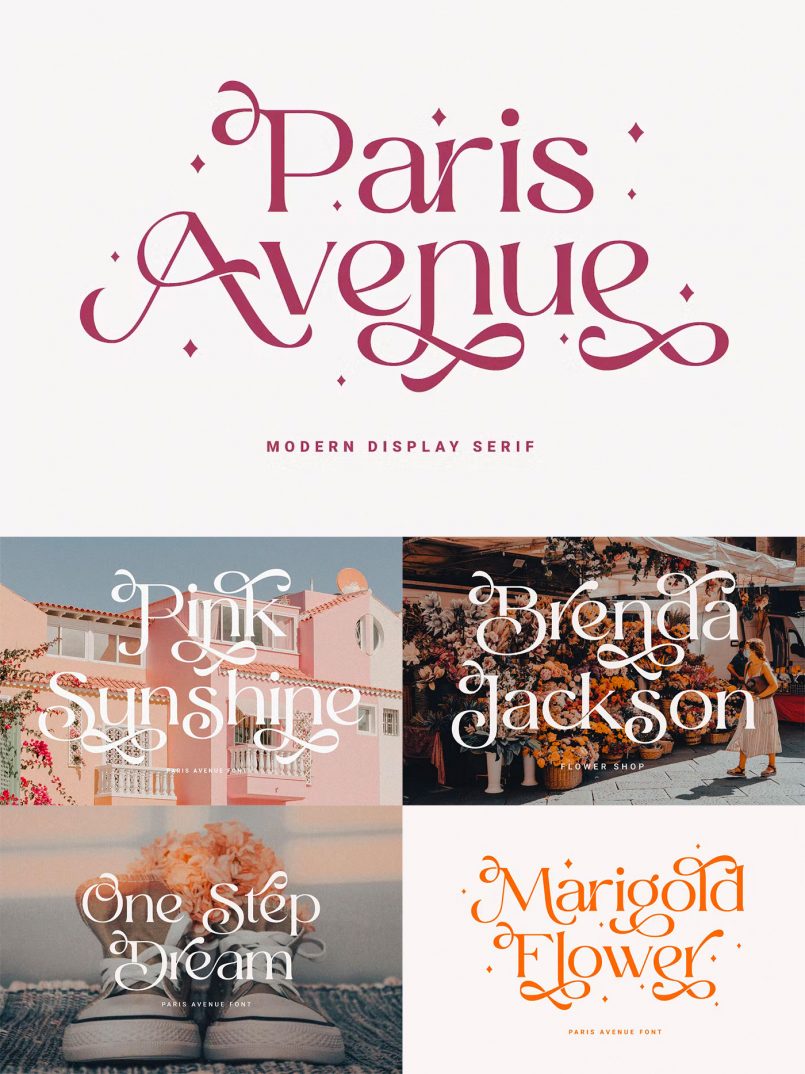 Paris Avenue is a modern display serif typeface that offers an array of alternative characters for you to explore. This unique and stylish font makes it a fantastic choice for branding, wedding invitations, and headline designs.
The meticulously composed curves of the serifs bring out the beauty in each letterform. Whether you're creating luxurious event invitations or creative headlines for your blog posts, Paris Avenue will surely deliver!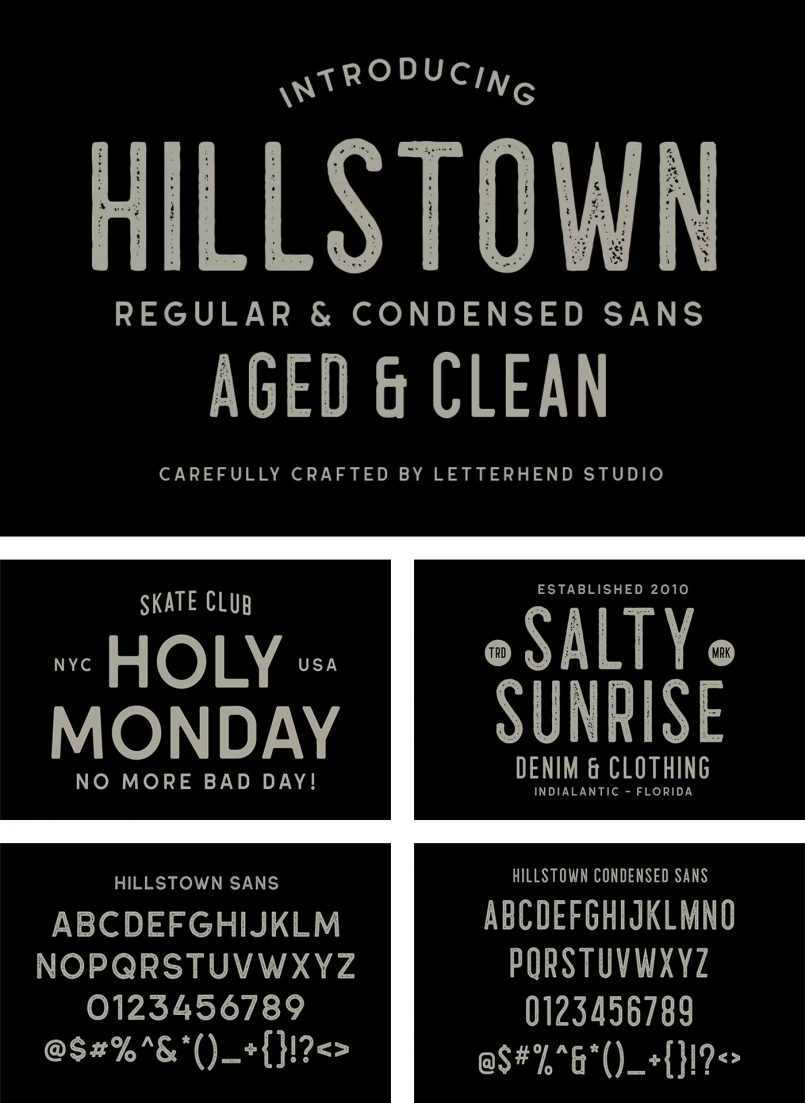 Hillstown is a sans serif typeface that offers two style options – standard and condensed. It also comes with the added bonus of a gritty, "aged" variation of each font, opening up your design possibilities. Whether you're creating an eye-catching badge, poster or headline, Hillstown will give your work an authentic vintage feel.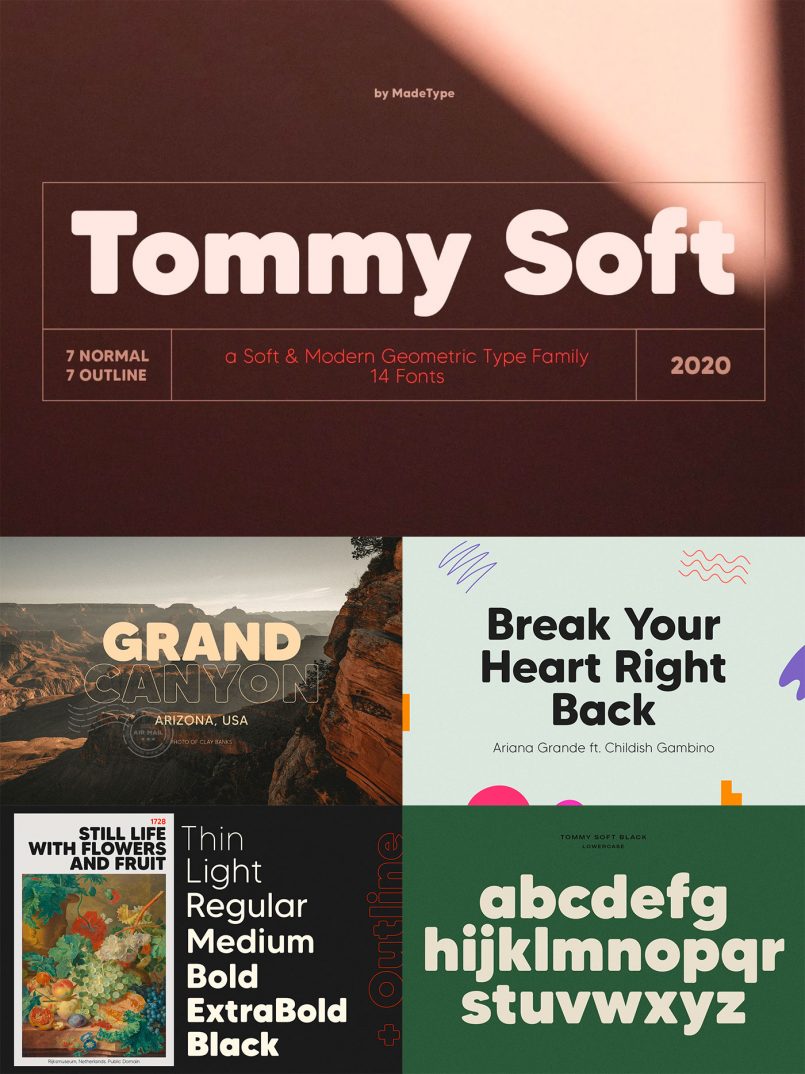 Another font created by Made Type, Tommy is a modern and clean geometric family. It has rounded corners to give it a soft, friendly feel and features 7 weights, from thin to black, making it highly flexible. Tommy also has both normal and outline styles to give your designs extra depth and character.
Tommy is ideal for fun and cheerful projects – making it the perfect choice for anyone looking for a professional, yet approachable feel.
---
This post contains affiliate links to partner brands. We earn a small commission if you click the link and make a purchase. There is no extra cost to you, so it's just a nice way to help support the site.
Inspiration
in your inbox
Amazing art & design, never any spam.
We care about protecting your data. Please refer to our Privacy Policy for more.
© 2023 Inspiration Grid, all rights reserved. Some of our posts may contain affiliate links to partner brands. We earn a small commission if you click the link and make a purchase. There is no extra cost to you, so it's just a nice way to help support the site. All images, videos, and other content posted on the site is attributed to their creators and original sources. If you see something wrong here or you would like to have it removed, please contact us.