Huion Inspiroy Dial 2 Review: A Budget-Friendly Pen Tablet with Pro-Grade Features
Published Oct 4, 2023
Includes affiliate content
The Huion Inspiroy Dial 2 is an affordable professional wireless pen tablet that promises to deliver a seamless and efficient workflow for artists and designers.
In this review, we will delve deep into its specs, performance, and user experience, giving you a comprehensive understanding of what this device brings to the table. Whether you're a seasoned professional looking for an upgrade or a novice just starting out, this review will help you determine if the Huion Inspiroy Dial 2 is the right creative tool for you.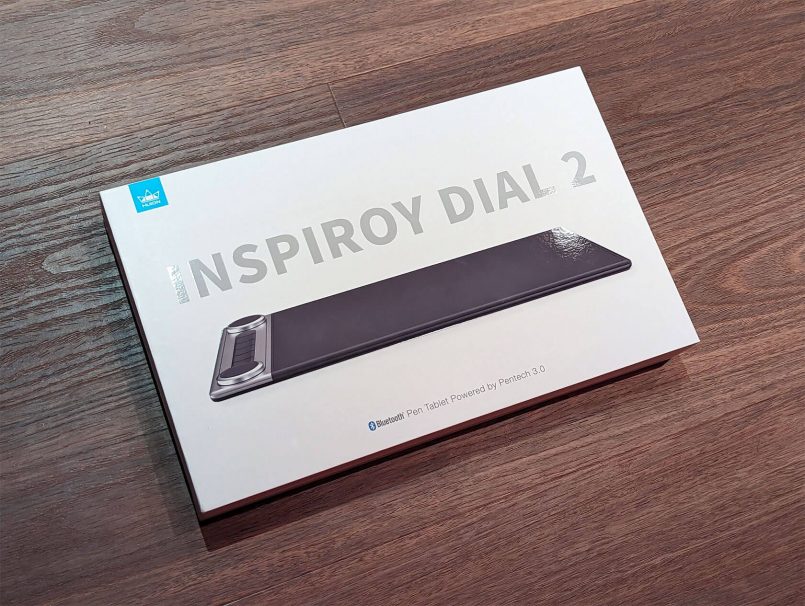 What's in the Box?
The Inspiroy Dial 2 comes in a nicely designed package which contains the tablet, a battery-free pen, a pen holder with a nib remover and 10 extra nibs, a USB-C to USB-A charging cable and a quick start guide. It's great to see a pen holder included in the box, as this basic accessory is frequently absent from other graphic tablet options available in the market.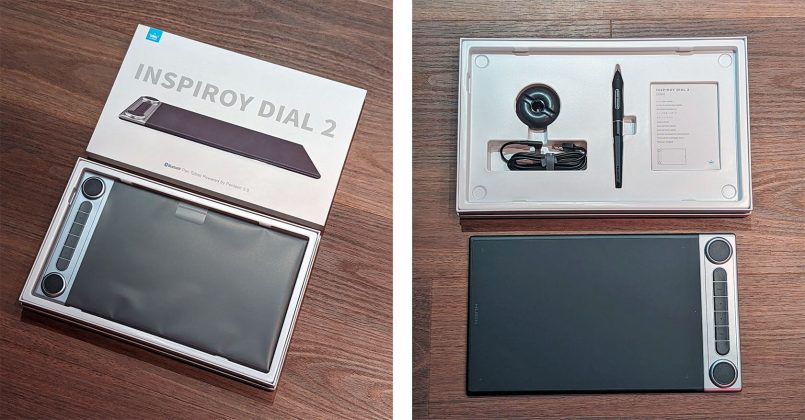 Design and Build Quality
The Inspiroy Dial 2 looks polished, with a two-tone design, sleek details and soft rounded edges throughout. The build quality is also quite impressive, using high quality materials and finishes. The nicely symmetrical section housing the shortcut buttons and dials appears to be made of a brushed metallic alloy, but it is actually crafted from a plastic material.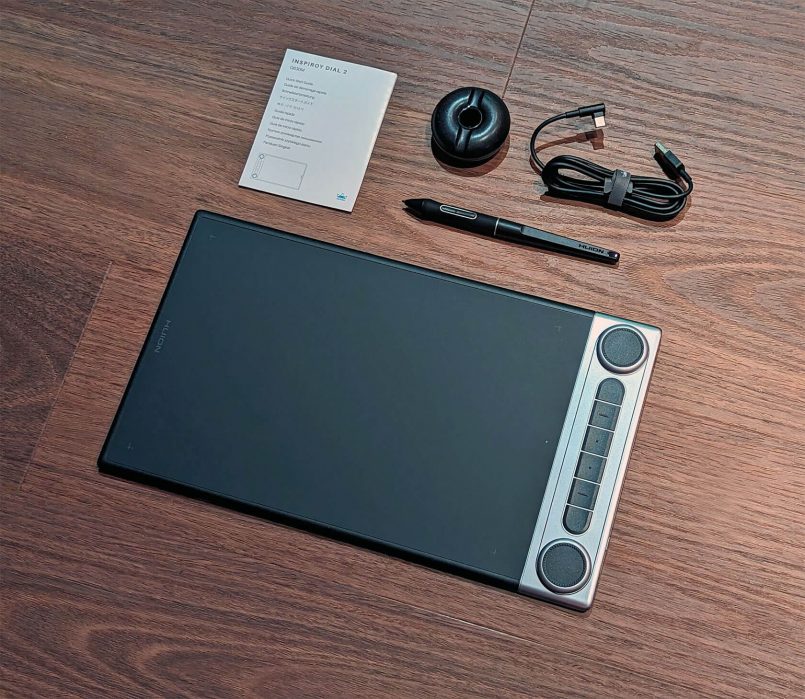 At the base of the device you'll find an aluminum panel coupled with a black plastic segment that incorporates the Huion logo. This bottom area is also equipped with rubber feet to help keep the tablet stable while drawing.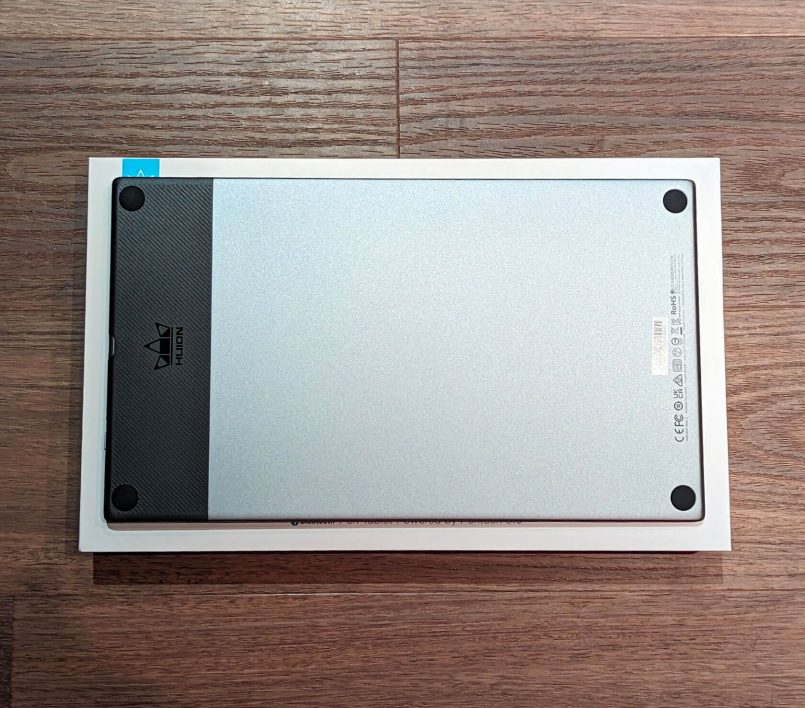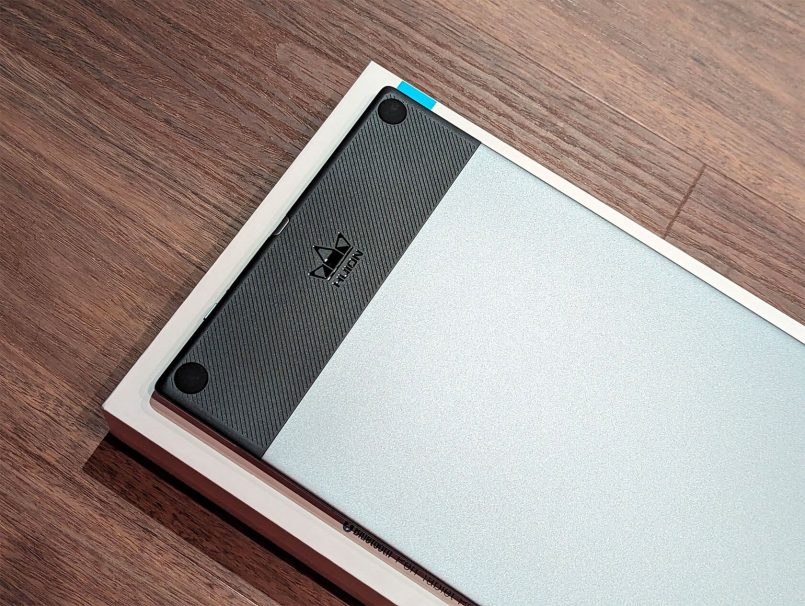 The active drawing area of 10.5 x 6.56 inches offers plenty of room to work with and works well with a range of different monitors. Right next to it you'll find the shortcut section we mentioned earlier, with six buttons and two configurable dials, each with a function key in its center. The buttons are quiet and responsive, and the dials work well with a nice haptic feedback (more on this later).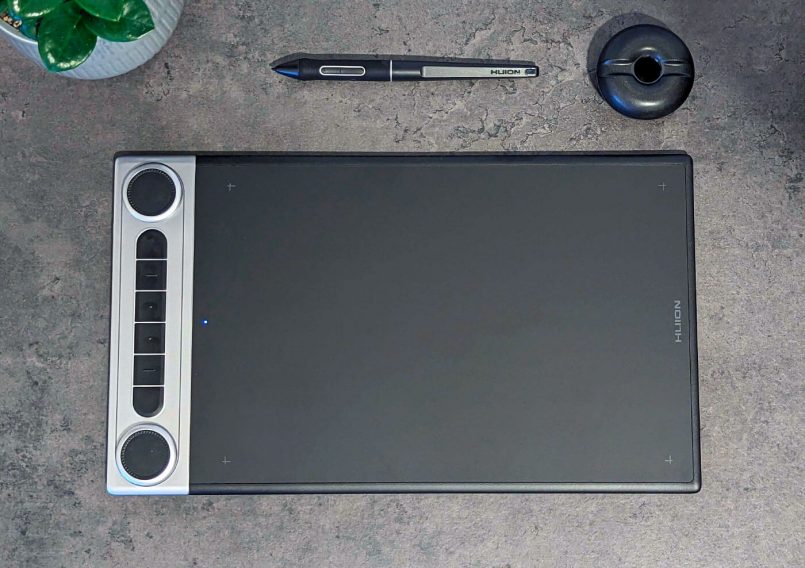 On the side of the device, you can find the power button, Bluetooth pairing button, and USB-C port.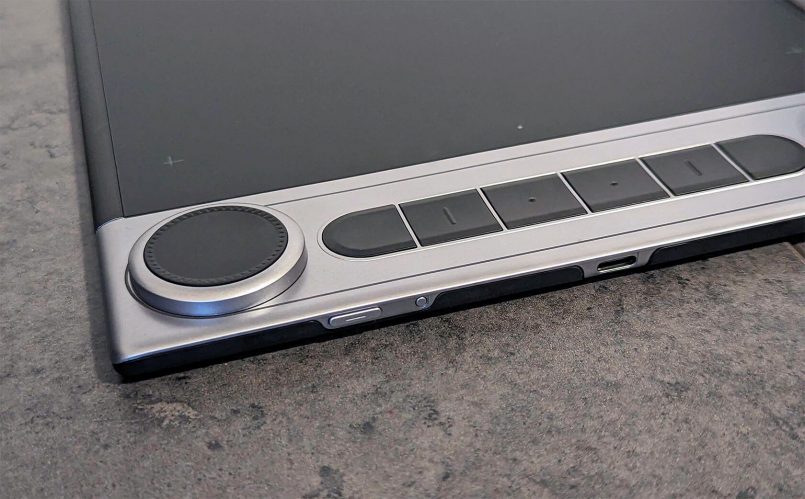 Tablet specs:
Dimensions: 14 x 8.15 x 0.3in / 356.6 x 207 x 8mm
Active drawing area: 10.5 x 6.56in / 266.7 x 166.7mm
Weight: 710 g / 1.56lb
Battery life: Up to 18 hours (1300mAh battery)
Shortcuts: 6 programmable keys, 2 dials with function keys
Connectivity: Bluetooth 5.0 and USB
Compatibility: Windows, macOS, ChromeOS, Android, Linux & HarmonyOS
Pen specs:
Pressure levels: 8192 levels
Resolution: 5080 LPI
Report Rate: >300PPS
Pen tilt range: 60°
Performance and User Experience
Setting up the Inspiroy Dial 2 is incredibly simple. All you have to do is download and install the Huion driver software from their website. You can get going right away by connecting the tablet to your computer using the provided USB cable. However, if you want to go with the wireless Bluetooth option, it is recommended to fully charge the device before first use. The charging process typically takes between 2.5 to 4.5 hours, depending on whether you use a power adapter or your computer's USB port. Once fully charged, I activated pairing mode on the tablet and my MacBook Pro immediately detected it. The whole process was very straightforward and hassle-free.
In terms of compatibility, this device can be used with a wide range operating systems such as Windows, macOS, ChromeOS, Linux, HarmonyOS, and even Android phones and tablets.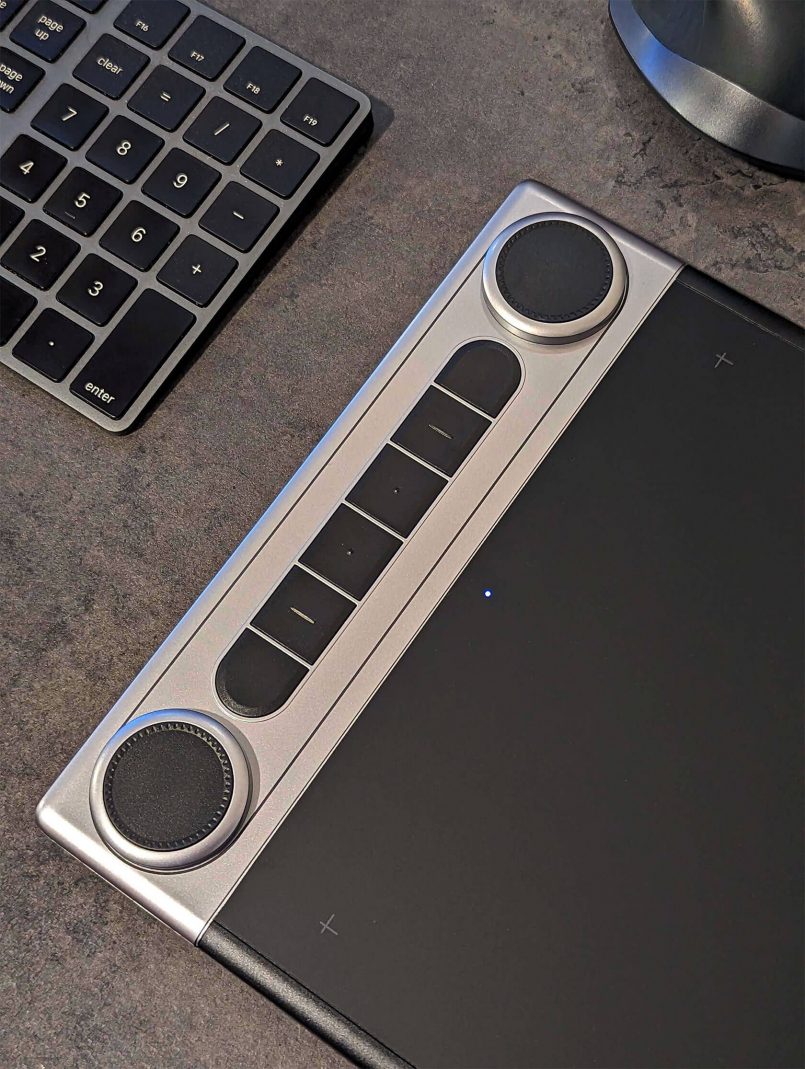 The tablet's drawing area has a nice textured quality that was designed to mimic the feel of paper. It provides a pleasant level of friction which helps enhance precision while drawing. This surface also seems very durable, remaining resistant to scratches even with prolonged use.
However, one of the standout features of the Huion Inspiroy Dial 2 is its dual integrated dial controllers, which provide customizable tactile controls. By default, these dials allow you to change brush sizes, scroll up and down, and zoom in and out on your canvas, but they can be configured to perform other functions such as rotating the canvas or switching layers.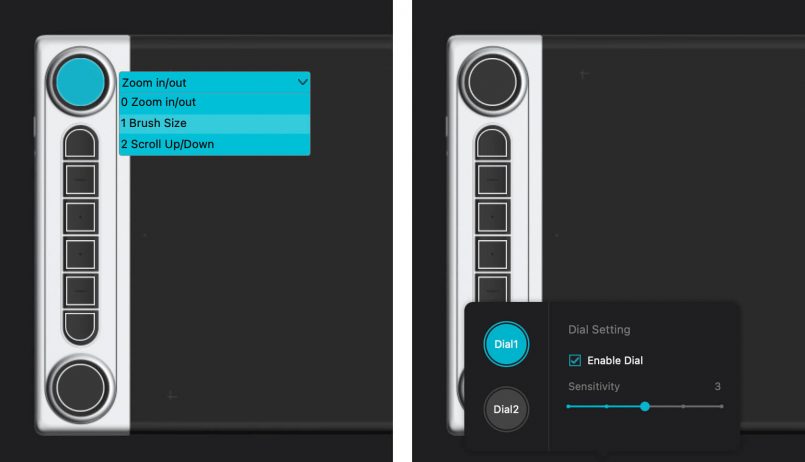 The tactile feel on these dials is fantastic. There is a haptic response and audible 'click' sound as you turn them that is extremely satisfying. In my previous review of the Xencelabs Pen Tablet Medium, one of my main complaints was the "loose" feel of its dial, so it's great to see a better implementation here.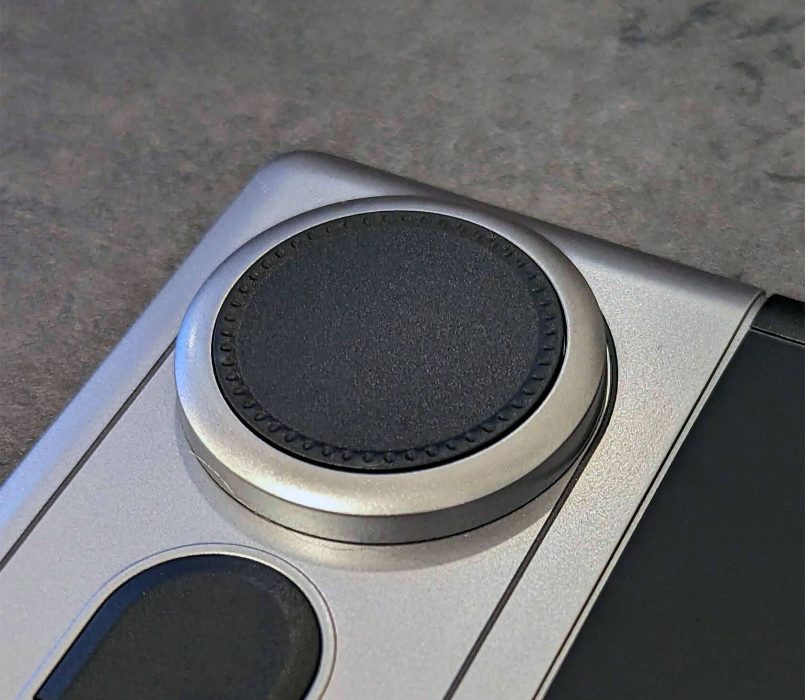 These dials also include a clickable button in the center, which allows you to cycle between the default control options (zoom in/out, brush size, scroll up/down). An important aspect worth noting is that the zoom controls lack granularity in applications such as Photoshop. When adjusting the zoom level, the dial only allows for jumping between the default increments set by the software, rather than enabling more precise adjustments. This limitation also applies when using the wheel to change brush sizes. While this may be preferred by some users, it is still important to mention.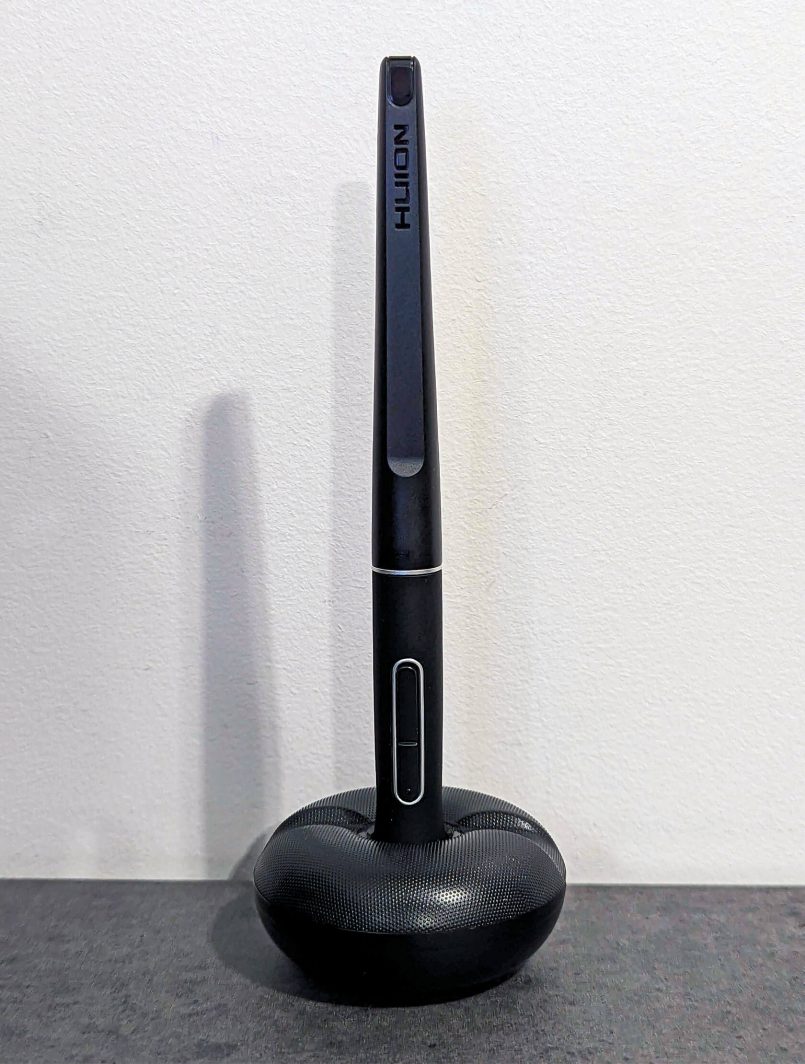 Huion PW517 Pen
The included Huion pen is battery-free, so you never have to worry about charging it. It looks and feels similar to the Intuos Pro pen, as well the Xencelabs 3-button pen. It's a well-balanced stylus that feels good in the hand with its large rubber grip. It also includes two shortcut buttons that can be customized to suit your workflow. The only drawback is the absence of an eraser at the back, which would have been a welcome addition for a more intuitive drawing experience.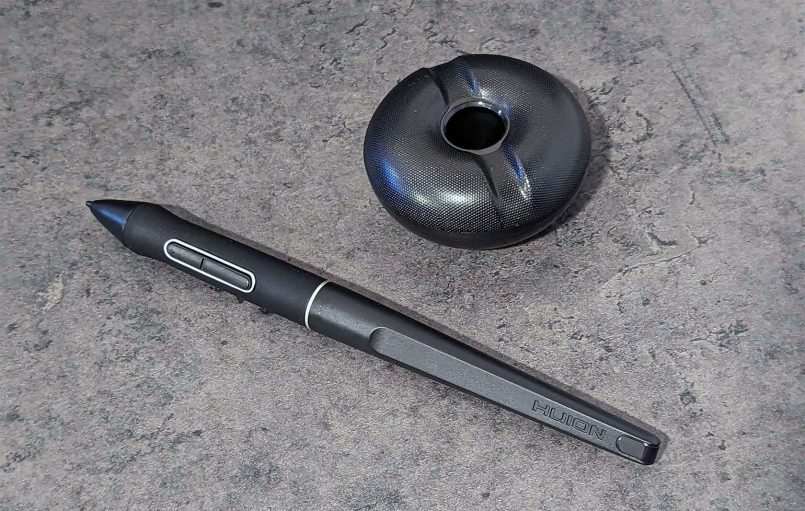 In terms of performance, the pen is smooth and consistent. Its initial activation force is minimal, comparable to other digital pens we've tested. It produces lines that taper just as intended, without any discernible glitches.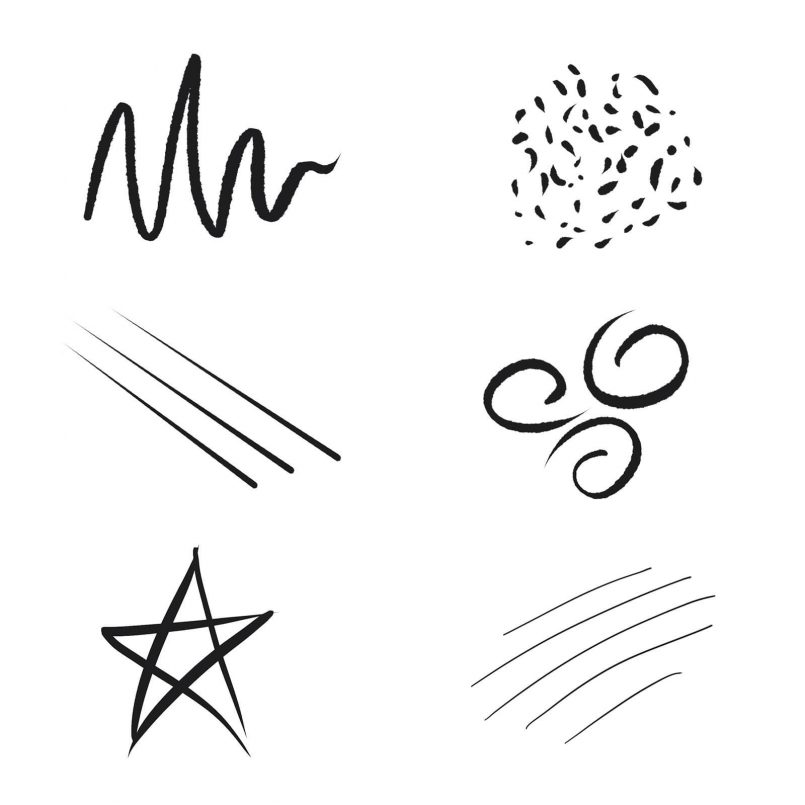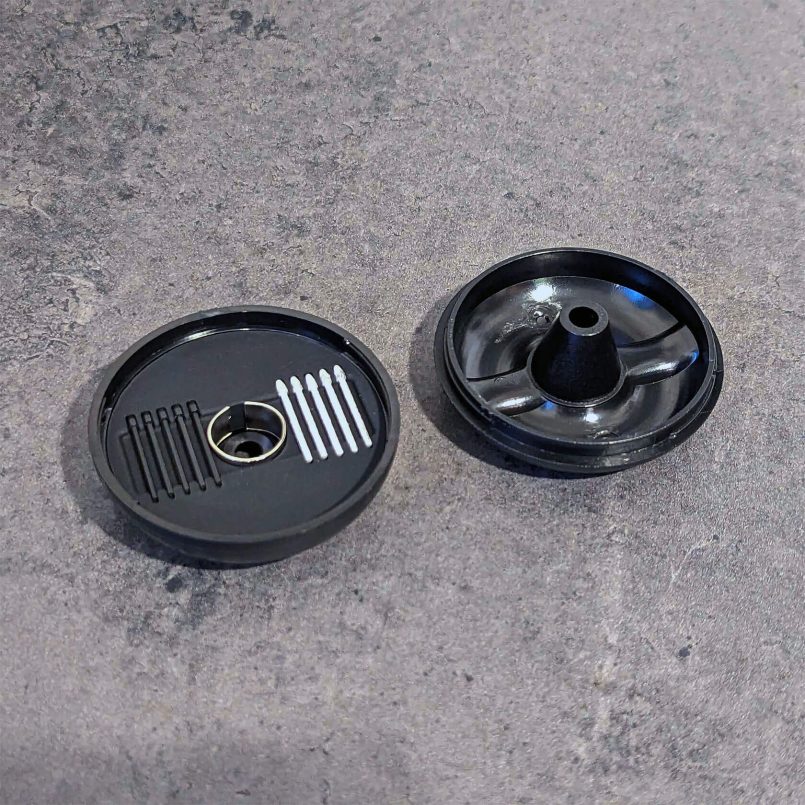 HuionTablet App
The HuionTablet software has an intuitive interface and can be used to easily modify multiple settings on the pen tablet. These settings include adjusting the dial functionality and sensitivity, customizing shortcut keys, and fine-tuning the pressure settings of the digital pen.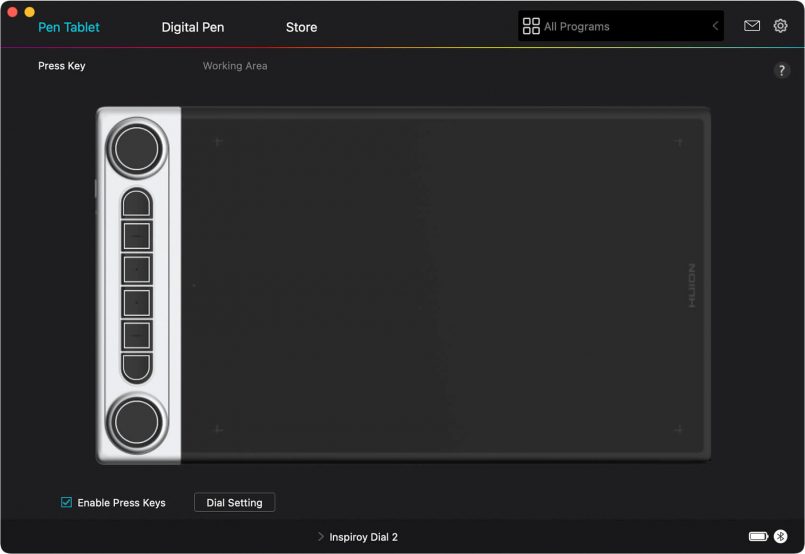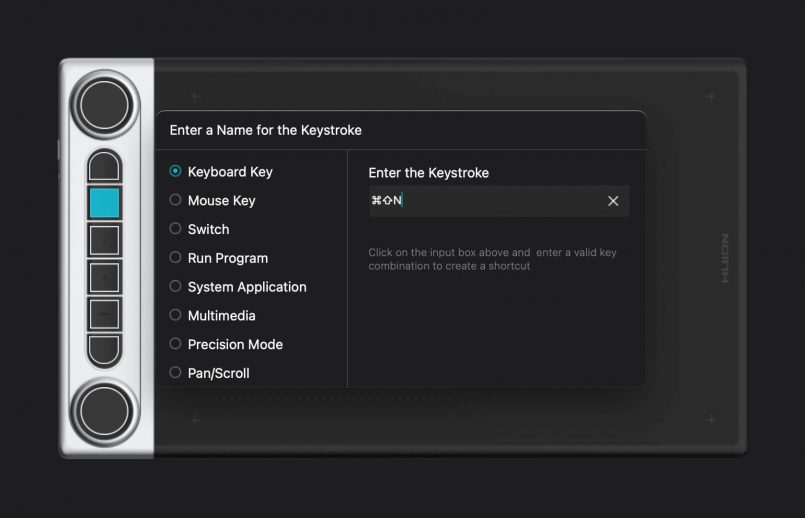 You have the option to configure global preferences that will apply to all your applications or you can opt for a more granular approach and personalize specific elements for different programs such as Photoshop and Illustrator.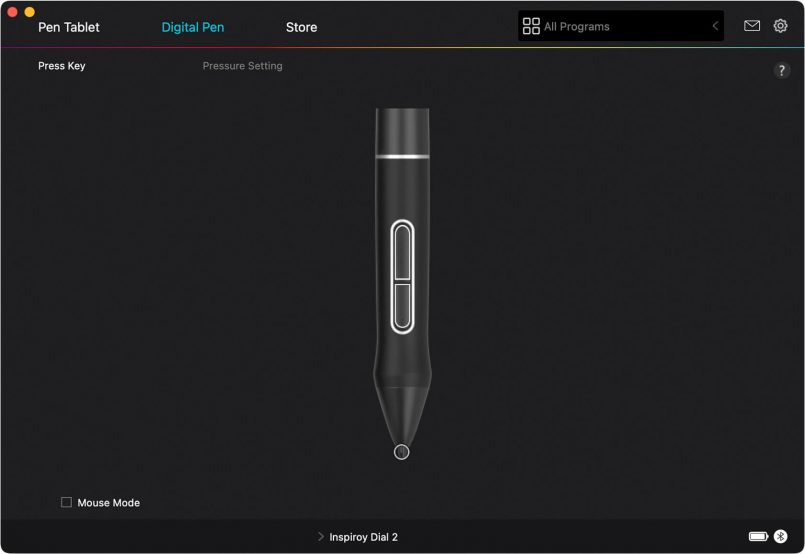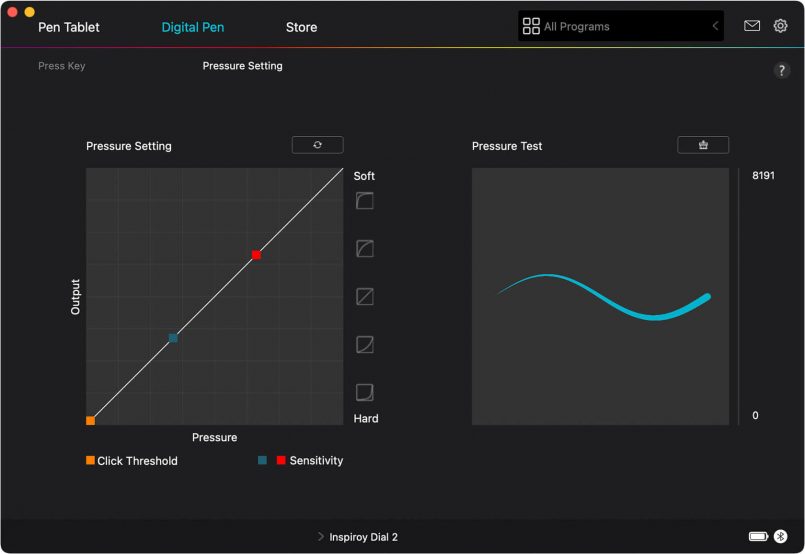 You can also monitor the tablet's battery life by checking a small indicator located at the bottom right of the app.
Pros & Cons
The Inspiroy Dial 2 is an affordable entry-level solution packed with useful features, but it could also benefit from a few minor improvements in its future iterations.
Pros
Sleek design & great build quality
Great drawing performance
Highly customizable with 2 dials and 6 physical keys
Includes a pen holder and 10 extra nibs
Can be used wireless via Bluetooth 5.0
Wide compatibility
Cons
The digital pen doesn't include an eraser at the back
Zoom controls could be more granular
Verdict
The Huion Inspiroy Dial 2 is a budget-friendly pen tablet which is suitable for beginners and comes equipped with a range of handy features. What sets it apart are the two customizable dials that provide users with unique control options. This tablet is extremely easy to setup and provides a precise and comfortable drawing experience, making it a great choice for anyone looking to enhance their digital art or photo editing setup.
Price: $159.99 USD (currently on sale at Huion's website for $129.99)
---
This post contains affiliate links to partner brands. We earn a small commission if you click the link and make a purchase. There is no extra cost to you, so it's just a nice way to help support the site. The product featured in this article was provided by the manufacturer for review purposes, however, the opinions expressed are entirely our own.
Inspiration
in your inbox
Amazing art & design, never any spam.
We care about protecting your data. Please refer to our Privacy Policy for more.
© 2023 Inspiration Grid, all rights reserved. Some of our posts may contain affiliate links to partner brands. We earn a small commission if you click the link and make a purchase. There is no extra cost to you, so it's just a nice way to help support the site. All images, videos, and other content posted on the site is attributed to their creators and original sources. If you see something wrong here or you would like to have it removed, please contact us.