15+ Festive Graphics for your Christmas Cards & Designs
Published Nov 24, 2022
Includes affiliate content
Celebrate the most wonderful time of the year and spread the holiday cheer with these beautiful graphics and design assets for your Christmas creations.
From traditional Christmas trees and wreaths to more modern takes on the holiday, there's sure to be something here to get you in the Christmas spirit!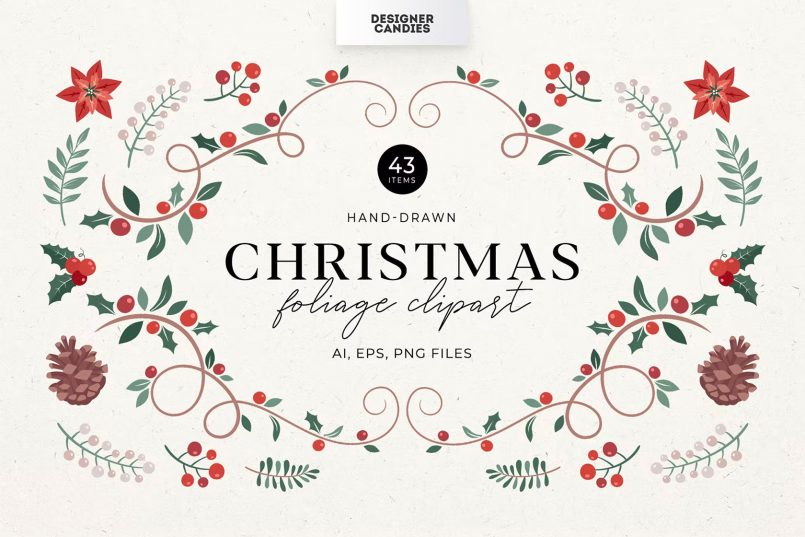 A collection of elegant Christmas vectors, featuring an array of ornate leaves, Christmas tree branches and festive foliage elements. Ideal for use as Christmas borders, photo frames and wreaths, or adornments to decorate a page with a touch of the Holiday season.
Included in this pack are more than 40 total illustrations and pre-made compositions, as well as seamless Christmas patterns. Each element comes in Adobe Illustrator AI and Vector EPS, as well as transparent PNG clipart formats.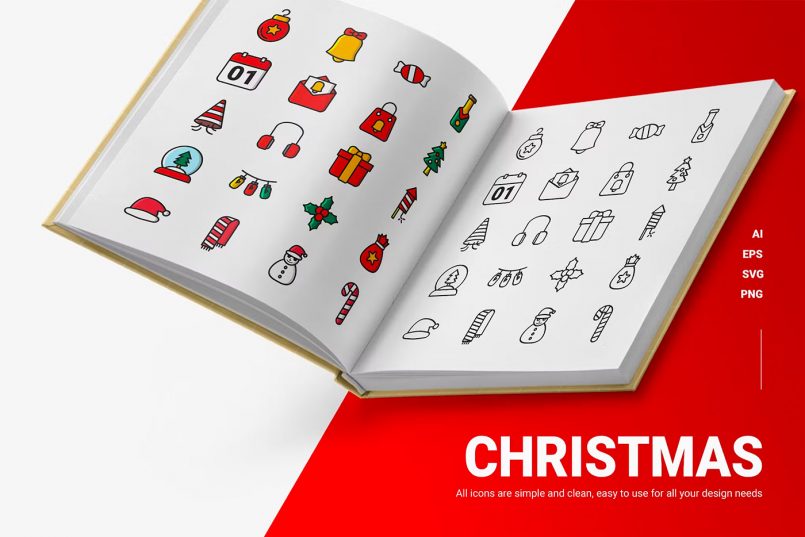 This cute set of Christmas icons is simple yet versatile. You can use them for landing pages, social media posts, banners, icons, infographics, books, websites, apps and just about anything else you can think of!
Included in the set:
20+ easy to use and customizable icons
AI, EPS, PNG & SVG files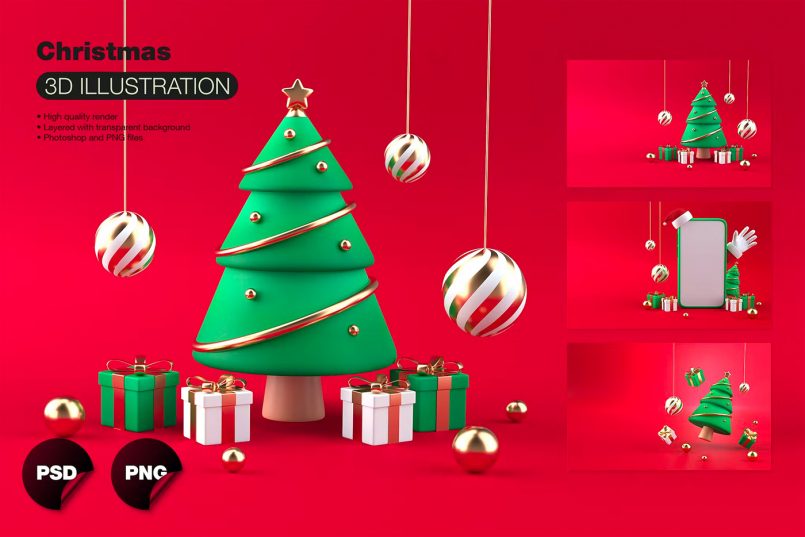 If you're looking for a more modern look you can't go wrong with this cool selection of high-resolution 3D illustrations. You'll get a layered PSD with all the elements, as well as transparent PNGs to use in your creations.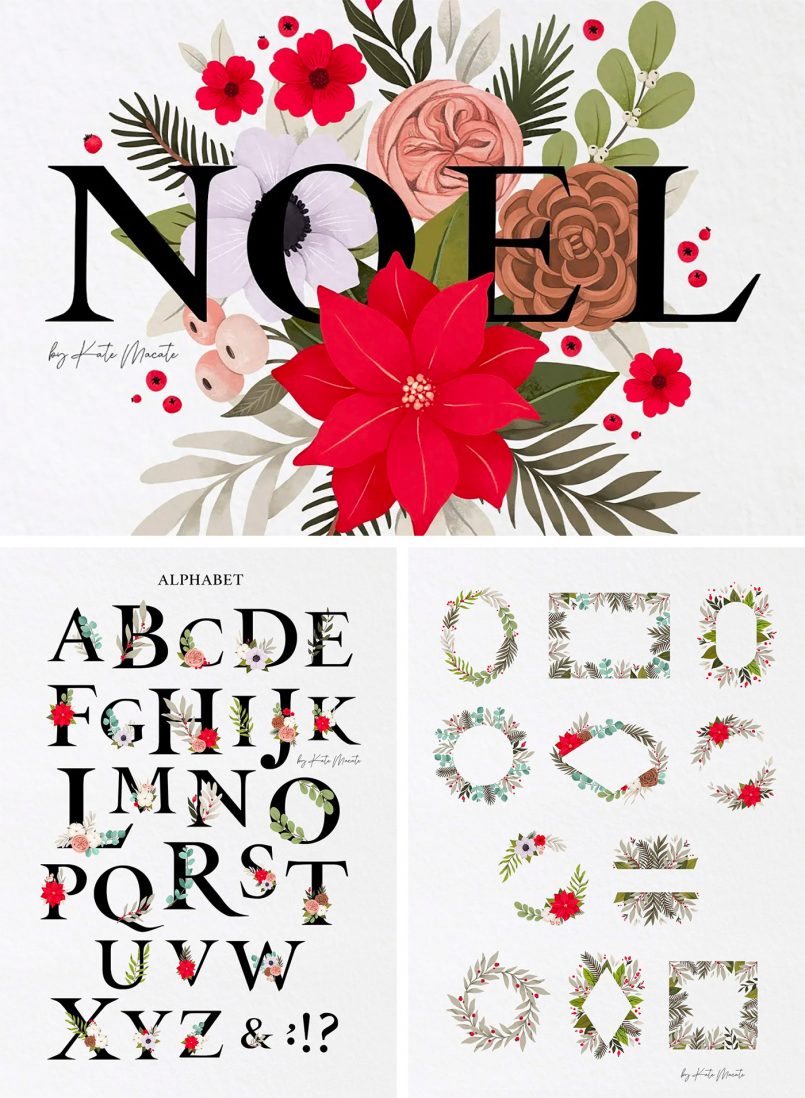 This set created by Kate Macate includes a huge selection of floral watercolor illustrations and designs that are perfect for Christmas cards, posters, home decor and DIY projects.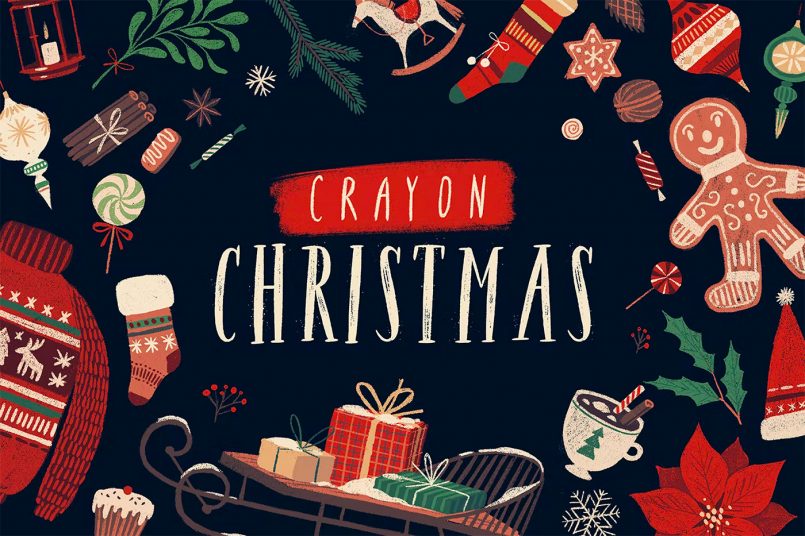 Create Christmassy greeting cards and decorations with this Crayon Christmas pack, which includes over 100 hand-drawn elements.
All illustrations are isolated on separate layers;
High-resolution PSD files (300 dpi);
All objects in PNG;
7 Pre-made Christmas cards;
6 Seamless patterns (JPG and PNG on transparent background).
These Christmas graphics and illustrations feature a cute and playful look, with a consistent style and colour palette, making them easy to mix and match into your own compositions.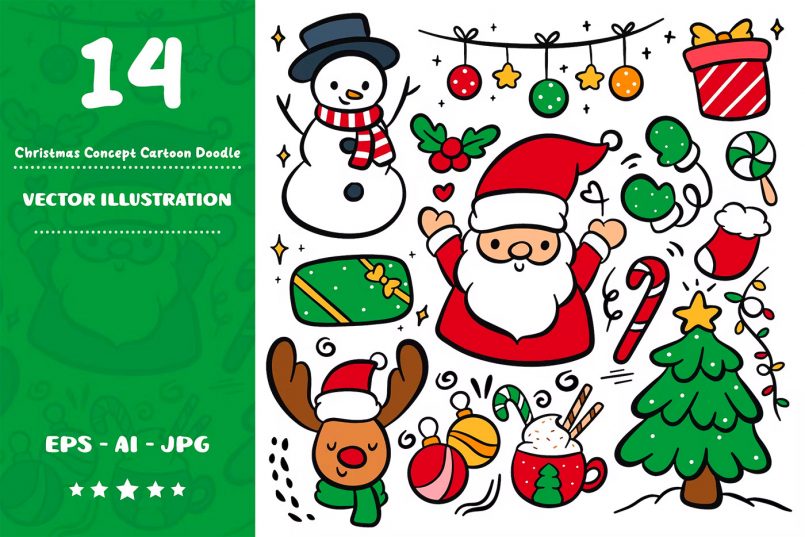 Use this set of fun Christmas doodles with a cartoon style to sprinkle some fun into your holiday designs.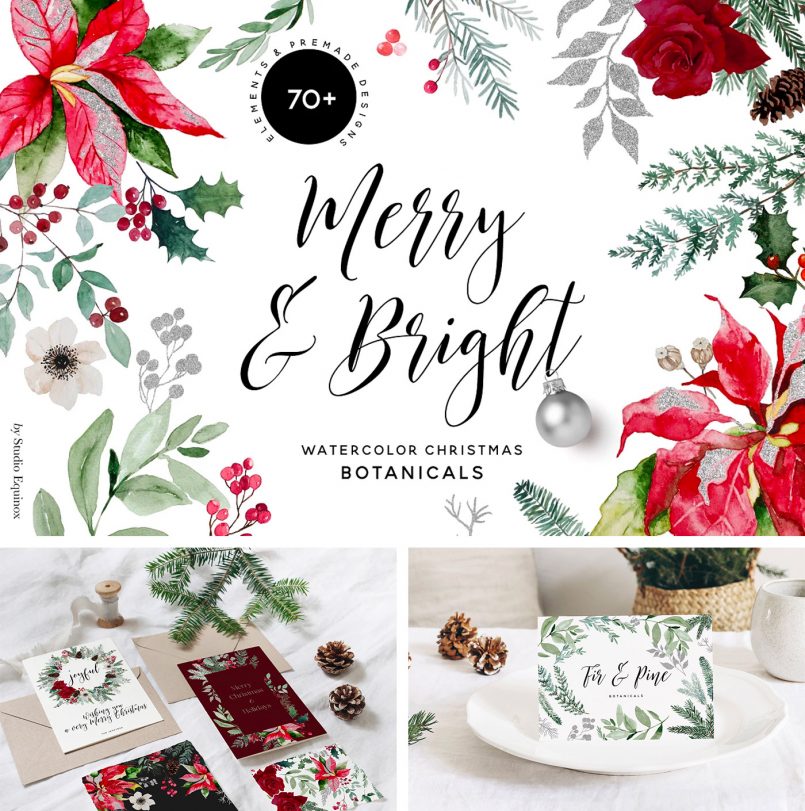 This collection of winter botanicals is perfect for embellishing your seasonal stationary, decorating the house and creating custom invitations for the holidays.
Here's what will you'll get:
57 DIY elements
7 wreaths
7 frames
7 pre-made card designs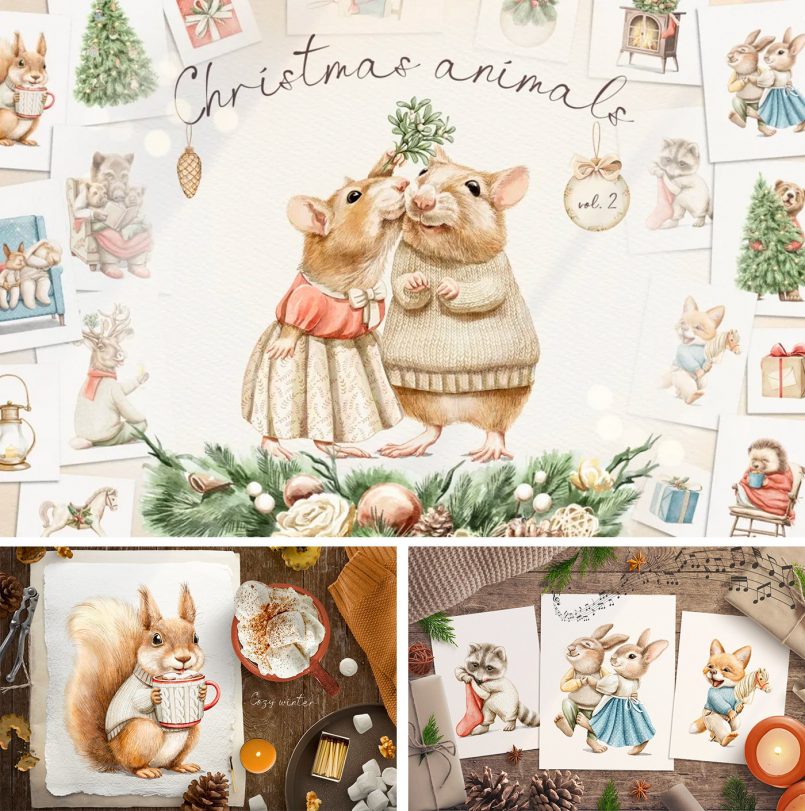 This endearing collection of illustrations will surely put a smile on anyone's face. The set includes:
10 individual elements with Christmas animals (PNG)
24 individual elements with objects (PNG)
4 individual elements with compositions (PNG)
Snow globe constructor (PSD)
Snow pattern on transparent background (PNG)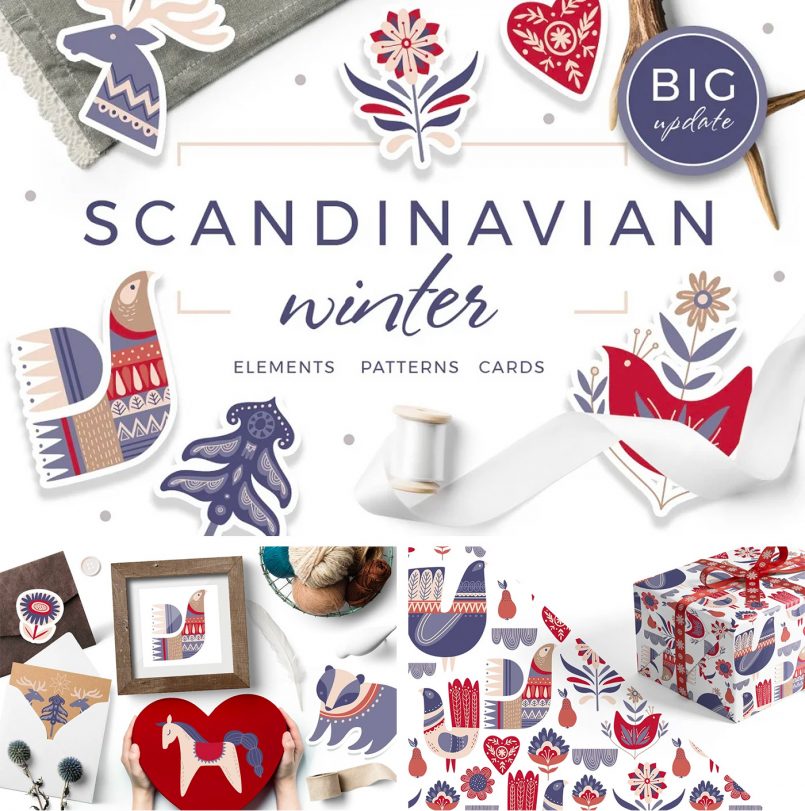 Get a different look with these Scandinavian graphics and patterns inspired by Nordic folklore. The pack is comprised of 80 vector and raster elements, including animal illustrations, floral elements and Christmas decorations. You will also get 4 seamless patterns and 4 greeting cards to create your own Scandinavian Christmas.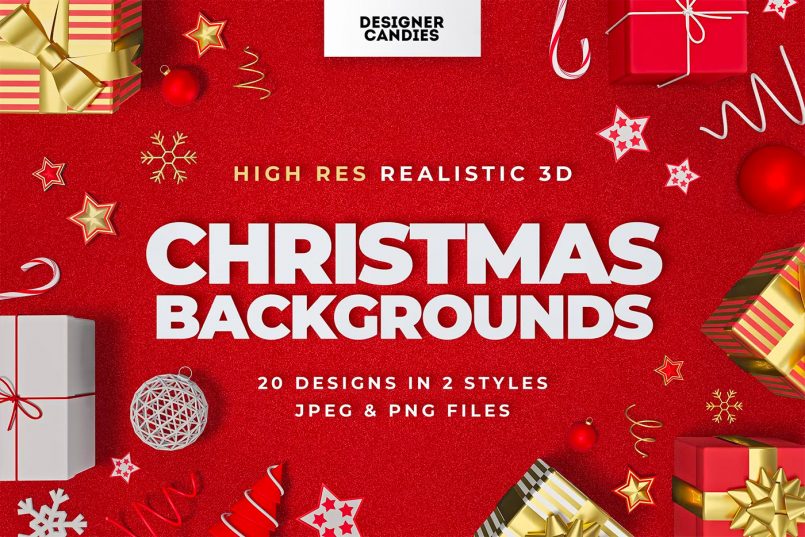 These realistic Christmas backgrounds were created using a red, white and gold color palette, making them ideal to produce compositions with a more traditional style.
The set combines a minimal flat style with soft 3D elements, including Christmas gifts, decorations, snowflakes, candy canes and more. There are 20 unique scene layouts included across two different styles. Each Christmas background comes in both JPEG and PNG format.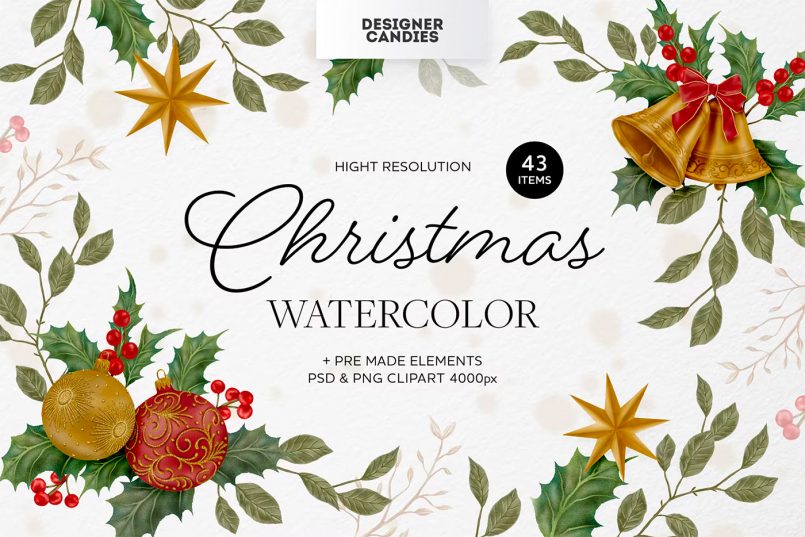 This collection of Christmas watercolor graphics includes various decorative illustrations with a somewhat traditional theme, reminiscent of vintage greeting card designs.
Inside you'll find more than 30 unique elements, including a Christmas tree builder, lights, baubles, Christmas gifts and presents, stockings and of course, plentiful Christmas foliage and leaves.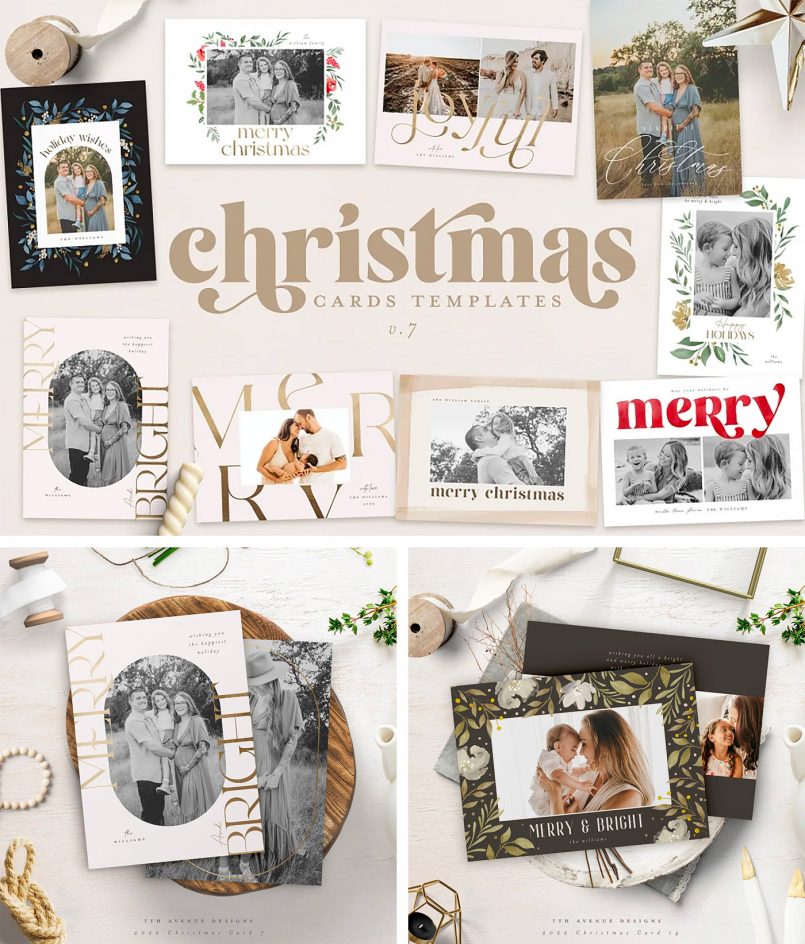 Create trendy family Christmas cards with this set of gorgeous templates. The collection includes 20 beautiful templates saved as fully layered 7×5 inches PSD files.
Each card has front and back designs, with a total of 40 PSD files. You can easily customize these cards and make them your own, just mix and match between all the different front and back design options.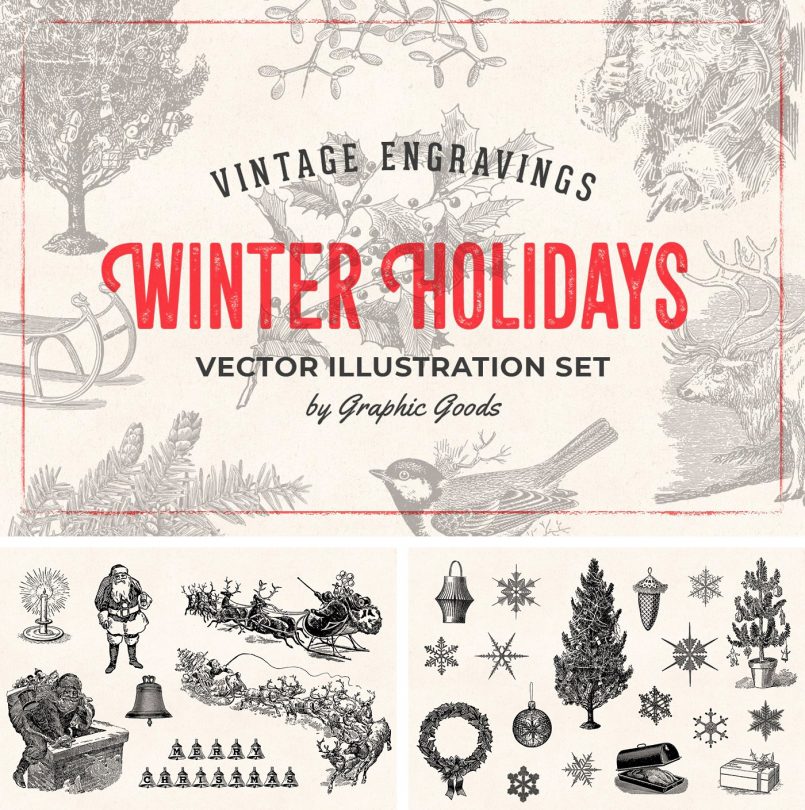 This collection features over 70 engraving-style winter holidays and Christmas illustrations that have been restored from old 19th-century books and catalogs.
You'll find images of Santa Claus, Christmas trees, Christmas ornaments, wreaths, mistletoe, winter animals and a bunch of other festive elements.
These graphics will be perfect for wide variety of uses, including postcards, fabric and apparel design, patterns, packaging, stationery, etc. They're also suitable for decoupage and scrapbooking.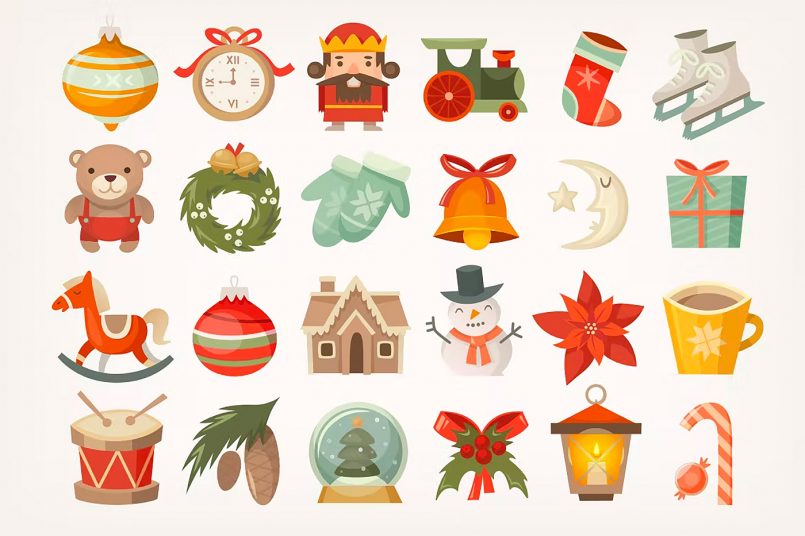 This quirky set of icons includes Christmas decorations, toys, candy, winter accessories, gifts and much more. You can use these icons to brighten your holiday cards, create fun stickers and cute social media posts.
You'll get a total of 24 icons in EPS and PNG formats.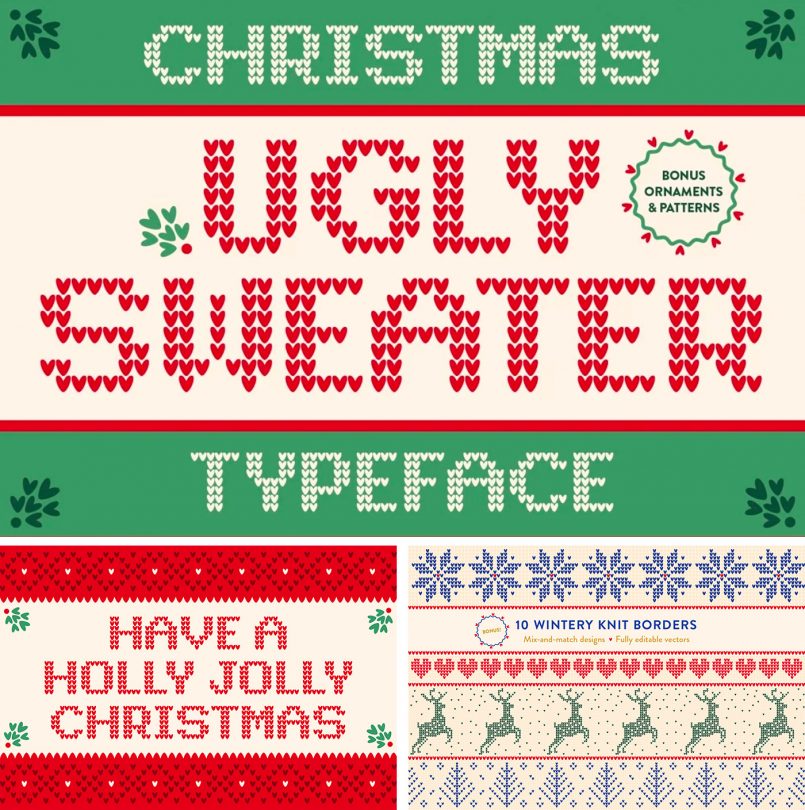 Ugly sweaters are such a fun Christmas tradition, we had to include this set in our round-up.
The knitted typeface is formed by small hearts. This display font is ideal for Christmas designs, and comes bundled with sweater-themed vector patterns, borders, and ornaments. Design your own ugly Christmas sweater or print-on-demand products by combining the typeface and complementary vector graphics.
For even more festive fun, check out this nice selection of Christmas craft ideas to inspire your holiday creations.
---
This post contains affiliate links to partner brands. We earn a small commission if you click the link and make a purchase. There is no extra cost to you, so it's just a nice way to help support the site.
Inspiration
in your inbox
Amazing art & design, never any spam.
We care about protecting your data. Please refer to our Privacy Policy for more.
© 2022 Inspiration Grid, all rights reserved. Some of our posts may contain affiliate links to partner brands. We earn a small commission if you click the link and make a purchase. There is no extra cost to you, so it's just a nice way to help support the site. All images, videos, and other content posted on the site is attributed to their creators and original sources. If you see something wrong here or you would like to have it removed, please contact us.