15 Best LUTs & Lightroom Presets for Night Photography
Published May 31, 2023
Includes affiliate content
Night photography is a fascinating genre that requires special skills and techniques to capture stunning images.
It involves working with low light conditions, long exposure times, and a keen eye for composition to create mesmerizing visuals. Post-production is also an essential part of achieving the perfect night photography images. This process requires editing your images using various techniques and tools to enhance their quality.
One of the most popular post-production tools for enhancing your night photographs is Lightroom presets. These presets are pre-made settings that you can apply to your photos to give them a specific look and feel. On the other hand, LUTs or Look-Up Tables are files that contain color grading information used in post-production processes. They enable photographers to apply specific visual styles to their photos.
In this article, we have compiled a list of our favorite Lightroom presets and LUTs for night photography that will help you take your pictures to the next level. Whether you're looking for moody blues or vibrant oranges, these presets will provide endless possibilities for creating awe-inspiring nighttime shots. So let's dive in!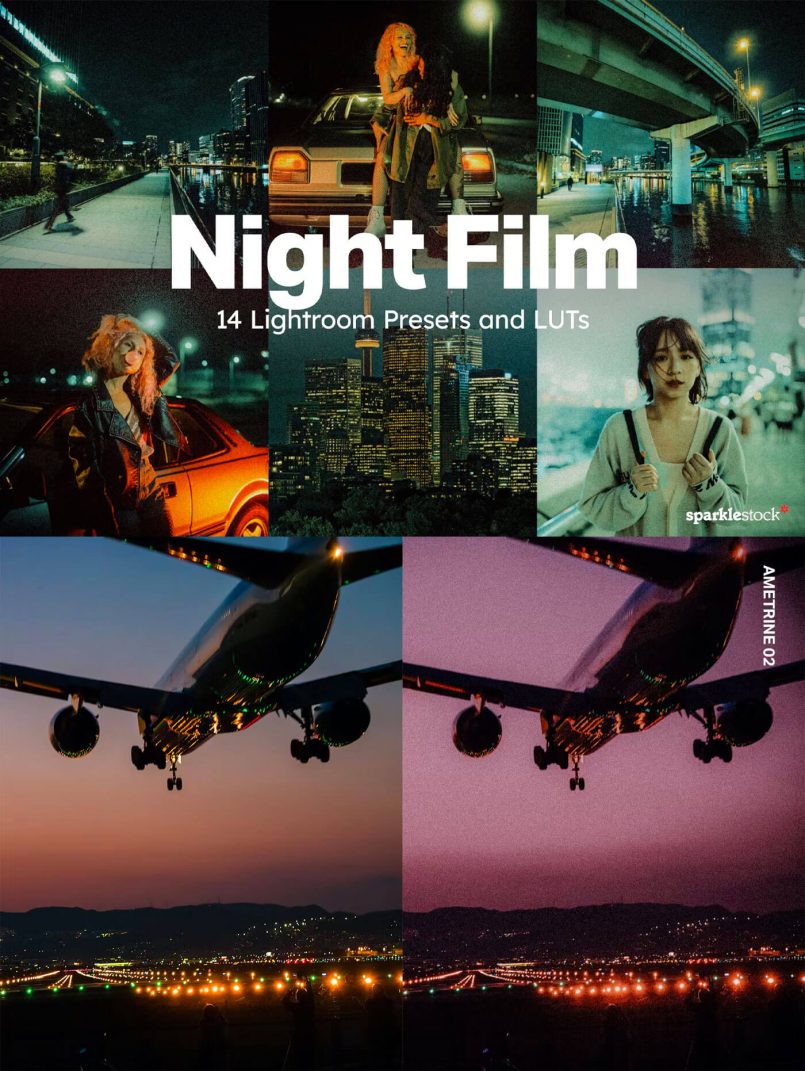 Night photos are captured differently by photographic films compared to digital cameras. The distinct color cast, which is difficult to reproduce with a digital camera, is a characteristic feature of photographic films.
Having said that, Lightroom presets can be a great way to incorporate the unique look of night film photography into your digital pictures. These presets include a grainy texture and the typical color casts of night film photography, making them ideal for generating an enigmatic or nostalgic ambiance. They also come with additional enhancements:
Skin Tone Protection: Helps ensure natural-looking portraits by protecting skin tones.
SmoothTones: Professional results with smooth tonal and color transitions.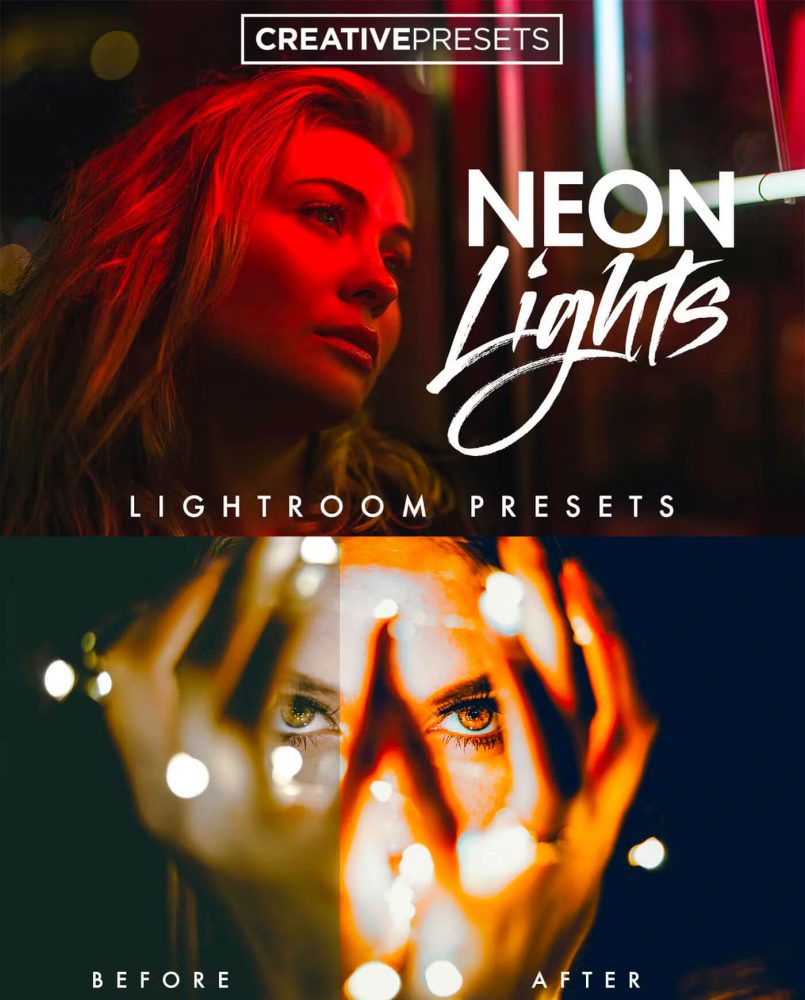 Enhance your pictures with vibrant hues and impeccable brightness using the Neon Lights Lightroom Presets. This set of 30 presets is ideal for nightscapes and environmental portraits, providing increased saturation, clarity, and contrast. Additionally, you can opt for a cooler or warmer vibe.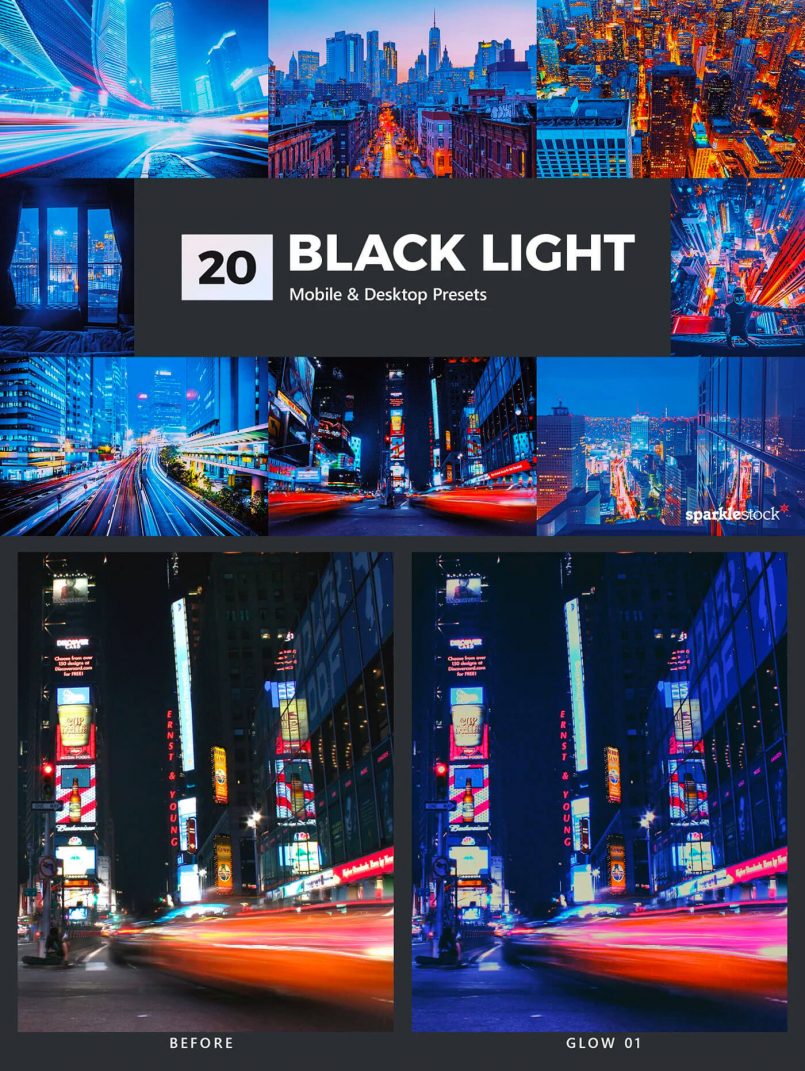 Transform your photos with a fresh appearance using these presets that simulate the vibrant neon hues of black light paint. This package includes Lightroom presets for desktop and mobile, as well as Capture One profiles and video LUTs. Perfect for capturing the urban landscape at night or experimenting with long exposure photography.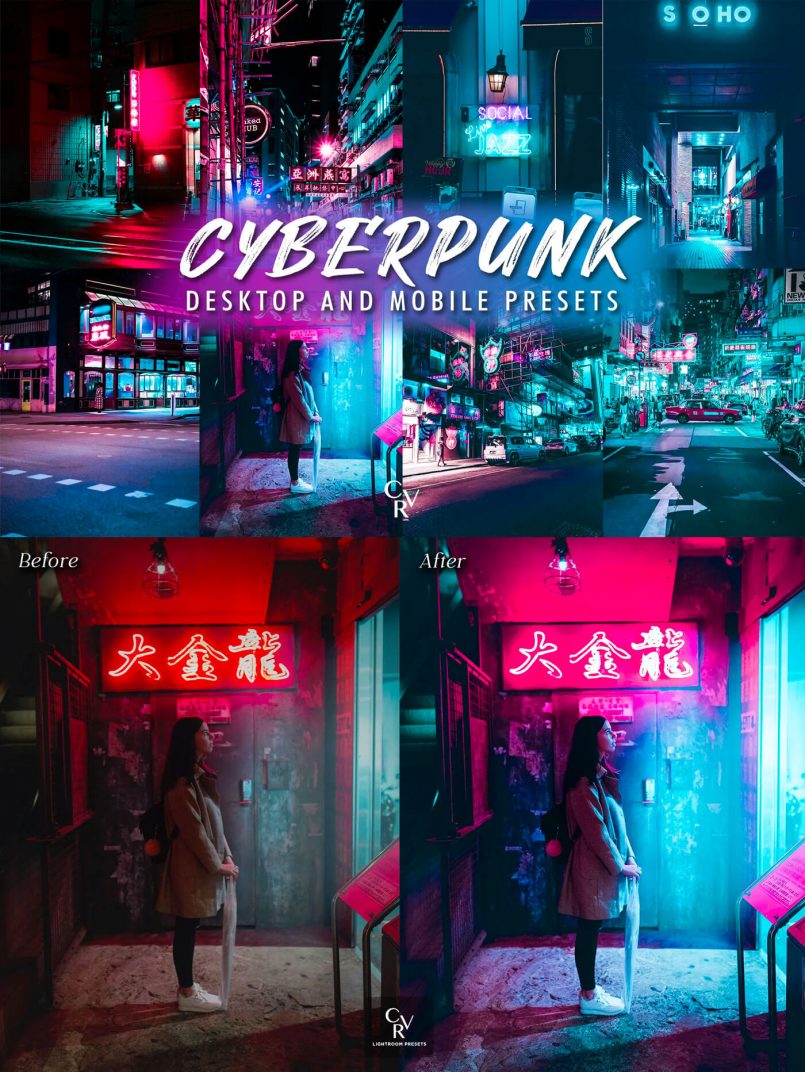 If you're looking to achieve a stunning bohemian style in your photos, these presets are tailored just for you. They're ideal for creating a beautiful Instagram feed and have been tried and tested on numerous images. The pack contains 10 unique presets that vary in tone, exposure, and more, giving you plenty of options to choose from until you find the perfect match.
The presets are available for desktop (xmp) and mobile (dng), so you'll get a total of 20 individual presets in this pack.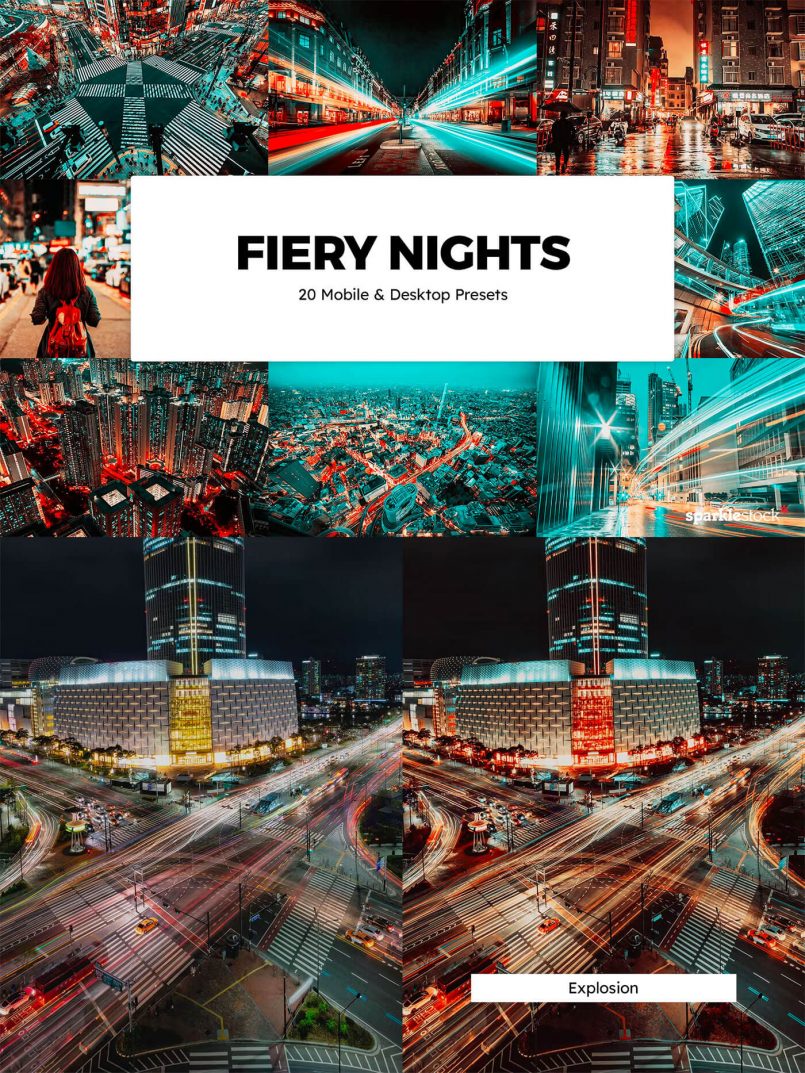 If you're struggling to come up with ideas to make your stunning night photos go viral, try using these dynamic Lightroom presets to add some spark to your images. These presets will transform your pictures into electrifying cityscapes bursting with energy. This package includes Lightroom presets, Capture One profiles, and LUTs.
This pack also includes the same enhancements seen on the Night Film set:
Skin Tone Protection: Helps ensure natural-looking portraits by protecting skin tones.
SmoothTones: Professional results with smooth tonal and color transitions.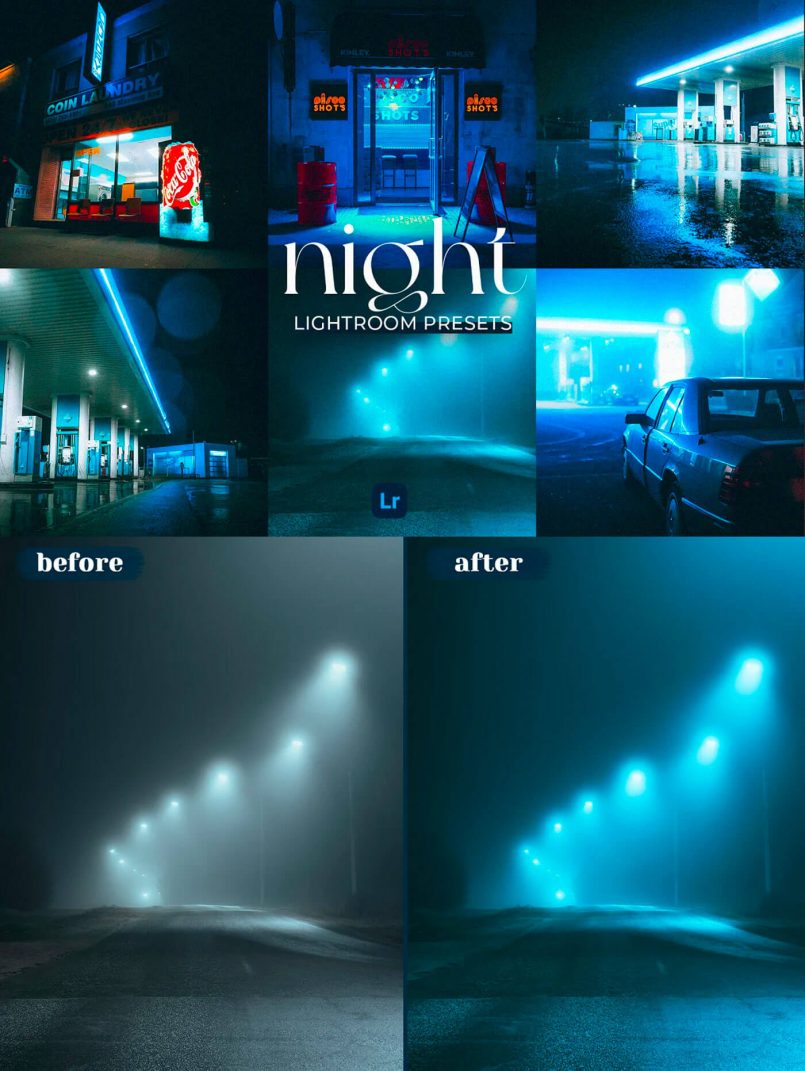 If you are a night photography enthusiast, this set of presets is fantastic. It works well for capturing cityscapes, natural landscapes, and neon lights. Every preset can be used for various types of images and delivers professional-looking results. Whether you want to enhance your travel snapshots, selfies or blog posts, these presets are an excellent choice for anyone who wants to elevate their photography game.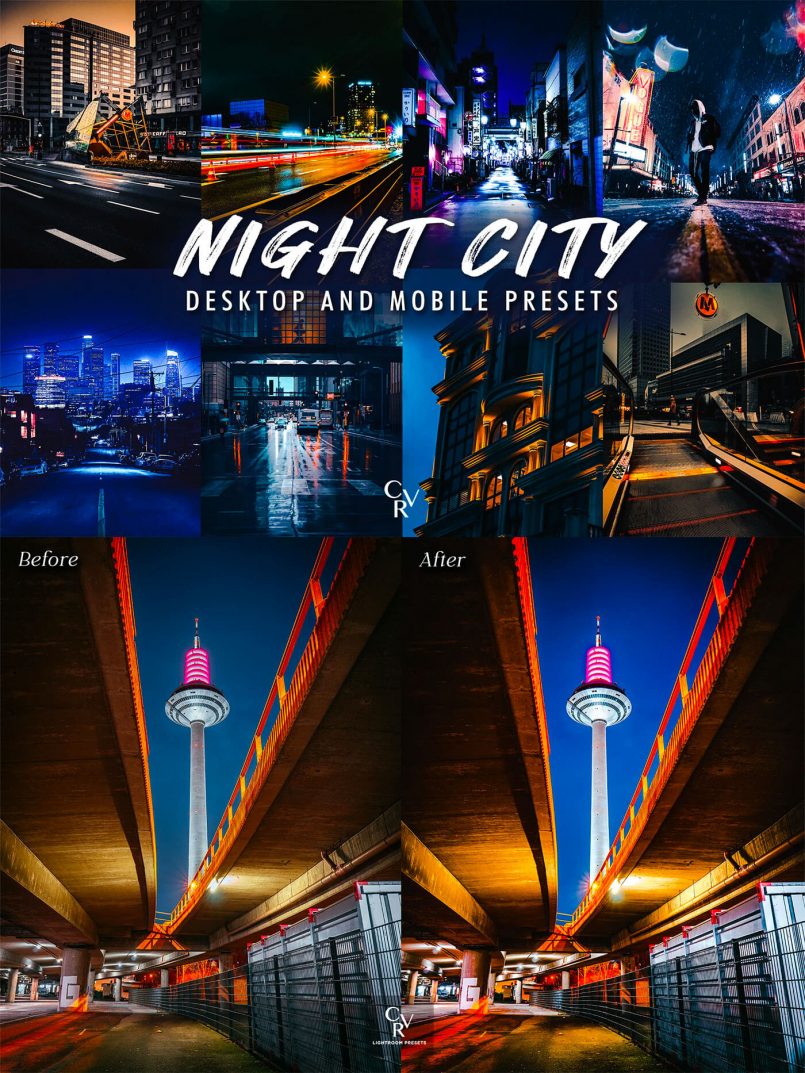 If you're looking to improve your night photography, these presets are a great way to start. They're an ideal choice if you want to elevate the aesthetics of your Instagram profile. These presets have been tried and tested on numerous photos, and they come with 10 unique options that offer varying tones, exposure levels, and more. With such a great range to choose from, you're sure to find a preset that suits your needs.
These presets have been created by a professional photographer to enhance the process and editing of images with a contemporary and stylish appearance. The pack includes warm tones, saturated fades, grainy, matte, creamy skin, bright colors and cool tones, making it is a must-have collection for photographers, designers, and bloggers. These presets have been tried and tested on various photos with excellent results.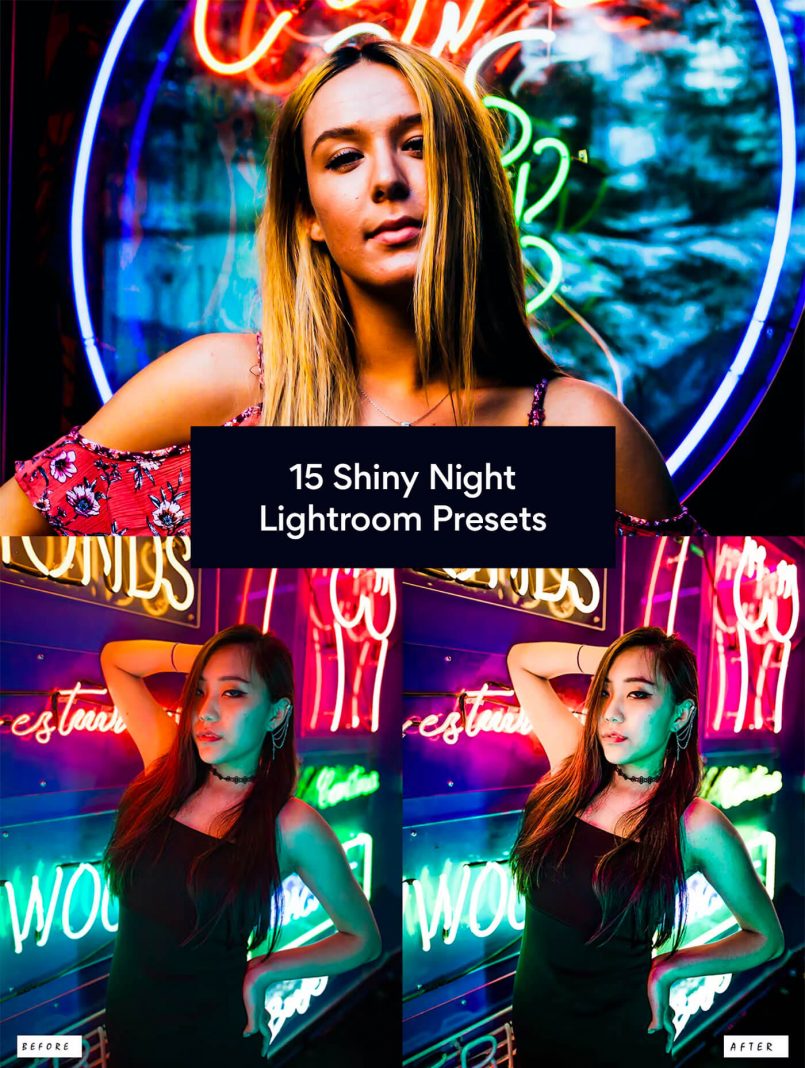 Achieve a stunning, contemporary look for your travel, photography, fashion or lifestyle blog with these presets. They're ideal for enhancing the quality of your photos and giving them a unique touch. Whether you're working on your Instagram feed, blog, or portfolio, these presets are a great starting point to elevate your imagery. They've been meticulously crafted to inspire you and help you create beautiful photos in no time.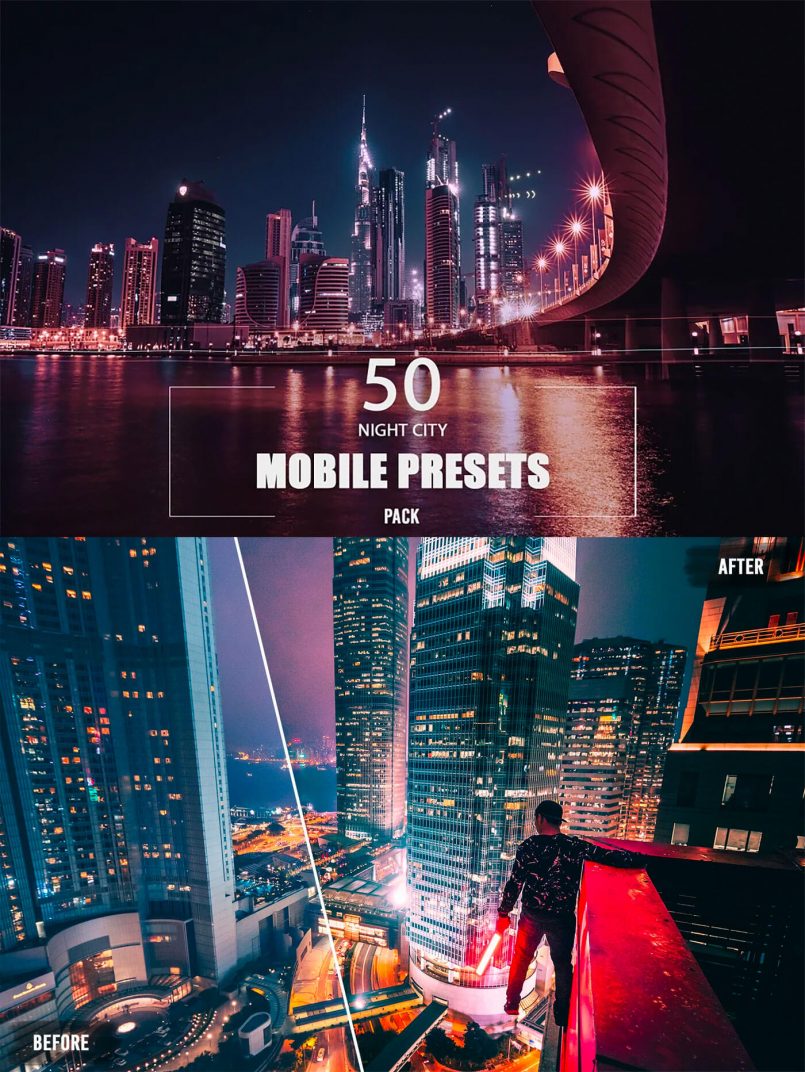 This a new collection of premium Lightroom Presets will save you hours of editing. With unique effects and a variety of color combinations, these presets will enhance the beauty of your masterpieces in no time. They are ideal for event photographers, bloggers, sports photographers and more.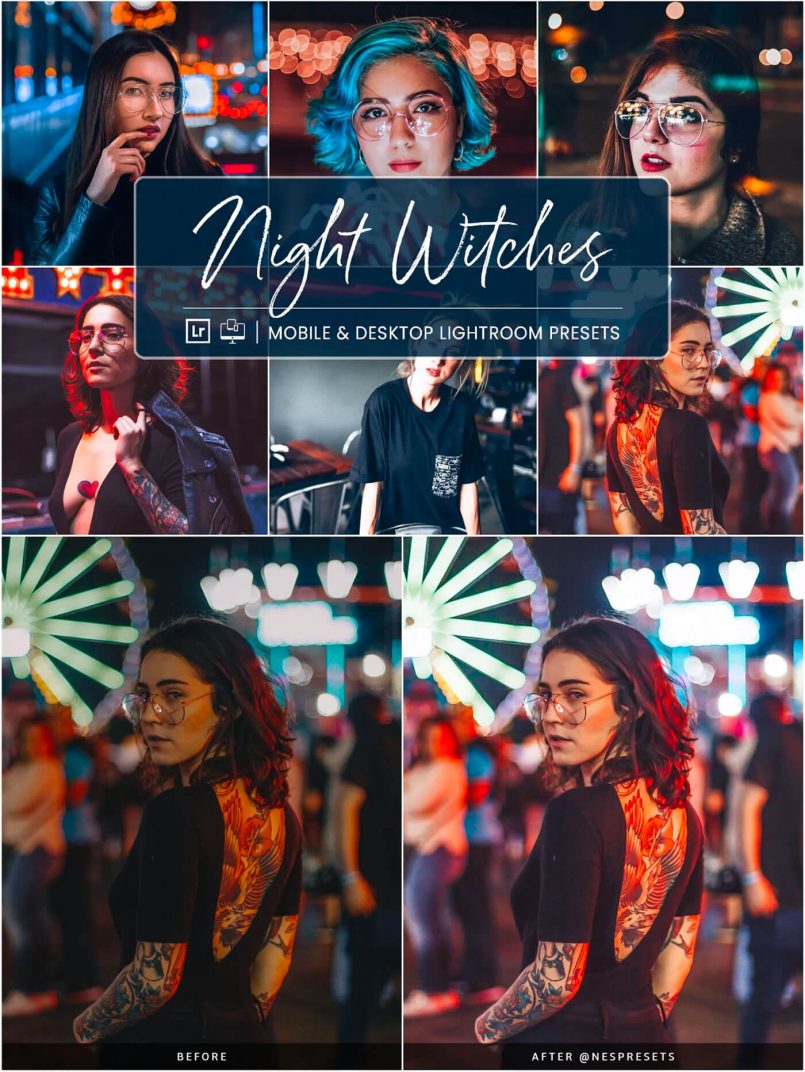 The Night Witches preset collection enables you to craft stunning photo edits at night. These Lightroom presets are perfect for enhancing the brightness and colorfulness of your nightscapes and creative portraits. They are user-friendly and easy to install, catering to both novices and experts. Comprehensive tutorials are also included to assist you throughout the editing process. The package encompasses both desktop and mobile files, giving you the flexibility to edit on-the-go or at home. These presets will prove useful no matter where you are!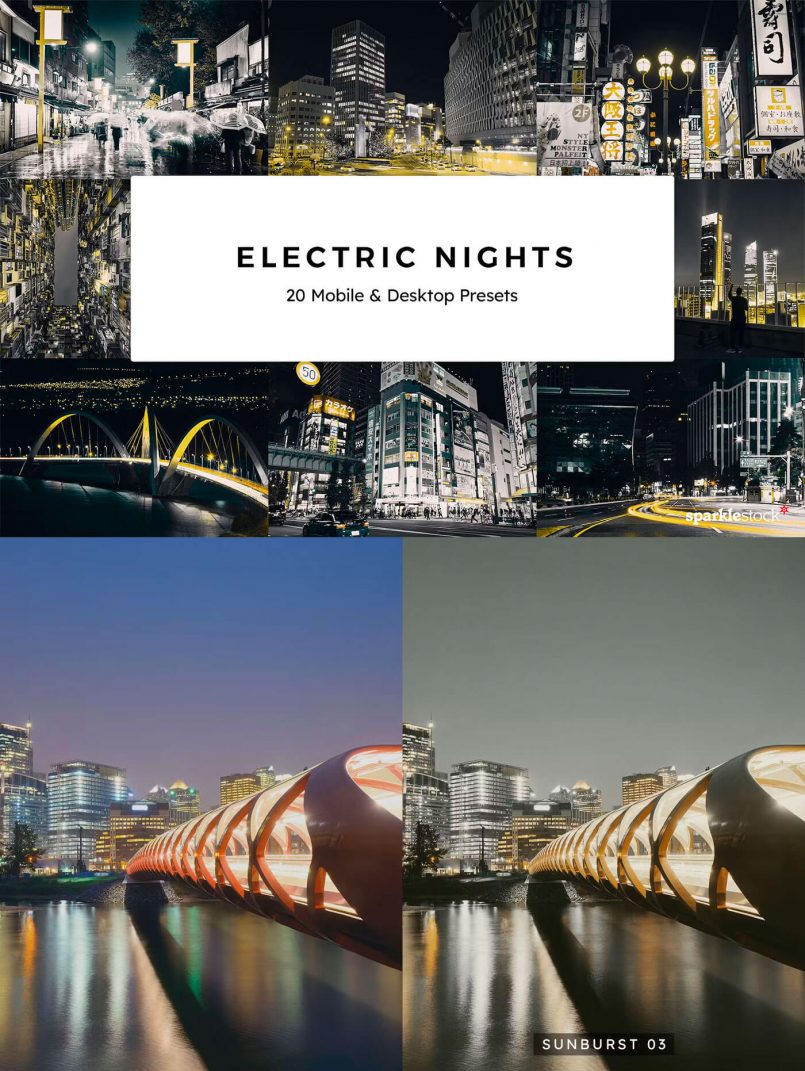 Mesmerize your audience with these electrifying night presets that are specifically designed for nocturnal cityscapes. These presets imbue your photographs with unique blends of black-yellow and blue-yellow hues. The package includes presets for Lightroom, profiles for Capture One, and LUTs.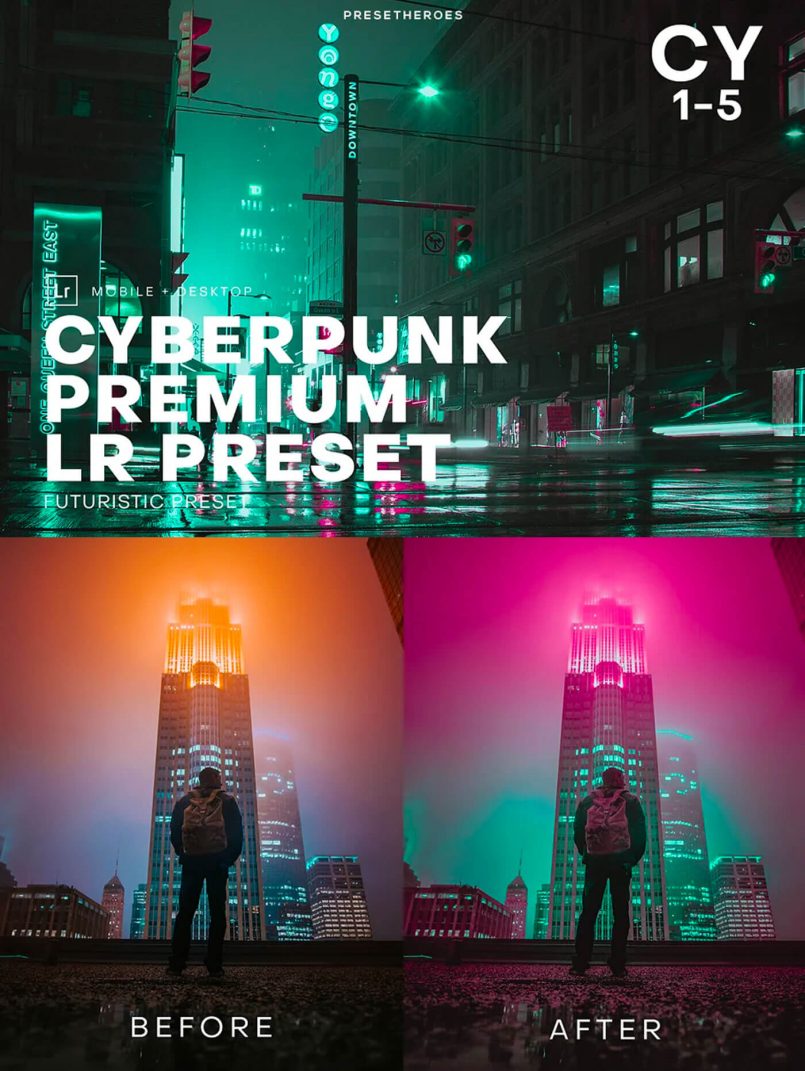 Transform your night photography into stunning masterpieces and achieve the vibrant aesthetic you've been yearning for using this high-quality Lightroom preset inspired by Cyberpunk.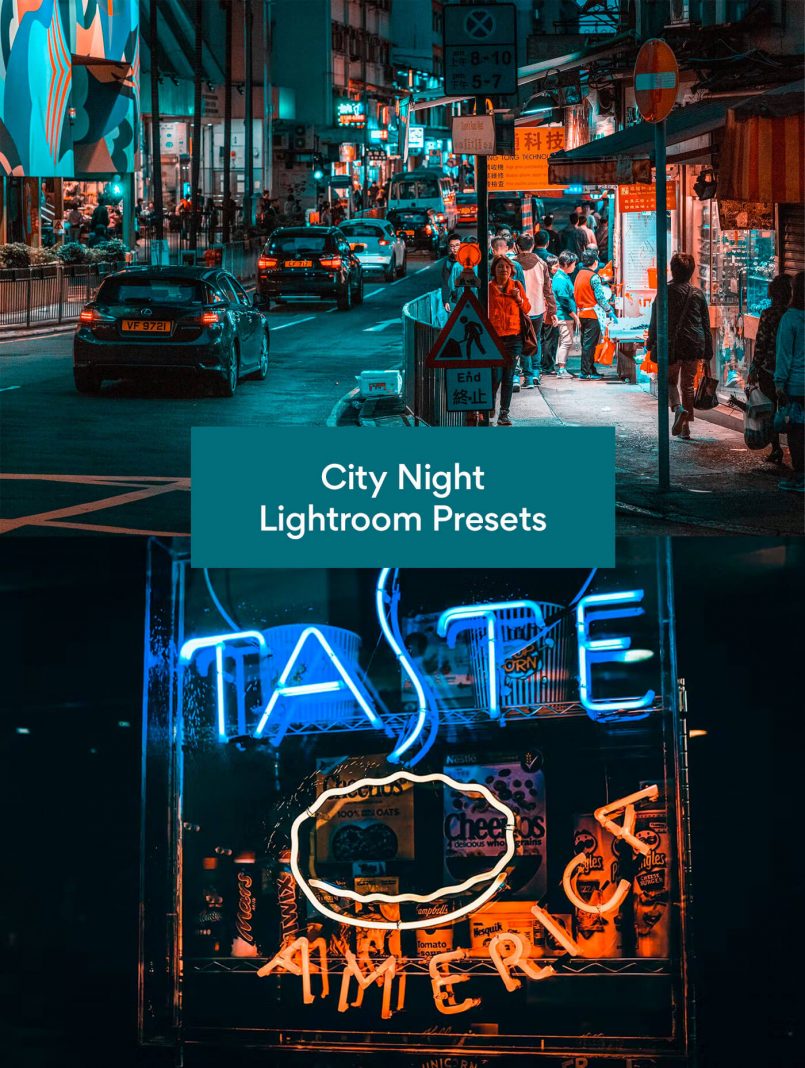 Created with photographers and designers in mind, the City Night Lightroom presets are modern and professional. They have been designed to enhance a diverse range of images effortlessly. Although a single click can produce excellent results in most cases, you can always customize and fine tune the presets according to your preferences.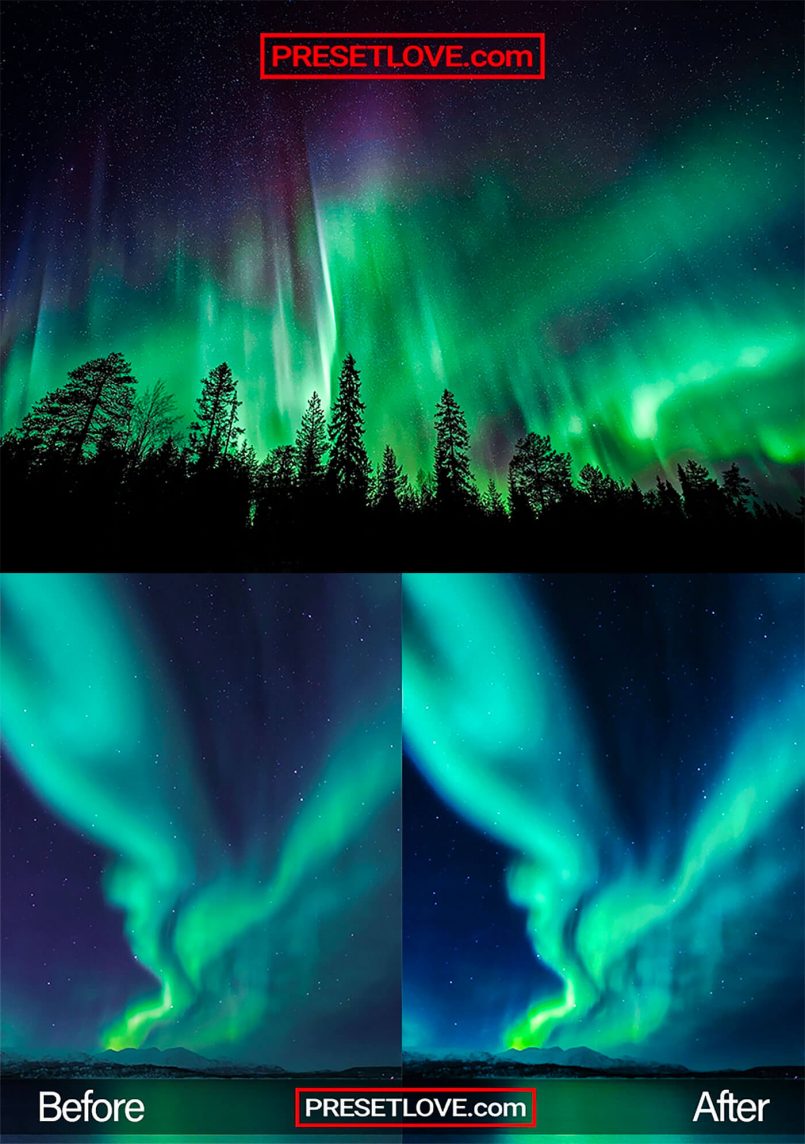 The free Northern Lights Lightroom preset was specifically designed to draw out the captivating colors of the Aurora Borealis. This preset finely adjusts tones to enhance the magical and ethereal feel of the phenomenon while remaining faithful to the intricate colors seen in the sky. It carefully refines images without altering any of their original elements.
That's it for today's roundup!
Night photography can be a challenging and rewarding genre for photographers. Utilizing the right tools and techniques can make a huge difference in the quality of the final image.
The LUTs and Lightroom presets presented in this article offer a variety of options to enhance your photographs, from moody tones to vibrant colors. So go ahead, try them out and see what works best for you. Happy shooting!
---
This post contains affiliate links to partner brands. We earn a small commission if you click the link and make a purchase. There is no extra cost to you, so it's just a nice way to help support the site.
Inspiration
in your inbox
Amazing art & design, never any spam.
We care about protecting your data. Please refer to our Privacy Policy for more.
© 2023 Inspiration Grid, all rights reserved. Some of our posts may contain affiliate links to partner brands. We earn a small commission if you click the link and make a purchase. There is no extra cost to you, so it's just a nice way to help support the site. All images, videos, and other content posted on the site is attributed to their creators and original sources. If you see something wrong here or you would like to have it removed, please contact us.